In an NBA enthralled with Moreyball, the floater has become a secret weapon
Photo illustration by Nick Roy / theScore
In the 2017 Western Conference semifinals, the San Antonio Spurs faced the unenviable task of slowing down a historically great Houston Rockets offense led by James Harden, who was fresh off a season that would place him second in MVP voting. There was a sense that the Rockets had used math to hack basketball, eschewing all but the most analytically efficient shots - 3-pointers, layups, dunks, and free throws - from their offensive profile. Harden was pushing those principles to new extremes.
The Spurs game-planned for the series by applying those principles to their defense, doing everything possible to take those shots away. Rather than the conventional approach of switching ball screens or blitzing Harden to get the ball out of his hands (a gambit that gives the offense a four-on-three advantage and opens up threes and dunks for other players), they deployed a two-on-two pick-and-roll scheme in which their on-ball defender would sit on Harden's left hand - essentially rolling out a red carpet for him to stroll into the lane with his right - while their big man dropped back almost to the baseline to try to prevent him from driving all the way to the basket.
In doing so, the Spurs dared Harden to take the kind of mathematically unfriendly shots they knew he'd be loath to attempt and likely hadn't spent much time honing.
The bet paid off. While Harden still managed to get up his share of threes and layups, for much of the series the Spurs were able to bottle him in the middle of the floor. Harden fell apart. San Antonio won in six.
In the years since, Harden and the Rockets have quietly reimagined their offense while staying true to their core values. Part of their adaptation owes to personnel moves, but at least as much of it has to do with what opposing defenses have thrown at them. One of the changes that Spurs series wrought is that Harden, improbably, has become one of the league's best and most frequent practitioners of a typically inefficient shot: the floater.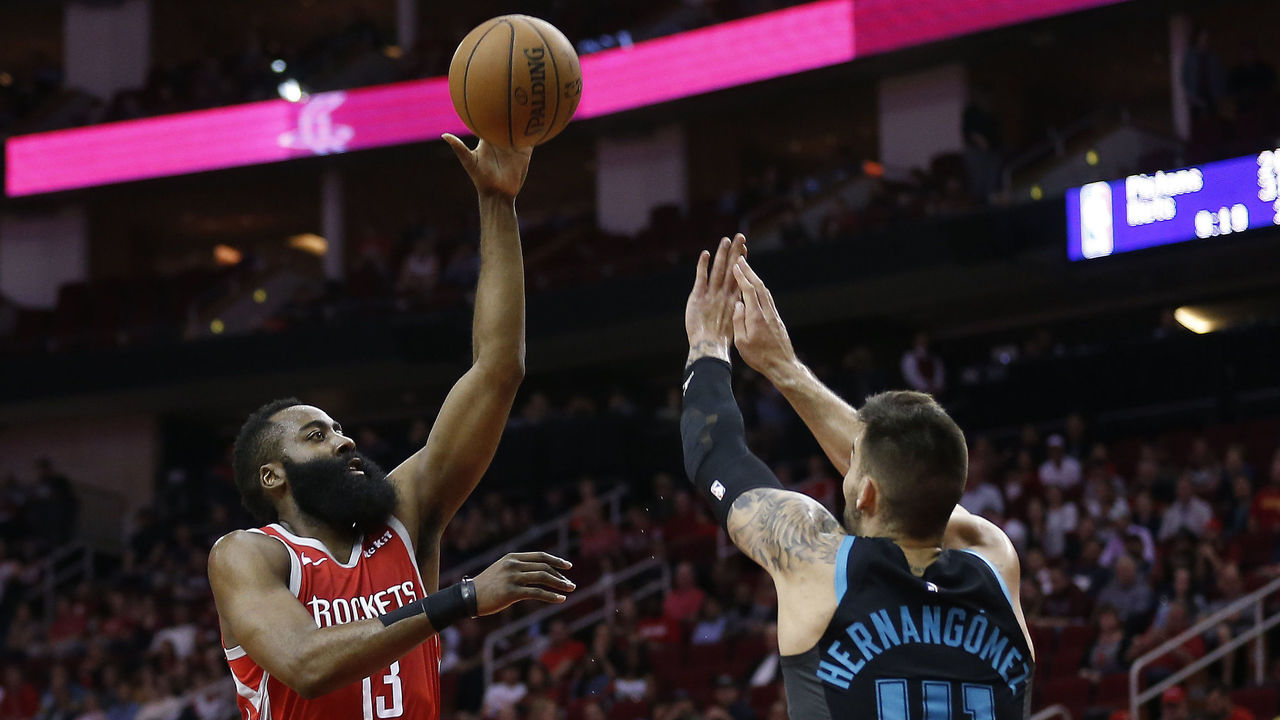 Boiled down to its essence, basketball is a chess match; a dynamic interplay of offensive and defensive objectives. As NBA offenses have embraced the tenets of Moreyball (colloquially named for Rockets general manager Daryl Morey, who first espoused them) by seeking out threes and shots at the rim, defenses have oriented themselves to take those same shots away.
Make no mistake - offense is firmly in control of the board, and we're a long way from a stalemate. The league's collective 3-point attempt rate continues to rise, even as defenses make it a priority to limit them. But today's defensive schemes and principles still play a big part in establishing the terms of the game. Building on the Spurs' blueprint, teams play exaggerated drop coverages where the big sinks as far back as the middle of the charge circle. They play one-man zones in which a behemoth camps out under the basket, 2.9-ing in and out of the paint and waiting for a driver to challenge him while the other four defenders switch and rotate around him.
In a drop scheme - the league's most common coverage for small-big pick-and-rolls - the big man plays well below the level of the screen, while the on-ball defender (if he's executing properly) scurries over the top and chases the opposing ball-handler off the 3-point line from behind, funneling him into the middle of the floor. The ball-handler is essentially sandwiched between two defenders, while the other three defenders stay attached to shooters on the perimeter.
If the ball-handler lacks counters, he's liable to get stuck there, either picking up his dribble or forcing a tough pass or dribbling the ball back out while the shot clock ticks away. This happens a lot to players like the Hornets' Devonte' Graham and the Raptors' Fred VanVleet: undersized point guards who can rain fire from deep, but who struggle to finish through the trees at the rim and can't fall back on their in-between games. It often leads to them driving the ball without an escape hatch.
Which brings us back to the floater.
The shot isn't a novel invention, of course; it's been in use for decades, assuming several different names along the way. The teardrop. The runner. The push shot. Whichever term you prefer, it describes a high-arcing one-hander released on the move, designed to elude shot-blockers in the in-between space. Its timing is more unpredictable than that of a mid-range jumper and can catch a backpedaling defender flat-footed. On top of being an artful shot that offers an element of stylistic diversity, it's a practical way to take advantage of the concessions modern defenses are making.
"I honestly do think it's become a central part of a guard's game," says Jazz point guard Mike Conley. "With teams trying to take away threes and layups, at some point you've got to take what they give you. I feel like guys are getting better and better at it. With the way defenses play, dropping down, their bigs being way back in the paint, you have that shot pretty much anytime you want it. Especially on our team with Rudy (Gobert) rolling."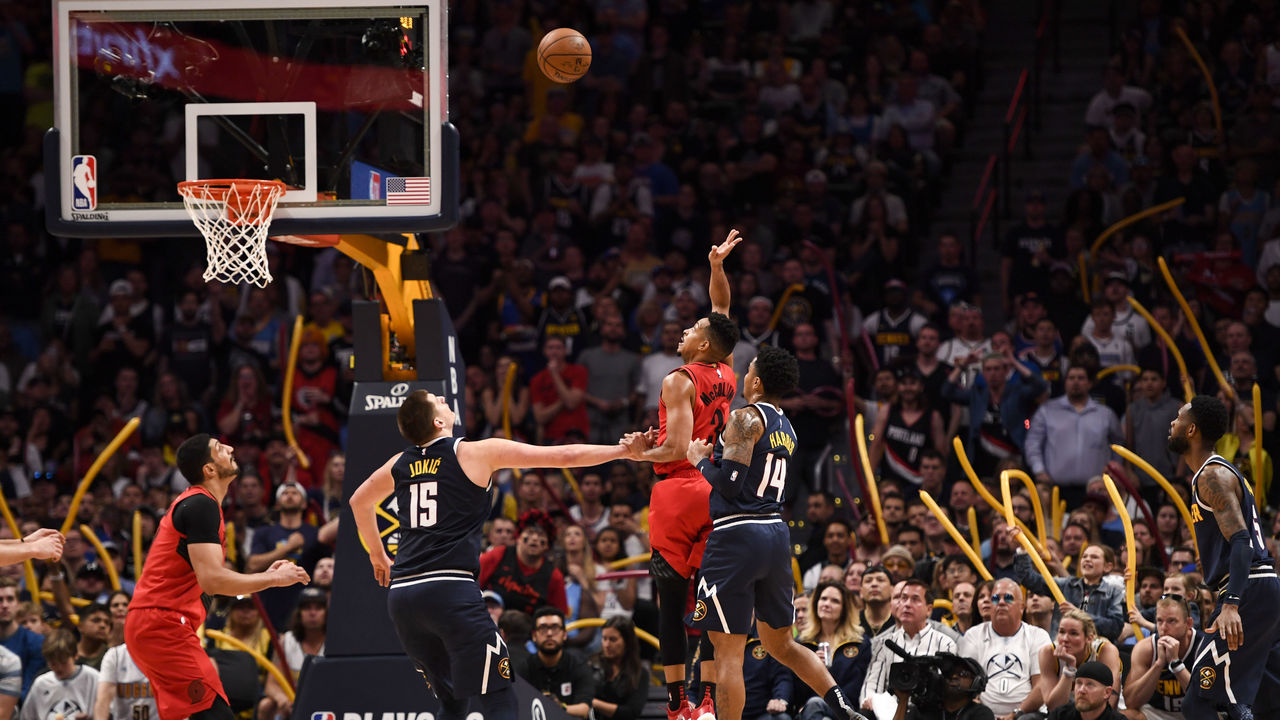 Floater usage is up across the league this season (on average, teams are attempting them on 7.8% of their shooting possessions, compared to 6.8% in 2018-19) and has steadily climbed over the last several years, according to Synergy. The preponderance of drop-back coverages has opened a tactical loophole that the right players, with the right touch, can exploit.
"For me, it's an efficient shot, because I practice it and I'm able to make it in games," Trail Blazers guard CJ McCollum says. "Off the left foot, off the right foot, off both feet. If you practice it and you work on it, it can become an efficient shot for you. But I think based on how I play, my game is different than a lot of guys in the league. I can finish at the rim but I can also use the floater and I can use the mid-range shot, so it gives me a different type of advantage."
Quantifying the value of the floater is difficult. On a surface level, the math isn't favorable; the league's median offensive rating in half-court scenarios is 96.4, and the average floater this season has been worth just 0.86 points per possession, according to Synergy. But that doesn't tell the whole story.
For one thing, the numbers do like the floater when it's used by its most proficient practitioners. And for another, we're usually not talking about that shot as the goal of an offensive possession. The one phrase you hear over and over again when you ask ball-handlers about the floater's utility is, as Conley said, "taking what the defense gives you." When your opponent is selling out to stymie your primary and secondary objectives, it's handy to have a shot in your back pocket that you can convert into something approaching average offensive efficiency.
Harden, who openly cites that Spurs series as his impetus for developing his floater, has embraced the need for situation-specific counters as defenses have gone to greater and greater extremes to force him off the 3-point line. Even as the Rockets have all but expunged the pick-and-roll from their offensive diet (and traded their one lob threat, Clint Capela), Harden ranks 11th in total floaters taken and sixth in points per floater (1.064) among players with at least 50 attempts this season.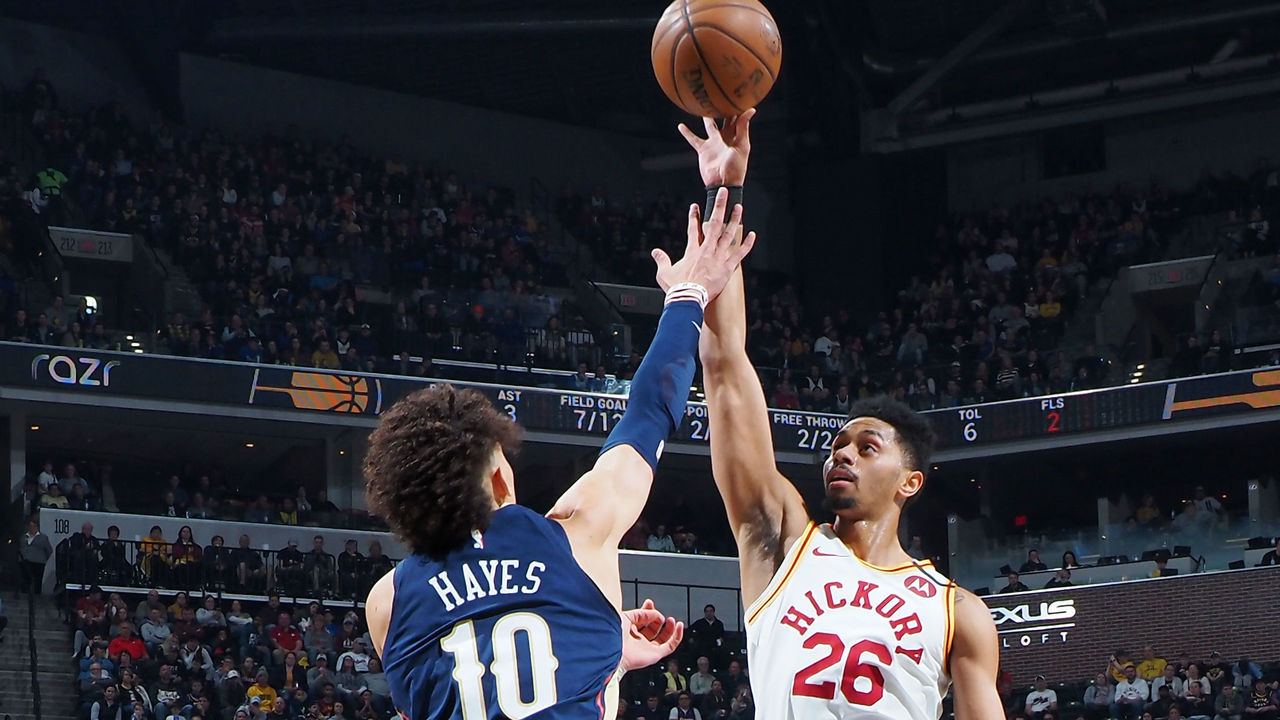 "It's just a tough shot to block," says Pacers guard Jeremy Lamb. Along with fellow offseason addition T.J. Warren, Lamb has propelled Indiana's dramatic uptick in floater volume (from 26th in the league to 10th) and accuracy (from 25th to second) this year. "People can take away layups, but a floater, they can't really take it away. Or if they do take it away then you can get a layup. So, you've just got to read the defense and take what they give you."
If you can force the defense to adjust, so much the better. Even if the drop defender is intent on sitting back, seeing an opposing player knock down a couple of floaters can change how he reacts.
"It definitely does (change your mentality)," says Nets center Jarrett Allen, who is deployed almost exclusively as a drop-back defender in Brooklyn's scheme. "Somebody hits a couple in a row, you definitely want to contest the next one. But ... if I step up to try to contest a floater, they're just gonna have a layup with the big man behind me."
While the floater serves as a last resort for some, for others it's a crucial tool in a broader strategy of deception. A handful of the game's best pick-and-roll operators establish the threat of the floater and use that threat to disguise their intentions when defenses allow them to drive middle. Even a properly executed drop-and-pursue coverage usually gives the offensive team a window to play two-on-one with the ball-handler and the roll man. That's when the dual threat of the lob and the floater, which are difficult to distinguish on the release, can be paralyzing for the sagging defender.
"You've got to time it right," Clippers center Ivica Zubac says. "It's a super tough position when they leave you two-on-one. If you commit too early, if you contest, you give up a dunk. So, you've got to kind of poke at the ball, slow them down, make (them reveal) what they're doing. But you've got to let them come to you. You can't step out too far. You can only contest super late, and then you just hope they miss."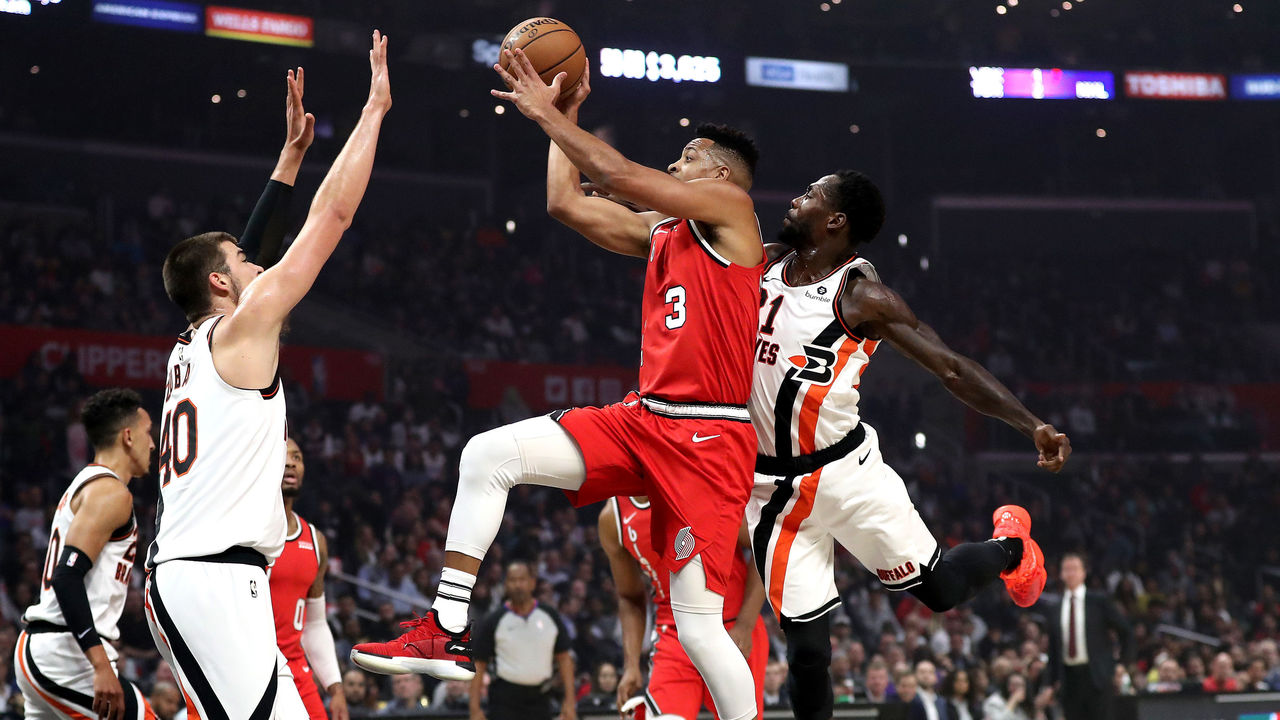 The most confident and nimble drop-back defenders can turn the tables by getting predatory: playing up higher, stunting aggressively at the ball, trying to rush the ball-handler into a decision. But most bigs, like Allen and Zubac, tend to play it safer and simpler. They'll drop as far back as possible and focus more on taking away the drive and the lob - and establishing rebounding position - than on trying to force a turnover or meaningfully affect an in-between shot. It's no accident that the Nets concede (or coax, if you prefer) more floaters than any other team.
"For what we're playing, we want to make the offense take that shot," Allen says. "We're a numbers team, and when you look at the numbers, the points per possession for a floater is a lot lower."
Allen is one of the league's most effective bigs at both preventing and altering shots at the rim, and one of its least effective floater defenders. He ranks dead last in points allowed per floater out the pick-and-roll among 22 players who have defended at least 50 such shots, per Synergy.
I asked Nets coach Kenny Atkinson about his scheme early in the season, when the team ranked 20th in defensive efficiency despite having the league's most optimal defensive shot distribution, according to Cleaning the Glass. The disconnect owed something to the Nets' inability to force turnovers, but also to the fact that they were getting burned from floater range, as they have in every season of Atkinson's tenure in Brooklyn. His demeanor was good-natured and blithely sarcastic, but he didn't hide the fact that the trend was annoying him.
"We give up the best kind of shots I think, and they're making them," he huffed, with mock exaggeration. "So, we get frustrated sometimes with that, and we punch our analytics guy in the face."
The Nets have since surged all the way to ninth in defensive efficiency, because they've done an outstanding job of suppressing both the volume and accuracy of opponent shots from beyond the arc and inside the restricted area. They still have the league's lowest expected opponent eFG% based on shot location, per Cleaning the Glass. So, being a numbers team is working out well for them, even though they still rank 28th in opponent field-goal percentage from the short mid-range area.
Atkinson acknowledged, however, that he wasn't quite satisfied with his defense simply goading opponents into taking long-range layups.
"We like to have activity on it, whether it's a fake-and-fade or a contest," he said. "The one thing I don't love about a really hard contest is, even if it's a miss, you give up the rebound. But we want activity, we say that with our drop principles. We want that big not just to lay back. That's why we try not to use 'give up' or 'giving up' (in regards to opponent shots), because we still want to try to make it a hard shot. And we argue about that. There are guys on our staff saying, 'Don't even contest that! Why are you contesting it?'
"I want to take like two years and study it, I really do. Because I do think we make good efforts to contest. I think there's some nuance in the contest where, I don't know, maybe there's an area we can be better. You watch Toronto contest, and it's like, whooosh," he said, mimicking a hand flashing in and out of a player's sight line.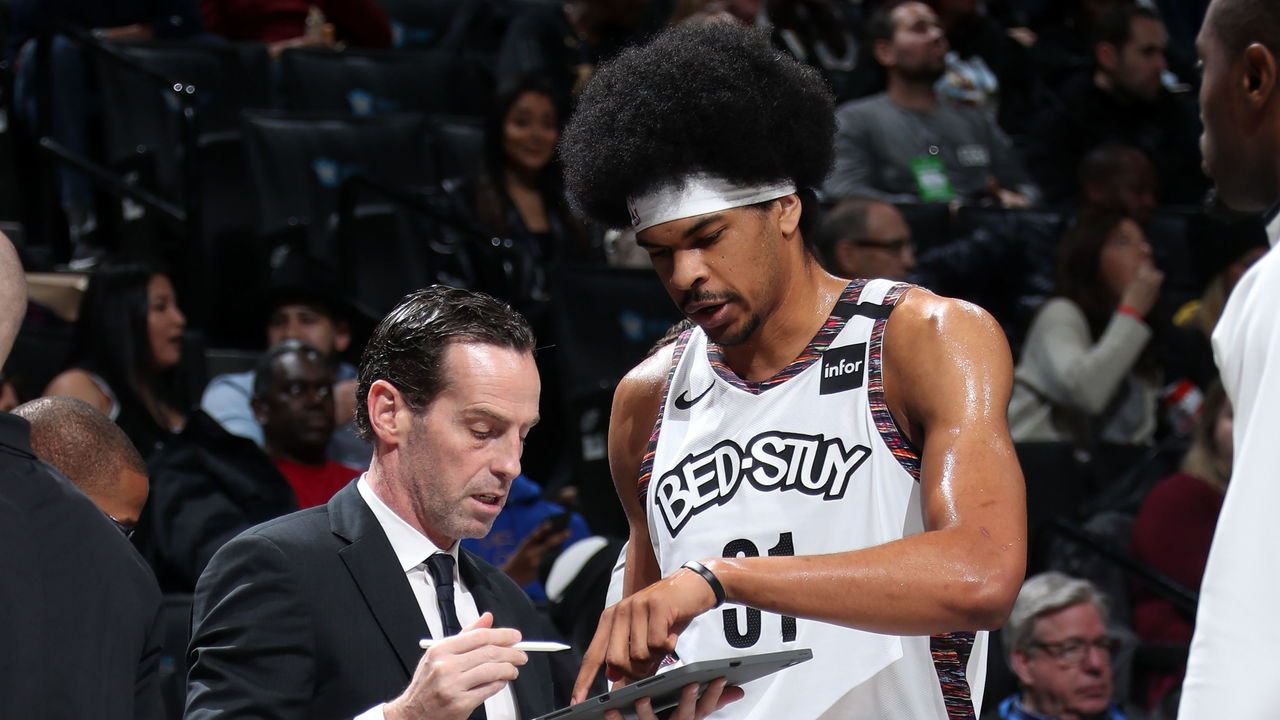 The floater, and its capacity for misdirection, has become a staple for some of the league's brightest young stars. Luka Doncic's vastly improved accuracy on that shot has helped open up more avenues for his feathery lobs. The same goes for fellow super sophomore Trae Young, who leads the league in points scored via floaters, and rookie phenom Ja Morant, who arrived in the league with one of its most polished in-between games.
All of those guys are special passers, and all of them play most of their minutes with rim-running big men. The fact that they can do so much damage as floater-range scorers forces defenders, who might otherwise just play the pass, to guess and choose.
"It's tough," Allen says of trying to suss out a ball-handler's intentions in the two-on-one. "Sometimes you can tell by the speed that they're going at, or you can just tell by their eyes. But obviously some people are better than others at disguising it."
That trio of prodigies is also anomalous. Most young players come into the league as role players and focus on nailing down the basics before working to shade in the outlines of their games - which makes sense. Efficient use of the in-between space requires advanced feel. The nuances involved in the floater - the footwork, the timing, the release point, the height of the ball - make it tricky to master and maintain.
"I work on my stuff every day," McCollum says. "For me it's just about timing and touch. Figuring out how high I want to shoot it, depending on who we're playing against. Like, JaVale McGee jumps a bit higher than most centers so you have to kind of adjust your shot, adjust where you take off from, decide if you're going to use the backboard or not.
"You play in the league long enough, you figure out how much space you need, you figure out when to pass it versus when to shoot it, when to pull up versus when to go all the way to the basket. It's a feel thing."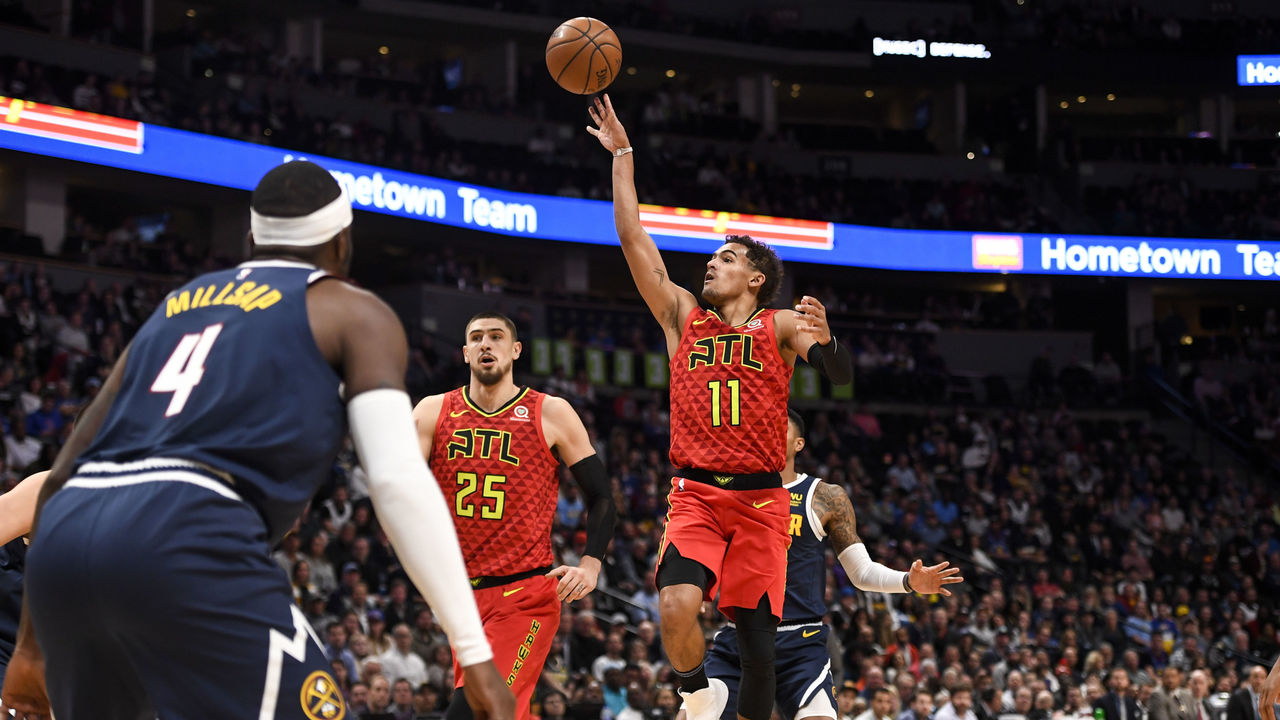 It tells you something about how challenging and finicky the floater can be when someone like Conley, one of its most prominent and longest-tenured purveyors, can completely lose his feel for it. Conley's first season in Utah has been a struggle, as he's tried to adapt to playing with the rim-running Gobert after a decade alongside the short-rolling Marc Gasol.
"I've had to work on taking extra dribbles because I'm so used to getting off the ball to that short roller," he told me back in December. "With Rudy the first few weeks, I was picking the ball up at the free-throw line looking to make a play. Now I'm taking one or two dribbles, getting closer and closer, because they continue to drop, and it either leaves a shorter floater or a shorter lob. So, I'm just trying to get used to that, trying to break the habits.
"Recently it's been going in and out on me, so I've just been trying to lock back in on it, because it's my favorite shot, ever since I was a kid, even when people weren't shooting them."
For now, for the majority of those who employ it, the floater is a useful tool but not quite a dangerous enough weapon to be a game-changing coverage-buster. Defenses still have no qualms about willingly conceding it.
"We'll live with that shot," Zubac says. "I think every defense will live with that shot."
The question is whether we'll see more guys put that time in, or work to incorporate that shot into their games earlier in their careers, the way Young, Doncic, and Morant have. The league is all about moves and countermoves, adjustments and counter-adjustments. Part of the reason deep drop-back coverages are in vogue is that floaters are, on balance, inefficient shots. What happens if more guys can turn them into efficient ones? What if you can turn the shot the defense wants you to take into one they can't afford to concede?
In a word: Checkmate.
Joe Wolfond writes about basketball and tennis for theScore.
Comments
✕
In an NBA enthralled with Moreyball, the floater has become a secret weapon
  Got something to say? Leave a comment below!