How DiVincenzo's injury could impact an inevitable Bucks-Nets series
Donte DiVincenzo is Milwaukee's least important starter, so as far as injury losses go, it could've been worse for the Bucks. The Phoenix Suns, forced to compete without a healthy Chris Paul, certainly aren't going to feel sorry for them. Still, the news that DiVincenzo will miss the remainder of the playoffs with a torn ligament in his left ankle is quietly a big deal and could wind up having implications for the title race.
Given the way their respective first-round series are going, it feels safe to look ahead to what promises to be a thrilling Eastern Conference semifinal between the Bucks and Brooklyn Nets. And it's in that matchup that DiVincenzo's absence could really come to the fore.
While the third-year guard hasn't progressed offensively the way one might hope, he's still a serviceable shooter, driver, and tertiary playmaker. More importantly, he's one of the league's most dogged point-of-attack defenders; a ball hawk with a knack for staying attached to his assignment while fighting through screens.
That makes him equally well-equipped to defend one of Brooklyn's superstar guards (it likely would've been Kyrie Irving, given that Jrue Holiday matches up better size-wise with James Harden) or to chase Joe Harris around off the ball, as he did for the majority of his defensive possessions during the regular-season series. His ability to stay attached over screens is a big part of what's allowed Milwaukee to be so successful playing drop coverage the last two years, and his strength and savvy have helped them get comfortable switching one-through-four.
On top of that, he's an elite rebounder for his position, which is part of an advantage the Bucks will look to press against a poor-rebounding Nets team. DiVincenzo hauled in 15 boards, including six on the offensive glass, in the teams' most recent meeting.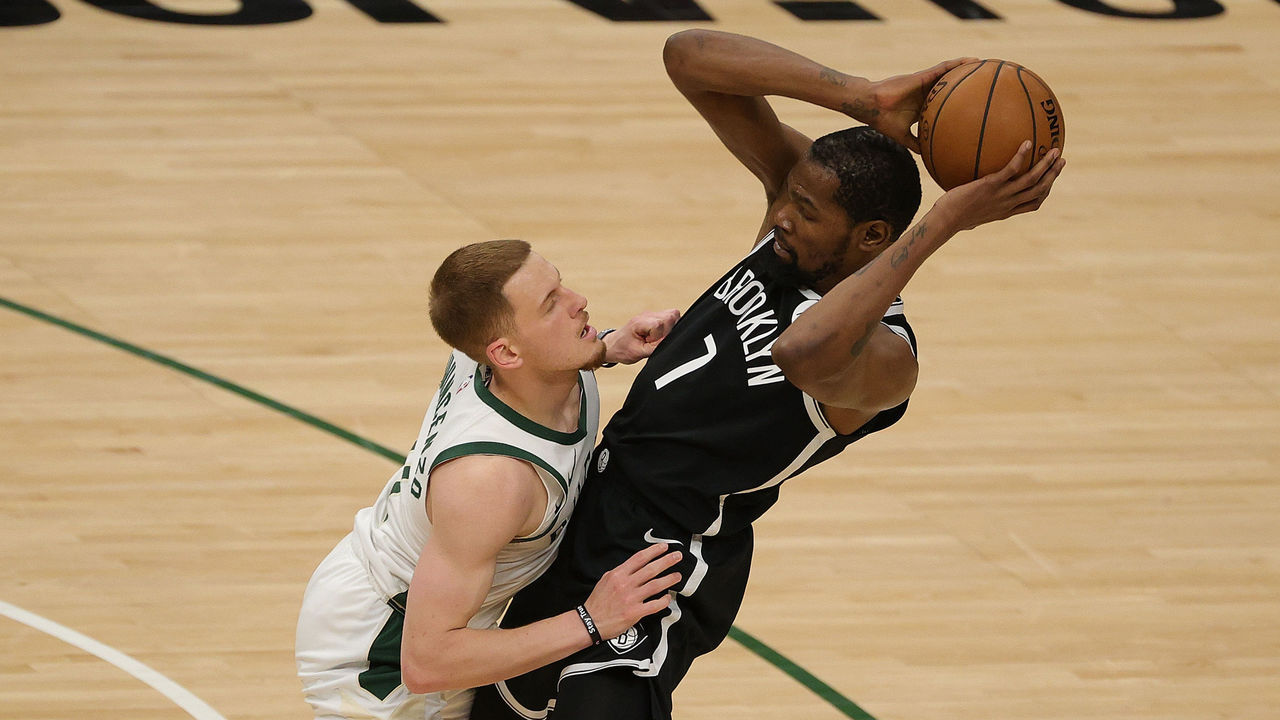 DiVincenzo has been a staple of Milwaukee's closing lineups for the last two years. The team was 4.4 points per 100 possessions better with him on the floor this season. Without him, the rotation and the defensive pecking order will change. And the Bucks don't have a fill-in who can replicate his two-way value.
Bryn Forbes seems like a good candidate to take DiVincenzo's starting spot and crunch-time minutes - his shooting has been an important element of the Bucks' offensive evolution this season - but he's a defensive liability who the Nets will target and prey on every time he's on the floor. Pat Connaughton offers less offensive punch but a bit more defensive sturdiness. Lord knows coach Mike Budenholzer loves him some Pat Connaughton.
We'll also likely see more of P.J. Tucker, with the Bucks suddenly needing another wing-sized guy who can give them an extended run defending one or more of Irving, Harden, Harris, or Kevin Durant.
That should all be fairly navigable. The big questions come if the Bucks find themselves needing to downsize and bench Brook Lopez, which is very possible given the Nets' plethora of perimeter shot creation. Does Milwaukee have the guard/wing depth to make those smaller units work?
Tucker will surely be involved, but having Forbes play with that group will compromise its defensive integrity and undercut its switch-everything mandate. But having both Tucker and Connaughton out there at the same time could really kneecap their offense. The last time the two teams played at full strength, Connaughton was also food for Durant and Harden.
So, it's not ideal. That doesn't mean it's some kind of death knell; again, DiVincenzo's been giving Milwaukee very little at the offensive end and shot 3-of-16 in the playoffs before suffering the injury. It's probably not much more significant an absence than Jeff Green is for the Nets (though Green's timetable puts him on track to return sometime during the second round).
It just makes things a bit more precarious for a team that looks capable of slaying its postseason demons but will have a razor-thin margin for error against a wildly talented opponent in Brooklyn.
Comments
✕
How DiVincenzo's injury could impact an inevitable Bucks-Nets series
  Got something to say? Leave a comment below!