During the opening week of the 2019-20 season, theScore's John Chick and Chicco Nacion will be counting down the top 25 players in college hoops. We'll reveal five every day leading up to the first weekend of play.
25-21 | 20-16 | 15-11 | 10-6 | 5-1
5. Kerry Blackshear, Florida
Blackshear was one of the most sought-after graduate transfers available this summer, and for good reason. The 6-foot-10 Florida senior is a matchup nightmare with a diverse skill set that gives defenders fits. He has the patience to back down defenders in the post and the awareness to hit open shooters or cutters when double-teamed. Incoming five-star freshman Scottie Lewis is a noted slasher and should benefit from Blackshear's playmaking.
Blackshear can also be deployed in screening actions as a roll man darting to the hoop or popping out on the perimeter beyond the arc. He gives the Gators a much-needed interior threat and could be the final piece to their championship puzzle. The biggest threat to his last collegiate season might be himself: Blackshear led the ACC with 114 personal fouls last season and was fifth in the same department the year prior.
4. James Wiseman, Memphis
Wiseman was the crown jewel of Memphis' top-ranked 2019 recruiting class. The 18-year-old is the highest-ranked freshman on our list, but he's no ordinary first-year player. At 7-foot-1 and 240 pounds, Wiseman has a guard's explosive athleticism in a center's body. He can run the floor in transition and beat defenders off the bounce. His 7-foot-4 wingspan and 9-foot-3 standing reach help him contest rebounds and shots.
The McDonald's All-American is a lob threat in pick-and-roll sequences and can pop out beyond the arc. Wiseman flashed the entire package in his Tigers debut, posting 28 points, 11 boards, and three blocks in the season-opening win. His motor's been questioned in the past, but his extreme upside may be too much to resist for whoever holds the No. 1 overall pick in next year's NBA draft.
3. Myles Powell, Seton Hall
Seton Hall hasn't reached the second weekend of the NCAA Tournament in 19 years, but Powell alone gives the Pirates reason to believe that will change. The 22-year-old thrived in a lead offensive role last season after the graduations of Angel Delgado and Desi Rodriguez, ranking second in the Big East with 23.1 points per game.
Powell gets his production from all three levels, yet he doesn't need to be handling the rock in order to be set up for offensive success. The senior guard does a fair amount of his damage away from the ball; he often curls around off-ball screens for catch-and-shoot opportunities and is a weapon on handoffs because he can pull the trigger from just about anywhere. Powell also doesn't shy away from attacking the rim and his 195-pound frame helps him finish through contact. Seton Hall should contend for the Big East crown this season, but the Pirates are capable of much more with a special talent like Powell aboard.
2. Markus Howard, Marquette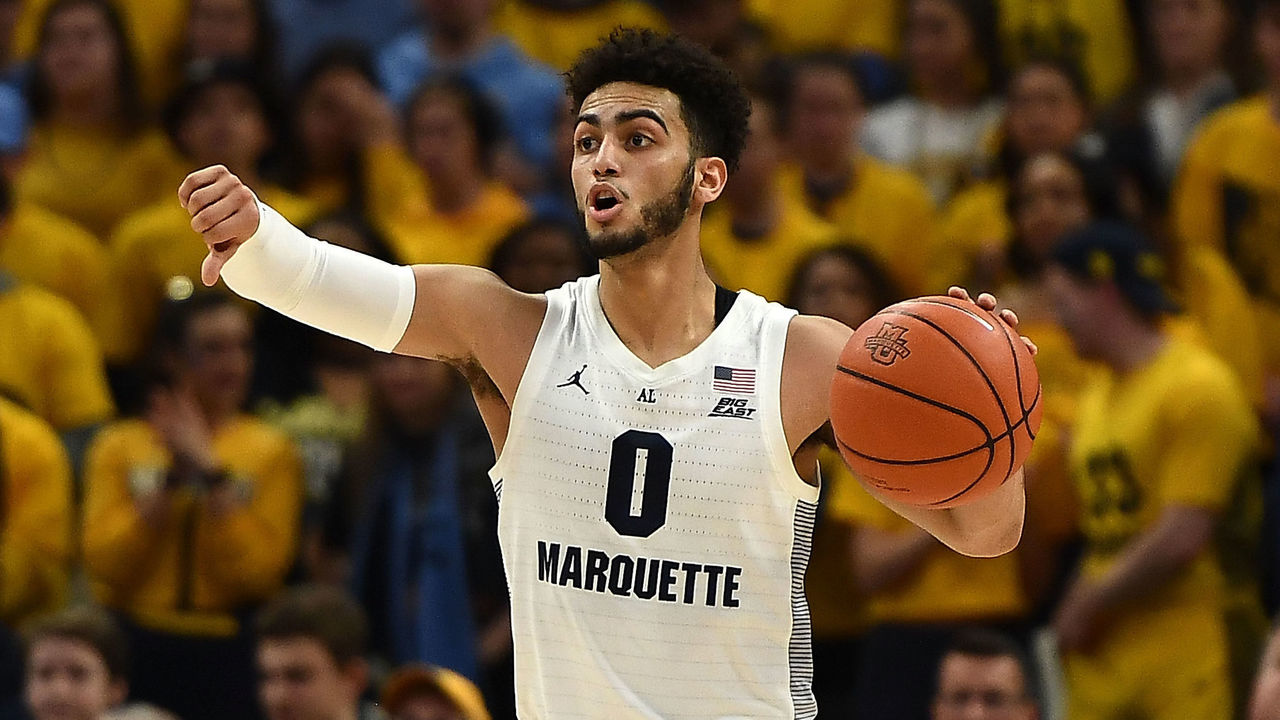 Howard electrified college basketball last season. One of the most explosive scorers in recent history, the Marquette guard put up at least 30 points on 10 occasions during the 2018-19 campaign, including a Big East-record 53 points against Creighton in January. Howard is also one of just four players in the last 20 seasons to record at least three career 45-point games, according to ESPN Stats & Info, and the only Division I player with multiple 50-point games during the same span.
There's no simple way to guard the reigning Big East Player of the Year. Howard makes defenses pay for going under screens, exploiting the space given to him for open 3-pointers and mid-range jumpers. He can create room for himself with stepbacks and has great body control on pull-up jumpers. He also uses hesitation moves to drive by defenders or get to his spot in the paint for floaters and push shots. With the offseason transfers of Sam and Joey Hauser, it's scary to consider that Howard's production could increase.
1. Cassius Winston, Michigan State
Winston was at the heart of Michigan State's back-to-back 30-win campaigns, including last year's Final Four appearance. The reigning Big Ten Player of the Year was at his best during the 2019 postseason, averaging 18.1 points and 6.9 assists. He's an exceptional passer and a career 42.5% shooter from distance. Winston is on pace to become the first player in Division I history to reach at least 2,000 career points and 1,000 assists.
But those who've followed Winston's collegiate career know that he brings a lot more to the table than his numbers. The fourth-year guard is a leader who knows how to guide his team. Winston always seems to have a handle on every situation and can sense when he needs to assert himself as a scorer or distributor. What he lacks in athleticism, Winston makes up with his toughness and basketball IQ. The 21-year-old is the type of floor general every team needs if they hope to cut down the nets in early April.