Get ready for your season with theScore's 2019 Fantasy Football Draft Kit and subscribe to push notifications in the NFL Fantasy News section.
Every game night during the preseason, theScore gets you caught up on the most important fantasy performances from around the league.
Patriots' receiving corps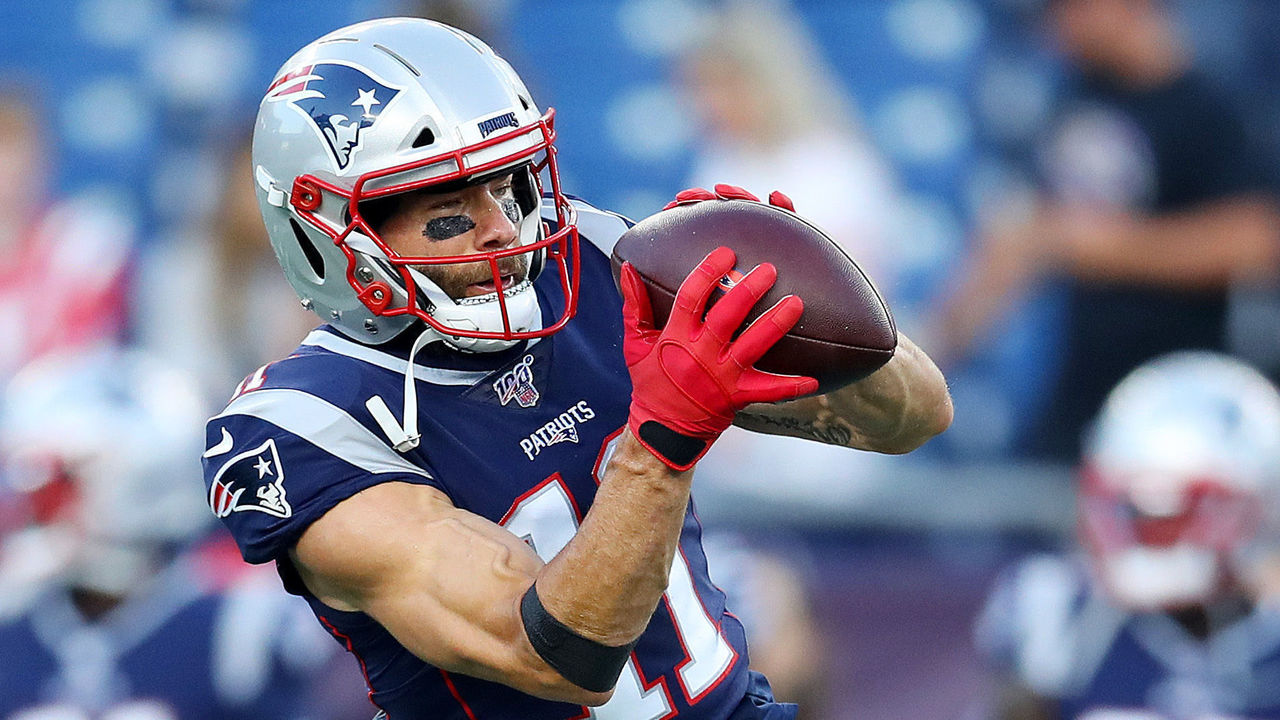 Both Julian Edelman and Josh Gordon suited up in the preseason finale when most starters around the league got the evening off.
It was Gordon's first live game action since he was suspended in December, so Bill Belichick was likely giving him a chance to knock off some rust. If his play was any indication, it might take a little more time. Gordon caught just two of his six targets for 30 yards. The Patriots have a history of rounding into form as the season progresses, so no need to worry about Gordon who's inside my top 30 fantasy receivers for 2019.
Edelman, meanwhile, was returning from a broken left thumb that kept him out for the majority of August and on his first catch of the game - a 20-yard pickup - he fell awkwardly on his left hand. The Super Bowl MVP actually fumbled the ball on the play, though he was ruled down by contact.
Favoring the hand as he got up, Edelman headed to the sidelines, bringing an early end to his night. Although he spent time with the team trainer, no one appeared overly concerned, according to multiple beat writers in the stadium.
New England is often tight-lipped about their ailments, so we may have to wait until the Week 1 injury report is released before we know more. If Edelman was fortunate enough to escape unscathed, he'll remain a fringe WR1 in fantasy.
Even with Gordon and Edelman in the lineup, it was veteran Demaryius Thomas who stole the show with seven grabs, 87 yards, and a pair of scores, including this 35-yarder. It's great to see Thomas back from his Achilles' tear, but important to remember this happened against backups.
Thomas looked like a receiver on the downside of his career in 2018. It's unlikely he'll regain his form as a weekly fantasy contributor, so don't waste a late-round pick or rush out to the waiver wire to get him.
Instant Impressions
The Patriots' wideouts caught all the passes thrown to them from rookie Jarrett Stidham, who continued his solid preseason by completing 18-of-28 attempts for 225 yards and two touchdowns on Thursday. He also added 50 yards on the ground. Whether he'll move ahead of Brian Hoyer on the depth chart has yet to be determined, but the young passer has certainly boosted his chances of eventually becoming Tom Brady's successor when he retires in 2050.
Other rookie quarterbacks could be named their team's starter sooner than people may realize. Daniel Jones went 4-of-4 for 47 yards on Thursday to round out a preseason when he completed 85 percent of his passes for 416 yards with two scores and no picks. Jones' isn't a fantasy option, but he might already offer the Giants' offense more than it's getting from a late-career Eli Manning. Hopefully, the team's front office and ownership see that, too.
Fellow first-round rookie quarterback Dwayne Haskins wasn't as clean in the preseason, but he flashed at times, including a 12-yard TD pass thrown on the run Thursday. Haskins completed 55 percent of his attempts in August for 409 yards with two touchdowns and two interceptions. Although Case Keenum has already been named the Redskins' Week 1 starter, Haskins will be under center before long. Like Jones, he's well off the fantasy radar this season, unless you're in a two-quarterback or superflex league.
It was a tough night for first-round wideout Marquise "Hollywood" Brown, who's playing catch up after missing valuable offseason reps while recovering from Lisfranc surgery. Brown muffed a pair of punts, and he wasn't targeted when the final night of the preseason came to a close. Consider him a late-round stash with an eye toward a potential midseason breakout after he gets comfortable in the Ravens' offense.
The hype around Parris Campbell has dwindled since Andrew Luck's surprise retirement, but it was still nice to see the rookie showcasing his speed with three receptions for 42 yards, highlighted by a 31-yard catch and run up the middle. Without Luck around, Campbell is just a dart throw in redraft leagues, and he'll likely need a T.Y. Hilton injury to return value.
With Duke Johnson traded and Kareem Hunt suspended, the Browns can feel confident with Dontrell Hilliard backing up Nick Chubb for the first eight games of the season. Hilliard rushed 12 times for 65 yards, adding two receptions for 13 yards and a touchdown on Thursday. Chubb should be a true workhorse with Hilliard serving as an early-season handcuff for fantasy managers.
With the way Devine Ozigbo refused to let this poorly thrown ball hit the turf, you would've thought his roster spot was far from secured. However, the halftime broadcast suggested the rookie runner is the favorite for the Saints' No. 3 job, according to Establish The Run's Evan Silva. Fantasy owners would be wise to pay close attention to the third-string back in New Orleans, since an injury to Alvin Kamara or Latavius Murray would immediately vault him into the flex conversation.
Rodney Anderson was one of the most talented backs in this year's draft, but injuries throughout his college career caused him to fall to the sixth round. Defying all odds, he put together a nice preseason, yet sadly he left Thursday's game with an injury to the same knee he tore his ACL in last year. We're all rooting for this to be something minor and for Anderson to get back on the field soon.
Previous Takeaways