theScore's editors count down the top 25 NFL players under the age of 25 as of kickoff in Week 1 of the 2019 season.
25-21 | 20-16 | 15-11 | 10-6 | 5-1
20. Yannick Ngakoue, Jaguars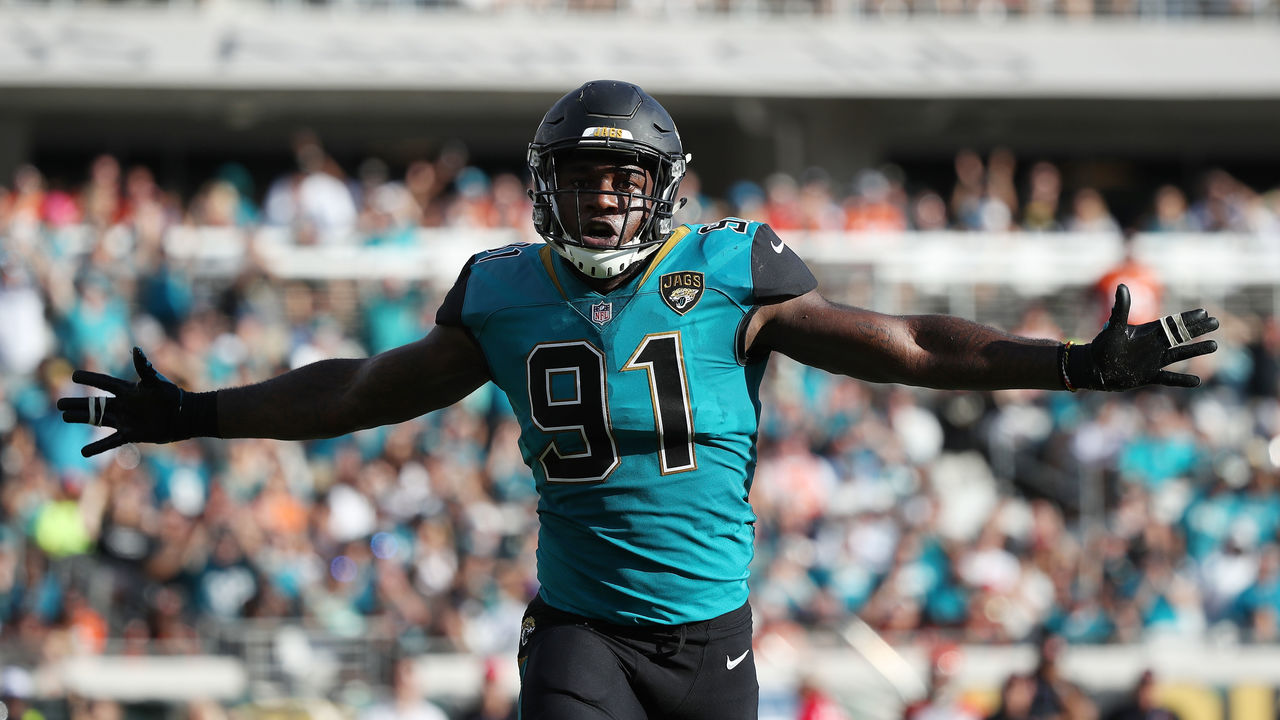 Age on Week 1: 24 years, 5 months
2018 stats: 28 total tackles, 9.5 sacks, 13 tackles for loss, 24 quarterback hits
Ngakoue played a pivotal role in elevating the Jaguars' defense to an elite caliber in 2017. Since being drafted in the third round in 2016, he's had 29.5 sacks - more than Trey Flowers, Melvin Ingram, Everson Griffen, and Jadeveon Clowney.
Combined with his ability to explode off the line, Ngakoue's powerful hands and signature cross chop allow him to work past tackles and continuously disrupt the pocket. He led the league in quarterback hits last year and forced a league-leading six fumbles in 2017.
The 6-foot-2, 246-pound defender is entering the final year of his deal and could see elite pass-rusher money in a new extension. Forming a deadly duo alongside Calais Campbell, Ngakoue wreaks havoc on opposing quarterbacks and helps fuel the defense's potential to make the Jags an AFC powerhouse once again.
19. Marshon Lattimore, Saints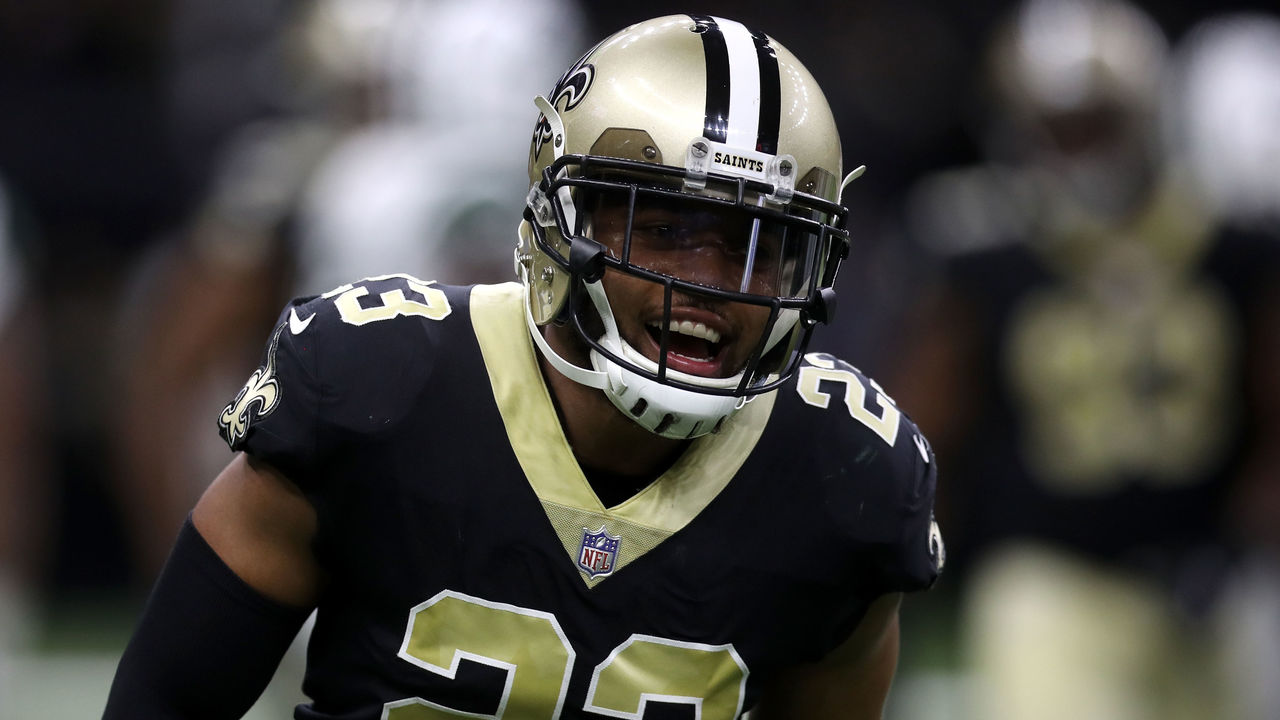 Age on Week 1: 23 years, 3 months
2018 stats: 12 passes defensed, 59 total tackles, 4 forced fumbles, 2 interceptions
Calling Lattimore's rookie campaign a breakout would be an understatement.
The No. 11 pick in the 2017 NFL Draft dominated in his first year, posting five interceptions and 18 pass breakups. Quarterbacks targeting Lattimore in 2017 had a rating of 45.3, the second-lowest among corners who played at least 450 snaps, according to Pro Football Focus. For the first eight weeks of that season, QBs would have had better ratings if they'd tossed the ball into the dirt instead of in Lattimore's direction.
Whether it's press-man, Cover-2, or playing deep zones, Lattimore can do it all. Using his versatile skill set, the 23-year-old has followed elite receivers throughout his first two seasons; opposing signal-callers posted a rating of just 65.4 when targeting the corner in shadow coverage during his rookie year, according to PFF.
The Ohio State product was a defensive difference-maker for New Orleans during the 2018 postseason, allowing only three catches for 58 yards in two games and nabbing two pivotal interceptions against the Philadelphia Eagles. Saints brass should be ecstatic knowing one side of the field is locked down in Lattimore's coverage.
18. Tre'Davious White, Bills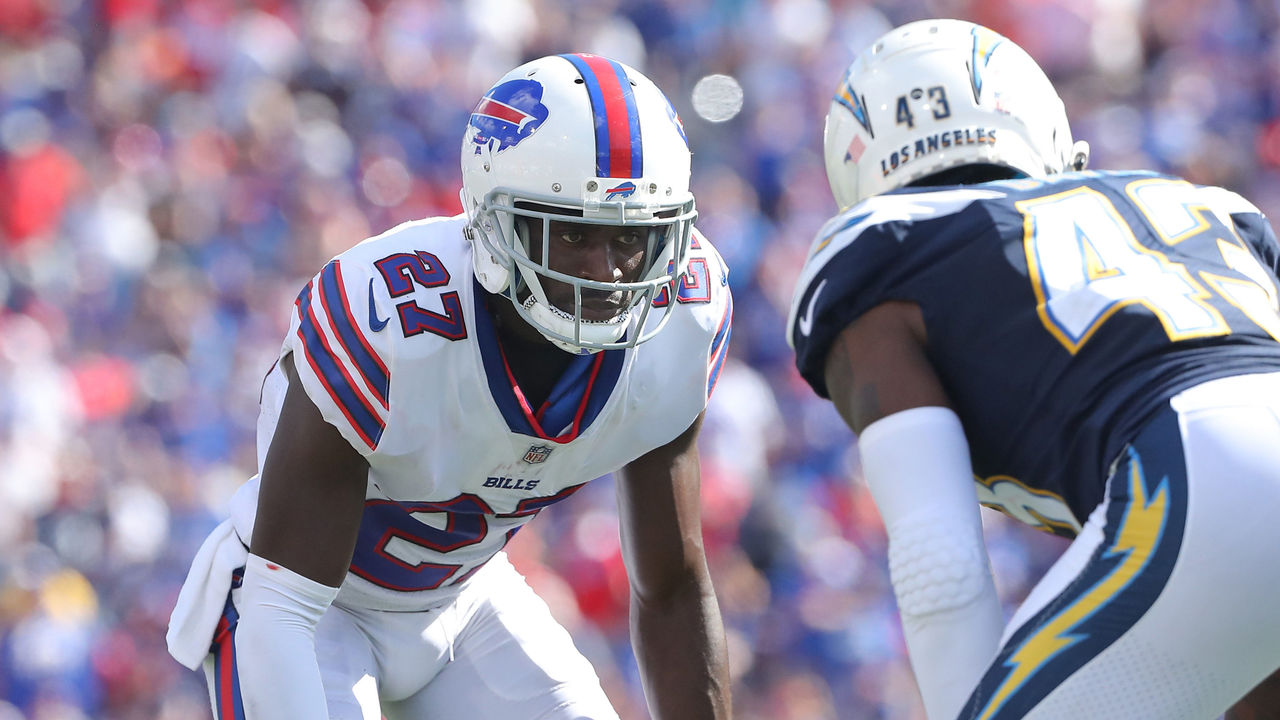 Age on Week 1: 24 years, 7 months
2018 stats: 8 passes defensed, 54 total tackles, 2 interceptions
White accumulated four interceptions and 18 pass breakups in his rookie season and followed it up with another productive campaign in 2018. Among corners who played at least 400 coverage snaps last season, White gave up the third-fewest yards (357) and ranked 10th in opposing quarterback rating (75.6). He also had no issues matching up against the league's top talents, holding Davante Adams, DeAndre Hopkins, T.Y. Hilton, Josh Gordon, and Corey Davis to under 50 yards receiving in shadow coverage, according to PFF.
The former LSU star has a skill set beyond his age. His anticipation combined with his aggressiveness at the line allowed him to force incomplete passes (either pass breakup, interception, or proximity in coverage) on 23.4 percent of targets in his coverage in 2017, easily surpassing the 15-percent league average.
White's stellar rookie campaign helped pave the way for the Bills' first postseason appearance in 18 years. His sophomore numbers in 2018 may not have been as flashy, but his talent will anchor Buffalo's secondary for the foreseeable future.
17. Deion Jones, Falcons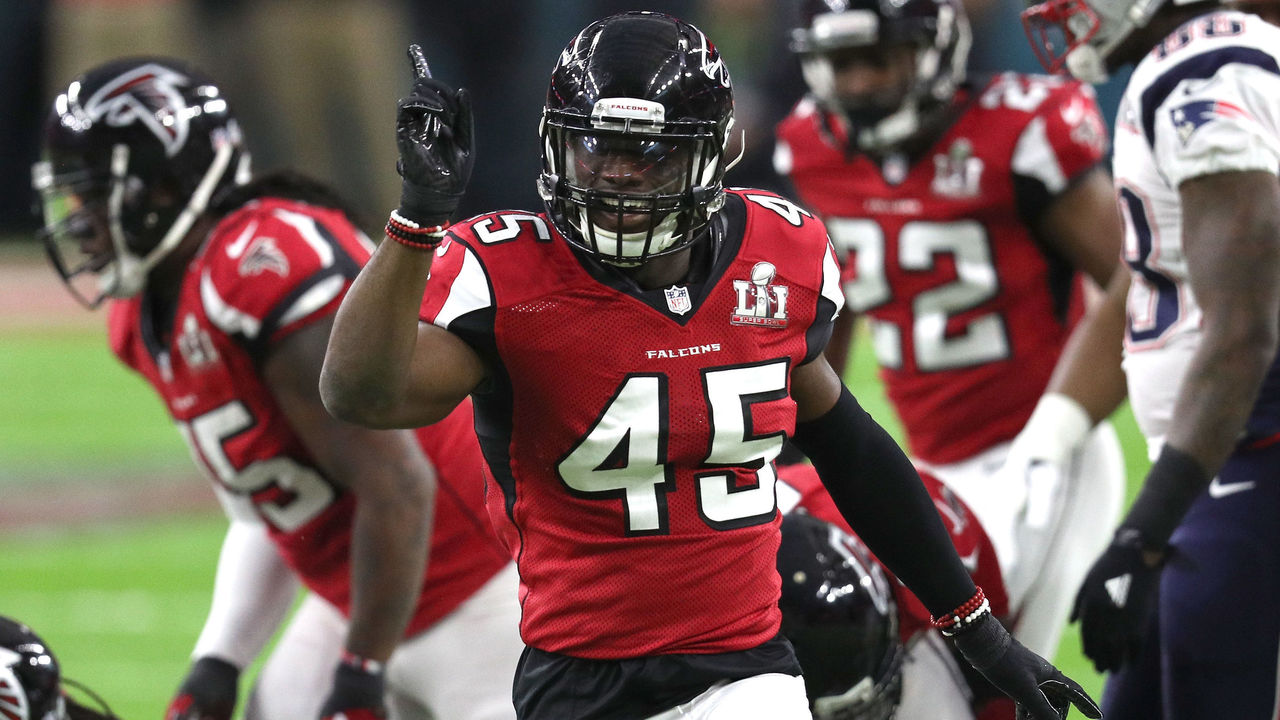 Age on Week 1: 24 years, 10 months
2018 stats: 53 total tackles, 1 sack, 2 interceptions, 6 passes defensed
Jones played in just six games last year after suffering a foot injury in Atlanta's season opener, but he only needed his 2016 and 2017 campaigns to enter the league's top echelon of linebackers; he ranked fourth at his position in total tackles (138), first in interceptions (3), second in pass breakups (7), and sixth in opponent passer rating (79.3) in 2017.
His athleticism, instincts, and ability to cover the whole field allow the former second-round pick to close quickly in open space and be one of the best read-and-react linebackers in the NFL. It's no coincidence the Falcons allowed a league-high 88 receptions by opposing running backs for 695 yards during his absence in 2018. With Jones on the field over the same time span in 2017, Atlanta allowed a league-low 71 receptions to running backs for 535 yards.
16. Darius Leonard, Colts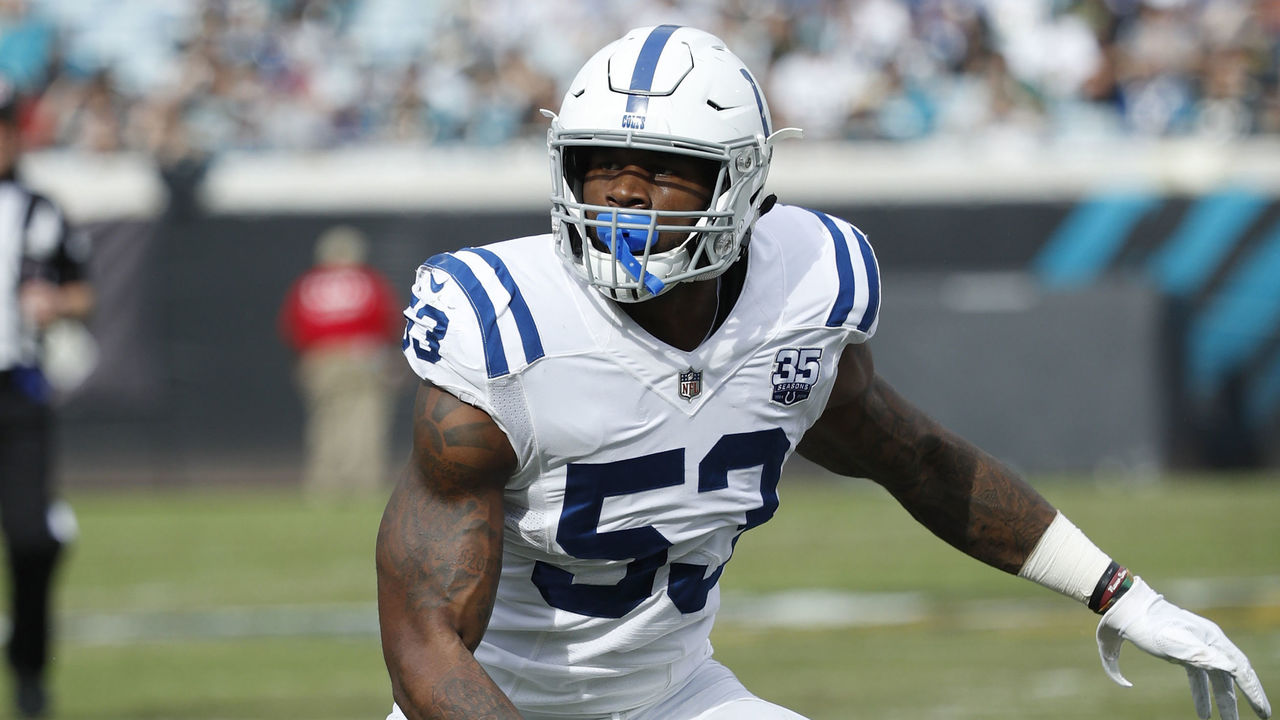 Age on Week 1: 24 years, 1 month
2018 stats: 163 total tackles, 7 sacks, 4 forced fumbles, 2 interceptions
The Colts were said to have reached when they selected Leonard with the 36th overall pick in the 2018 NFL Draft. They couldn't have found a better fit for their defense.
Indianapolis is one of the league's heaviest users of zone defense, specifically the Tampa-2. The coverage allows Leonard to sit in the middle of the field and retreat as routes develop, preventing intermediate and middle-of-the-field targets and closing in on underneath routes. In his rookie season, Leonard's six pass breakups, two interceptions, and league-leading 163 total tackles demonstrated his ability to close in on ball carriers in the middle ground and to read and react as needed. Leonard's sure tackling and speed limited potential big plays, and he showed an uncanny ability to navigate through blockers to get to opposing running backs quickly.
The South Carolina State product solidified himself as a top coverage linebacker in Week 14 against the Houston Texans. Lined up one-on-one with DeAndre Hopkins, who ran a slant towards the end zone, Leonard was able to anticipate the play and swat the intended pass away.
How many linebackers are asked to cover one of the best receivers in the league?