College football is sport at its zaniest.
The coaches, the college towns, and the fact that games are played (mostly) by those between 18 and 21 years old contribute to Saturdays that are never dull. And with 130 teams in the Football Bowl Subdivision, you can't predict where the most memorable moments of the weekend will occur.
Each week this season, theScore is here to break it all down - from the good to the bad to the weird. Here's what happened in Week 7 and why it matters.
The good
Joe Brady at LSU, Alex Grinch at Oklahoma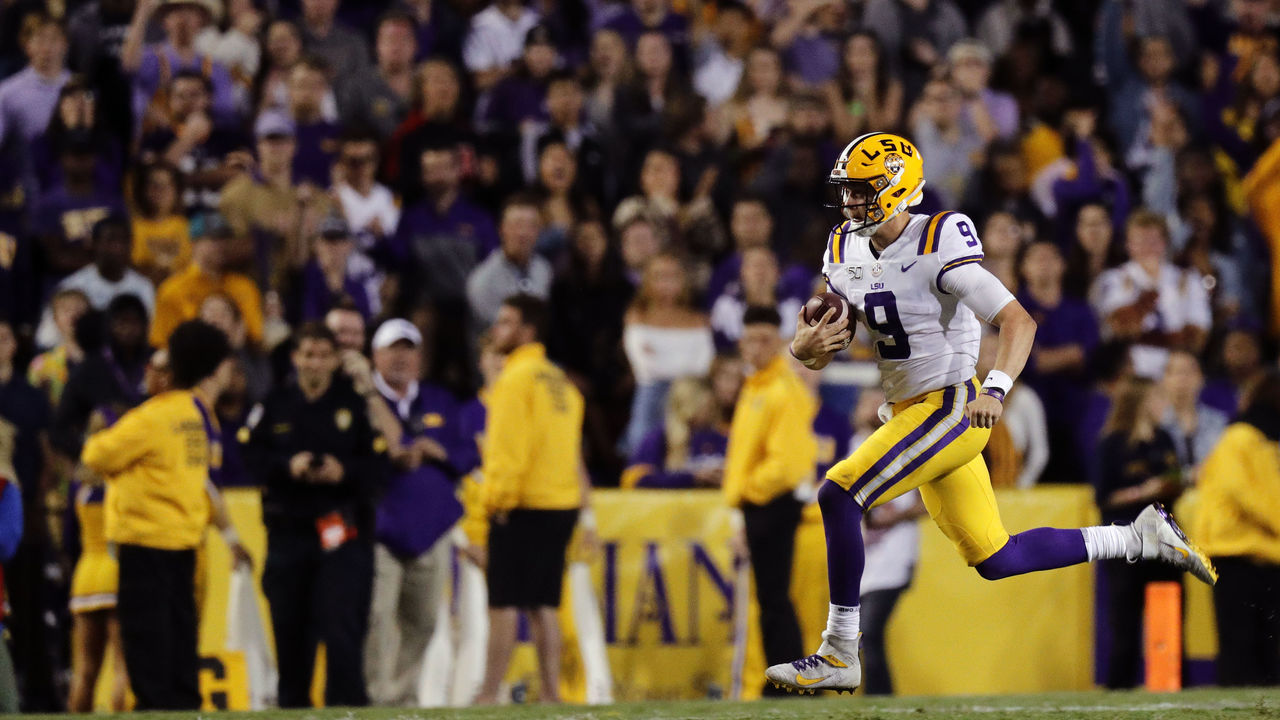 Behind every great team is a rock-solid staff. The two playoff contenders who pulled off the biggest wins of Week 7 did so in part because they bolstered their coaching units this offseason.
Let's start in Baton Rouge, where LSU simply wore down Florida in a 42-28 victory. The Tigers, who moved up to No. 2 in the AP Top 25 poll Sunday, spun their tires offensively for the better part of the last decade. Head coach Ed Orgeron tried to change that by hiring 30-year-old Joe Brady to be his passing game coordinator and receivers coach. Brady, previously an offensive assistant with the New Orleans Saints, has received credit for LSU's transformation into one of the most dynamic, explosive offenses in college football.
That attack was on display Saturday against a good Gators defense. Joe Burrow, who threw for 16 touchdowns all of last season, had as many touchdowns (three) as incomplete passes. He already has 25 touchdown throws in six games.
LSU gets the football in the hands of its elite playmakers - receivers Ja'Marr Chase and Justin Jefferson and running back Clyde Edwards-Helaire. The Tigers have already produced 46 plays of 20-plus yards this season. Last year, they had 55 total.
For Oklahoma, a similar transformation is happening on the defensive side. One year after Lincoln Riley fired his defensive coordinator during the season after a frustrating loss to Texas, his new defensive leader, Alex Grinch, coordinated a masterful performance in a 34-27 OU win. The Sooners held Texas to three points in the first half, sacked Sam Ehlinger nine times, and, for once, bailed out the offense after a couple early Jalen Hurts turnovers. Linebacker Kenneth Murray (two tackles for loss, one sack Saturday) could be the Big 12 Defensive Player of the Year.
While Alabama remains No. 1, it's hard to argue there are four teams more impressive than either LSU or Oklahoma this season. It's conceivable that the Tigers and Sooners could cross paths in a semifinal or championship game - and the additions of Brady and Grinch will be a major story in the lead-up.
Utah, Arizona State, and a Pac-12 South showdown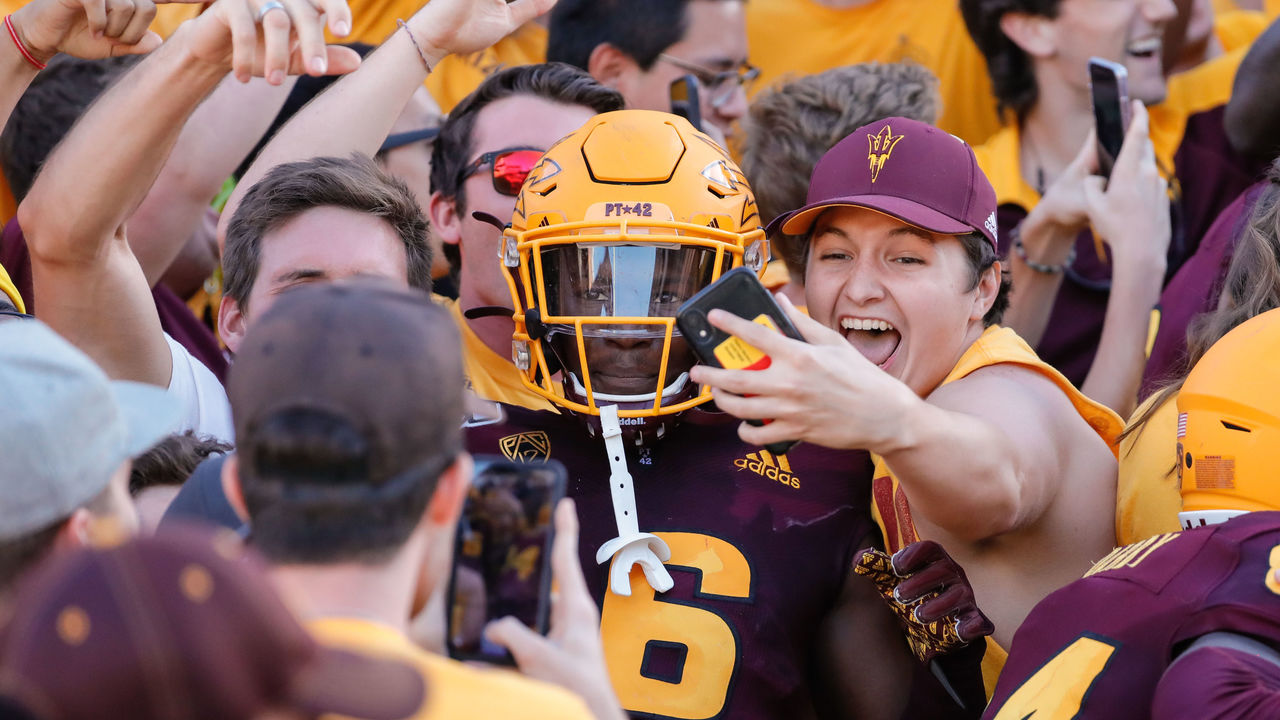 Penn State and Michigan will receive more attention, but Utah-Arizona State could be the best game on the Week 8 schedule.
It certainly looks like a game that will determine the Pac-12 South. And both teams come in flying high.
The No. 13 Utes, forgotten after an early loss at USC, roared back with a 52-7 win at Oregon State. On one hand, the Beavers are one of the worst teams in the Pac-12. But Oregon State's offense had played well all season, scoring 36 points against Oklahoma State, 28 against Stanford, and 48 versus UCLA. Utah shut the Beavers' offense down and got good performances from quarterback Tyler Huntley and the run game.
Meanwhile, the Sun Devils are now 5-1 and ranked 17th - their highest ranking in four years. They won an exciting back-and-forth game against Washington State 38-34.
True freshman quarterback Jayden Daniels continues to grow up. He set career highs in passing yards (363), completion percentage (72.2), and touchdown passes (three) Saturday. He also put his body on the line to score the go-ahead touchdown.
Both Utah and ASU are defensive-minded, so expect fewer points this weekend, but it should be a tight game with plenty of implications.
Lynn Bowden
Neither Kentucky nor Arkansas entered the weekend with a winning record, so their SEC matchup received little fanfare. The fact the Wildcats won 24-20 wasn't a huge surprise.
But the way Kentucky did it is quite the story.
Lynn Bowden led the Wildcats in receptions and yards a year ago. He leads them in receptions and yards this year, too. And on Saturday, he stepped in at quarterback to rescue a depleted offense.
A former high school quarterback from Youngstown, Ohio, Bowden completed 7 of 11 passes for 78 yards and a touchdown and ran for 196 yards and two scores.
The bad
Georgia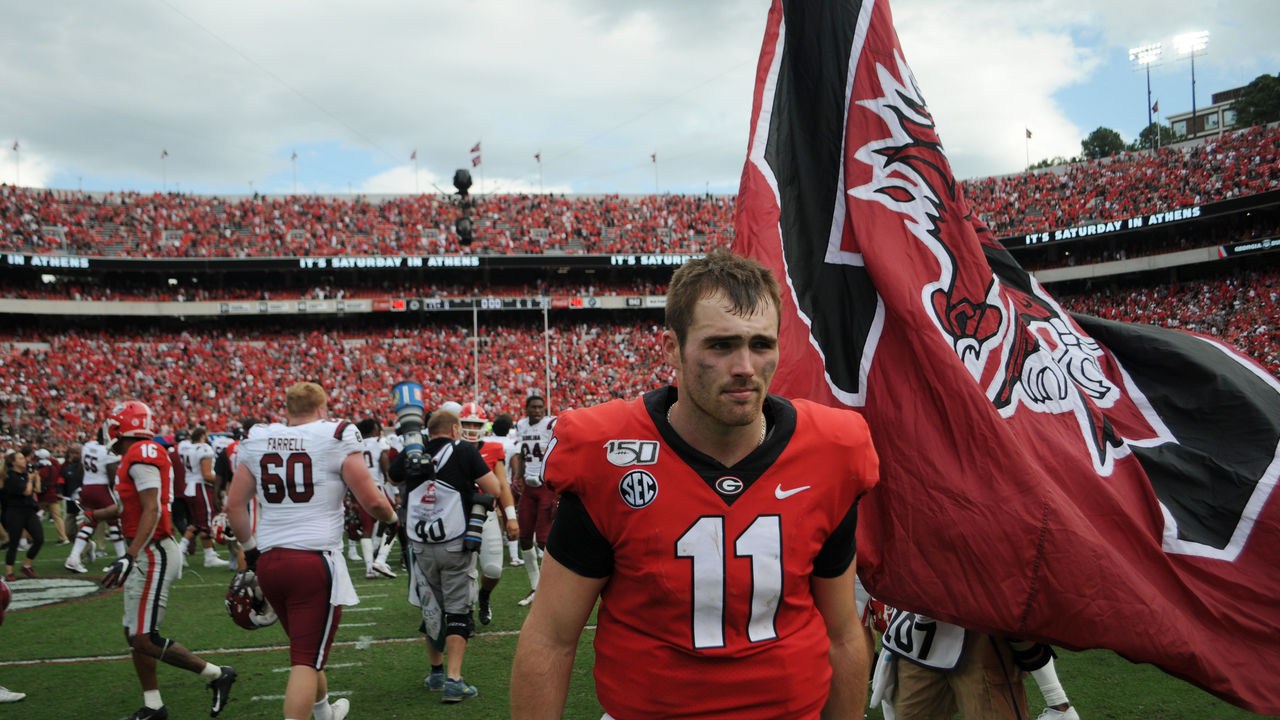 We touched on it Saturday and we can't avoid it today: Of the top 15 teams in the country, Georgia owns the worst loss.
With a 20-17, double-overtime loss to South Carolina, the Bulldogs went from a top-five team nationally to maybe the fourth-best team in the SEC (fifth if you like Auburn better). Everything that could go wrong did; Georgia turned the football over four times and missed two field goals.
The loss doesn't eliminate Georgia from playoff contention (though it makes the path tougher). Remember, Ohio State won the national championship in 2014 despite an early-season loss to Virginia Tech. Oklahoma reached the playoff two years ago after a home loss to Iowa State that was just as shocking as the defeat Georgia experienced Saturday. There's still plenty of potential for chaos in November.
But did Saturday expose flaws that will lead to additional losses? Georgia's offense ran 95 plays against South Carolina, and only one went for 20-plus yards. And after entering the game a plus-4 this season in turnover margin, Georgia finished it even. The Bulldogs' eight takeaways tie them for 67th nationally.
Nebraska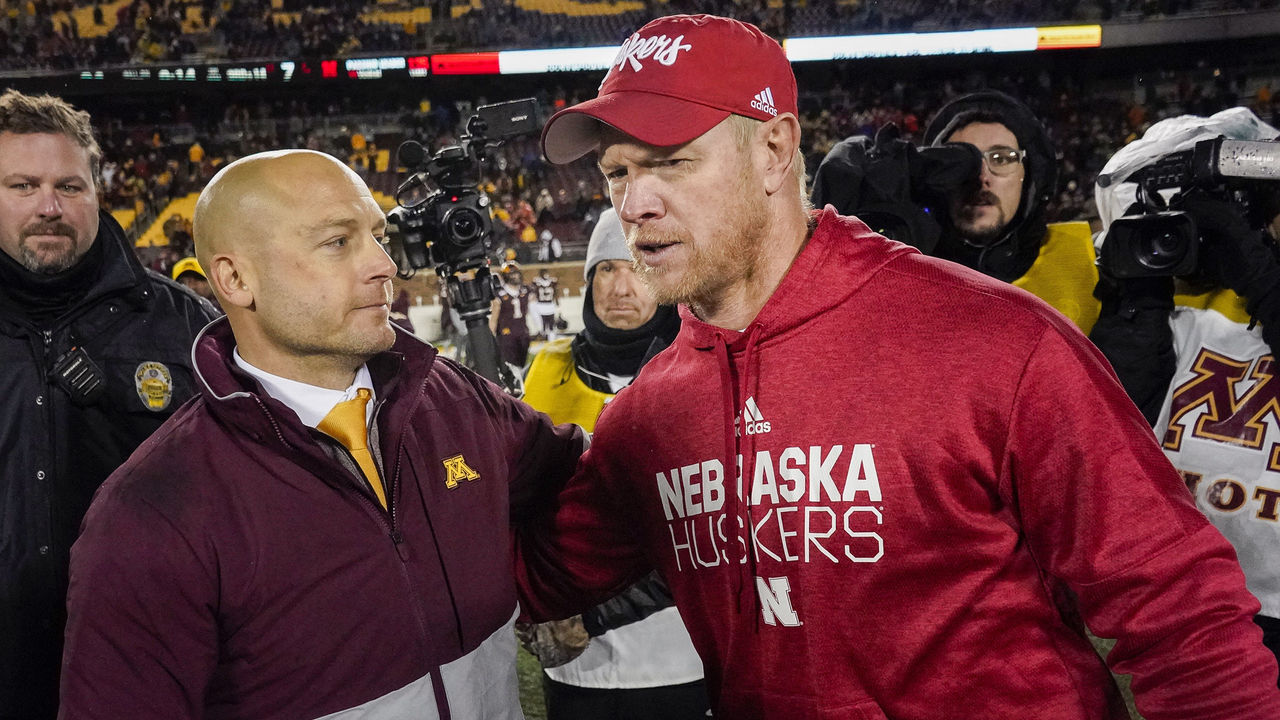 Scott Frost's second year began with renewed optimism, a spot in the preseason Top 25, and even some sleeper Heisman love for quarterback Adrian Martinez.
After seven games, it isn't even a sure thing that Nebraska will make a bowl.
The Cornhuskers fell to 4-3 with an ugly 34-7 loss at Minnesota. Martinez was hurt, and replacement Noah Vedral (14-of-23, 135 yards) was ineffective. The 6-0 Golden Gophers are their own story, too.
But it's a little jarring to see Nebraska's overall lack of progress in 2019.
The Cornhuskers have put forth one complete performance in seven tries: a 44-8 win over Northern Illinois. They struggled in their season opener against South Alabama, blew a lead at Colorado, narrowly defeated Illinois and Northwestern, and got blown out by Ohio State and Minnesota. Opponents have outscored Nebraska 193-179 this season. The upcoming off week couldn't come at a better time.
Nebraska still does seem likely to make a bowl. The Cornhuskers would need two more wins from these five games: Indiana, at Purdue, Wisconsin, at Maryland, Iowa. But two of their final three home games are against ranked teams, and Nebraska is 1-7 on the road over the last two seasons.
Maryland
If there was an award for the most mercurial team in college football, Maryland might be the front-runner.
It's been a wild ride for the Terrapins, who were briefly ranked after a 63-20 rout of Syracuse in Week 2.
Since then, Maryland is 1-3 - including a 40-14 loss at Purdue on Saturday in which the Terps weren't really competitive. Maryland was hamstrung by injuries, including one to starting quarterback Josh Jackson. But the Boilermakers were also without quarterback Elijah Sindelar and their best player, receiver Rondale Moore. Backup Jack Plummer completed 33 of 41 passes for 420 yards.
A bowl looked certain for the Terrapins in early September. At 3-3, now it looks like a challenge. Maryland plays three ranked teams (Minnesota, Michigan, and Ohio State) in the second half of the season and must go on the road to Michigan State.
The weird
The end of Notre Dame-USC
The game came down to an onside kick, and USC's odds of recovering it were low. So perhaps the Fighting Irish would have won 30-27 regardless.
But how did the officials fail to notice Notre Dame head coach Brian Kelly on the field as USC approached its last-gasp effort at a comeback?
A 15-yard penalty would have moved a re-kick to midfield. It wouldn't have helped USC's chances of recovery, but it would have pushed the Trojans to the edge of game-tying field-goal range had they found a way to retain possession.
Alas, "too many coaches on the field" is not reviewable.
So, so Philly
Temple deserves some recognition as an AAC contender for its 30-28 win over previously undefeated Memphis. The Owls, who play in Lincoln Financial Field (the Philadelphia Eagles' home), appeared to have decent crowd support in a cavernous stadium, too.
That includes one fan who decided to paint his face and chest and wear a cheesesteak on his head.
Honorable mention: The fan to his left, who drew the short straw and had to be the hashtag in the group of fans who painted their chests to spell "#GoOwls!"
Western Kentucky-Army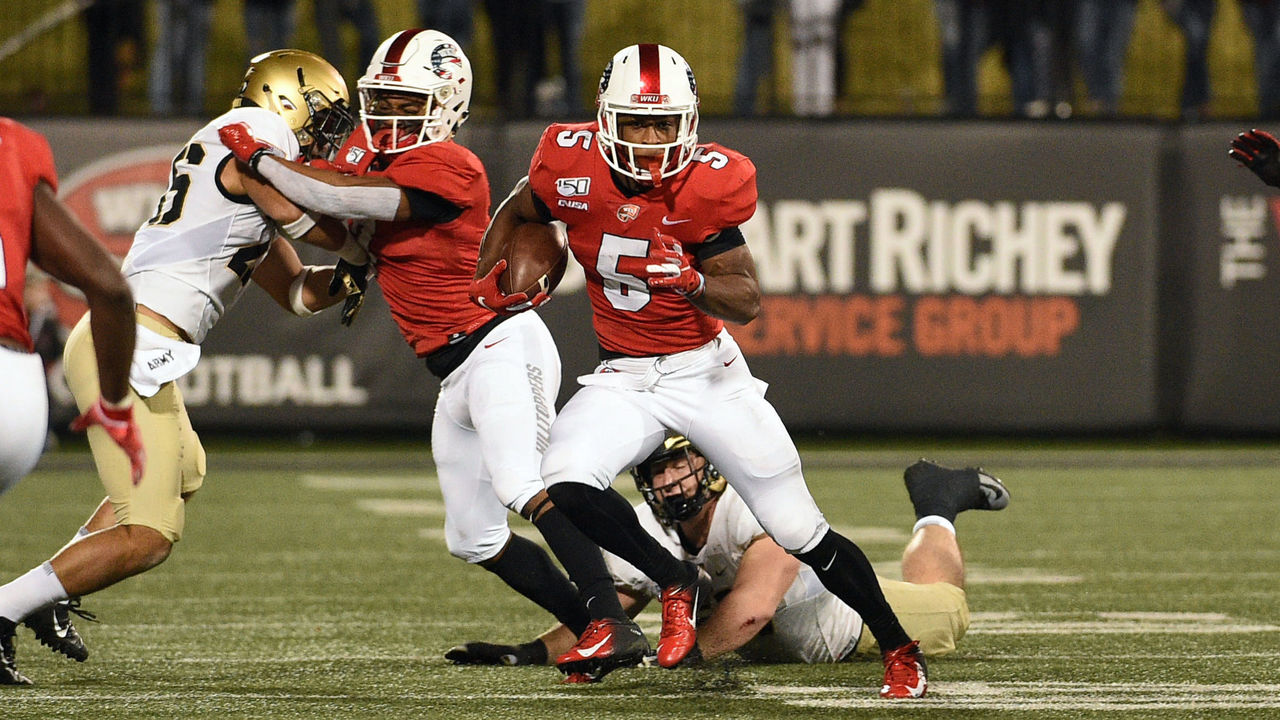 One of the stranger scorelines from a Group of 5 game this weekend: Western Kentucky 17, Army 8.
On Aug. 29, Western Kentucky opened the season by losing 35-28 to Central Arkansas, a top-15 FCS program. A week later, Army took Michigan, a top-20 FBS program, to overtime before losing by three.
None of that mattered Saturday in Bowling Green, Kentucky. Army ran for just 137 yards, its lowest total since 2015. Western Kentucky controlled the football for 38 minutes.
The game likely says more about the resurgent Hilltoppers than about the Black Knights. At 4-2, WKU has already exceeded its win total from last season (three), and at 3-0 in Conference USA play, the Hilltoppers could make a surprise conference championship appearance in December.