While we won't get to witness a thrilling conclusion to the 2019-20 men's college basketball season, it was still filled with indelible memories.
In no particular order, here are 10 unforgettable moments from the campaign.
Stephen F. Austin stuns Duke on last-second layup
Basketball buzzer-beaters almost always come on long-range heaves. That's one reason the sight of Stephen F. Austin's Nathan Bain running the length of the court to convert a layup that sunk Duke in overtime - in its own building - was one of the lasting images of the season.
That stunning November defeat opened up a world of agonizing firsts for the Blue Devils. They hadn't lost at home to a nonconference opponent in more than 19 years, as the upset shattered a streak of 150 wins. It was also the first time Duke had fallen to an unranked non-power-conference side in 36 years.
Away from the court, the Lumberjacks' victory shed some light on a fantastic cause. A fundraiser to help Bain's family in the Bahamas rebuild from the destruction of Hurricane Dorian saw an incredible spike in donations after his game-winner, ultimately raising more than $150,000.
NCAA rules Wiseman ineligible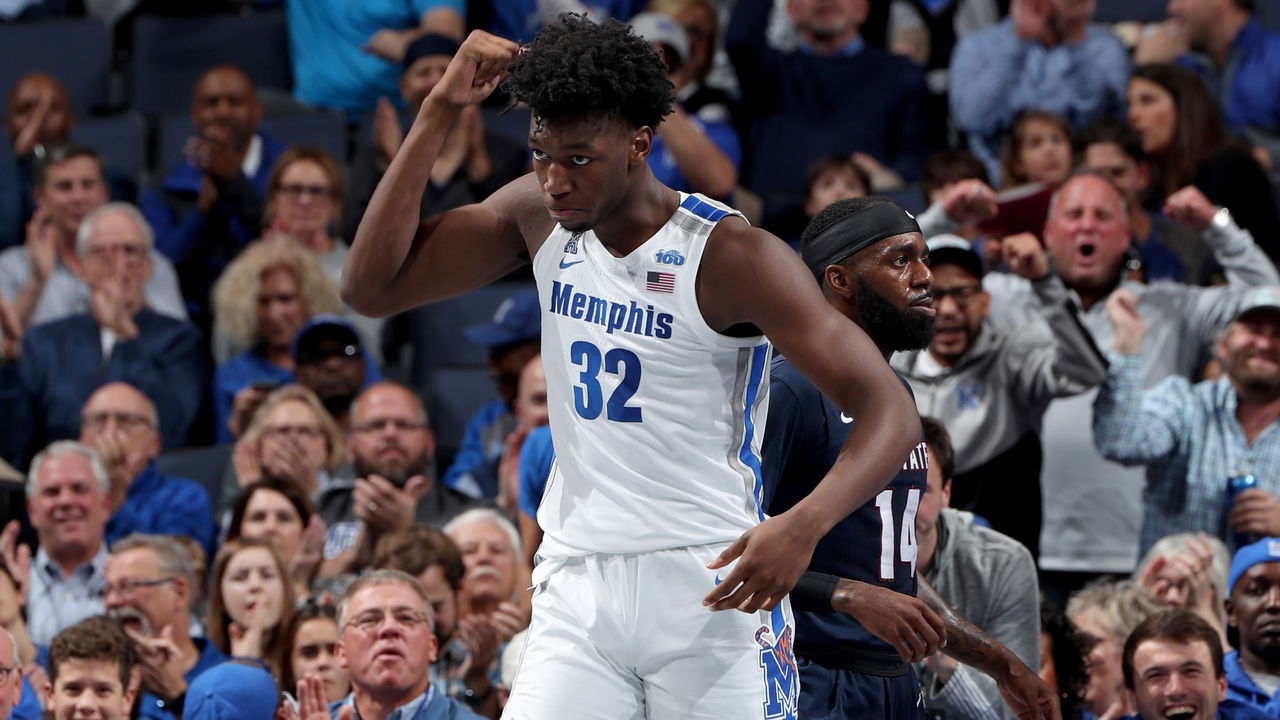 The NCAA sent shockwaves through college basketball in November when it suddenly ruled that Memphis star freshman James Wiseman was no longer eligible to play due to an $11,500 payment his family had received from Penny Hardaway. Hardaway, who's now the Tigers' head coach, made the payment before he took the job, but the NCAA had officially deemed him a booster for his alma mater, making the transaction impermissible.
A legal battle temporarily retained Wiseman's eligibility, but the NCAA won out and suspended the center until Jan. 12. Instead of returning, Wiseman opted to leave Memphis entirely to prepare for the 2020 NBA Draft. Despite not playing in a game since Nov. 12, he's considered a potential No. 1 pick.
Evansville's historic upset of No. 1 Kentucky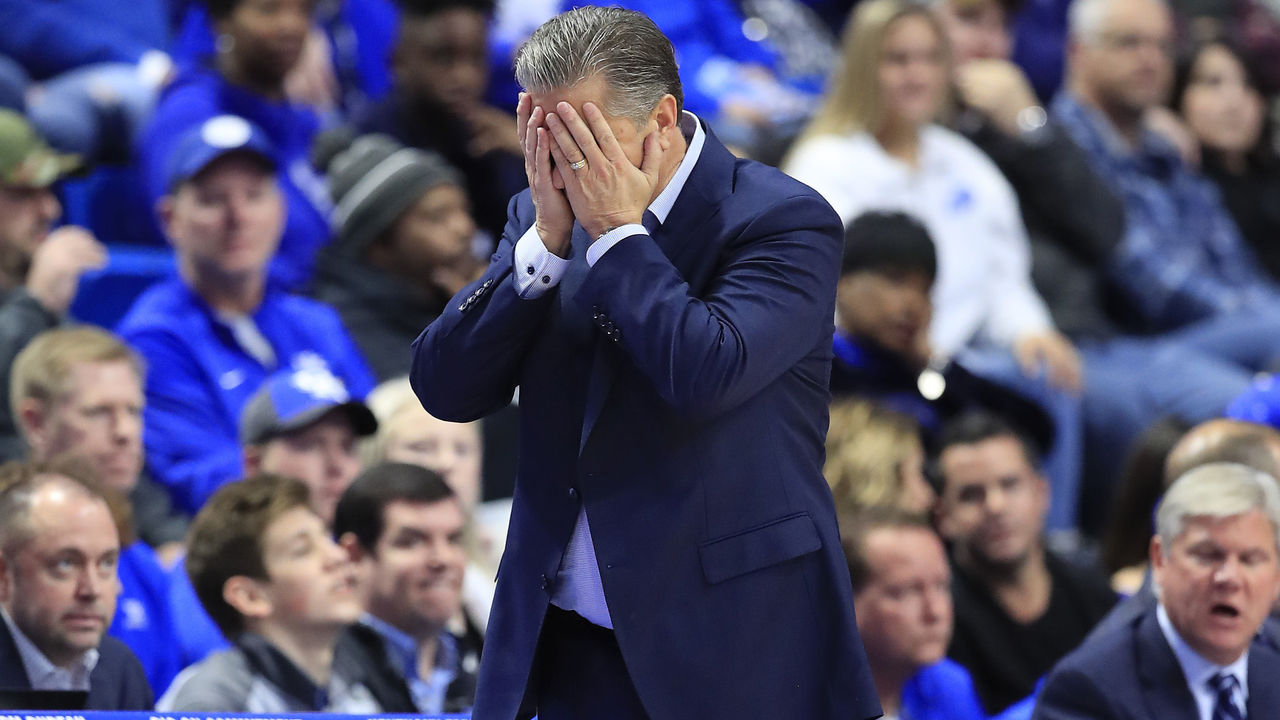 Just a few weeks before Stephen F. Austin's surprise win, Evansville produced one of its own. The Purple Aces came out of Rupp Arena with one of the most shocking results in recent college basketball history, taking down top-ranked Kentucky 67-64. It was Evansville's first-ever win against a top-five side and the Wildcats' first home loss in 40 games as the No. 1 team against an unranked nonconference opponent.
Additionally, the Purple Aces entered the matchup as 25-point underdogs, with their victory trailing just two schools for the biggest Division I upset in the last 15 seasons, according to ESPN. They'd go on to finish the campaign with a 9-23 record - including an 0-18 mark in conference play - becoming the first squad in NCAA history to beat the No. 1 team and lose all of its conference games in the same season, according to Stats by STATS.
Kentucky, meanwhile, would claim the SEC regular-season title and go 16-2 at home. The Wildcats were in line for a No. 2 seed in the NCAA Tournament, according to the final Bracketology by ESPN's Joe Lunardi.
Kansas tops Dayton in thrilling Maui Invitational final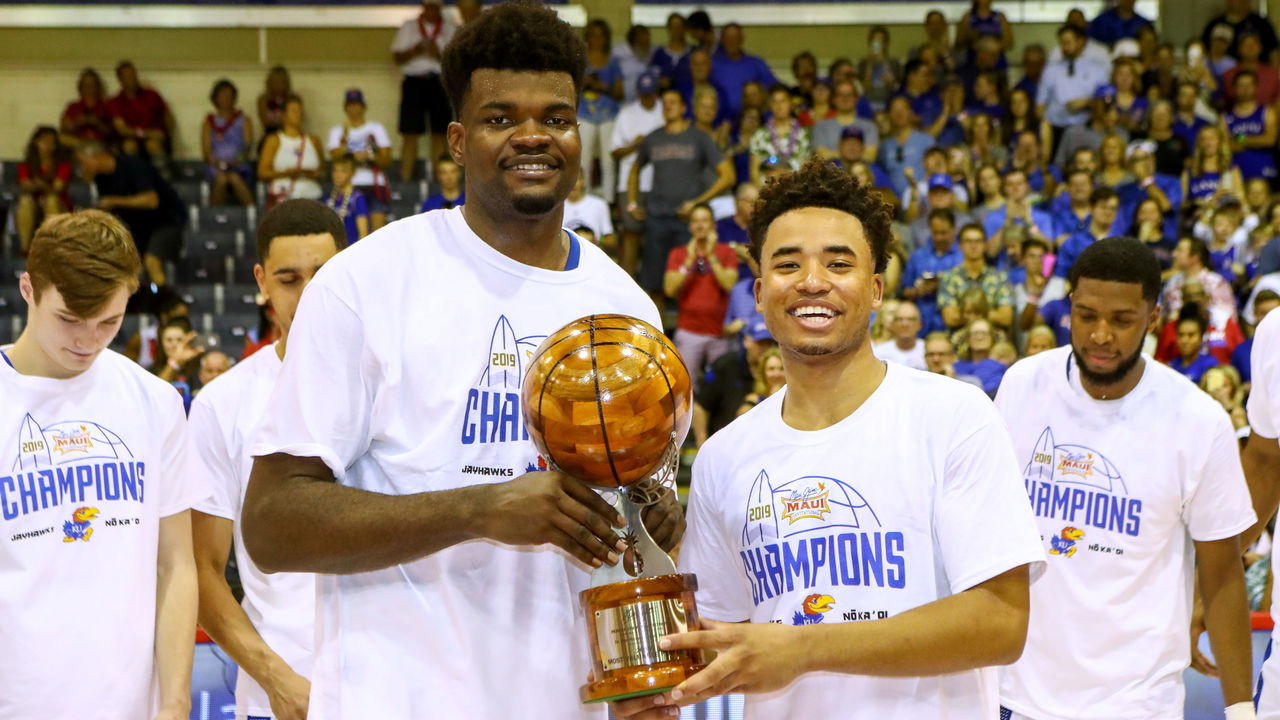 Kansas and Dayton squared off in a thrilling Maui Invitational final in what became the closest NCAA fans got to a national championship game this season. The Jayhawks and Flyers finished the 2019-20 campaign as the first- and third-ranked teams, respectively, in the AP Poll, while three players in this matchup were later named to the AP All-American team.
In Hawaii, Kansas was pushed to the limit as the lead switched hands 20 times. Dayton star Obi Toppin was having his way in the post, opening up plenty of clean perimeter looks for his teammates as the Flyers shot 16-of-33 from distance. In the end, though, Kansas got career efforts from the dynamic duo of Udoka Azubuike and Devon Dotson to prevail in OT.
Winston posts double-double less than 24 hours after brother's death
Michigan State star Cassius Winston decided to suit up against Binghamton less than 24 hours after the death of his younger brother. It was an emotional performance for the AP All-American, who was in tears as the Spartans held a moment of silence pregame. Winston drilled his first shot of the contest and finished with 17 points and 11 assists for his 13th career double-double in a lopsided win.
He received a standing ovation upon exiting the game late in the second half and shared hugs with his teammates and members of the coaching staff. After Michigan State's next home game a week later, Winston expressed his gratitude to fans.
"I lost a piece of my heart, but you guys are keeping me going," Winston told the Breslin Center crowd.
Autistic player Bennett scores in season opener
Kent State freshman Kalin Bennett was one of the many feel-good stories this season. While the 6-foot-11 center played sparingly in 2019-20, his mere presence was inspirational - Bennett had become the first autistic student-athlete to sign a national letter of intent to play a team sport at the Division I level.
On Nov. 6, Bennett checked into his first collegiate game during the late stages of the Golden Flashes' season opener, recording two points, two boards, and a block in six minutes.
Afterward, Bennett dedicated his performance to other young kids with autism.
"It's good to know that people look up to me, but the real thing is everybody is capable of doing whatever they want to do in life," he said, according to The Associated Press. "I hope I created a thing that's going to transcend to more kids so they believe in themselves first and foremost."
Williams calls squad the 'least gifted' he's coached at UNC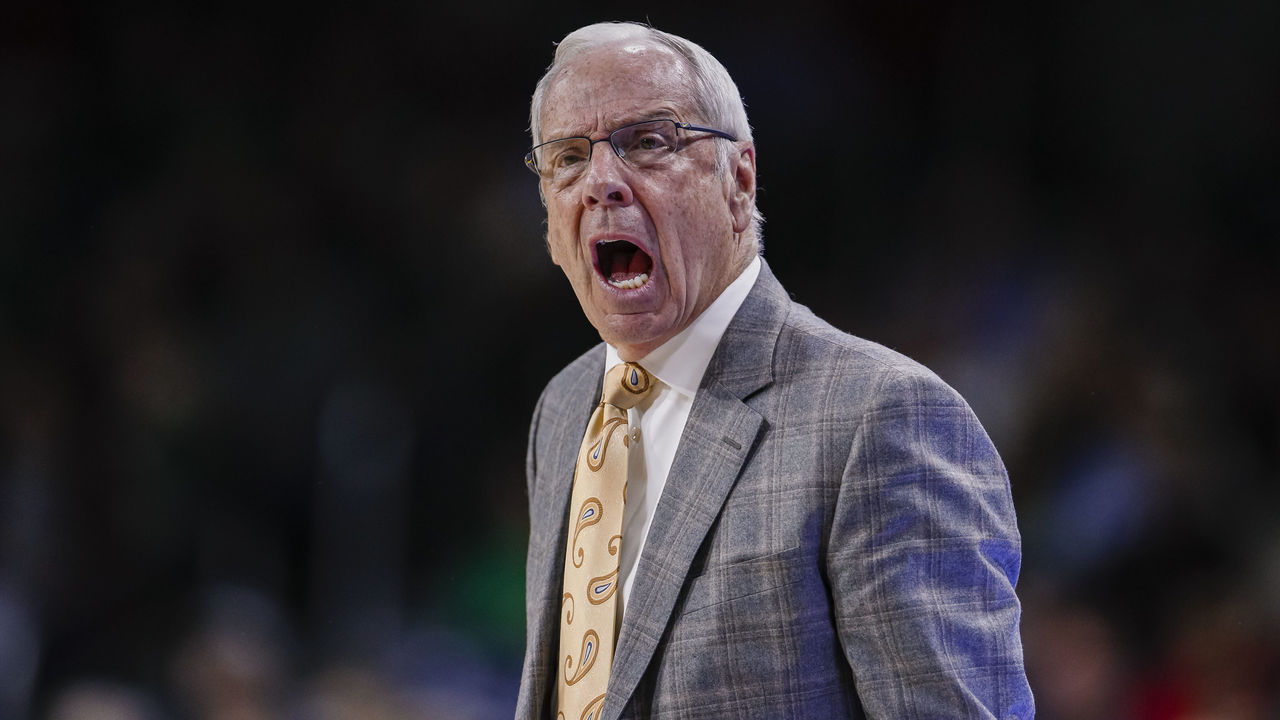 The 2019-20 season wasn't kind to North Carolina or its iconic bench boss, Roy Williams. Following a loss in January that dropped the Tar Heels to 8-6, Williams took to his live radio show and labeled his UNC squad "the least gifted team I've ever coached in the time that I've been back here." It was an entirely unexpected and brutally honest assessment of a struggling team by its frustrated head coach.
Williams, though frank, likely had a point. The Tar Heels finished the regular season with a 14-19 record - their lowest win total in a campaign since Williams took charge in 2003.
Speidel scores 1st career points 5 years after car crash
Josh Speidel - at the time a highly touted Indiana high school senior - had already committed to Vermont when a 2015 car crash put him in a coma for several weeks. The crash also caused a traumatic brain injury that doctors believed would take away his ability to play basketball, at the very least. Still, Vermont head coach John Becker told Speidel's parents in person that the school would honor his scholarship.
Five years later, on senior night, Speidel scored the first bucket of his collegiate career in a preordained moment between Vermont and Albany.
Speidel, who went on to graduate with a 3.4 GPA, also made light of the emotional basket after the game.
"I was thinking of maybe missing it, grabbing it, getting an offensive rebound in there," he joked. "But I figured I might as well go 1-for-1, shoot 100% in my college career."
Bob Knight returns to Indiana
The soles of Bob Knight's shoes hadn't touched the hardwood at Assembly Hall in 20 years. The controversial head coach led Indiana to three national championships between 1976 and 1987, but he was fired in September 2000 following a string of aggressive incidents, including grabbing his own player by the neck during practice.
Students had actively revolted against his dismissal and Knight had said he would never return to the arena. He stayed true to his word - until Feb. 8, 2020.
On the 40th anniversary of the Hoosiers' 1980 Big Ten title, Knight was back inside Assembly Hall. During a ceremony at halftime against Purdue, the 79-year-old stepped onto the court alongside his former players and was showered in what felt like never-ending applause. Fans chanted Knight's name and he reciprocated the gesture with back-and-forth chants of "defense."
Duke delivers UNC soul-crushing defeat
It had certainly been a trying campaign for North Carolina leading into its first matchup with Duke. But the Tar Heels and their fans would have taken solace in getting a victory over their archrivals at the Dean Dome.
North Carolina appeared set to deliver a satisfying win for its supporters, leading by 13 points with 4:31 remaining in regulation. But the Tar Heels missed a series of free throws down the stretch, setting the stage for a pair of daggers from the Blue Devils.
First, Duke star Tre Jones corralled a loose ball after intentionally missing a free throw and forced overtime with a buzzer-beating jumper. Then, with the game tied at 96 in the extra frame, Blue Devils freshman Wendell Moore scored as time expired on a putback of Jones' air ball, giving his team the stunning victory.