It's not unreasonable to peg Anthony Davis as the star of a Saturday night NBA game, but his 30-10 night was highlighted because the Pelicans' victory came over the reigning champions.
New Orleans, led by Davis, downed the Miami Heat 105-95 at Smoothie King Center. LeBron James narrowly missed out on another triple-double with 25 points, nine assists and eight boards. Point guard Mario Chalmers tallied 19 points and seven assists.
Still, the Heat couldn't make a mark in the Pelicans - not ideal for a team dying to three-peat. Miami fell to 6-7 in the month of March.
"This is unacceptable. We have to draw the line somewhere," Chris Bosh said after the loss. "If we don't change this, we'll be watching the championship from home."
Added Bosh, who scored 12 points Saturday: "I'll be the first to say it; we suck [right now.] There's no passion. There's nothing."
Since the All-Star break, Charlotte is 11-6, and Miami is 10-7. The Heat gave up 19 points off turnovers to the Bobcats.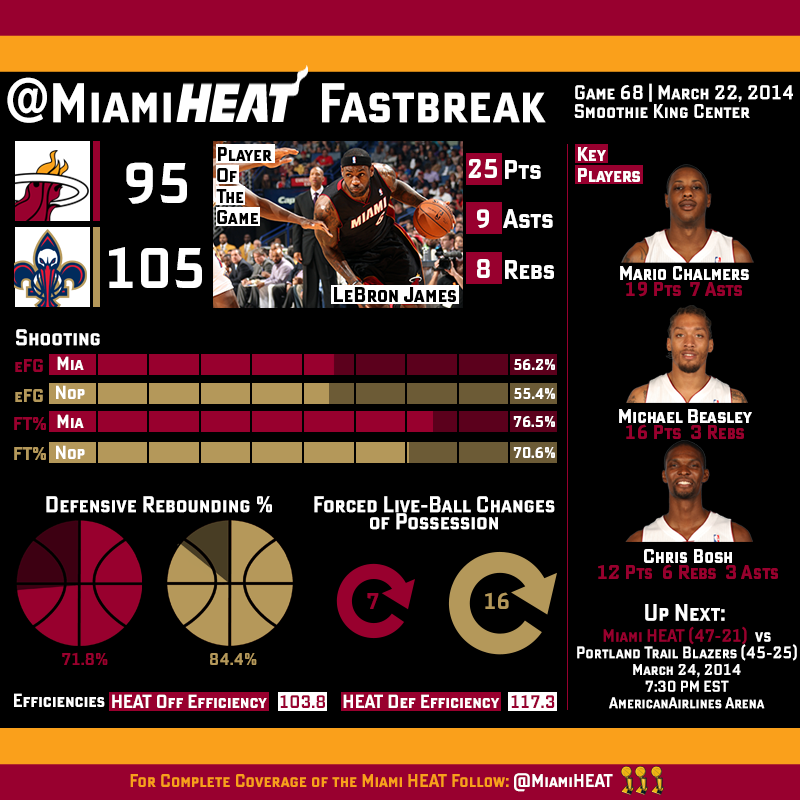 "We're all frustrated," James said in his post-game interview. "We're very frustrated. We have to get on the same page. I don't know what we're going to do, but we have to figure this out."
James recorded eight rebounds to eclipse the 6,000 board mark - he's just the fifth player in NBA history to post 22,000 points, 6,000 rebounds and 5,700 assists (joining Oscar Robertson, John Havlicek, Clyde Drexler and Kobe Bryant.
The Heat star showered, dressed, and left the locker room in record time after his team lost its seventh game in the last 11, according to reporters.
"There's too many excuses. Everything is an excuse. Something goes wrong? An excuse. Lineup change? An excuse. Turn the ball over? An excuse," James said. "We need to own what we're doing right now, and what we're doing right now isn't good enough."
The loss marks just the sixth time this season that the Heat shot better than 50 percent from the field and did not come out with a win.