Aaron Gordon has shaped himself into the perfect Nuggets role player
AAron Ontiveroz / Denver Post / Getty Images
When the Denver Nuggets acquired Aaron Gordon at the 2021 trade deadline, he looked like the final piece of a rising power's title-contending puzzle. Upon arriving, he immediately abandoned the misbegotten attempts at star-level self-creation that defined the latter years of his Orlando tenure, and morphed into the elite role player he was always destined to be.
He sliced his average touch time by more than half, quadrupled his frequency of cuts, and ditched pull-up jumpers altogether. Having reimagined himself as a low-maintenance, off-ball scavenger, Gordon slotted in perfectly next to Nikola Jokic, Jamal Murray, and Michael Porter Jr. on offense while providing them a much-needed extra layer of defensive resistance. He rounded out one of the NBA's most dominant starting lineups and helped the Nuggets win their first eight post-deadline games.
In their ninth, Murray tore his ACL on an ill-fated hop step, and the team had to put its title aspirations on ice for a while. Murray missed the rest of that season and the entirety of the subsequent campaign. Porter also wound up missing all but nine games in 2021-22 due to a back injury, and the Nuggets reoriented their offense on the fly. That mostly involved heaping more food onto Jokic's plate (a challenge he responded to by winning a second consecutive MVP), but it also meant expanding Gordon's responsibilities in a way that didn't necessarily benefit him or the team.
Now, Murray is back in the fold and starting to resemble his old self, Porter is playing again (at least sporadically), Kentavious Caldwell-Pope's arrival has amped up Denver's 3-point shooting, and the newly acquired Bruce Brown and ascendent Bones Hyland are giving the team another jolt of playmaking. That's allowed Gordon to thrive in an even more optimized role than the one he played for those two tantalizing weeks two seasons ago.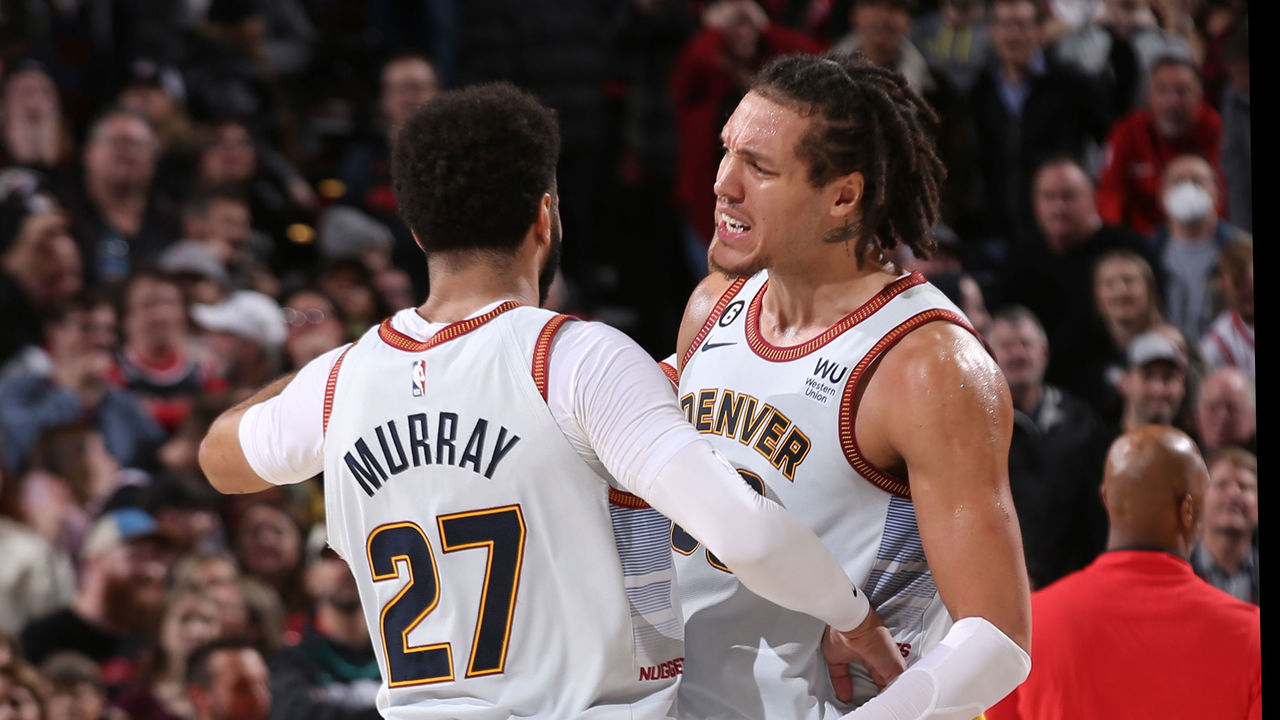 Let's get this out of the way before we go any further: The Nuggets brought Gordon in largely to bolster their defense, and he hasn't really moved the needle on that front so far, as they've slumped to 28th in defensive efficiency this season.
In fairness, Gordon probably has the most demanding defensive job on the team, toggling between guarding the point of attack and quarterbacking rotations behind Jokic's high-wall pick-and-roll coverage. (If anything, Denver could use two of him - one to check big playmaking wings on the perimeter and the other to stabilize the back line as a low man.) But while he's far from the team's biggest culprit, Gordon hasn't been good enough at either of those things to stem the tide.
The Nuggets are 17-10 and sit third in the West despite those deficiencies because their offense is absolutely electric, and Gordon has as much to do with that as anyone not named Jokic. He's leaning all the way into interior scoring and play-finishing - and he's doing those things better than almost anyone in the NBA. He's playing stripped-down power basketball, slashing and bruising his way to nearly 70% shooting inside the arc.
Gordon's average shot distance is 9.1 feet, more than 3 feet closer to the basket than his career average before this season. He's attempting 63% of his shots at the rim - the highest rate in the league among forwards - and hitting 76% of those shots, per Cleaning the Glass. His 1.28 points per paint touch rank first among the 94 players averaging at least three such touches per game, according to NBA Advanced Stats. His 64 dunks rank sixth, and the players in front of him are almost exclusively traditional bigs.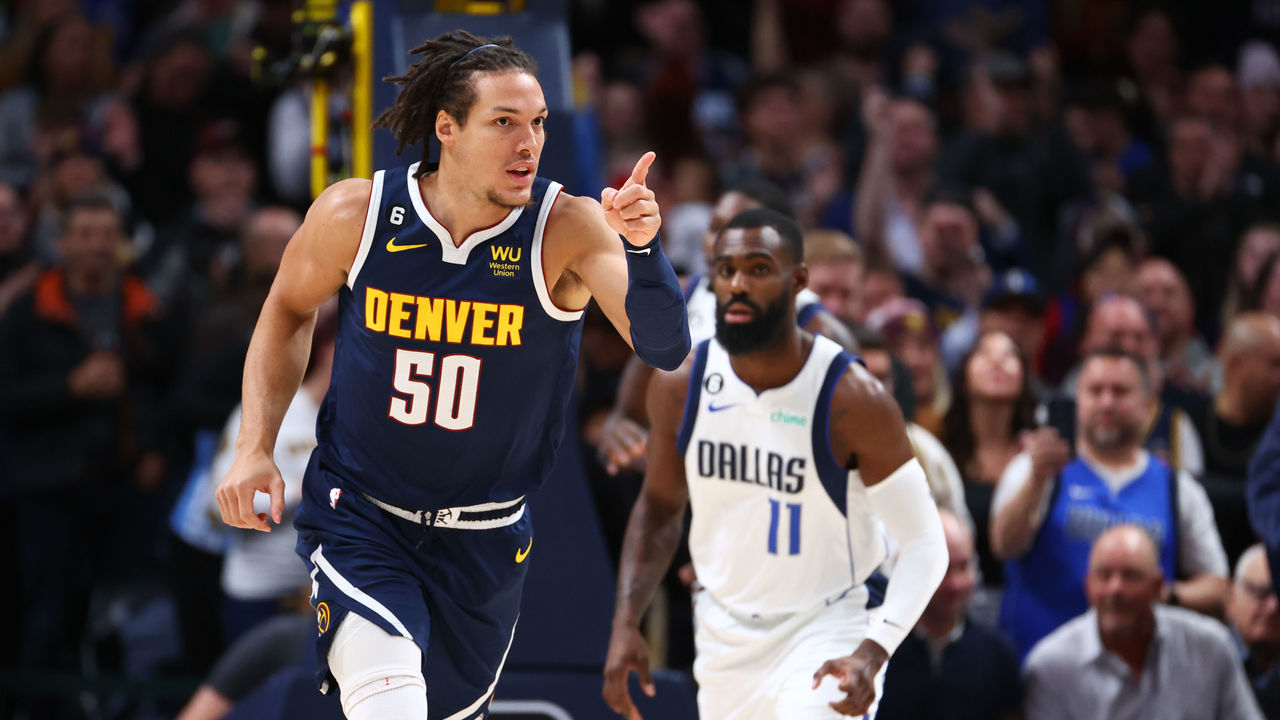 That all has very little to do with Gordon dribbling himself to the basket. Sure, he's adept at attacking closeouts, and his 38% mark from 3-point range (albeit on low volume) means he's actually drawing closeouts to attack. But he basically never tries to initiate from a standstill, and his 2.9 drives per game are among the fewest in the league for big-minute players. Instead, he's allowing his teammates - primarily Jokic - to either lead him to the rim or find him there, via slot cuts, baseline cuts, lobs, lay-downs to the dunker spot, post seals, transition leakouts, and slips out of on- and off-ball screens.
Gordon's 1.64 points per possession on cuts lead the league among players who've finished at least two such plays per game. He ranks 19th in the league in post-up frequency (post plays as a proportion of his overall diet of used possessions), and he's scoring a robust 1.04 points per post-up. It's a testament to the force he's playing with that he's averaging seven free-throw attempts per 100 possessions, by far the highest rate of his career, despite spending less time than ever with the ball in his hands.
You might wonder how that style meshes so well with Jokic, who also likes to operate with his back to the basket and chisel his way to close-range buckets. How can they both be among the league leaders in post-ups and paint-scoring efficiency without crowding each other's space at all? The answer, in short, is that they don't actually occupy the same real estate.
Jokic goes to work in the pinch post and at the elbows, while Gordon stakes out his territory below the lane line. And Gordon rarely starts possessions in that space - he flashes into it at just the right moment, leveraging all the attention Jokic draws. It's a perfect marriage of high-low skill sets:
When Gordon posts up, he doesn't do so with the intention of methodically backing his defender down, hitting him with a drop step, turning and shooting overtop, or even drawing a double-team and kicking the ball out to a shooter. He simply uses his immense strength to carve out the deepest possible position and aims to catch the ball close enough to the hoop that he can lay it in without having to make a fancy move or put the ball on the deck for anything more than a single power dribble. He may be the most eager and effective duck-in artisan in the league:
It can be hard to differentiate between play types for Gordon in some cases, because a lot of those duck-ins are functionally indistinguishable from cuts. Even his transition possessions can be hard to differentiate from his post-ups, which sounds crazy because post play is typically an instrument of grinding half-court offense - the spiritual antithesis of run-and-gun basketball. But Gordon is the rare player who combines both by consistently running the floor with the express purpose of getting a deep seal:
However you want to categorize those possessions, it's clear in watching them that the Nuggets do a great job of rewarding Gordon for all the early work he does, which incentivizes him to keep doing it.
Having Murray back and Caldwell-Pope in the mix (and shooting 45% from deep) also fully unleashes Gordon's power on either end of off-ball screening actions. Defenders are reluctant to leave either of those shooters, so Gordon frequently gets a runway to the rim either by using their screens or slipping out of his own.
Because Gordon spends so much time lurking as a scoring threat in the dunker spot, the Nuggets can have him set impromptu pin-ins and exit screens to free up their shooters in the corner when Jokic draws two to the ball. The opposing defense is outnumbered on the weak side in those scenarios, which means they wind up either surrendering an open three to a killer spot-up threat or giving Gordon a chance to slip to the rim unimpeded:
The Nuggets often set Gordon and Jokic up at opposite elbows and have Murray loop around to set a back pick for Gordon before jetting up beyond the arc. Gordon makes the action even more effective by juking his defender into thinking he's about to go set a ball screen for Jokic before darting to the cup:
So, it's all quite symbiotic. Jokic, more than anyone in the league right now and possibly ever, finds ways to deliver the ball to teammates who slip into even the smallest pockets of space. And Gordon, because of his elite athleticism and cutting instincts, is better than anyone on the Nuggets at finding those pockets and capitalizing on Jokic's pinpoint passes.
Jokic has assisted on more than a third of Gordon's baskets this season, and the Jokic-to-Gordon connection has produced more at-rim field goals than any combo besides Trae Young-to-Clint Capela, according to PBP Stats. With the two of them on court together, the Nuggets have scored a scintillating 124 points per 100 possessions. (For reference, the Celtics' historic offense is scoring 118.1.) There's a reason coach Michael Malone's substitution patterns pair them up as often as possible. Just 54 of Gordon's 708 minutes have come with Jokic on the bench, and in those minutes, the Nuggets have been outscored by 36 points.
Gordon is a solid passer who can handle the ball in a pinch, but the role he's adopted in Denver only serves to highlight how miscast he was as an initiator in Orlando. He's molded his game to fit the exact contours of the Nuggets' needs and is playing the most impactful basketball of his career as a result.
Now, if the Nuggets can just get their defense sorted out - even a little bit - we'll be looking at the kind of championship upside they briefly flashed before Murray's injury.