How Miami broke through against Boston's vaunted defense in Game 1
Jesse D. Garrabrant / NBA / Getty Images
The Boston Celtics have been the NBA's best defense by a country mile since the beginning of 2022. They allowed 3.5 fewer points per 100 possessions than any other team in the regular season after Jan. 1 - equivalent to the gap between the second-ranked defense and the 11th during that span.
They carried that over into the playoffs, putting Kevin Durant in a torture rack in the first round before holding the defending champion Milwaukee Bucks under a point per possession in the conference semis.
Even with Marcus Smart (foot sprain) and Al Horford (health and safety protocols) sidelined for Game 1 of the Eastern Conference finals, it stood to reason that Boston's defense would provide a similarly daunting challenge for the Miami Heat, whose half-court offense has been average all season.
Instead, the Heat rolled through the Celtics and won the series opener with a 121.6 offensive rating, which included an incredible 112.2 mark on first-shot, half-court possessions. That's the highest number Boston has allowed in a game since early December.
So how exactly did Miami, playing without its starting point guard, crack the best defense in the world? Let's take a look.
Beating the drop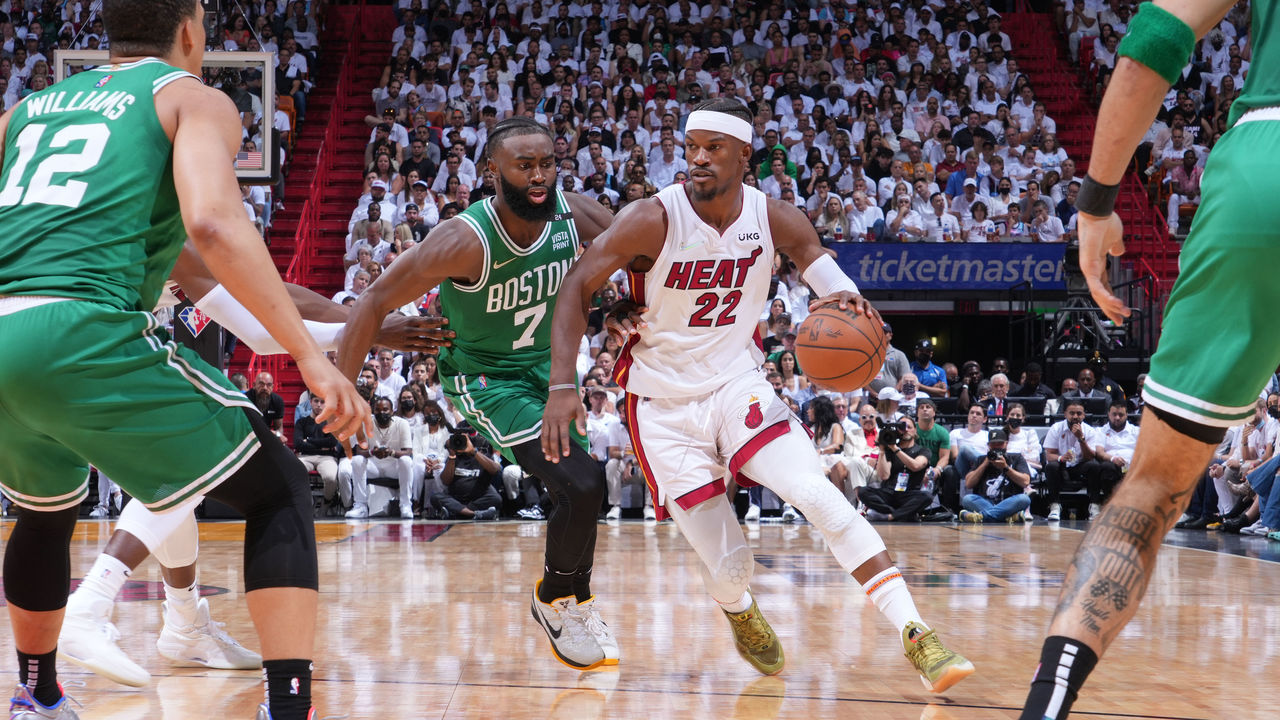 Switching has been a bedrock principle of Boston's defense all year. Taking advantage of their army of strong, quick, rangy wing defenders - and the team-wide connectivity that allows them to seamlessly scram out mismatches on the back end - the Celtics switch screens more frequently than any other team. It was surprising to see them adopt a relatively switch-averse approach to the Heat. We saw them play a lot of drop and occasionally put two on the ball; Miami punished both coverages.
A large part of that schematic shift was a byproduct of Smart's and Horford's absence - arguably Boston's two most versatile defenders - and having to rely on Payton Pritchard and Daniel Theis. It was also partly a calculated gamble from the Celtics, designed to keep their remaining bigs close to the basket and coax the Heat into pull-up jumpers and low-yield in-between shots. It wasn't a bad bet: coming into the series, Miami had shot just 40% on pull-up 2-pointers and 28% on pull-up threes in the playoffs, producing a 41.2 effective field-goal percentage that was worse than all but four teams - none of whom are still playing.
In the early portion of the game, the tactic paid off. The Heat clanked jumpers, Bam Adebayo was neutralized, and both Derrick White and Jayson Tatum blew up multiple dribble-handoffs by staying attached going over the screen. By the game's end, the Celtics had conceded just 22 shots at the rim compared to 28 2-pointers outside the restricted area, which is a defensive shot profile they'd be thrilled with generally. Unfortunately, Miami started to get comfortable with the coverages and wound up making a ton of those 2-point shots.
There were times when Boston's decision not to switch made sense, like when the diminutive Pritchard (who had to play 30 minutes with Smart sidelined) was involved in the action, or when rim-protector Robert Williams III was guarding the screener. The Heat still busted those drops - with Tyler Herro, Victor Oladipo, and Gabe Vincent draining some huge pull-up threes - but at least the Celtics' process was sound.
However, there were other times when Boston's switch-avoidance was truly head-scratching, mainly when Grant Williams was the screen defender. The Celtics frequently had him - a wing-sized cinder block with rapid feet - guarding Heat center Adebayo while stashing their own center, Williams III, on P.J. Tucker in the corner. It's an alignment they used throughout the second half of the season (often with Horford in Grant Williams' place) to activate their best shot-blocker as a roving backline helper while switching everything up top. But that scheme was undercut in Game 1 by having the smaller Williams play drop coverage on Jimmy Butler-led pick-and-rolls:
Why not just let Williams, who we've seen play tremendous one-on-one defense against the likes of Durant and Giannis Antetokounmpo in these playoffs, try his hand against Butler on switches? Especially on that first play, when the 6-foot-8 Tatum was playing the other end of the pick-and-roll and Williams III was parked in the lane ready to offer help or scram Tatum off of Adebayo.
The Heat finished the game 13-of-24 on pull-up jumpers, all of which were taken by Butler, Herro, Oladipo, and Vincent. Even if that level of shooting isn't quite sustainable, odds are we'll see an adjustment from Boston in Game 2.
Hunting mismatches
The Celtics are an effective switching team typically because they have almost no weak spots to exploit in isolation. Big minutes from Pritchard in Game 1 changed the equation, and Butler was more than ready to solve it.
During an incandescent second half that saw him score 27 points on 17 shooting possessions and dish out three assists, Butler repeatedly dragged Pritchard into ball-screen actions and capitalized on every coverage Boston deployed in response. Very little of that involved him actually attacking Pritchard one-on-one because the Celtics were justifiably reluctant to concede the switch. On the rare occasion they did, Butler scored or drew free throws. (He went to the line an astonishing 18 times in the game.) More often, he was attacking gaps or putting the Celtics in rotation when they had Pritchard show and recover to stay out of the matchup.
This was a particularly sweet counter, with Butler turning the corner around Pritchard's hedge and then immediately going into a dribble-handoff with Max Strus:
Because Tatum was still in the process of recovering back to Butler after the initial screening action, he wasn't able to offer up much of a contest as Strus came off.
Butler and the Heat had some of their most fruitful trips when he served as a screener and/or handoff hub for the player Pritchard was guarding. Butler's a sneakily great roll man, and he was able to slip into space when the Celtics put two on the ball:
You could argue the Celtics should've played Pritchard less, but without Smart available, their only other viable backcourt option was White. He's an excellent defender, but he gave the Celtics absolutely nothing on offense, while Pritchard hit some big-time shots and provided necessary spacing and off-the-catch attacking. Boston had a 127.8 offensive rating in the 19 minutes Pritchard played without White compared to a 92.1 rating in the 18 minutes White played without Pritchard.
A more logical adjustment would be to have Butler's defender go under more when he calls up Pritchard's man to screen, and challenge him to either pull up from deep or try to beat the sagging defender to the spot. Butler will still find ways to score because he's ridiculously good, but limiting help and taking away his easy reads is worth trying. These are shots Boston can live with:
Establishing the run
For as effectively as they scored in the half court, it was clear from the outset of Game 1 that avoiding those cramped confines was a point of emphasis for the Heat. But planning to do something and actually doing it are two very different concepts, and their ability to carry out that tempo-pushing mandate with aplomb was particularly impressive given that Kyle Lowry, their primary purveyor of pace, was sidelined.
Despite being the most efficient open-court team in the league during the regular season, the Heat didn't actually run very often, ranking 19th in transition frequency while playing about 81% of their possessions in the half court, per Cleaning the Glass. Only 75% of their possessions came against a set Celtics defense in Game 1, and they added an estimated 6.4 points per 100 possessions to their total via transition play.
Swiping 10 steals had plenty to do with that, but no team ran less frequently off live-ball turnovers (56.5% of the time) than the Heat did during the regular season. In Game 1, they turned eight of their 10 steals into transition plays and converted them into 15 points. Of course, it helped that so many of the Celtics' turnovers came on point-to-wing passes at the top of the floor, generating clean breakaways in the other direction. One stretch in the third quarter saw Miami turn steals into pick-6 scores on three consecutive possessions.
But the Heat's game plan wasn't just about capitalizing on sloppy mistakes. They also made a point of leaking out and pushing the pace off of Boston's misses. They turned 37% of their live-ball defensive rebounds into transition chances, up from 28% during the regular season.
As Boston inevitably tightens up its half-court defense moving forward, Miami's ability to get out in the open floor and generate early offense will become even more vital.
Is it repeatable?
Don't expect the Heat to fall off a cliff after an adrenaline-fueled home win. It's not like they got an aberrant role-player explosion or went bananas from 3-point land. They'll be hard-pressed to replicate their 9-of-15 mark on long twos, but if the Celtics keep allowing the Heat's ball-handlers to stroll into unimpeded free-throw line jumpers, the regression may not be too steep. Butler's rim pressure, inside-the-arc shot-making, and foul-drawing ability aren't going anywhere.
Still, Boston can clean up an awful lot of this stuff by getting Smart or Horford back. Horford's timeline is unclear, but Smart is reportedly aiming to play in Game 2. His return will help the Celtics amp up their switching and prevent them from having to rely on Pritchard, taking away a lot of the mismatches Miami feasted on in Game 1. He'll also help Boston's transition defense simply by giving them another capable ball-handler and passer. Tatum and Brown were overextended as primary initiators, leading to several of the turnovers that fueled Miami's open-court attack. (Tatum alone committed seven of them.)
The Heat banked a huge win to put themselves in the driver's seat, and Butler is going to continue to be a handful. But it's highly likely they just had the best offensive game they're going to have all series.
Comments
✕
How Miami broke through against Boston's vaunted defense in Game 1
  Got something to say? Leave a comment below!