Grant Williams and Al Horford are flummoxing Giannis and the Bucks
Adam Glanzman / Getty Images
The Boston Celtics were never going to score nearly as easily on their second-round opponents, the Milwaukee Bucks, as they did in a statement-making first-round sweep of the Brooklyn Nets. In order to knock off the defending champs, the Celtics would have to defend even better than they did in locking down Kevin Durant and routing the preseason title favorites.
So far, so good.
Though Boston dropped Game 1 due to a putrid offensive performance, its vaunted defense showed from the opening tip of the East semis that it would make things boot-suckingly muddy for the Bucks' offense. After holding Milwaukee to 100 points per 100 possessions in the series opener, the Celtics tightened their belts even further and limited their opponents to 91.5 points per 100 in a wire-to-wire Game 2 victory, which came without the services of a dinged-up Marcus Smart.
When the Defensive Player of the Year is out of the lineup, you would usually expect his team's defense to be significantly compromised. The fact that the opposite happened here is not a discredit to Smart - who is every bit the point-of-attack defender his reputation suggests; it's just a testament to Boston's ridiculous defensive depth, and a reflection of the fact that against an overwhelming physical force like Giannis Antetokounmpo, the battle was always going to be waged primarily against the Celtics' frontcourt. And while contributions have come from everywhere, two frontcourt players have been particularly instrumental in containing the two-time MVP: Al Horford and Grant Williams.
That's right. A grizzled, revived-from-the-dead big man and an unheralded, undersized, ground-bound young bench forward have combined to flummox the best player in the world. Let's take a look at what they've done, how they've done it, and what Giannis and the Bucks can do about it.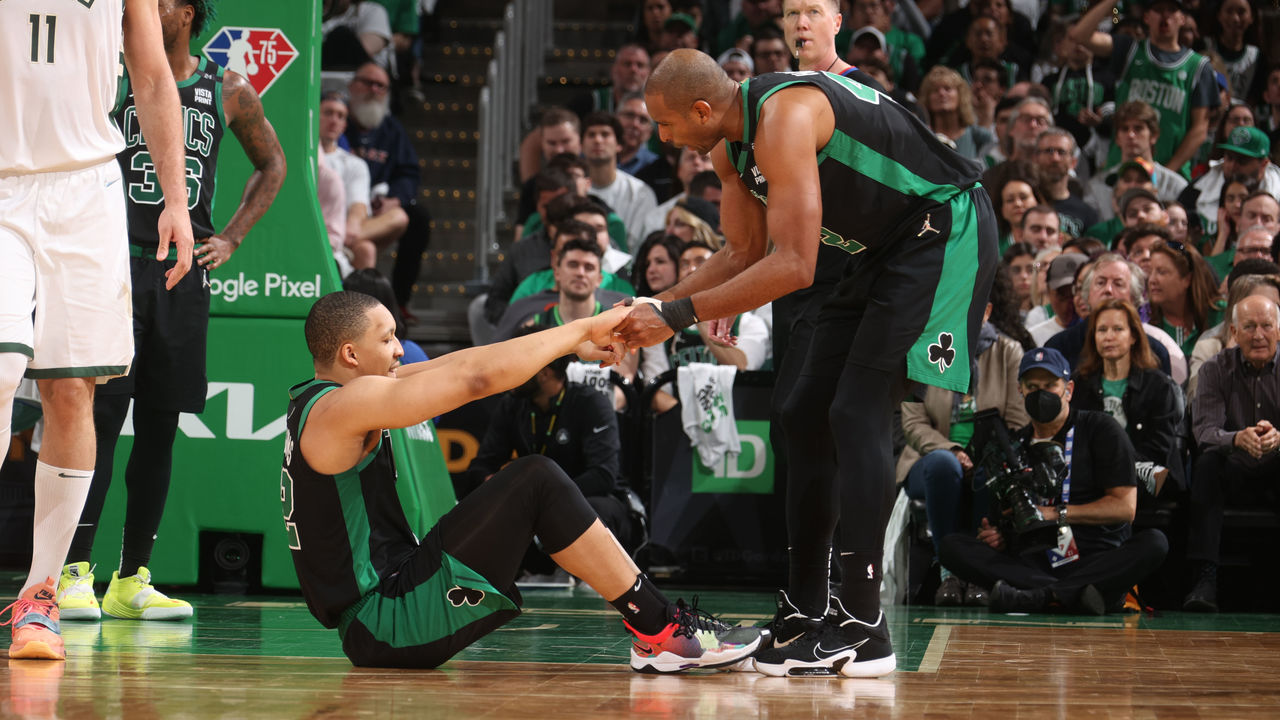 Horford and Williams were by far the Celtics' most common primary defenders on Antetokounmpo in Games 1 and 2. According to NBA.com's matchup data, they guarded him for 53.7 and 52.9 cumulative partial possessions, respectively. (Robert Williams III was next closest at 21.2, and closest after that was Jayson Tatum at 12.8.) They combined to hold Giannis to 14-of-40 shooting with seven turnovers on those possessions, with the Horford matchup proving particularly tough sledding. Antetokounmpo shot 6-for-22 and recorded just three assists against five turnovers with Horford as his primary, and Milwaukee as a team averaged a miniscule 0.71 points per possession on those trips.
Though Antetokounmpo posted a triple-double in Game 1 and boasts a robust 26-11-9.5 line for the series, nothing about his individual offense has come easily or efficiently. His 43% true-shooting mark and 5.5 turnovers a game work out to 52 points on 72 total used possessions, and the Bucks have managed just a 98.1 offensive rating with him on the floor. Khris Middleton's absence obviously makes his life more challenging, but the Bucks still scored 111.8 points per 100 with Giannis on the floor sans Middleton during the regular season.
While the Celtics' defense typically thrives on layers of help, one of the keys to their success in Game 2 was deciding to scale that help back and take their chances in single coverage. Antetokounmpo struggled as a scorer in Game 1, but he still managed to pick the Celtics apart with his much-improved passing due to all the double-teams Boston sent his way. He dished out 12 assists, with seven of them leading to 3-pointers. In Game 2, the Bucks as a team didn't even hit half that many threes, and Antetokounmpo assisted on none. Milwaukee attempted just 15 shots beyond the arc before garbage time. For the Celtics to accomplish that while also holding Giannis to 27 points on 38 possessions was an enormous credit to Horford and Williams.
Guarding Giannis demands a special blend of size, strength, and agility. Defenders typically play him with a wide buffer, both to avoid blow-bys and to challenge his shaky jump shot. But granting him that space allows him to build up a head of steam, requiring the defender to absorb his locomotive rim runs and avoid getting knocked off balance while also being prepared to slide horizontally to take away his Eurostep. Despite Horford's age (35) and Williams' comparative lack of height (6-foot-6) and traditional athleticism, the two of them possess the right combination of attributes to handle the job.
Horford has a long history of defending Antetokounmpo in the playoffs and knows his tendencies well. What Horford lacks in pure quickness at this stage of his career he makes up for in anticipation, and he does a terrific job of sliding his feet to cut off the angle when Antetokounmpo tries to beat him to the outside foot. Williams, for his part, is basically a cinder block on wheels; his low center of gravity, nimble feet, and unusually wide frame make him extremely difficult to move or to get around. Attacking either of them in isolation went quite poorly for Giannis in Game 2:
That coverage will look familiar to anyone who's ever watched a Bucks playoff game, but few teams have proven capable of keeping Antetokounmpo away from the rim to the extent Boston has. Nearly half his field-goal attempts in the series have been 2-pointers outside the restricted area, and he's shot a horrific 5-of-26 on those low-yield looks.
The Celtics' defense remains an all-hands-on-deck endeavor; even someone guarding Giannis on an island always has a rescue boat nearby, whether it's a stunt from Tatum or a dig from Smart or a well-timed rim rotation from Williams III. Horford and Williams also cover for and amplify those around them, including each other. But the ability to withstand the initial hit without letting the dam break is crucial to maintaining the integrity of the help structure.
Here, Horford was able to route Giannis down to the baseline, where Williams III - helping off of Jevon Carter in the corner - came to meet them, forcing a kickout that drew a hellacious closeout from Williams and forced Carter into a turnover:
Horford and Williams also played integral roles in the Celtics' defensive master class against Durant and the Nets. Horford was mainly stashed on shaky shooters like Bruce Brown so he could run wild as a freestyling helper, and Williams was tasked with on-ball responsibilities against a much different kind of offensive weapon. (He guarded Durant more frequently than anyone but Tatum, and held him to 6-of-20 shooting with more turnovers than assists.) The pair's proficiency in those distinct roles, against two wholly distinct teams and stars, in back-to-back series, has been a hell of a showcase for the 23-year-old's promise and the soon-to-be 36-year-old's enduring defensive versatility. If there were All-Defensive teams for the postseason, both guys would deserve to be on one.
All that said, Giannis and the Bucks can play a lot better and a lot smarter. We've seen this movie before when it comes to their playoff offense: We know that opponents want to defend Antetokounmpo in exactly this fashion, and we know the Bucks have counters for it.
To be sure, those counters are bound to be less fruitful with their best pick-and-roll operator on the shelf; it's harder to free Antetokounmpo up as a dive man without Middleton there to manipulate the defense as a ball-handler, playmaker, and pull-up threat on the front end of those pick-and-rolls, and the rest of the roster beyond Jrue Holiday is devoid of that collection of skills. But that doesn't mean Milwaukee needs to revert to the old battering-ram Giannis playbook and make him an iso-dominant, top-of-the-floor initiator. It's a predictable approach that Boston is well-equipped to deflect.
If the Bucks are going to have Antetokounmpo create from up top, they need to mix in more snug pick-and-rolls, with flat screens at the elbows to make it impossible for the on-ball defender to go under. When the Bucks were able to get Horford or Williams screened off of Antetokounmpo at or below the free-throw line, good things typically happened:
Using Antetokounmpo as the trigger man in dribble-handoffs with capable shooters like Grayson Allen and (to a lesser extent) Pat Connaughton should also be effective, with the handoffs essentially functioning as pick-and-rolls that mitigate those players' ball-handling limitations. The Celtics are reluctant to switch those actions or to put two on the ball when Antetokounmpo is handing off and rolling - their aim is to chase the shooter over the screen and off the arc, keep Antetokounmpo's defender glued to him, and then bring weak-side help at the rim. That can open up driving lanes and clean layups for the handoff receiver if the back-line help is even a smidge late. Five of Antetokounmpo's seven assists in Game 2 came on handoffs.
With the Celtics showing zero regard for the threat of Brook Lopez's outside shot, the Bucks may have to mothball their three-big lineup and consider more Giannis-at-center minutes to open things up.
But better basic execution would also go a long way. On this possession, for example, Antetokounmpo was the lone big man on the floor for Milwaukee, and he and Holiday ran an empty-side pick-and-roll. In a vacuum, that's a perfectly fine idea. But because the Bucks' weak-side spacing was terrible, and because they ran the screening action in the middle rather than on the wing, Antetokounmpo wound up rolling into a thicket of green jerseys with nowhere to pass the ball:
Some of this stuff will get smoothed out, and a lot of it did in the second half of Game 2, when Antetokounmpo poured in 23 points after scoring just five on 2-of-12 shooting before the break. Not even the best defenses can keep him under wraps for long, and the Bucks are going back to Milwaukee with home-court advantage in hand.
But Giannis will have to be herculean in order to drag his shorthanded team all the way out of the swamp and through to the conference finals, and that means finding a way to conquer - or evade - the unlikely two-headed monster that looks hungry enough to swallow him.
Joe Wolfond is a basketball writer for theScore.
Comments
✕
Grant Williams and Al Horford are flummoxing Giannis and the Bucks
  Got something to say? Leave a comment below!