This is Ben Simmons' moment
Jesse D. Garrabrant / Getty
The Philadelphia 76ers were having something close to a dream season. With Joel Embiid playing at an MVP level and Ben Simmons working his way into the Defensive Player of the Year conversation, they finished with the league's second-ranked defense, snared the No. 1 seed in the Eastern Conference, and gave themselves a straightforward route to the conference finals, with a puncher's chance to win the whole thing.
Then, in Game 4 of their first-round series against the Washington Wizards, Embiid tore his meniscus, and the route suddenly got a lot more complicated. The Sixers described the tear as "small" and are treating it as a day-to-day issue. But it seems likely Embiid will either have to miss some of the series or play in a diminished capacity, or both. The Atlanta Hawks, Philly's second-round opponent, are a dangerous team peaking at the right time, and they can absolutely bring about a nightmarish end to the Sixers' dream season if Embiid isn't close to his regular-season level (assuming he can even play at all).
And so, once again, the microscope is firmly fixed on Simmons. If he can play like the best, most assertive version of himself for the entirety of the series, the Sixers can win it even without Embiid. If he shrinks or falls into bouts of passivity the way he's done in postseasons past, they're almost certainly going home.
Despite the popular sentiment that they aren't a snug fit, Simmons and Embiid were remarkably synergistic this year. The Sixers outscored opponents by a jaw-dropping 15.5 points per 100 possessions with both of them on the floor during the regular season, and by 39.8 points per 100 in the first round. Comparatively, they were outscored by 3.8 points per 100 during the regular season and were a slight net positive against the Wizards when Simmons played without Embiid.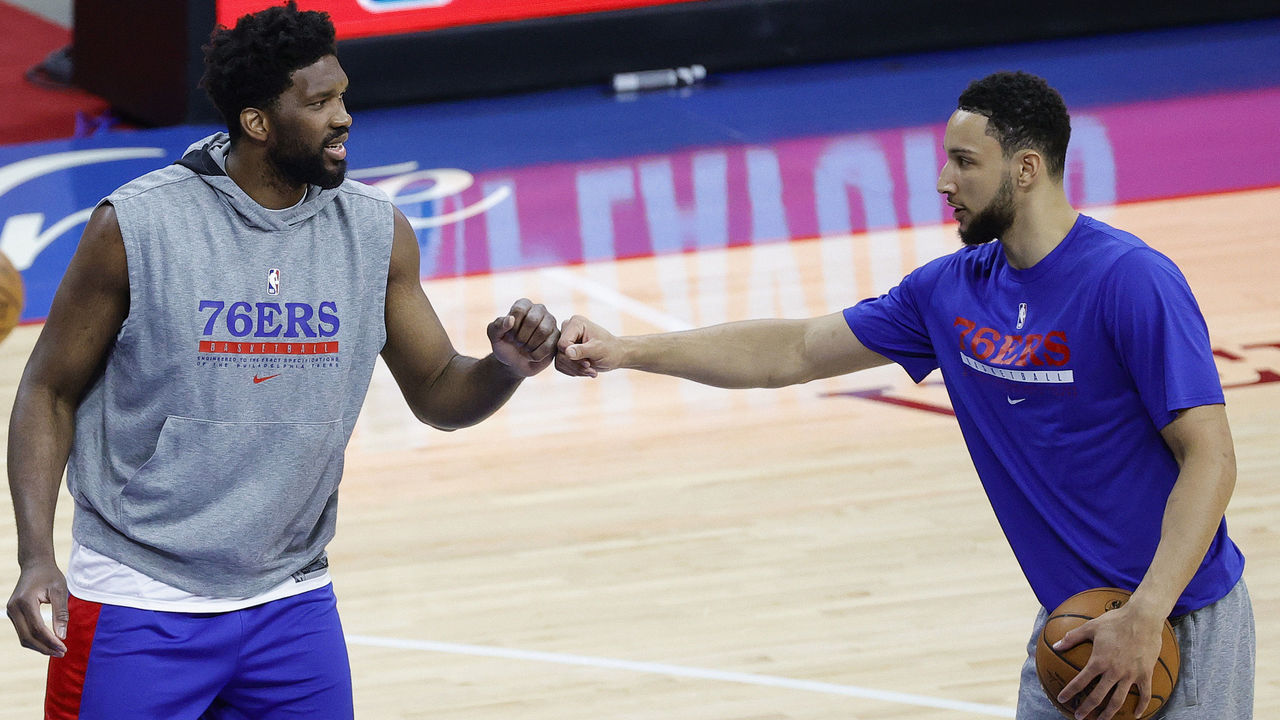 Simmons has also struggled individually in those non-Embiid minutes. Without the bruising big man's on-ball gravity to create avenues for him to cut and attack off the catch, Simmons' effective field-goal percentage dipped from 59.3% to 51.8% in the regular season, and from 70.4% to 52.9% in the first round.
For as good a playmaker, fast-break orchestrator, and downhill attacker as he is, Simmons doesn't quite have the handle or side-to-side wiggle to break a defense down when forced to initiate from a standstill. Will he be able to create enough for himself and his teammates in the halfcourt to keep Philly's offense afloat?
Philly tried to trade Simmons for James Harden a few months ago, specifically so they wouldn't have to worry about a question like that in a moment like this. But here we are. This is Simmons' moment; a chance to dispel doubts and answer questions about the kind of playoff performer he's capable of being. This series represents the biggest proving ground of his career to date.
Simmons was terrific against Washington, averaging 14.8 points, 10.2 rebounds, 9.2 assists, and just 2.2 turnovers on 59.4% true shooting (surprisingly solid efficiency considering he shot 10-of-28 from the free-throw line). But that Wizards team had nobody with the size and speed to even remotely match up with him. It will be a different story against Atlanta.
The Hawks are fresh off a dominant defensive series in which they completely flummoxed New York Knicks forward Julius Randle, the league's newly minted Most Improved Player. Simmons can do things Randle can't (namely as a ball-handler and passer), but he'll face similar challenges in trying to solve Atlanta's rim-barricading coverages and have to do it without the help of a jump shot.
One important difference is the Sixers have Tobias Harris, the kind of self-creator and big wing scorer the Knicks lacked. The Hawks used defensive ace DeAndre Hunter as the primary on Randle, with Clint Capela bringing constant help behind him. But they may need to deploy Hunter on Harris, which will likely mean putting Capela directly on Simmons.
That will pose a challenge for Simmons - Capela is a fleet-footed, spring-loaded bramble of limbs who'll sit back and wait for him in the paint - but also present an opportunity. If Simmons can beat Capela off the bounce or simply engage him away from the basket, the Hawks' stout interior defense will be vulnerable.
Randle and the Knicks weren't able to successfully attack Trae Young, and Simmons is going to have to make him feel a bit more pain at the defensive end. Simmons is no stranger to inverted pick-and-rolls, and he has an explosive enough first step to turn the corner when Young hard-hedges to try to stay out of the switch. Whether he'll use that first step to attack consistently is another matter. The biggest concern regarding the complete collapse of his free-throw shooting is the way it could affect his appetite for contact.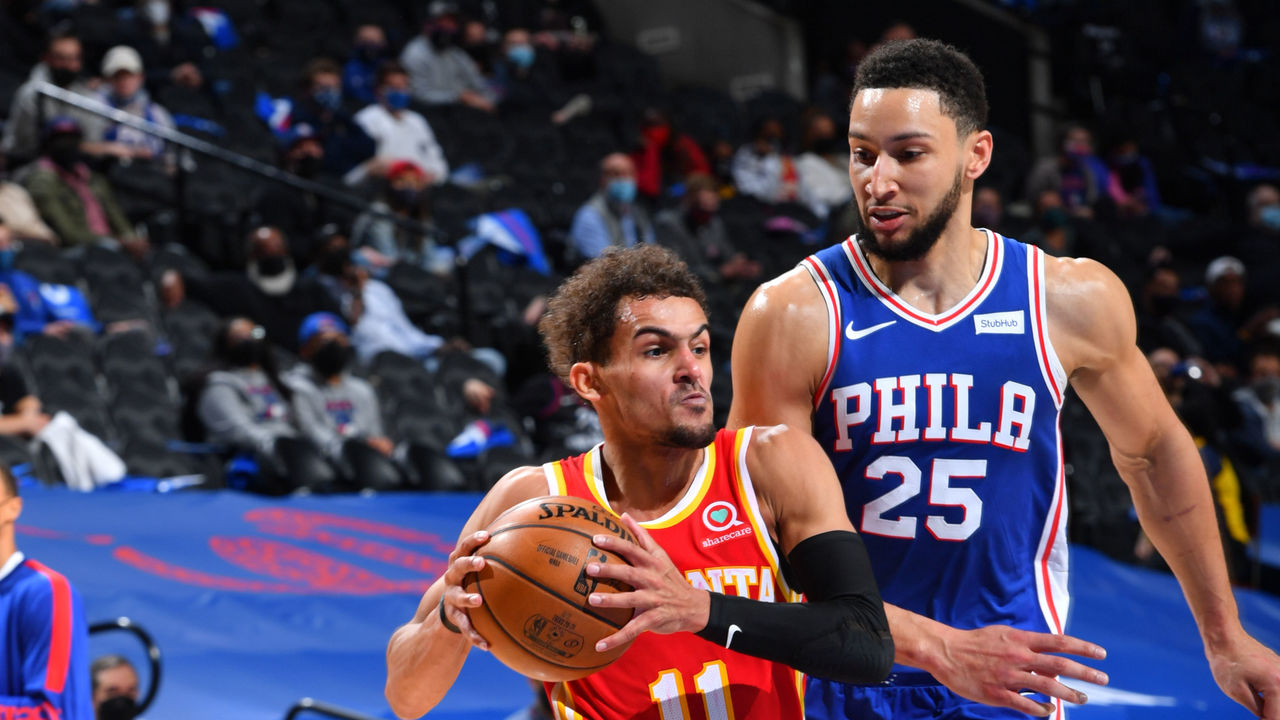 It's also going to be incumbent on Simmons to make his presence felt away from the ball. One of the reasons the Hawks had so much success stymieing Randle was that the Knicks almost always had Taj Gibson or Nerlens Noel standing stationary in the dunker spot. Because neither was a threat to score, Capela was able to roam and invade Randle's driving lanes at every turn.
The creaky-legged Gibson couldn't go up with the ball without taking an eternity to gather it, so even when Randle drew the help and slipped him a pass under the basket, Capela was usually able to recover in time. There's value in having a leaper like Simmons lurking as a lob threat, but he also needs to be cutting and screening constantly to keep Capela occupied.
To avoid having Capela jam them up the way he did the Knicks, the Sixers will have to avoid playing Simmons and Dwight Howard together. Those lineups struggled miserably all season and in the first round, barely cracking a point per possession. Depending on Embiid's status, that could mean a whole lot of Simmons at center, which will be a big test.
For all his proclamations about being able to guard one-through-five like no one else in the league, playing at the highest end of that positional scale has always been a bit of a challenge for Simmons. Despite his 6-foot-10 frame, he's a more natural perimeter defender than he is a rim protector, and better as a one-on-one defender than a helper.
The benefit of having him guard Capela would be the ability to switch the Young-Capela pick-and-roll and prevent the guard from strolling into the middle of the floor. Simmons has the speed and agility to stay in front of Young on the perimeter, and his length could be a real problem for the Hawks star. But that alignment would also require him to keep Capela - statistically the best rebounder in the NBA this season - off the glass. It's a perfect opportunity to back up that talk about being the most complete defender in the league.
There's a lot on Simmons' plate, and even more riding on his performance in this East semifinal. If they're to get past the Hawks with a limited or unavailable Embiid, the Sixers can't afford for him to disengage, defer, or drift. They've never needed him more.
Comments
✕
This is Ben Simmons' moment
  Got something to say? Leave a comment below!