This season felt like the culmination of something for the Denver Nuggets. A years-long process of collective development, steady improvement, and time-honed chemistry was finally coming to fruition. After shocking the NBA world last season by rallying from 3-1 deficits in consecutive series to reach the Western Conference finals for the first time in over a decade, the Nuggets came back with legitimate championship aspirations in 2021.
Nikola Jokic got in the best shape of his life and played at an MVP level from the opening tip on opening night. The rest of the team took longer to find its footing, perhaps because of an extremely short offseason following that deep playoff run. But Jamal Murray, who'd dealt with myriad lower-body injuries throughout the early part of the season, eventually started to resemble the flamethrower he was in last year's playoffs.
Denver coalesced around its two symbiotic stars, as Michael Porter Jr. blossomed and the front office added a missing puzzle piece at the trade deadline in Aaron Gordon. The Nuggets immediately rattled off eight straight post-deadline wins, and they had a case for being the best team in the West.
One ill-fated Murray drive late in Monday's loss to the Warriors changed everything. Murray, who was coming off a four-game absence due to right knee soreness, had his left knee buckle under him on a non-contact play. An MRI on Tuesday confirmed a torn ACL, an injury that will cost him not only the rest of this season but most if not all of next season as well. It completely reroutes the course of a rising NBA power, perhaps irreversibly.
We don't need to recount or relitigate all the adverse circumstances that may have contributed to the injury, like so many others this season. At this point, all Murray and the Nuggets can do is hope he makes a speedy and complete recovery and can pick up where he left off when he ultimately returns. In the meantime, they have to try and cobble together enough material to patch over a gigantic hole in their roster.
Murray's volcanic eruption in the Disney bubble altered what was possible for the Nuggets. It mattered not only for the high-end off-the-dribble creator it provided the team but for how much easier it made Jokic's life. Their two-man game had always been lethal, but it became functionally unstoppable. As teams were increasingly forced to blitz or switch pick-and-rolls to take away Murray's pull-up jumper, Jokic increasingly found himself in position to either carve up defenses in four-on-three scenarios, launch wide-open pick-and-pop threes, or go to work against smaller defenders in the post.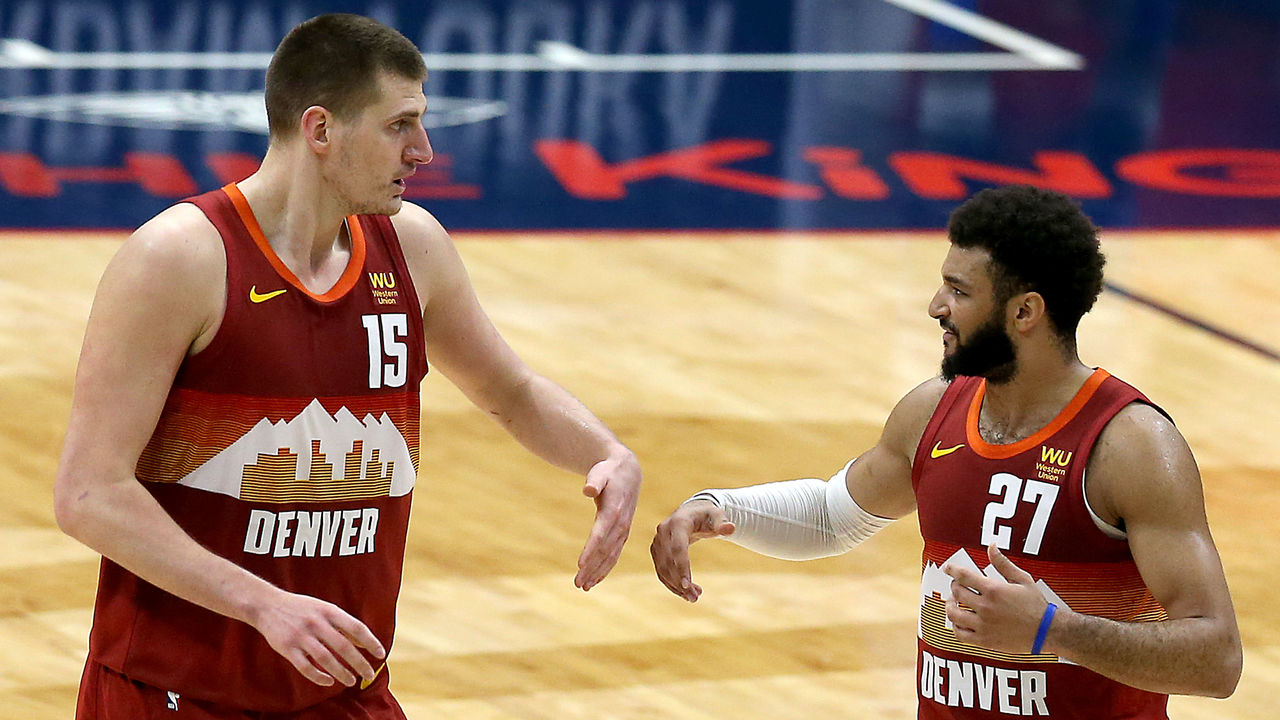 Despite a sluggish start as he dealt with wear and tear, and despite never quite hitting the highest highs he reached in the bubble, Murray was in the midst of his best pro season. He was posting career highs in 2-point (52.3%) and 3-point (40.8%) percentage while slashing his turnover rate to a career low and continuing to sharpen his point-of-attack defense. Perhaps most importantly, in their fifth year together, he and Jokic were executing their two-man game with the precision of a well-rehearsed ballet.
Because of how many different things both can do with and without the ball, there were near-infinite permutations that could flow out of their elbow sets, dribble handoffs, and high pick-and-rolls. They know each other's habits and rhythms and movement patterns so well that their coverage reads and subsequent counters were synchronized and instantaneous. They always seemed to be two steps ahead of the defense. Jokic-to-Murray and Murray-to-Jokic represent two of the league's top eight assist combos, according to PBP Stats.
For as transcendent as Jokic has been on an individual level this season, he's been amplified significantly by Murray's ability to share the burden of shot creation and peel away defensive attention. With both Murray and Jokic on the floor, the Nuggets posted a bonkers 122.4 offensive rating and outscored teams by 11.5 points per 100 possessions. In Jokic-only minutes, they've been outscored by 2.1 points per 100, with a pedestrian 111.3 offensive rating. Jokic saw his effective field-goal percentage rise from 57.3% to 62%, and his turnover rate drop from 6.0 to 3.6 per 100 possessions, when Murray joined him on the court, according to NBA Advanced Stats.
The Nuggets don't have anyone who can come close to replacing what Murray gave them as a creator. The reason their team made so much sense until now is that they're stocked with complementary players who thrive in low-usage roles: slashers, second-side attackers, and spot-up shooters who orbit Denver's elite playmakers and capitalize on the advantages those playmakers create. Porter Jr. can get his own shot, but he's exponentially better off the catch (64.5% effective field-goal percentage) than off the dribble (48.1%), and he doesn't create for others. Gordon is a solid passer who can handle the ball in a pinch, but his first few games in Denver only served to highlight how miscast he was as an initiator in Orlando.
Monte Morris is a caretaker point guard who doesn't make mistakes but also doesn't have the scoring gravity to bend a defense. Will Barton is probably the guy who can best approximate Murray's exploits as an on- and off-ball threat, but he still comes up well short as a ball-handler, passer, and pull-up shooter. Realistically, the bulk of the leftover possessions will simply get heaped onto Jokic's already full plate.
Murray's absence will be especially pronounced when Jokic needs to take a breather. The Nuggets' loss to the Celtics on Sunday, in which they surrendered a 31-3 second-half run that flipped a 14-point lead into a 14-point deficit in the span of about nine minutes, was illustrative. Obviously, things will rarely if ever get quite that bad again. But the bulk of that Celtics run happened with Jokic on the bench, and having to play 15-odd minutes a game without him or Murray on the floor puts the Nuggets in an extremely precarious position, with minimal off-the-dribble creation on which to rely.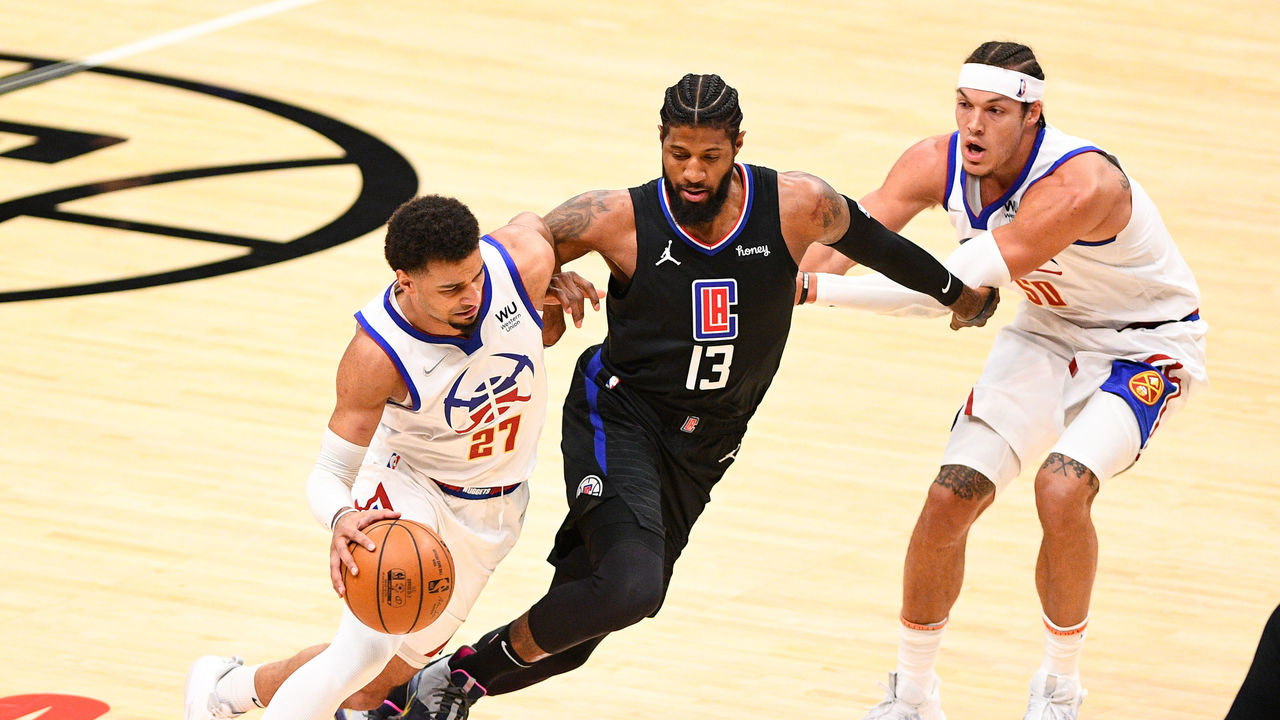 Jokic is good enough and the supporting cast still competent enough to keep the Nuggets in the mix for home-court advantage in the first round. They currently have a one-game edge over the Lakers (who are even more banged up in the short term) for the No. 4 seed, and could conceivably even win a series if the Lakers fall out of the fifth spot.
But without Murray, it's hard to envision Denver overcoming any of the other four teams (Lakers, Clippers, Jazz, Suns) seriously vying for conference supremacy. In a playoff setting, too much will be asked of Jokic, with opponents surely feeling a lot more comfortable throwing the kitchen sink at the MVP favorite and living with what the rest of the Nuggets do when he's forced to give up the ball.
That on its own takes a lot of the anticipation out of the West playoffs, especially given what Murray and Jokic did together last year. The Nuggets' new starting lineup teased greatness, outscoring opponents by 43 points in 110 minutes. Now we won't get to see what it's capable of at the next level. And with no real flexibility to add in the offseason, things won't get easier for Denver next season.
The bright side - to the extent that there is one - is that the Nuggets have enough runway to recover from this. Murray is still just 24. Porter Jr. is 22. Gordon and Morris are 25. Jokic is 26, and never gets injured (which feels sustainable given how rarely his feet leave the floor). Zeke Nnaji looks promising. Bol Bol? Dare to dream.
A leap from Porter Jr. and small steps from everyone else might even be enough to keep Denver on the fringes of contention next season, provided Murray can get back in time for the playoffs. But for now, a Nuggets team that had a strong identity and clarity of purpose has been plunged into uncertainty.
Major personnel decisions loom and will be harder to navigate since the team may not be whole before they need to be made. Porter Jr. will be eligible for a contract extension this offseason and will hit restricted free agency next year if there's no agreement. Barton can hit the open market after the season if he declines his $14.7-million player option for 2021-22. Gordon is slated to hit unrestricted free agency next summer. The still-valuable Paul Millsap is on a one-year deal, and probably on his last legs as a positive contributor.
This group that gradually grew together until finally sprouting into a full-fledged contender could look very different by the time Murray is ready to return. Denver's current blend of talent and fit is a difficult one to recreate. The NBA is unforgiving, and chances like the one they had this season are hard to come by.
Fork-in-the-road moments like this always serve as reminders of how fickle this whole enterprise is, and how years of carefully laid plans can come undone in an instant. The Nuggets' journey isn't over, but it's about to take a major detour. Here's hoping they don't lose their bearings along the way.