It's been two weeks since a hectic trade deadline altered the landscape of the NBA. Now that they've had some time to get acclimated, let's take a look at how some of the highest-profile deadline-day additions are fitting in with their new teams.
Aaron Gordon, Nuggets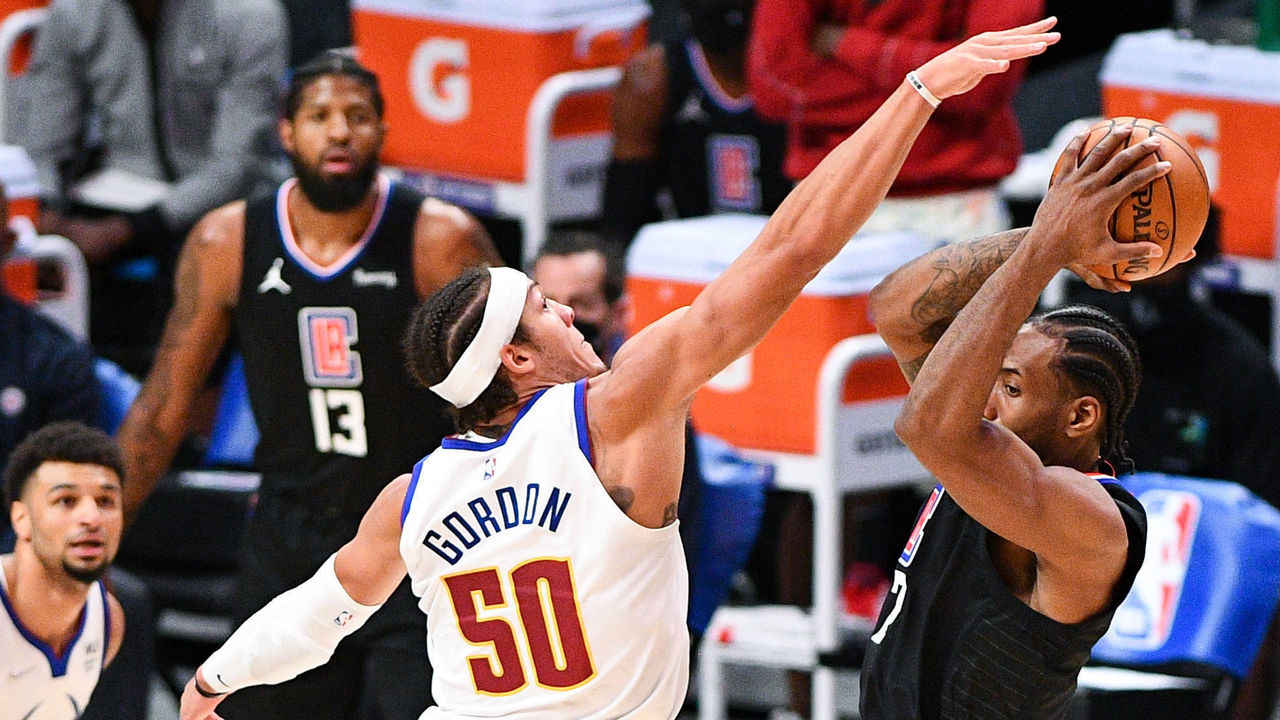 You couldn't have dreamed up a more promising start to the Gordon era in Denver. The dynamic hybrid forward has snapped into place with the satisfying precision of a laser-cut jigsaw piece, developing instant offensive synergy with Nikola Jokic and Jamal Murray while fully fitting the contours of the team's biggest defensive hole. The Nuggets have won their first six games with him in the lineup, and their new starting five of Gordon, Jokic, Murray, Michael Porter Jr., and Will Barton posted a 133.9 offensive rating and 100 defensive rating in its first 90 minutes together. Obscene.
In Orlando, Gordon's evident skills were often offset by misbegotten attempts at star-level self-creation. For years, we wondered whether those proclivities were a reflection of his self-perception or simply his environment, which was largely devoid of playmakers and off-the-dribble threats. The early returns in Denver strongly suggest it was the latter. As a Nugget, Gordon's embraced his destiny as an elite role player, focusing almost exclusively on cutting, screening, and relocating away from the ball. He's always been a far better finisher than initiator, and he's finally playing with the kind of creators who can allow him to lean into his strengths.
He's spending a quarter of the amount of time with the ball in his hands as he did with the Magic, and finishing nearly five times as many possessions per game via cuts, according to NBA Advanced Stats. He's taken just four pull-up jumpers in his six Nuggets games after averaging 4.5 per contest in Orlando, and his field goals are coming five feet closer to the basket on average, per Basketball-Reference. His 17% usage rate since the trade speaks to both his willingness to scale back his offensive responsibilities and his ability to impact games without being a high-volume shot-taker. He was a game-high plus-19 in a win over the 76ers last week despite accruing only four shooting possessions.
That newfound selectivity, coupled with his uncanny ability to play off of his new teammates, has resulted in Gordon shooting 73% on 2-pointers and 86.4% at the rim with Denver. It helps that coach Mike Malone has effectively tethered his shifts to Jokic's. Gordon's played all but five of his minutes with the MVP front-runner by his side.
The Nuggets have found myriad ways to deploy their shiny new toy. They use him as a cutter from the slot; a dive man for Jokic in delightful 5-4 pick-and-rolls; the entry feeder in split action with Jokic at the elbow; and on either end of all types of off-ball screening actions with Murray, which pair the threat of Gordon slipping to the rim with the threat of Murray popping to the 3-point line, leaving defenses with an impossible choice.
A lot of what Gordon's doing doesn't show up in the stat sheet, like the "cut assists" that constantly open up shots for teammates by engaging weak-side defenders. Watch how his cut below (Gordon's in the top right) forces Terrence Ross to commit and creates the opening for Murray to hit Porter Jr. in the corner:
Defensively, Gordon gives the Nuggets a much-needed primary option for the types of power wings they'll likely have to go through in the playoffs. Just as importantly, he's providing a needed dose of secondary rim protection, captaining back-end rotations when Jokic plays up at the level of the screen. It's a similar (if more perimeter-oriented) role to the one a more able-bodied version of Paul Millsap used to play.
Gordon's presence makes everyone's jobs easier. It permits softer assignments for Porter Jr., and less physical attrition for the rangy but slender Barton. Gordon allows the Nuggets to switch almost every screening action that doesn't involve Jokic, something they were a bit less inclined to do with the 36-year-old Millsap starting at the 4.
Denver is still vulnerable in scenarios where Gordon's man initiates the pick-and-roll with Jokic's man screening. Gordon isn't bad at navigating screens, but having him trail the central action on the perimeter while Jokic jumps out at the ball-handler leaves little resistance on the back end. The Nuggets' help looks a lot less fearsome when Murray is the low man:
But no team is perfect, and Gordon was never going to make the Nuggets infallible. What he has done is make them as complete as they've been at any point in the Jokic era.
Nikola Vucevic, Bulls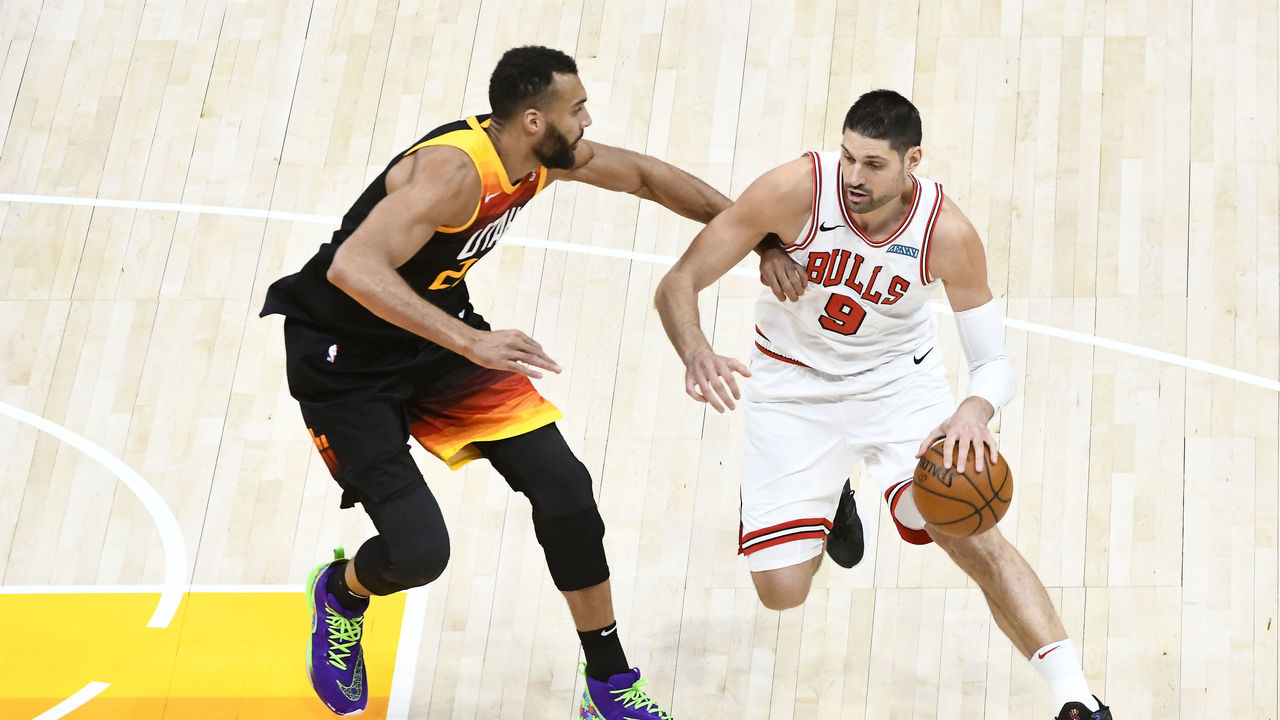 Unlike Gordon's instant integration in Denver, there was a bit of an adjustment period for Vucevic in Chicago, which makes sense given the more central offensive role he plays.
The Bulls lost their first four games with their new center in the lineup, before beating three badly shorthanded opponents: Brooklyn without Kevin Durant or James Harden, Indiana without Malcolm Brogdon or Domantas Sabonis (or Myles Turner for most of the second half), and Toronto without its starting backcourt and only eight players dressed. So, while things have undoubtedly looked better lately, it's hard to know how real the turnaround is.
Defense was never going to be the calling card of a team led by Vucevic and Zach LaVine, but the post-deadline Bulls were arguably even more disjointed at the offensive end in their four losses. Even after the three wins, Chicago's scored just 102.1 points per 100 possessions with its two All-Stars on the floor. Some of that's simply been the result of LaVine's jumper going uncharacteristically cold, but it's clear he and Vucevic needed time to feel each other out.
Vucevic's offensive role has changed slightly from what it was in Orlando. He's getting about half as many elbow touches and about three fewer post-ups per game. Those possessions have basically all been redistributed to pick-and-roll play. He's finished 33.1% of his possessions as a roll man with the Bulls so far, up from 22.9% with the Magic, per NBA Advanced Stats. That makes sense, given that the Magic didn't have anyone who even approached LaVine's level as a pick-and-roll operator. But it's also led to some early hiccups. Vucevic has scored just 0.81 points per possession as a roll man with the Bulls, putting him in the 11th percentile.
The pacing in the two-man game between him and LaVine has steadily gotten smoother. Early on, it felt like LaVine was getting off the ball a bit too early, before fully engaging the opposing big man. He's gotten more patient lately, selling the threat of his own pull-up jumper to open up the lane for Vucevic to dive, or snaking the pick-and-roll to force a switch and let Vucevic jail a smaller defender on his back:
Vucevic has never played with a scoring guard of LaVine's caliber, and LaVine, since becoming a primary ball-handler, hasn't played with a big man as skilled as Vucevic. They'll figure out how best to complement each other, in time.
Vucevic also brings an element of floor spacing that the Bulls weren't getting from Wendell Carter. He's bombing threes as a trailer in transition, and when the Bulls attack mismatches in the half court, opponents are more reluctant to send help because Vucevic lurks as a threat behind the arc.
The defensive end will be more of a challenge. Vucevic can basically only be used in drop coverage, which would be fine if he was a high-level drop defender, rather than a merely adequate one. He can get by with a strong protective infrastructure around him, as he did for several years in Orlando, but that infrastructure is less sturdy in Chicago.
The Bulls strengthened it by moving Thaddeus Young and Tomas Satoransky into the starting lineup in place of Lauri Markkanen and Coby White, but Vucevic is still playing almost all of his minutes alongside at least one and sometimes multiple other minus defenders. When Vucevic has played without Young, no matter the composition of the rest of the lineup, the Bulls have posted a catastrophic 118 defensive rating, and been outscored by 17 points per 100 possessions.
Young's heady cutting also makes him a snug offensive fit next to Vucevic, so the Bulls might want to take a page out of Denver's book and keep those two tied together like Jokic and Gordon.
Victor Oladipo, Heat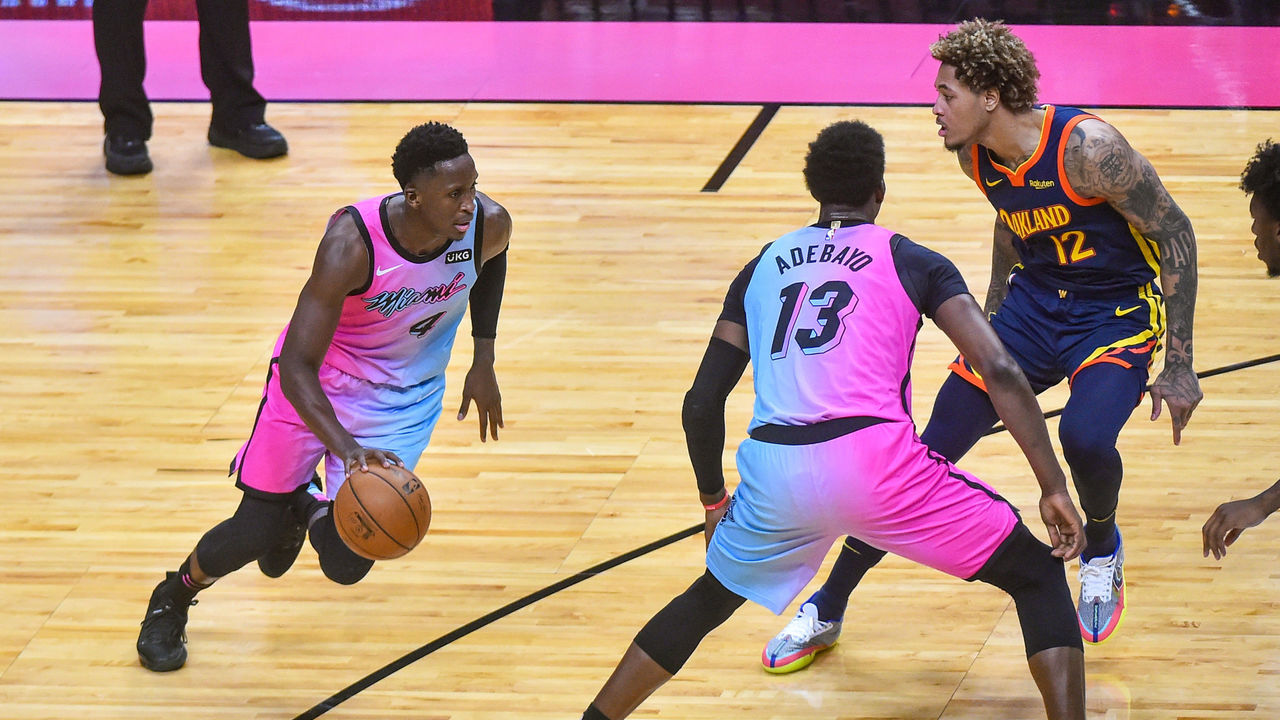 It's been a rough start for Oladipo in Miami. First, his debut was delayed due to illness. Then he kicked off his Heat career with three mostly miserable games. Then, after finally putting together a strong performance in his fourth outing, he was forced to depart in the final quarter when he tweaked his right knee on a dunk.
Early indications suggest the injury isn't serious, but given Oladipo's history with that knee, you can expect Miami to play it cautiously.
The most pressing current concern outside of Oladipo's health is the continued deterioration of his jump shot. His raw shooting numbers (37.2% from the field, 23.5% from deep) look grisly enough, but they don't paint the whole picture. Strip away layups and dunks, and Oladipo's shot just 5-of-30.
He still has that lightning-quick first step, so there's reason to hope he can settle in as the rim-pressuring second-side attacker Miami acquired him to be. But opponents are justifiably no longer treating him as a shooting threat, which is a bit worrisome for a team that was already dealing with spacing issues and struggling to generate points.
Part of the appeal of Oladipo is that he can serve as a secondary playmaker, but his ball-handling and passing have been off the mark in Miami as well - he has as many turnovers as assists since the trade. Some of that should get cleaned up with more familiarity, but if Oladipo's shooting woes continue to make him an off-ball liability, he needs to do a lot more with his on-ball possessions to be a net positive at the offensive end. The Heat have scored just 102.6 points per 100 possessions with him on the floor.
On the encouraging front, he and Bam Adebayo are developing their two-man game in the half court, and while it's been a mixed bag, you can see the outline of a successful partnership. They've already gotten pretty adept at selling this fake dribble-handoff to get Oladipo cutting backdoor in empty-corner sets (including on the play in which he got hurt):
Seven of Oladipo's 16 field goals in Miami have been assisted by Adebayo.
At the other end of the floor, the theory of what a healthy Oladipo can do for Miami is evident, even if it's yet to be fully realized. The Heat have taken to playing a hyper-aggressive defensive scheme this season, and Oladipo's ball pressure, court coverage, and reflexes should make him an ideal fit.
Part of the reason the Heat blitz opposing ball-handlers so frequently is that they play some shaky individual defenders with whom they're reluctant to switch or play single coverage. (They often resort to zone for similar reasons.) Oladipo can excel in any coverage, whether that means switching, getting skinny to stay connected around screens, filling gaps in a zone, or tagging the roll man behind a trap before sprinting back out to the 3-point line.
Consider this possession against Memphis, in which Oladipo passed Desmond Bane off to Goran Dragic, then kept Nemanja Bjelica out of an unfavorable switch by chasing Tyus Jones overtop, forced him to pass out, then cracked back to snare a contested rebound:
Oladipo's still made his share of mistakes as he learns Miami's system, but all told, the Heat's new starting lineup with him in it has posted a sterling 94.5 defensive rating in 50 minutes. That side of the ball shouldn't be an issue.
The thing is, Miami was already a top-eight defense before the trade. What the Heat needed most was a jolt to their 25th-ranked offense, and whether Oladipo can give them that is still very much an open question.
Norman Powell, Trail Blazers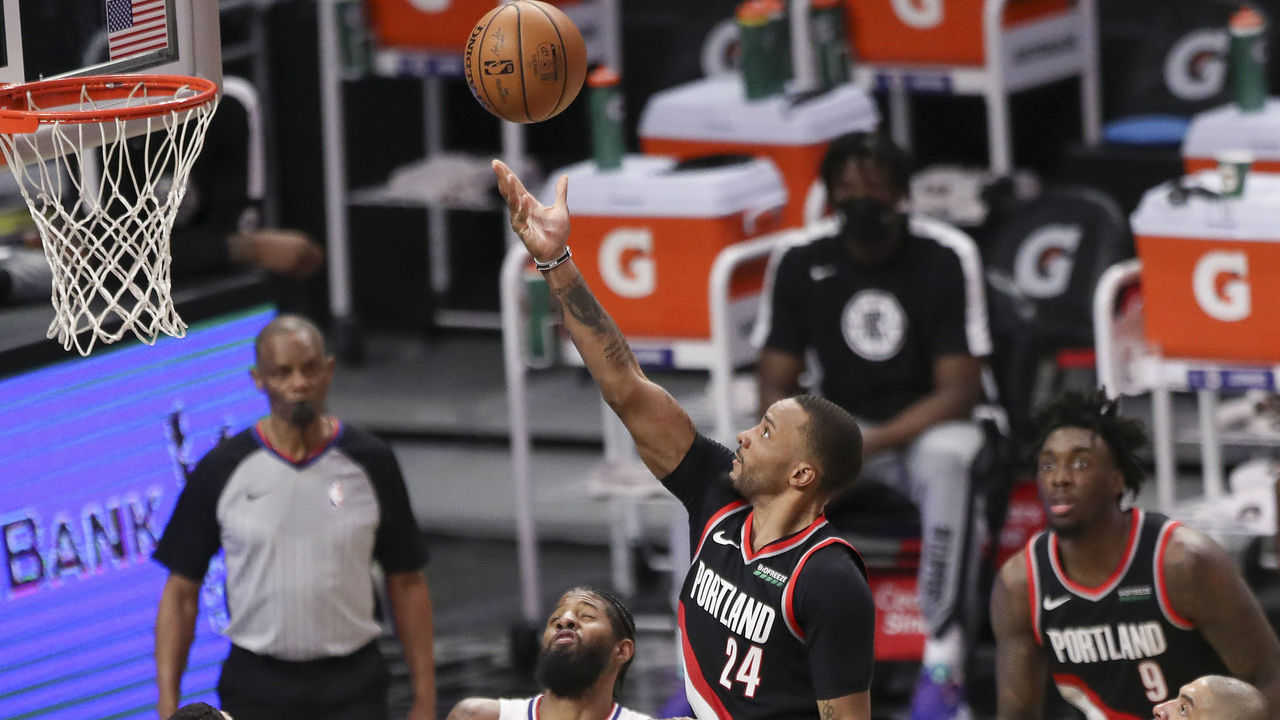 Gary Trent's catch-and-shoot acumen made him a great offensive complement to Damian Lillard and CJ McCollum, but by flipping him for Powell - essentially a more well-rounded version of the same off-ball wing archetype - the Blazers have given themselves a new dimension.
Lillard and McCollum can bend defenses like no other backcourt in the NBA. All they need around them are decisive players who can exploit the advantages they create before the defense has a chance to reset. Trent wasn't hesitant to let it fly, but he didn't have the handle or the burst to do serious damage when the defense would rotate and run him off the arc.
There isn't a ton to separate Trent and Powell as spot-up or movement shooters. But when it comes to attacking closeouts and second-side scrambles, or busting switches by straight-up blowing by guys one-on-one, Powell provides significantly more downhill juice. And he offers just enough self-creation to ensure Portland's offense doesn't grind to a halt when its initial action is contained.
Powell's free-throw attempt rate as a Blazer is nearly triple what Trent's was (8.3 per 100 possessions compared to 2.9), and he's taking more than twice as many shots inside the restricted area (4.1 per game compared to 1.6). Prior to Powell's debut, the Blazers ranked 27th in the league in at-rim frequency and 19th in free-throw attempt rate, per Cleaning the Glass. In the six games since, they rank 15th and 13th, respectively.
The Blazers have been able to plug Powell right into the Trent role in their offensive sets, but those sets are now more unpredictable because of Powell's dynamism off of the catch. Trent could use an escape dribble against a closeout to shake loose for a side-step jumper. Powell can do that, too, but he can also go north-south and be at the rim in a blink.
Though they haven't beaten any especially good teams since the deadline, the Blazers' gargantuan 122.3 offensive rating in 134 minutes with Lillard, McCollum, and Powell on the floor bodes well. Whether that's enough to override their issues at the defensive end, where they've been equally flammable all season, is another matter.
Powell is shorter than Trent, but he's also longer, and his activity level in Portland - where he's averaging 1.9 steals and 3.1 deflections a game - has been a pleasant surprise. Still, nobody would mistake him for a lockdown defender, and he leaves the Blazers incredibly small, with three players standing 6-foot-3 or shorter in their starting/closing lineup. That's going to be tough to manage against teams with multiple scoring wings, as we saw when Kawhi Leonard and Paul George combined for 65 points in a win against them Tuesday.
But realistically, the Blazers were never going to beat teams with their defense. With Powell aboard, they'll at least have a better chance of winning some shootouts come playoff time.