The most unpredictable NBA draft in recent memory is approaching, and trades could turn the entire night upside down. LaMelo Ball remains the player with the highest upside and thus will presumably go first overall.
Here is theScore's final mock draft ahead of Wednesday night's theatrics.
1. Minnesota Timberwolves - LaMelo Ball, PG, Illawarra Hawks (Australia)
Ball has unique playmaking creativity at 6-foot-7, often launching full-court outlet passes or creating for his teammates off the dribble. There are still questions about his defense, but he does have the size and instincts to be effective when engaged. With Ball unlikely to fall out of the top three, the Detroit Pistons could eye a trade up in the draft as one of the teams he reportedly worked out for.
2. Golden State Warriors - James Wiseman, C, Memphis
Like the Timberwolves' first overall selection, Golden State's No. 2 pick is in play. Charlotte is said to be "highly interested" in taking Wiseman, but there's no reason for the Warriors to pass on the Memphis center if they keep the pick. Wiseman not only fills an immediate need at the 5, but his athleticism is also something Golden State never had at the position during its dominant run.
3. Charlotte Hornets - Anthony Edwards, G, Georgia
Would Hornets owner Michael Jordan select a player like Edwards, whose focus has been questioned? Time will tell, but the fact remains "Ant-Man" is the top wing prospect in this class - a player with elite physical tools and the raw shooting ability to evolve into an NBA All-Star.
4. Chicago Bulls - Deni Avdija, F, Maccabi Tel Aviv (Israel)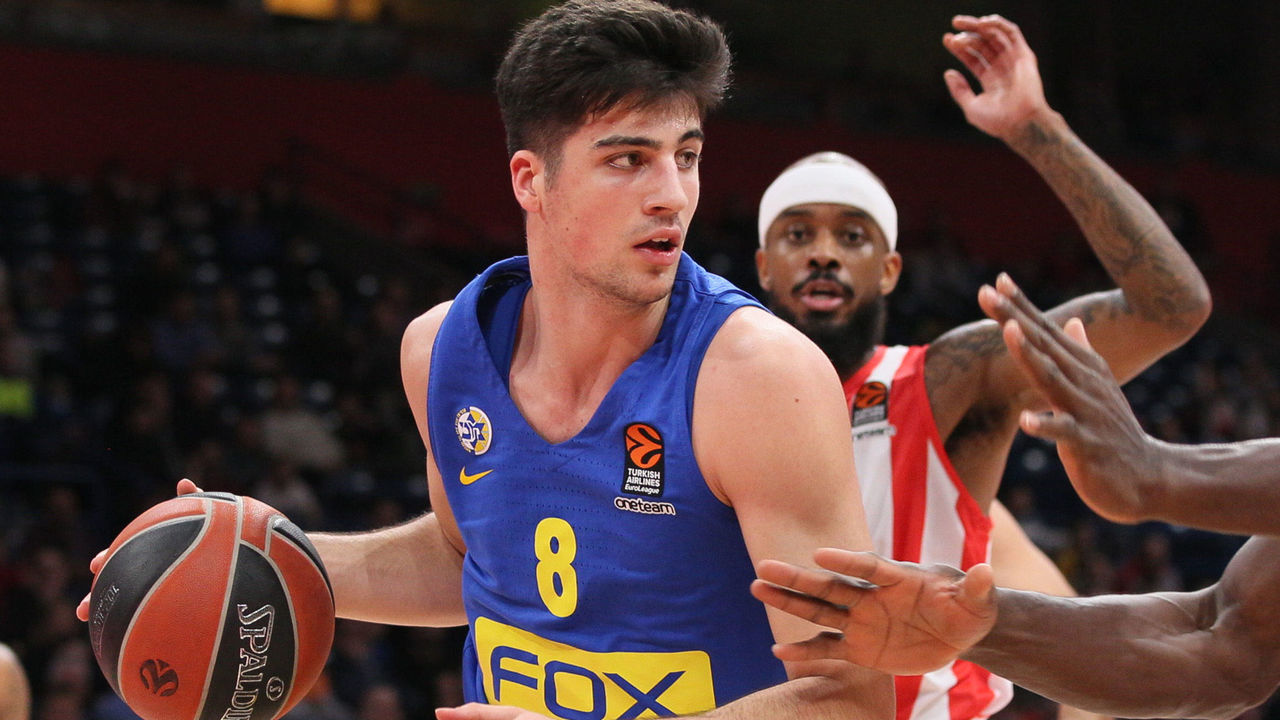 It would hardly be surprising if the Bulls' brain trust, led by Arturas Karnisovas, went with Avdija here - especially given Chicago's current frontcourt bigs. The 19-year-old Avdija has a point forward's game, and some have likened him to a poor man's Luka Doncic. Standing 6-foot-9, he's also shown an ability to play either forward spot and has impressed scouts with his confidence and basketball IQ. Avdija will almost certainly become the highest-drafted Israeli player in NBA history.
5. Cleveland Cavaliers - Obi Toppin, PF, Dayton
The Cavaliers would be fine with Toppin dropping into their laps, in part because he played his college ball in state at Dayton. With "SexLand" in the backcourt and the longer-term futures of Kevin Love, Andre Drummond, and Tristan Thompson unknown, Toppin fits the bill. The 22-year-old power forward has the ability to score inside and out, and his bouncy athleticism makes him a terror at both rims.
6. Atlanta Hawks - Tyrese Haliburton, G, Iowa State
The Hawks are said to have expressed interest in Jrue Holiday before the New Orleans Pelicans reportedly dealt the guard to the Milwaukee Bucks. Atlanta's trade exploration could offer insight into what the team is seeking in the draft. Haliburton is a defensively sound guard who complements Trae Young's offensive firepower very well. He can play off Young as a catch-and-shoot threat and facilitate the offense when the All-Star guard sits.
7. Detroit Pistons - Killian Hayes, PG, Ratiopharm Ulm (Germany)
If the Pistons can't land Ball, they could turn to Hayes as their point guard of the future. He's got elite size for the position, and he's comfortable operating out of the pick-and-roll and in the open floor. Hayes also has a relationship with Pistons 2019 first-round pick Sekou Doumbouya - the two grew up in France and participated in the same basketball camps over the years.
8. New York Knicks - Isaac Okoro, F, Auburn
The Knicks could opt for a point guard here, but it would be tough to pass on the draft's top perimeter defender. Okoro has the physical tools to immediately step in and guard 1 through 4, plus he's an underrated passer. If he can improve his 3-point shooting, Okoro could be a huge addition for a Knicks team that finished dead last in triples per game last season.
9. Washington Wizards - Onyeka Okongwu, C, USC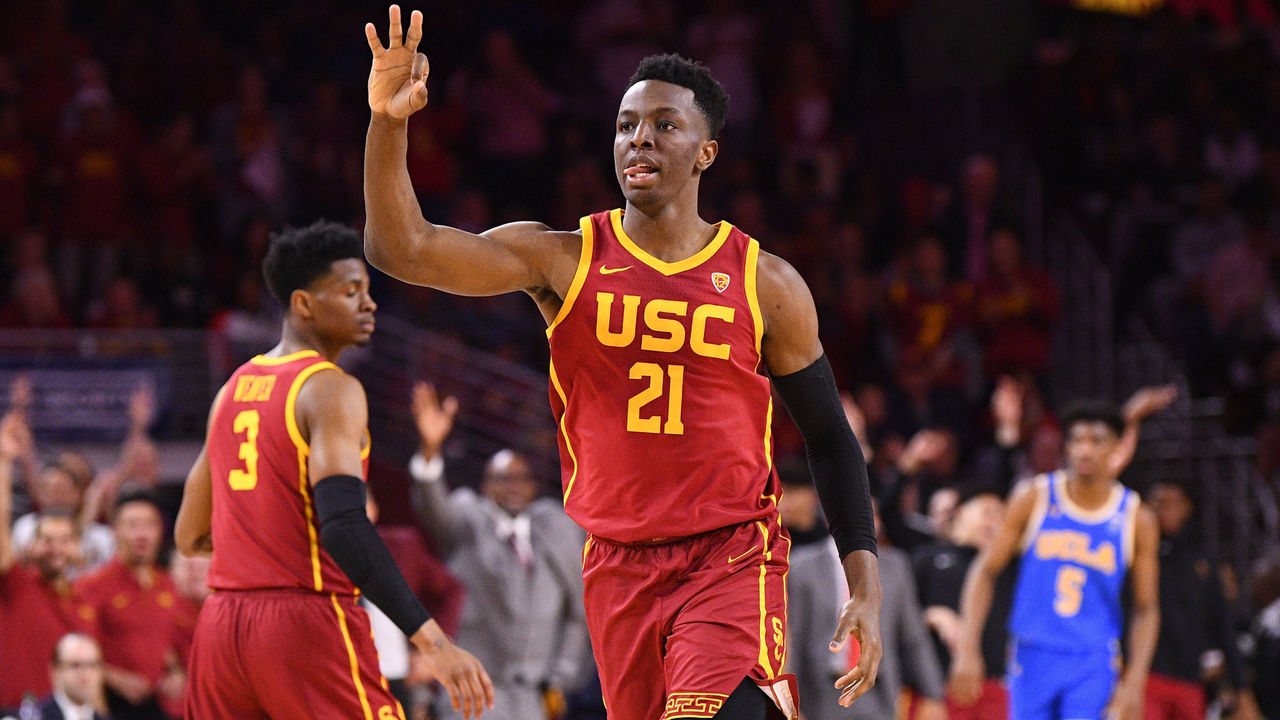 Okongwu is arguably the top defender in this class. The 6-foot-9 big man anchored USC's defense this past season, finishing ninth in the NCAA with 2.7 blocks per game while also averaging 1.2 steals. His nimble footwork and length allow him to defend effectively on the perimeter. Okongwu would also provide point guard John Wall with a rim-running threat.
10. Phoenix Suns - Devin Vassell, G/F, Florida State
The Suns finished 20th in both points allowed and 3-pointers made per game in 2019-20, so Vassell should slot in nicely as one of the best 3-and-D prospects in this year's class. He shot 41.7% from deep across two seasons at Florida State and was a high-impact defender for one of the nation's stingiest defensive units.
11. San Antonio Spurs - Patrick Williams, F, Florida State
Williams' stock is reportedly rising, mostly because of his physical dimensions and his defensive play in his lone season at Florida State. The 6-foot-8, 225-pounder has a near-7-foot wingspan and can play either forward spot. He remains raw offensively, but he's the type of player who would fit the Spurs' system.
12. Sacramento Kings - R.J. Hampton, G, New Zealand Breakers (Australia)
Hampton was a consensus top-five high school recruit in the class of 2019, but he opted to play in the Australian NBL this past season. The native of Texas didn't exactly light it up Down Under, though he did flash his scoring instincts and playmaking potential. The Kings could use some backcourt depth given the reported departure of Bogdan Bogdanovic and Buddy Hield's apparently rocky relationship with head coach Luke Walton.
13. New Orleans Pelicans - Aaron Nesmith, G/F, Vanderbilt
The Pelicans could use some more shooting around Zion Williamson, especially in lineups featuring him at the 5. Nesmith was one of the NCAA's top 3-point marksmen in 2019-20, shooting 52.2% on just over eight triples per game. His ability to produce as an off-ball scorer could secure his role with the NBA squad ranked fifth in scoring last season.
14. Boston Celtics - Kira Lewis Jr., PG, Alabama
Lewis' speed should further enhance the Celtics' lethal transition attack. The Alabama floor general is a blur in the open court and shows great court vision on the fast break. Boston needs to address its backup point guard position, and Lewis' 3-point shooting allows him to play the 1 or the 2.
15. Orlando Magic - Cole Anthony, PG, North Carolina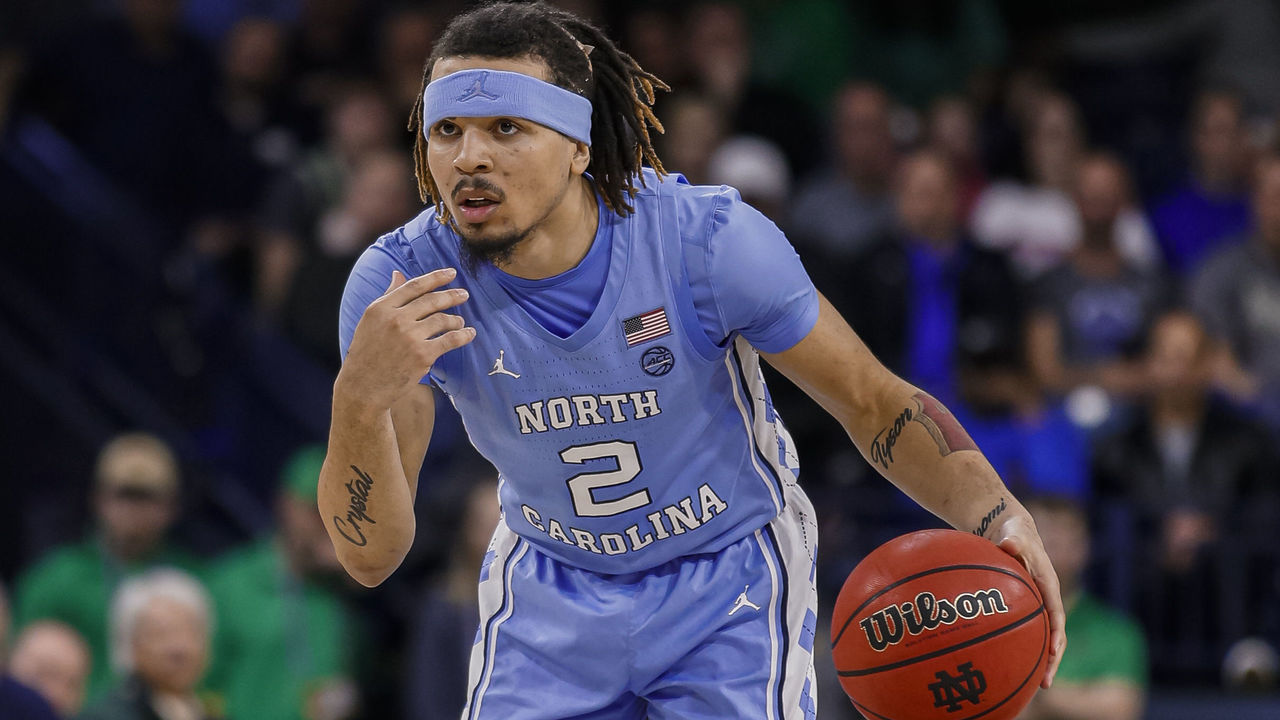 Anthony remains one of the wild cards of this draft, as he could go anywhere between the lottery and the late first round. The 6-foot-2 son of former NBA point guard Greg Anthony has a score-first mentality and an ability to hit shots from anywhere. His facilitation still needs work, but there's a feeling his decision to return from injury at Carolina last season hurt his draft stock.
16. TRADE: Houston Rockets (via POR) - Saddiq Bey, F, Villanova
The Rockets have reportedly acquired the No. 16 pick, but the move cost them one of the league's top perimeter defenders in Robert Covington. Fortunately for Houston, Bey has 3-and-D potential and should be ready to contribute immediately. He'll fit nicely in the Rockets' 3-point-happy offense after ranking fourth in the NCAA with a 45.1% clip from distance last season, while his ability to guard multiple positions should help offset the loss of Covington.
17. Minnesota Timberwolves - Precious Achiuwa, PF, Memphis
Achiuwa led all freshmen with 18 double-doubles last season and was the only first-year collegiate player to average at least 10 points and 10 rebounds per game. A high-energy big man with the lateral quickness to defend on the perimeter, Achiuwa fits alongside Karl-Anthony Towns as a natural 4. The Memphis standout could also see some minutes as a small-ball 5 after growing into the role in Wiseman's absence this past year.
18. Dallas Mavericks - Aleksej Pokusevski, F/C, Olympiacos (Greece)
Pokusevski is the mystery of this class. The 7-footer is an intriguing prospect, as he can stretch the floor and pass like a guard. He doesn't have much high-level experience, though, and his durability is already a concern. The Mavericks have found success developing international prospects, so there might not be a better fit for Pokusevski to begin his NBA career.
19. Brooklyn Nets - Tyrese Maxey, G, Kentucky
Maxey has good length for his 6-foot-3 height, along with an ability to change speeds while scoring in any number of ways. He's also a very strong and engaged defender, averaging almost a steal per game at Kentucky. The 20-year-old had a strong showing at the televised pro day he shared with Edwards. Maxey also appears to have worked on his shot mechanics, including raising his release point. The Nets could do far worse here.
20. Miami Heat - Jalen Smith, PF/C, Maryland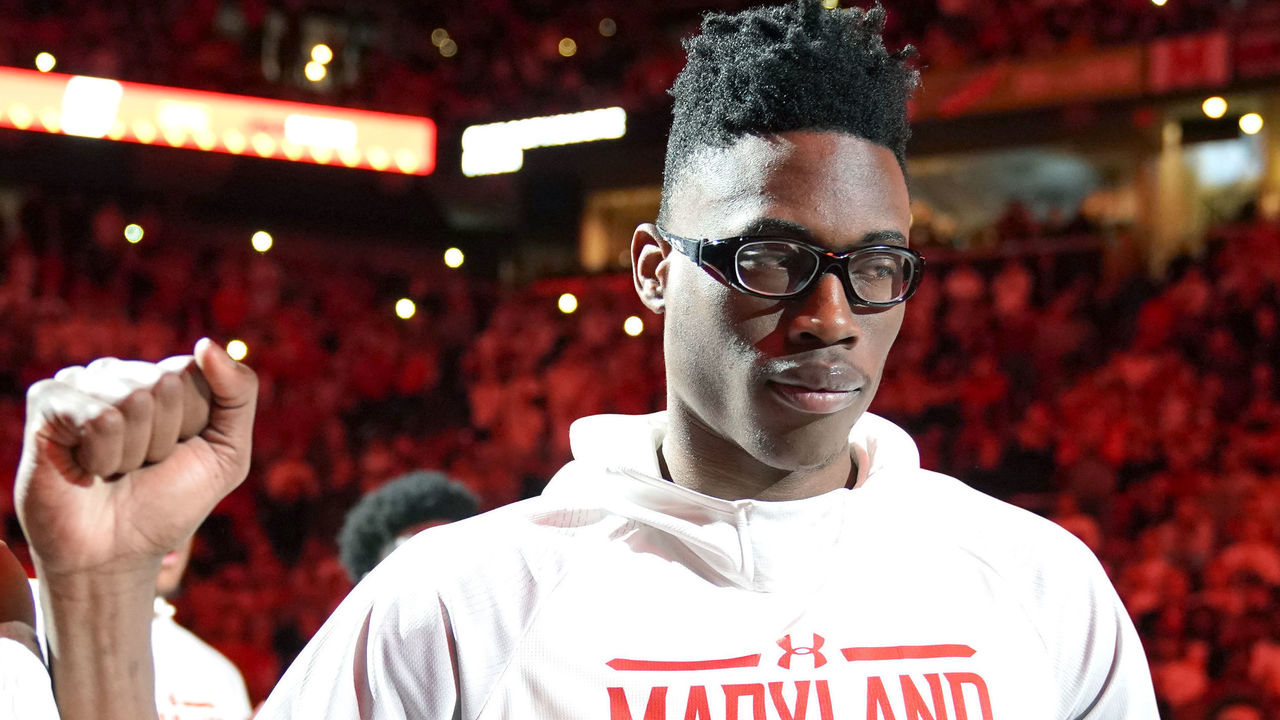 Smith brings a rare specialized mix of shot-blocking and perimeter shooting. Standing 6-foot-10 with a 7-foot wingspan, he averaged 2.4 blocks per game for Maryland last season while shooting almost 37% from deep. The Heat may be in the market for a point guard at this spot, but Smith would also make for a nice roster fit.
21. Philadelphia 76ers - Desmond Bane, G, TCU
The 76ers still need shooting and Bane would be one of their best bets at this point in the draft. The 6-foot-6 guard played both backcourt positions at TCU, and he excels from beyond the arc in terms of both creating his own shot and firing off the catch-and-shoot.
22. Denver Nuggets - Josh Green, G/F, Arizona
Green, this year's top Australian prospect, is an athletic wing with the tools to become an elite defender. He remains raw offensively, but like Matisse Thybulle in 2019, his defensive upside may be too much for teams like the Nuggets to pass up. He registered the second-fastest shuttle run at this year's combine.
23. Utah Jazz - Theo Maledon, PG, ASVEL (France)
Like countryman and fellow draftee Hayes, Maledon is a big, talented point guard from France who can hit outside shots. However, his development isn't as far along partly because - at 175 pounds - he lacks strength. The 19-year-old played the last three seasons with ASVEL, the Lyon club Tony Parker and Nicolas Batum govern.
24. TRADE: New Orleans Pelicans (from MIL via IND) - Malachi Flynn, PG, San Diego State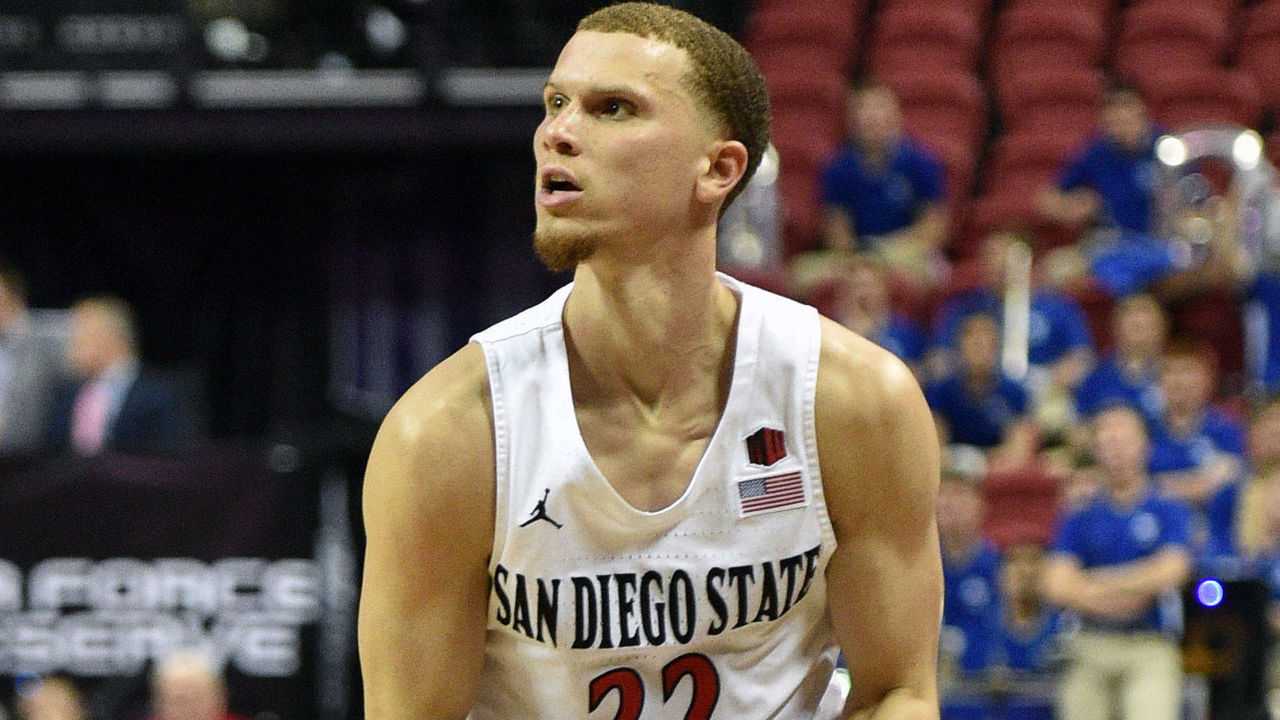 Flynn projects to be a sleeper pick from a mid-major school who excels in the pick-and-roll, earning him comparisons to Fred VanVleet. Pelicans head coach Stan Van Gundy will love Flynn's tireless defensive work, and his solid 3-point shooting should allow him to play off the ball.
25. Oklahoma City Thunder - Jaden McDaniels, F, Washington
Oklahoma City is a team primed to make major moves on draft night with reports the Thunder will acquire the 28th pick from the Los Angeles Lakers in exchange for Dennis Schroder. As a pure pick, McDaniels goes to OKC in this spot as a high-upside wing.
26. Boston Celtics - Leandro Bolmaro, G/F, Barcelona (Spain)
Barring a trade, the Celtics are ripe for draft-and-stashes with three first-round picks and a glut of rostered players. Enter Bolmaro, a 6-foot-8 wing who has said he plans to stay with Barcelona for another season. The Argentine projects as a high-upside playmaker.
27. New York Knicks - Isaiah Stewart, C, Washington
The Knicks might be set at the 5 with Mitchell Robinson, but they aren't exactly in a position to pass up on talent. Stewart was a consensus top-three high school recruit in the 2019 class and didn't disappoint in college, averaging 17 points, 8.8 boards, and 2.1 blocks during his lone year at Washington. Although he's a bit undersized for his position, his 250-pound frame and 7-foot-4 wingspan should translate well at the next level.
28. TRADE: Oklahoma City Thunder (via LAL) - Udoka Azubuike, C, Kansas
On the one hand, Azubuike's old-school big man game somewhat limits his stock. On the other, he's an absolute physical specimen. Not only did the Kansas center log the longest wingspan (7-foot-7) at the combine, but he also recorded the fourth-best max vertical leap at 41 inches.
29. Toronto Raptors - Xavier Tillman, PF/C, Michigan State
Tillman ticks some boxes in terms of things the Raptors organization values. While his shot hasn't developed into stretchability, he's a tremendous passer and a high-IQ defender. With one - or both - of Serge Ibaka and Marc Gasol not guaranteed to back in Toronto, Tillman fits the bill.
30. Boston Celtics - Tyler Bey, F, Colorado
Bey has been one of the top performers during the pre-draft process. The Colorado standout recently broke the max vertical record for forwards at the combine. The 22-year-old consistently plays at a high-energy level whether he's fighting for a rebound or running the floor in transition. While there are still questions about his game offensively, Bey's ability to guard multiple positions should be a seamless fit in the Celtics' stable of switchable defenders.