Bam Adebayo's return wasn't enough for Miami, as the Lakers held off the Heat 102-96 in Game 4 of the NBA Finals to move within a win of the franchise's 17th championship.
Here are five takeaways from a competitive contest:
AD on Jimmy, and the chess match that ensued
The Lakers had a Jimmy Butler problem in Game 3. Butler ruthlessly and relentlessly attacked them in the pick-and-roll, generating switches and either bullying smaller guys like Kentavious Caldwell-Pope or dusting bigger ones like Kyle Kuzma and Markieff Morris, on his way to 40 points.
The Lakers threw a different look at Butler in Game 4 by using Anthony Davis as his primary defender, which set off a chain reaction of adjustments and counter-adjustments that spun out from the opening tip to the final buzzer.
The Heat started out by simply treating Davis the way they treated LeBron James when the latter guarded Butler in Game 3 - i.e. repeatedly putting him in pick-and-roll in the hopes of forcing a switch - and early on, the Lakers obliged. Whether it was with small-small pick-and-rolls or actions that used the returning Adebayo as a screener to target Dwight Howard, Butler was able to get whatever he wanted. He shot 5-for-5 from the field in the first quarter, doing most of his damage against Kuzma after Davis got screened out of the play:
Therein lay the danger of putting Davis on Butler. Davis isn't accustomed to navigating ball screens, and having him chase Butler out on the perimeter - and at times get wiped out at the point of attack - meant he wasn't around to help at the rim, which became particularly problematic when Howard came out of the game and Davis moved up to play the 5. It's the same reason the Bucks didn't want to use Giannis Antetokounmpo to guard Butler in the second round. Davis, like Giannis, is more valuable on the interior than on the perimeter.
The Lakers eventually found a middle ground, though. They kept Davis on Butler, but rather than switching screens or having Davis try and chase overtop, they had him drop way underneath, while the screen defender hard-hedged to prevent Butler from turning the corner. Butler, who's only sporadically trusted his jumper this postseason, largely declined to take the pull-ups L.A.'s altered coverage conceded.
It wasn't dissimilar to how the Heat defended LeBron in the second half of Game 3, the difference being that Butler couldn't use the runway to plow through Davis the way James was able to when he revved up to drive at a sagging Butler. After the 5-for-5 start, Butler missed nine of his last 12 field goals, going 1-of-7 on shots directly defended by Davis. No less importantly, he shot only seven free throws, half as many as he did in Game 3.
Davis guarding Butler also meant that James spent most of his time guarding Adebayo. And while Miami's star big man played very well in his return, LeBron negated the strength and speed advantages he typically enjoys. Even though one's functionally a wing and the other a center, the two are basically the same size.
That alignment also meant that, while the Lakers fought to avoid switching Butler-run pick-and-rolls after his first-quarter barrage, they were more than happy to switch Butler-Adebayo actions, which deterred the Heat from even running them. Here was one of the rare instances in which they did so as a secondary action after Davis went under against Butler to keep Kuzma out of the switch for the first time. It resulted in an Adebayo offensive foul:
In short, after Howard got yanked, Adebayo was essentially neutralized as a screener, much like he was in Game 1.
Butler instead focused on using shooters as his screeners. Here's a glimpse of what L.A.'s coverage looked like on those actions after the initial ball screen: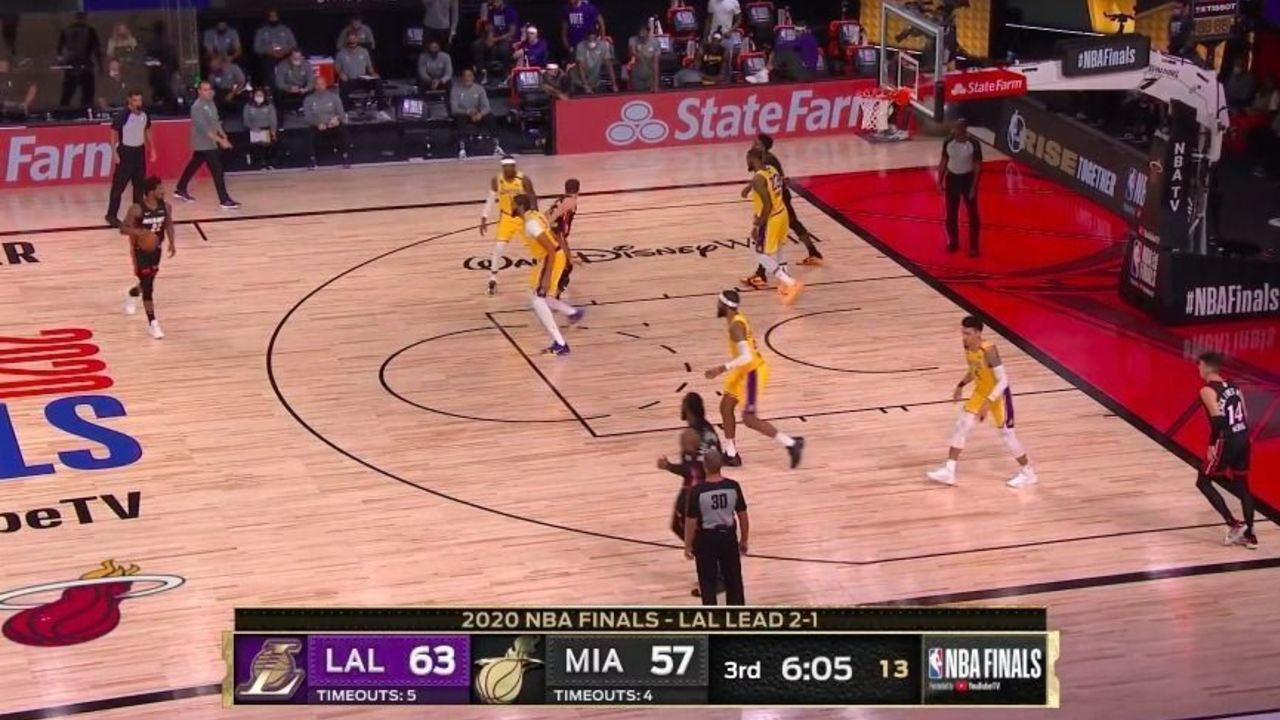 Duncan Robinson screened for Butler on that play, and Caldwell-Pope hedged briefly before retreating. With Davis laying so far back and in no position to contest, Miami's counter-adjustment was to have Robinson immediately sprint up to take a dribble-handoff and launch a three. After that, Davis had to be a bit more cautious about the amount of space he conceded.
Another counter the Heat busted out late in the game: using Butler on the other end of pick-and-rolls, with Tyler Herro initiating and Davis forced to defend the screen rather than the ball. Davis played up high to take away Herro's pull-up, which allowed Butler to slip into space and do work as a playmaker on the roll:
On and on the chess match went. Finally, late in the fourth quarter, with the players and coaches having essentially burned through their bag of tricks, the game simply came down to individual ability. And on what proved to be the game-icing defensive possession, the Lakers' megastar tandem won out. Davis anticipated the Robinson handoff and lunged out to get the block. James started out on Adebayo but switched onto Robinson and then Butler in quick succession. He locked Butler down in single coverage, preventing him from turning over his left shoulder and forcing him to give the ball up:
And that was pretty much all she wrote. The Lakers won this game thanks to hellacious defensive performances from AD and LeBron. - Joe Wolfond
Miami defended well enough to win
The Heat didn't lose this game on the defensive end, as despite Davis' late-game heroics and James' typically prolific production, Erik Spoelstra's team executed a mostly airtight game plan guarding the Lakers.
Davis found ways to be more effective in the second half, and James only turned the ball over once in the second half after committing 13 turnovers between the start of Game 3 and halftime of Game 4, but Miami still did well to disrupt what can sometimes like feel an inevitable, unstoppable two-man game.
The Heat started the game with Adebayo guarding Davis, but Miami's smaller frontcourt players chipped in, too. Where the Heat caused L.A. the most trouble was in making a simple entry pass to Davis seem impossible, even when it was James trying to dump it in.
As in Game 3, the Heat fronted Davis all night Tuesday in an effort to deny him the ball, or at worst, make him catch it a little farther from the hoop than he wanted to.
In the image below from the first quarter - which resulted in one of James' six turnovers - you can see Adebayo practically in Davis' jersey on the perimeter, almost like he's guarding a shooting threat: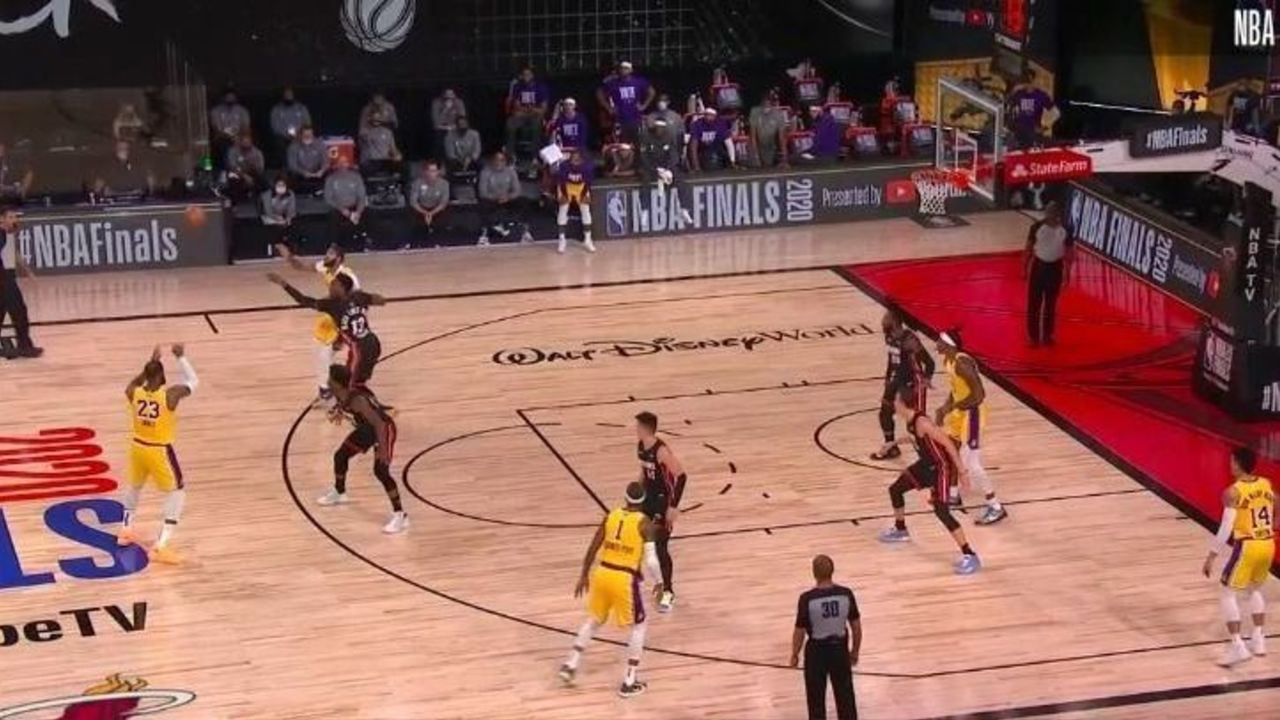 The next image provides a glimpse of how the Heat found defensive success against Davis when Adebayo was on the bench, as Andre Iguodala hounds James on the perimeter and Butler fronts Davis just outside the paint: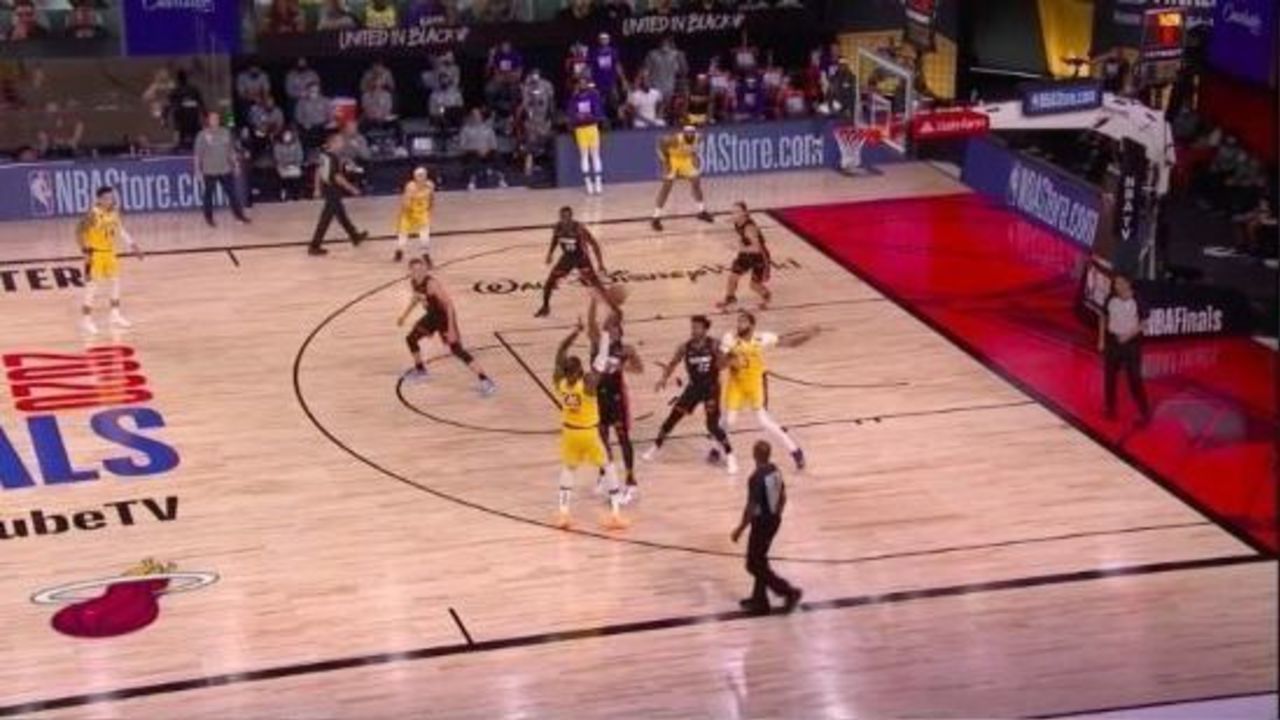 James couldn't complete this pass, but if he had, Kelly Olynyk was ready to slide in from the weak side to double Davis, and Miami would've bet Davis couldn't hit Morris in the corner.
Even without Adebayo, whether it was Iguodala, Butler, or Jae Crowder, two of those three players consistently combined to disrupt James' ability to make an entry pass and to aggressively front Davis in the post.
The Heat effectively walled off the paint for large chunks of the game. They rotated well to deflect entry passes at times and to recover back to shooters. They did a good job keeping everyone besides James off the free-throw line. Despite being the smaller team, they posted a solidly average defensive rebound rate of 76.2%, which is actually above average for their own standards (though giving up four offensive rebounds to Rajon Rondo and Alex Caruso definitely stung).
The Heat had a good defensive game plan. It mostly worked. At some point, stars like James, Davis - and apparently Caldwell-Pope - are going to make plays. - Joseph Casciaro
Manna from heaven
Remember Caldwell-Pope's introductory press conference back in 2017, when Lakers general manager Rob Pelinka compared his signing to the bread that rained down from the skies to nourish the Israelites in the desert?
While that rightly became a punchline for a time, Caldwell-Pope truly was a godsend for the Lakers on Tuesday. In their most important game of the season, they got everything they needed from the guy who's proven to be their most important role player throughout the playoffs.
After back-to-back ice-cold shooting nights in which he combined to go 3-of-14 from deep, his rediscovered 3-point stroke kept L.A.'s offense flowing early in Game 4, as James and Davis struggled. If knock-down shooting was all he'd given them, the Lakers would've been grateful and content, but Caldwell-Pope did a whole lot more than that. He's often only been asked to be a 3-and-D spot-up guy this year, but the playmaking chops he dusted off in this game proved a vital antidote to a Heat defense that continued to heavily load up on LeBron and AD.
Davis was the biggest beneficiary. Miami turned him into a stationary player in Game 3 - he wasn't able to get anything off of movement, and was a virtual non-factor in the pick-and-roll - but Caldwell-Pope was able to unshackle him by attacking decisively off the catch to get the defense moving and then slinging quick passes right on target:
He was equally important at the other end. After a tough Game 3 in which Butler abused him, Caldwell-Pope was able to stay out of that switch and focus on hounding Miami's other guards. Below is a particularly incredible defensive sequence, in which he tracked Robinson and then Kendrick Nunn through multiple screens and then executed a late veer switch to deflect Nunn's kick-out pass out of bounds:
The cherry on top came in crunch time. With under three minutes to play, after Butler missed a three that would've put Miami ahead, Caldwell-Pope sprinted to the corner in transition, took a feed from James, and drilled a 3-ball to put L.A. up four. Shortly after, he took the ball to the rack with a pump-and-go drive and finish over Robinson to stretch the lead to seven. It wasn't quite the dagger, but certainly delivered a significant flesh wound. A perfect role-player performance. - Wolfond
Heat need Dragic, not Nunn
On an emotional level, it's truly heartbreaking that after 12 years in the league, one of the game's toughest competitors in Goran Dragic can't take part in his first Finals appearance. On a basketball level, Dragic's absence in this series was never more evident or painful for Miami than it was in Game 4.
In what was mostly a defensive battle, the Heat simply didn't have enough offensive creation or firepower to go blow-for-blow with a James- and Davis-led Lakers team down the stretch.
During the playoffs, Dragic's been Miami's second-leading scorer, second-leading assist man, and made as many 3-pointers per game as Herro.
Butler hesitated to pull the trigger on his jumper all night Tuesday, and Adebayo lacked his usual playmaking flair in his first game back (Bam has only one assist in 54:32 of action in the Finals). With Davis, James, and the Lakers nullifying Miami's two stars, the Dragic-less Heat can't consistently generate half-court offense.
It's already asking a lot of Herro to take on more of an initiator's role within the offense, but perhaps the most glaring sign the Heat are desperate for any semblance of an offensive spark is that Spoelstra's turned back to Nunn.
The rookie guard played nearly 26 minutes in Game 4, shot 2-for-11, didn't get to the free-throw line, recorded zero assists, took more than zero bad shots, and was predictably inconsistent on the defensive end. Nunn is by far the worst player to play meaningful minutes in this series (JR Smith's six minutes of action don't count), and those are minutes the Heat can't afford in a matchup they're already at a clear disadvantage in.
Against an elite Lakers defense that will be playing with title-clinching fervor Friday, the Heat won't score enough to win without Dragic anyway, but if their starting point guard remains out, they must cut Nunn's minutes. - Casciaro
Lakers go small(er)
Many believed Adebayo's return would make it easier for Howard to maintain a role in this series. So much for that.
Howard started for the sixth straight game dating back to the conference finals, but his 7:49 of playing time was also the least action he's seen since the Lakers took on the small-ball Rockets in the West semis.
While Howard did a decent job on Adebayo to start the game, Davis remains the best option against Miami's star big, and with Davis on Butler in Game 4, the Lakers found success with James guarding Adebayo. Plus, Howard was understandably struggling to contain Butler on switches in the first quarter and is less capable of guarding shooters who may be coming off Adebayo screens.
On the other end, the Heat aren't worried about guarding Howard, and the Lakers big man doesn't have the skill set to punish Miami for stashing a smaller player (usually Crowder) on him. The Lakers also benefit from replacing Howard with a stretchier big like Morris or a perimeter player, as the extra spacing opens the floor for James and makes it easier to play James and Rondo together, which gives L.A. more ball handling, offensive initiation, and overall playmaking.
Against a smaller Heat team, the Lakers also don't need Howard to exploit advantages on the boards.
As is often the case, Davis and the Lakers play their best ball when Davis is at center. Through four games, the Lakers are minus-9 in 54 minutes with Howard on the court, and plus-32 in 138 minutes without him.
The veteran center had a surprisingly productive season in his L.A. return, and he made a positive, season-long contribution to a team on the cusp of a championship, which he should be proud of after being branded a journeyman and a has-been. But with the Lakers looking for every possible advantage as they look to close out the series, it wouldn't shock me if Howard has logged his last minutes of the season. If he does start in Game 5, expect another short outing. - Casciaro