As devastating as the injuries to Goran Dragic and Bam Adebayo figured to be for the Miami Heat, the team has yet to feel their absences offensively in The Finals. The Heat, in fact, posted their best offensive rating of the entire postseason in Game 2. It was their porous defense that cost them that contest, and for as otherworldly as Jimmy Butler was in Game 3, his heroics wouldn't have been enough if Miami hadn't tightened things up considerably at its own end.
That basically started and ended with finding a way to limit Anthony Davis and LeBron James, the blunt instruments with which the Los Angeles Lakers bludgeoned the Heat into submission in Games 1 and 2. Davis had proved particularly problematic. With Adebayo out, the Heat had no natural defender for him, with every other option being either too small or too slow of foot.
Miami's answer was to play zone for nearly all of Game 2, but Davis and James shredded that coverage. They cut into open pockets of space, slipped behind the defense, and crashed in for second chances with minimal resistance, combining for 65 points, 10 offensive rebounds, and just three turnovers.
The Heat responded by excising the zone almost entirely in Game 3, opting to go with man coverage for all but three possessions. They did an infinitely better job bodying up James and, especially, Davis in that more conventional alignment, forcing both of them into arguably their worst games of the playoffs.
After Davis averaged 33 points on 72% true shooting through the first two games, the Heat came in with a mandate to do everything possible to choke off the middle of the floor and make him uncomfortable. They had Jae Crowder and Andre Iguodala harass him in the post, usually fronting with help waiting in the event a pass went over the top.
Here's a first-quarter example of how they were able to deny Davis the ball. On this play, Butler helped way down off of LeBron and Meyers Leonard stunted into the lane to deter AD from diving out of the pick-and-roll before Crowder got back into position to front him and force the turnover:
Here's another example, with Davis trying get set up on the opposite side of the floor, a spot from which he likes to use his dominant right hand to drive middle. Iguodala climbed Davis' left shoulder, both to challenge the entry pass and shade him toward the baseline. Butler was guarding Kentavious Caldwell-Pope, who cut through the middle to the right corner in order to clear out the left side for Davis. But Butler instead began lurking on the strong side, first stunting to deny the entry feed and then stepping in to draw the charge:
During the rare times Davis was actually able to catch the ball cleanly in the mid or high post, this is what he was met with: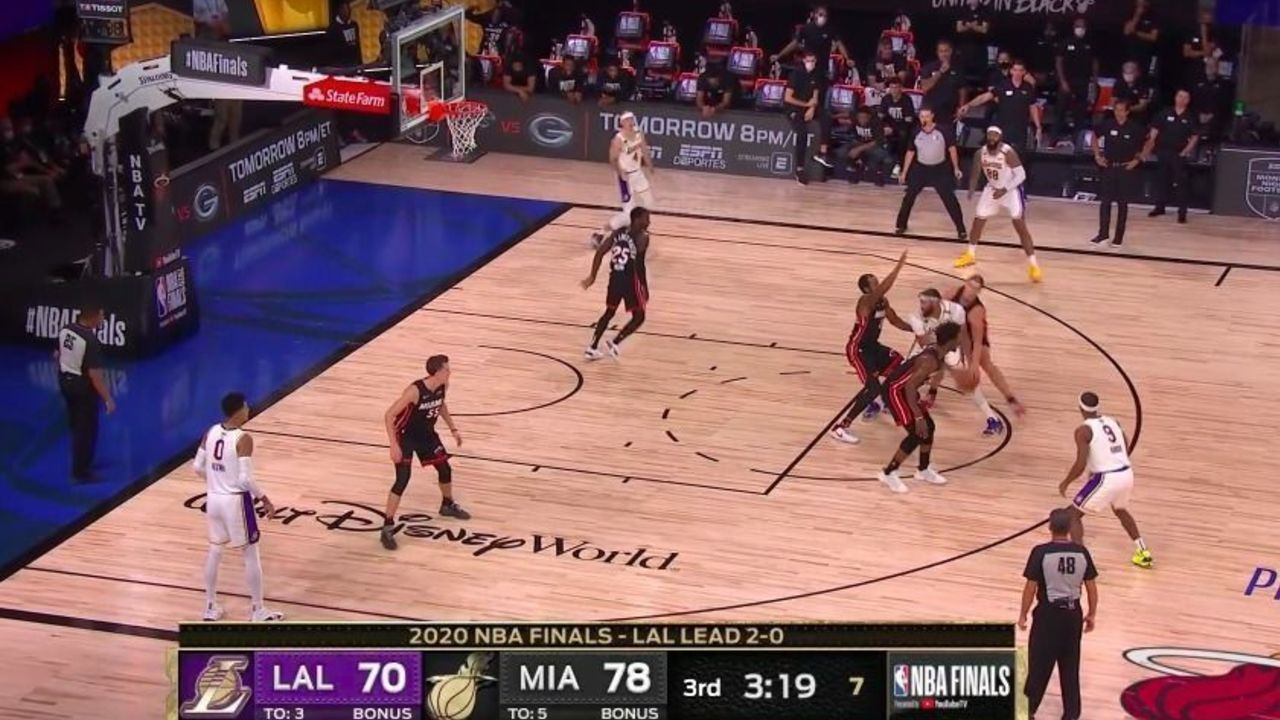 The ball pressure plainly got to Davis. He committed four turnovers and two fouls before even attempting a field goal. The Heat were also able to push him away from the basket. Davis received just five paint touches and only took three shots in the paint after averaging 15.5 and 14, respectively, across Games 1 and 2. He wound up taking just nine shots overall and drawing just one shooting foul, finishing with 15 points and five turnovers. The Lakers were outscored by 26 points in Davis' 33 minutes on the floor.
Miami's zone has appealed because it allowed the team to shield its weaker defenders from daunting one-on-one matchups, but those guys mostly held up fine in man defense in Game 3, particularly Kelly Olynyk. Crucially, the Heat made sure at least one of Crowder or Iguodala was on the floor with Davis. Those guys were always the primaries on AD, with Olynyk stashed on lesser threats. Olynyk naturally guarded Dwight Howard when Howard was on the floor, but Miami had no issue hiding Olynyk on Markieff Morris, or even Alex Caruso or Rajon Rondo, when the Lakers went with Davis at the five.
Part of the reason the Lakers couldn't get Davis anything out of the pick-and-roll, even without Howard on the floor cluttering up his rolling lanes, is that there was almost always a third Heat defender - often Olynyk - pulled over to the middle early.
Olynyk was ostensibly guarding Caruso on this Rondo-Davis pick-and-roll, but you can see how unconcerned he was about the prospect of conceding an above-the-break three to a guy who's shooting 27% from deep in the playoffs. By sliding to the nail early, he was able to stop Rondo's drive in its tracks and allow Crowder to show and quickly recover back out to Davis, who opted to pop rather than roll because of the extra bodies in the middle: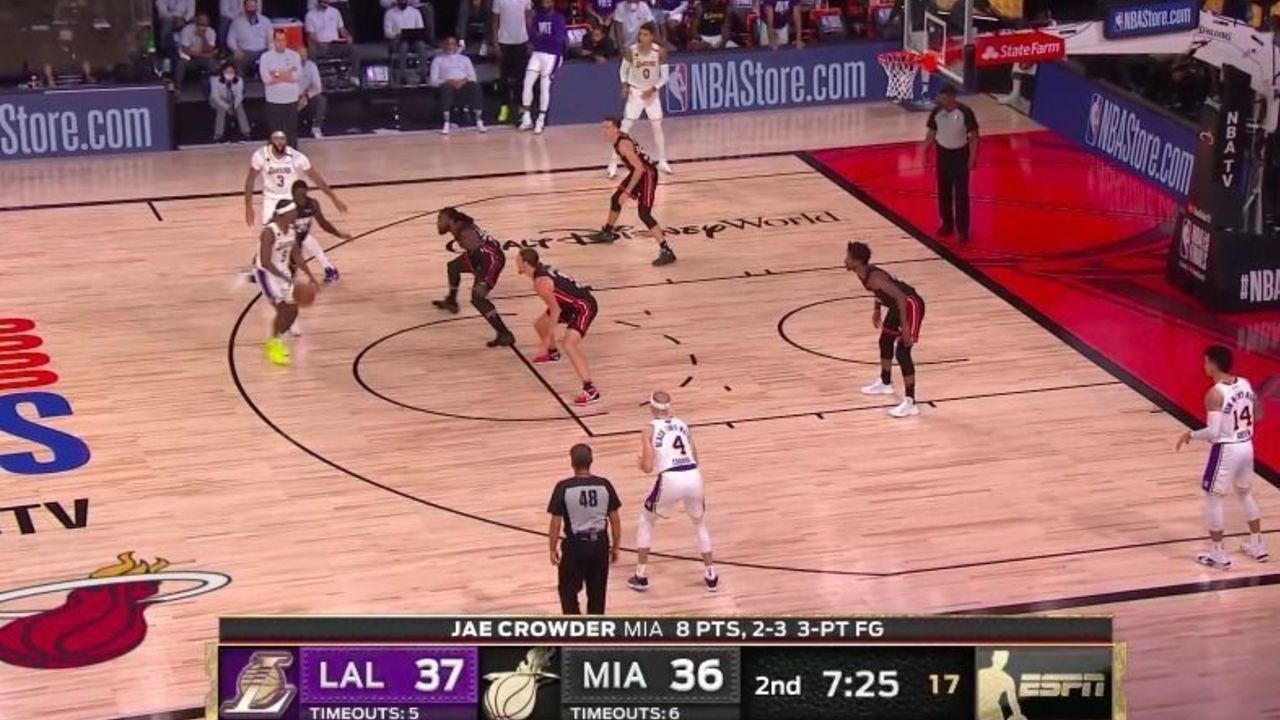 The possession ended with Rondo throwing the ball out of bounds.
For James, it's not really fair to lump him in with Davis when it comes to disappointing Game 3 performances. LeBron was far better, more assertive, and was the only reason the Lakers had the game within reach until the final two minutes. Still, James was uncharacteristically sloppy in part due to Miami's defensive approach against him, as he used 27 individual possessions to score 25 points while turning the ball over eight times.
The Heat are still working through how they want to guard LeBron in the pick-and-roll. Smalls - specifically those being guarded by Duncan Robinson and Tyler Herro - have almost exclusively screened for James in the hopes of getting him a favorable matchup. (Butler used the same tactic to attack L.A.'s defense to the tune of 40 points Sunday.)
Miami was far too willing to concede those switches in Game 1, either leaving Robinson/Herro to drown in single coverage or rescuing them with emergency double-teams that opened up easy avenues for LeBron's passing. In Game 3, the Heat were more intent on maintaining their initial matchups and having Butler finish possessions guarding James. That meant having Robinson and Herro hedge and recover when they got dragged into the action. In the first half, though, Robinson's hedges were far too soft, allowing LeBron to comfortably turn the corner and choose from a buffet of tasty options:
The Heat adjusted in the second half by having those guys hold the hedge for longer, almost treating it like a temporary switch. That helped prevent James from turning the corner, but it gave him a window to either attack off the dribble or slip a pass to the screener while the defenders recovered to their assignments. You can see Robinson here trying to decide when it's safe to abandon James and retreat to Caldwell-Pope:
It worked in that case because the Lakers moved a bit too slowly, but other times Miami was less fortunate. Here, for instance, is LeBron taking advantage of the switch-back runway to bulldoze his way to the basket:
James found plenty of other effective counters. On one play, he split the hedge and exploded into the lane for an and-1 layup. On another, he caught Herro pre-emptively jumping up high, then rejected the screen to get into the middle, forced Olynyk to help off the strong-side corner, and hit Morris for a wide-open three. On another, he called for Caruso to rescreen Butler while Robinson was still retreating, which again allowed him to get into the middle and draw Olynyk from the corner, leading to another Morris triple.
It also seems like LeBron could make use of the screeners in these actions when Butler lets them slip behind him undeterred: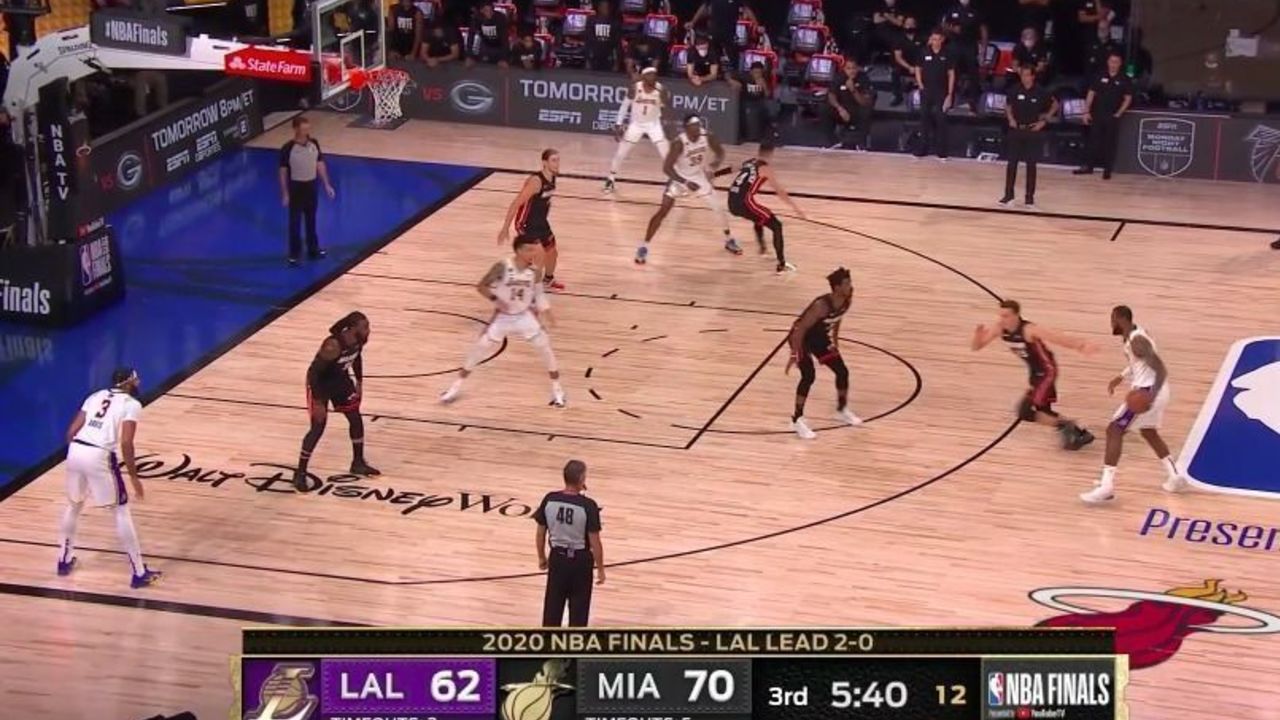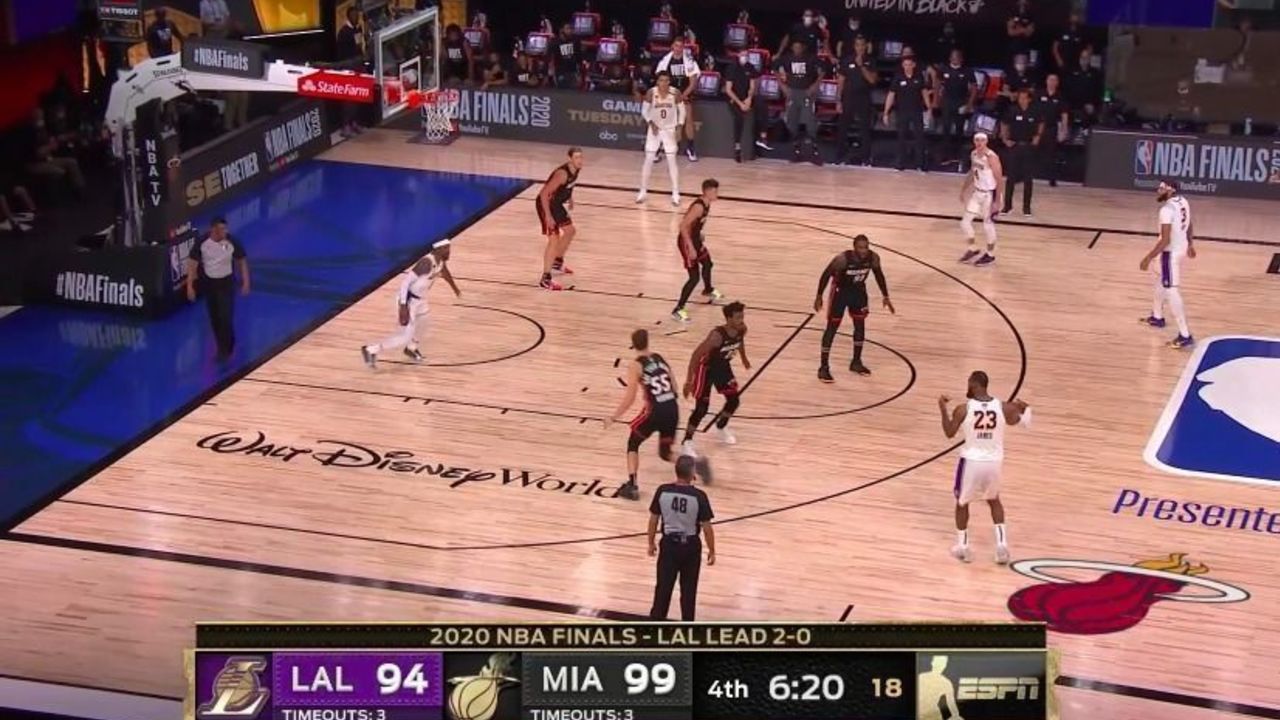 The Heat were able to force James into a pair of traveling violations out of that defensive coverage. It still feels like playing with fire, but there aren't any good options when it comes to defending LeBron, and this might be the best Miami can do. Plus, a side effect of his mismatch-hunting is that Davis winds up doing a whole lot of standing around on the perimeter.
Robinson's ability to survive those actions carries weight beyond just the defensive possessions in question. Even as he struggles through an uncharacteristic shooting slump, his off-ball magnetism is an indispensable force for Miami's offense, which has produced 12.8 more points per 100 possessions in The Finals with him on the floor than with him on the bench. LeBron knows full well how important Robinson is to the Heat, which is why he's doing his damndest to make the sharpshooter unplayable. No dice in Game 3: Robinson played 39 minutes and was a game-best plus-27.
All told, the Heat did exactly what they set out to do. Davis and James were held in check, and the Lakers overall took 42 of their 79 shots from beyond the arc, their highest 3-point attempt rate (53.2%) in any game this season. L.A. scored just 34 points in the paint, tied for its lowest mark of the campaign.
Half of those threes came from the corners, and 26 of them were classified as "wide-open" by NBA Advanced Stats, which is nine more corner threes and 10 more wide-open threes than L.A. has averaged throughout the playoffs. That seems like good offensive process on the surface, but for Miami's defense, it was all very much by design.
The Lakers aren't a great 3-point shooting team; they thrive when they live at the rim. And the Heat were selective about where they funneled the ball. They'll live with Morris hoisting 11 threes, Rondo and Caruso combining to shoot six of them, and Kyle Kuzma getting four more shooting possessions than Davis.
That doesn't mean Miami's success is replicable. A lot of it was the result of simple miscues that the Lakers can clean up with greater focus and energy. They sleepwalked through a lot of their sets. Davis barely created any separation with his screens during the few times he actually opted to try and set them rather than slipping out before making contact.
On one possession, LeBron got Meyers Leonard switched onto him with the entire left side of the floor emptied out, and opted to shoot a step-back three. On another, he lazily dribbled up the court in semi-transition and allowed Olynyk to pick his pocket from behind. There were a couple of possessions early on in which the Lakers failed to enter the ball to Davis when he was being fronted with no help behind him. They can, and will, be sharper.
But the Heat have given L.A. plenty to think about, and they will be able to execute all this stuff that much more effectively if they can get Bam Adebayo back. They've made this a series. For now.