Nearly a full calendar year after the 2019-20 season tipped off, the Los Angeles Lakers and Miami Heat will square off to determine the most unusual of champions. Here, theScore's NBA feature writers Joseph Casciaro and Joe Wolfond preview the series and predict who will emerge from the Disney bubble victorious.
No. 1 Los Angeles Lakers vs. No. 5 Miami Heat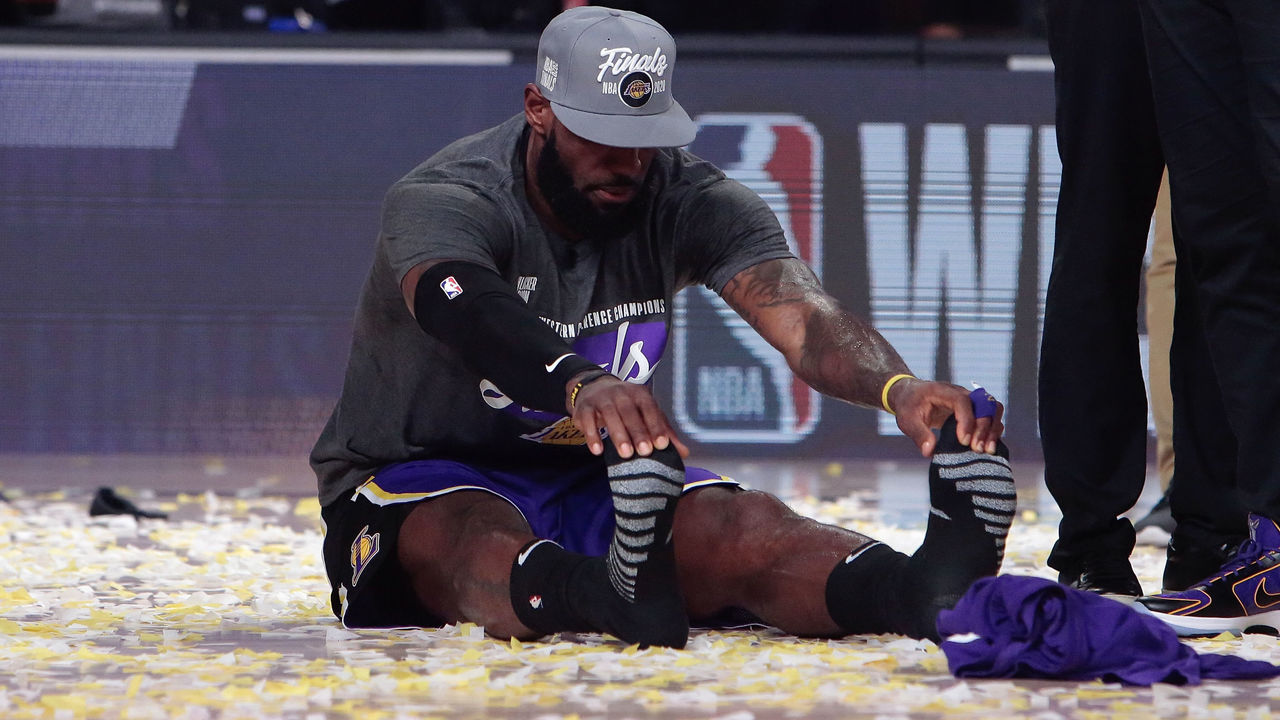 Prediction
Casciaro: Lakers in 6
This matchup is going to be fascinating on so many levels, not least of which is LeBron James taking on his former team (mostly Erik Spoelstra and Pat Riley) as the final hurdle in his quest for a fourth Larry O'Brien Trophy. It's also the fourth time Spoelstra and Frank Vogel have squared off in the playoffs.
Though the Lakers swept the season series, the two teams haven't met since December - when Miami was still starting Kendrick Nunn and Meyers Leonard, and the Lakers saw Avery Bradley, Jared Dudley, and JaVale McGee combine for 53 minutes. There may be fine-point details to look into from the season series, but I wouldn't read much into the two games in 2019.
The Lakers want to get out in transition, which is fueled by their defense. The Heat are comfortable in a slower, more methodical half-court game where they can pass, move, shoot, and cut you to death. Though Los Angeles has shot the ball better during the playoffs, Miami was the league's best 3-point shooting team during the regular season and has scored six more points per game from beyond the arc than the Lakers have during the postseason.
The Heat have relied on a collection of zone defenses throughout the season, effectively covering for their offensive reliance on weak defensive players like Duncan Robinson, Goran Dragic, and Tyler Herro (though Herro and Dragic have improved during the playoffs). I'm not convinced the Lakers have the overall playmaking and shooting to solve those zones the way Boston began to as the Eastern Conference finals progressed.
While no team employs a true LeBron stopper, the Heat are among the most well-equipped, as Jimmy Butler, Andre Iguodala, Jae Crowder, and perhaps even Bam Adebayo can spend time defending James. And though Anthony Davis has dominated Adebayo in previous matchups, Miami's star big man has only gotten better and has the physical tools to trouble Davis. Plus, while the value of role players can be wildly unpredictable in the short span of a playoff series, it should be noted that once you get past each team's two All-Stars, Miami has the deeper and vastly superior supporting cast.
All that said, I'm sticking with my preseason championship prediction and picking James' Lakers to be the last team standing. I know I just listed a number of basketball reasons why Miami might have some advantages in this matchup, but so be it. Since bouncing back from his disappointing 2011 Finals performance, LeBron has only been eliminated by the 2014 Spurs and various Warriors juggernauts.
What we've learned over the last nine years since the disaster vs. Dallas is that James has yet another gear he can get to in the Finals, and it takes a legendary team to beat him four times. With all due respect to a Heat team I've believed in all year, they're not good enough to do it.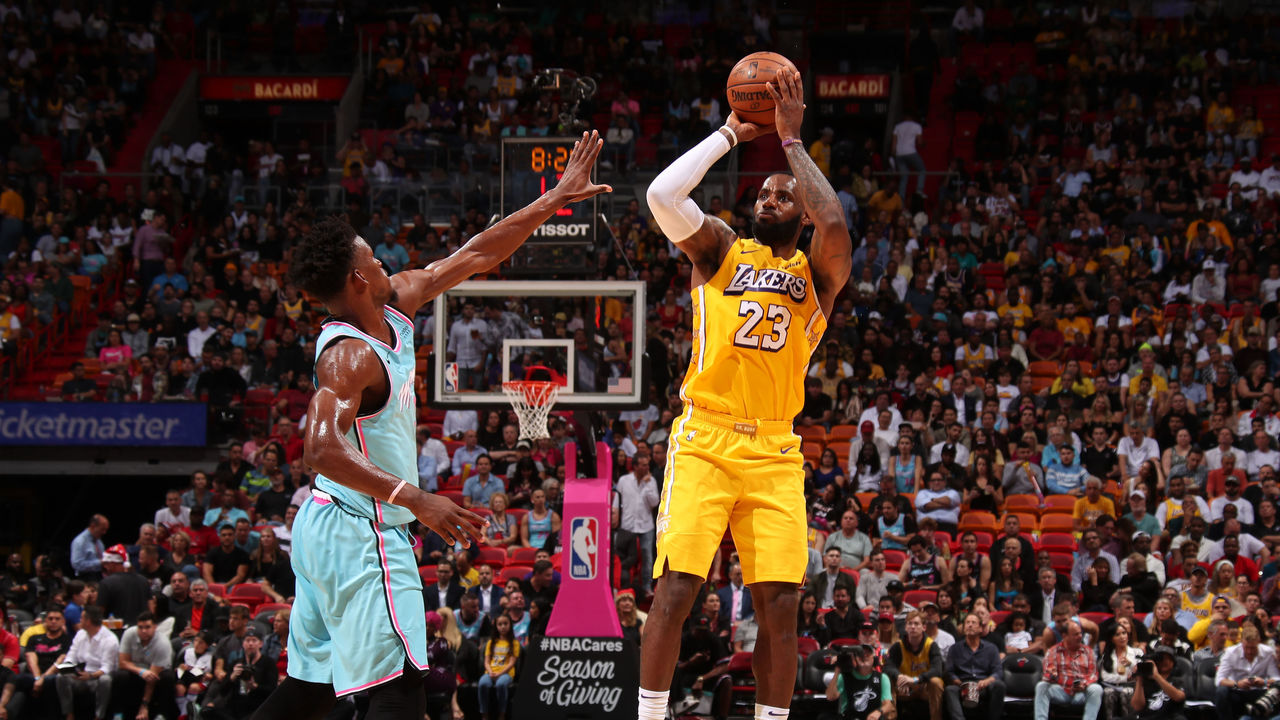 Wolfond: Lakers in 7
It's always fun when a Finals series doubles as a test case for a philosophical basketball question. In this case, the question is: Does a team powered almost entirely by two planet-eating superstars trump one that thrives on depth, balance, cohesion, and equal opportunity? The Lakers have the two best players in the series, but the Heat have the next five at least. Couple that with a coaching advantage, and Miami should have more than a puncher's chance to overcome the talent gap.
You mentioned LeBron's disaster of a 2011 Finals, and I keep wondering how much Spoelstra is thinking about that series. LeBron has changed a lot as a player over the past nine years, but it's hard to ignore the fact his most notorious playoff meltdown was induced in part by a zone defense. I can't imagine his former coach has forgotten that.
The Lakers were pretty successful against the zone this season, scoring 1.07 points per possession, but I still think it can make James uncomfortable. His electric Game 5 against the Nuggets notwithstanding, he hasn't shot the ball especially well in the postseason, hitting just 32.4% from 16 feet and beyond, and just 28.4% on pull-up jumpers. He relies on getting to the rim and the free-throw line, and the Heat's zone is both difficult to drive through and effective at limiting fouls. They basically slash their rate of shooting fouls in half when they zone up. LeBron can find other ways to pick that coverage apart - specifically with his passing - but as a means of limiting what he can do by himself, it's a nice card for Miami to have up its sleeve.
That said, the Heat's ability to protect their weaker defenders has probably been a tad overstated. They still allowed the Celtics to compile a 114 offensive rating in the East finals, and a lot of that damage was done via mismatch-hunting. In man-to-man coverage, Miami will have to be less switch-happy this series. They'll need to do more hard hedging and blitzing to avoid stranding guys like Herro, Robinson, and Dragic on an island against James. Even then, preventing him from turning the corner and getting into the paint will take a total team effort - and that still doesn't account for Davis.
I agree Adebayo can at least challenge Davis in a way Denver's frontcourt couldn't, but Davis still has the size to score over Miami's hyper-athletic center. On top of that, when it comes to lineup construction, the Lakers have more frontcourt options than the Heat.
L.A. favors starting Davis at the four, with one of McGee or Dwight Howard at the five. If Miami has Adebayo guard Davis in that alignment, the Lakers' centers can get busy on the offensive glass. If Adebayo guards McGee or Howard, then Davis can have his way with a smaller defender (though Bam would be able to provide help at the rim). At the other end, Howard can conceivably guard Adebayo for stretches without getting overwhelmed physically or ceding too much space to shooters coming off of Adebayo's screens and dribble handoffs. That would allow the Lakers to slot Davis on Crowder and cause havoc as a help defender.
Will the Heat take their chances with a wing guarding a center when the Lakers go big and bank on the cross-match paying dividends on the offensive end? Or will they dust off Kelly Olynyk to play spot minutes at the five after shelving him last round? I'm not sure any non-Bam defender on the Heat can hang against Davis. Crowder will probably get a few cracks at it. Maybe Derrick Jones Jr. in a pinch. We'll see.
I still don't fully trust L.A.'s supporting cast, which is why I think the Heat will make this a long series. But even for the league's best problem-solving team, LeBron and AD pose too many quandaries.
Series X-factor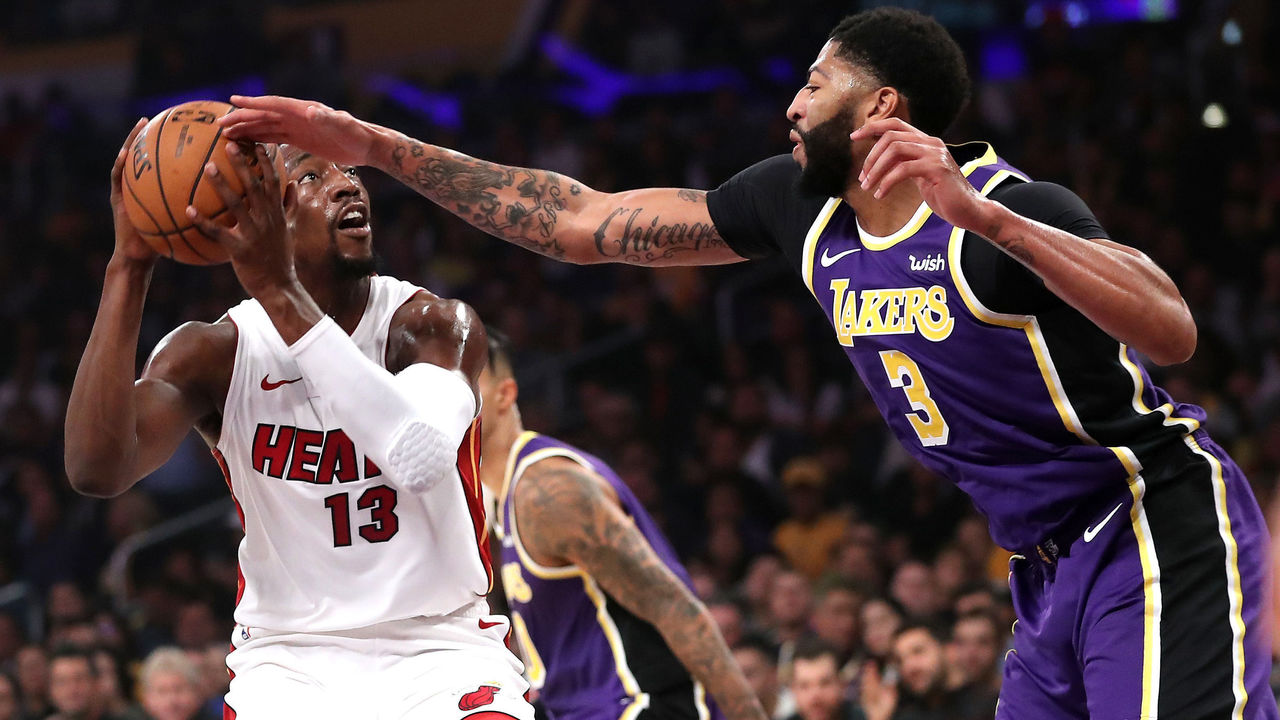 Casciaro: The matchup battle
You touched on some of it above, but the chess match between Spoelstra and Vogel will be so compelling, and while I'm curious about how Spo will guard his former star player, I'm equally intrigued by how both coaches will manage their rotations and size.
The Lakers played big all year, starting one of McGee or Howard alongside Davis, went to Davis at center (their optimal lineup) more against the small-ball Rockets, then turned to a resurgent Howard again against Denver. Battling the smaller Celtics, Miami went super small when Adebayo rested, opting for one of Iguodala, Crowder, or even Solomon Hill at center instead of Olynyk.
Given Olynyk's defensive shortcomings and James' own history of mercilessly targeting the Canadian big man in pick-and-roll actions during past playoff matchups, does Spoelstra ride those tiny lineups again against L.A.? If he does, is he then inviting Vogel to play Davis at center? That might seem tenable for Miami in short bursts, but games, series, and championships can be won or lost within those tiny margins.
If the Lakers stay big, where do they stash Howard (or McGee), assuming Davis guards Adebayo? I would imagine on Crowder, but what happens if it's Herro out there instead? And even if it is Crowder, the Heat's system of off-ball movement would still make that a tough cover for any plodding big.
James is obviously the game's greatest equalizer, which is why I'm rolling with the Lakers, but I'm still incredibly intrigued by the lineup machinations and matchup intricacies that could be the difference in a tight series.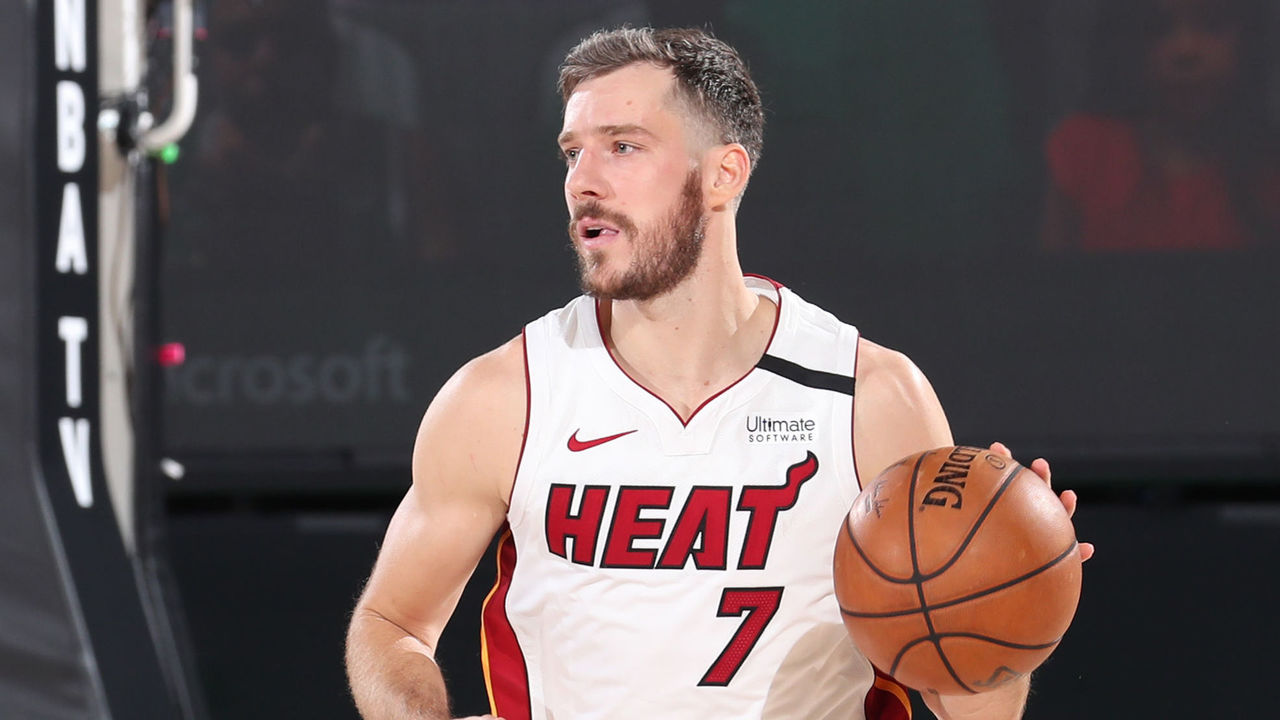 Wolfond: Goran Dragic
While the Heat's defense has had its moments, it's actually been their offense that's carried them through the last two rounds as they've danced circles around the Bucks and Celtics - a pair of top-five defensive teams. Whether they can do the same to the Lakers' elite defense will depend in large part on Dragic.
His shotmaking, dribble penetration, and in-between scoring have been vital ingredients to Miami's whirring machine. His ability to create advantages off the bounce has played a big part in triggering their gorgeous tic-tac-toe passing sequences, and he's connected on countless lobs to Adebayo by zooming into the middle of the floor and engaging the screen defender. Perhaps the most important function Dragic can serve in this series is to pry Davis away from Adebayo as much as possible. The Lakers have typically tried to avoid switching big-small pick-and-rolls this year, though they did make some concessions last round in order to limit the potent Jamal Murray-Nikola Jokic two-man game.
Adebayo isn't a post-up threat like Jokic who can reliably punish the back end of switches, but he's a considerably more dangerous rim-runner and one of the game's best screen-slippers. If Dragic can engage Davis, it will allow Bam to slip into open space and dive to the rim. If the Lakers opt not to switch but instead play their bigs up high to deal with the threat of Dragic's pull-up three, Adebayo is more than capable of dicing them up in four-on-three scenarios.
Dragic may find the sledding tougher in this series than it was last round. The Lakers don't play anyone in their backcourt who's as vulnerable defensively as Kemba Walker, and the Celtics were able to shut off his water by sticking Marcus Smart on him. Danny Green, Kentavious Caldwell-Pope, and Alex Caruso aren't near Smart's level, but they will hound him around screens. Davis can corral him in the mid-range and near the basket. But at worst, the Heat need him to make his presence felt as an initiator and playmaker. They won't win the series without him playing at or near his best.