The NBA formally ended its 141-day hiatus and resumed play with its first slate of "seeding games" in Orlando on Thursday night. The first game on the docket saw the Utah Jazz come from behind to beat the New Orleans Pelicans 106-104.
Here are three takeaways from the league's Disney debut:
Gobert and Mitchell, doing their jobs
Nearly five months ago, Rudy Gobert ostentatiously made light of the burgeoning coronavirus pandemic, then tested positive for the virus less than 48 hours later, triggering the NBA shutdown. In the process, he turned much of the basketball community - including his own Jazz co-star, Donovan Mitchell - against him.
Perhaps it was fitting that in the league's first official game since that fateful day in March, it was Gobert who notched the first bucket, coaxing in a layup over former teammate Derrick Favors in the post. As fate would have it, Gobert also scored the last two points of the game, a pair of tiebreaking free throws with seven seconds left in regulation after taking a sweet drop-off pass from Mitchell before getting fouled on a dunk attempt.
In between those two buckets, he put on a characteristically understated defensive master class, consistently bailing the Jazz out with his relentless activity and pinpoint timing behind some leaky perimeter work. He made it virtually untenable for the Pelicans to run basic pick-and-rolls, snuffing out drives without ever losing contact with the roll man. The Pelicans shot just 10-of-23 at the rim when he was on the floor, and while their 20 turnovers were largely a product of sloppiness, a handful were also the direct result of Gobert flashing into driving and passing lanes, forcing panicked last-second passes. He was the biggest reason Utah was able to climb back into the game after trailing by as many as 16 points.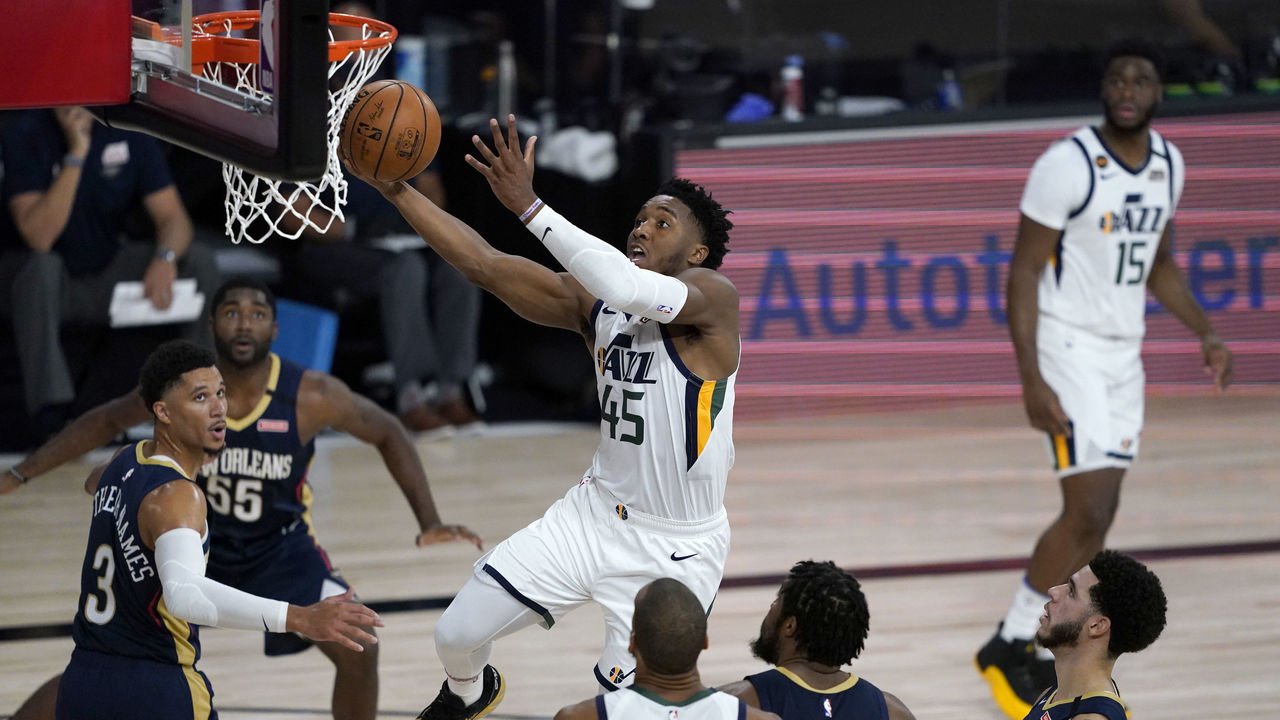 When it came time to close, though, it was up to Mitchell to make plays, and he did so emphatically. Before the slick drive-and-dish that set up Gobert's game-winning free throws, he scored eight straight Jazz points in a little over three minutes, including a tough driving finish off a Eurostep and a nasty mid-range step-back that put the Jazz up three late. Mitchell's game has plenty of warts - he gets tunnel vision, over-dribbles, looks off the roll man too often - but he's still a terrific shot creator. The Jazz rely on him to carry them in crunch time, even more so now with Bojan Bogdanovic out.
It was all a nice reminder - after so much talk throughout the hiatus about the tenuous status of the Mitchell-Gobert relationship and the likelihood one of them will get traded - of how badly they need each other.
Pelicans get no Favors at the rim
On a night in which Gobert's interior defense stood out, so too did the Pelicans' lack of anything resembling it. The Jazz won despite bricking 26 of their 34 3-point attempts because when they finally started finding seams and attacking downhill in the second half, they scored with minimal resistance at the rim.
Favors has been the bedrock of New Orleans' frontcourt defense all year. But he emerged from the hiatus looking two steps slow, and the Jazz took full advantage, scooting around him on their way to shooting 75% in the restricted area. Favors is a solid rim-protector when he's in form, and it's possible he just needs a couple games to get his legs back under him, but it's hard not to be at least a little concerned. The Pelicans can't really replace what he's supposed to give them. His rookie backup, Jaxson Hayes, is bouncy but overactive. Nobody else on the roster profiles as a backline deterrent.
The Pelicans could've made his life a bit easier by sending more help from the wing, especially on a night in which Utah was clanking everything from outside. They're one of the league's more negligent teams when it comes to tagging the roll man, and there were some egregious examples in this one, including consecutive pick-and-roll lobs to Gobert in the third quarter in which nobody on the weak side made the slightest move to rotate down.
But the bottom line is the Pelicans need more from their starting center. As much as Jrue Holiday is an octopus-armed monster who made life miserable for Jazz guards all night, the rest of New Orleans' perimeter corps is liable to getting punctured. If the second line of defense doesn't hold up, this team will be hard-pressed to make the playoff play-in.
Limited minutes, unlimited touch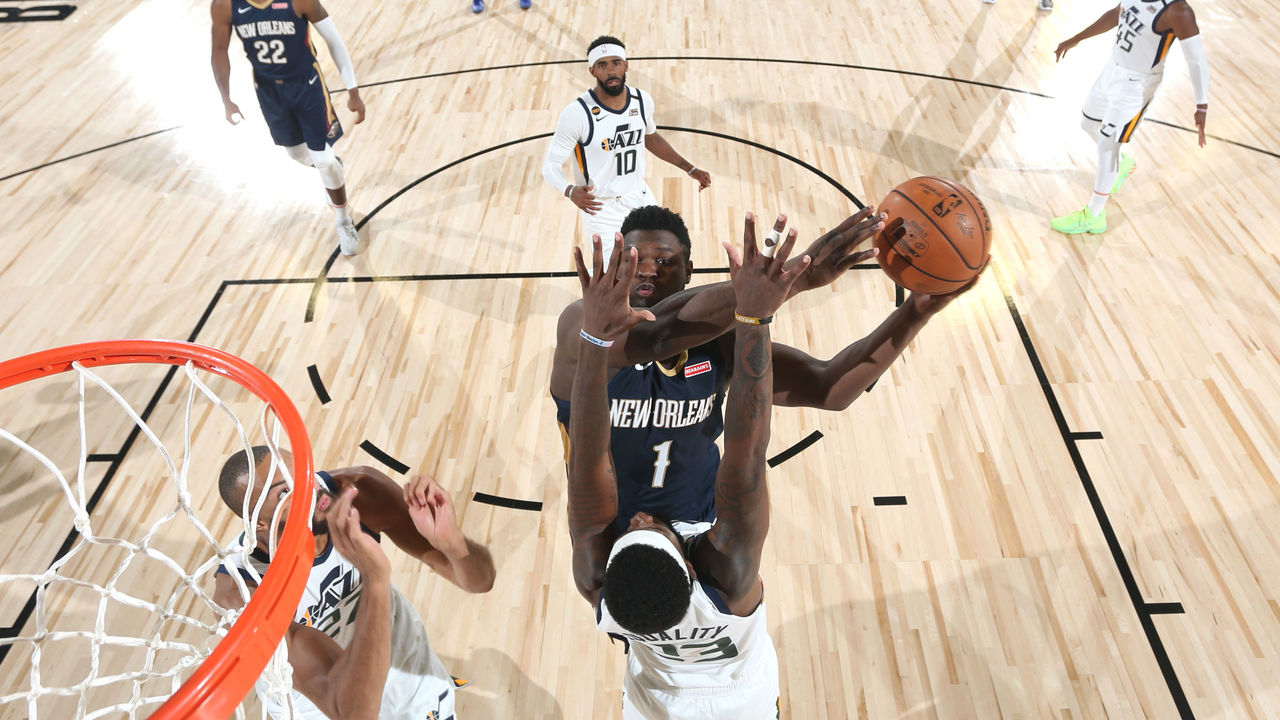 Now 20 games into his professional career, Zion Williamson remains a subject of singular curiosity. That owes to his sheer physical uniqueness, but also to the fact we've gotten mere glimpses of what he can do and the heights he might reach.
Thursday's game was another case of fits and starts for the 6-foot-6, 285-pound phenom. It wasn't initially clear whether Williamson was going to play, seeing as he'd only just re-entered the bubble after leaving to attend to a family emergency and had missed nearly two weeks of the ramp-up period. He wound up getting the green light, but much like in his long-awaited NBA debut in January, the Pelicans kept him on a strict minutes restriction, allowing him to play only in short bursts at the start of each quarter. On Thursday, Williamson was left on the bench down the stretch of a tight game so as not to exceed that minutes limit, and watched as his team fell short without him.
You can quibble with the way Alvin Gentry chose to parcel those minutes out, leaving no rope to extend Williamson in crunch time. But the decision to ease him back after the time missed is almost certainly the right one, especially given how out of sorts he looked defensively. Williamson's footwork and general spatial awareness at that end of the floor still have a long way to go.
But even in a spotty outing in which he played just 15 minutes and registered a minus-16 on-court rating, Williamson showed why the Pelicans are going to be a threat to steal the 8-seed once he has a normal workload. He scored 13 points in those 15 minutes on 6-of-8 shooting.
For as much blunt force as he plays with, Williamson doesn't just hurl himself at the rim. He has the body control to effectively move at two speeds at once; he can rumble down the lane like a freight train while still being methodical and deliberate in how he positions himself to finish. He has both a feathery touch and an uncanny feel for angles and how to use the glass. He flushed down a couple lob dunks in this one - including one off of what's becoming a signature head-nod play with Lonzo Ball, in which he spins out of a post-up and skies for Ball's long-range feed - but most of his scoring was accomplished via artful finishing off the window.
Almost any time he gets within sniffing distance of the basket, he finds a way to get to his left hand and flip the ball in. He's basically impossible to keep away from the rim. And yes, it would've been nice to have that scoring down the stretch, as New Orleans eked out just 10 points over the final seven minutes.
In any case, the Pelicans' schedule gets pillowy soft after their next game against the Clippers, so while they don't have a huge margin for error, they can probably afford to take a long-ish view.