Zion Williamson's long-awaited, much-ballyhooed NBA debut Wednesday night against the San Antonio Spurs was shaping up to be a dud.
Perhaps that should've been the expectation. The New Orleans Pelicans rookie was returning from arthroscopic knee surgery, hadn't played at game speed in nearly four months, had been literally re-learning how to walk in the meantime, and was on a short leash that limited him to four-minute bursts at the start of each quarter. All of which made it predictably difficult for him to catch any sort of rhythm - it didn't feel like the kind of game we'd learn anything from.
That meant we had to latch onto some lower-frequency indicators for Williamson: A slick pass to a cutting Brandon Ingram out of an early double-team in the post; a baseline drive in which he showed off his nasty first step by dusting LaMarcus Aldridge; a grab-and-go in which he set up an open transition three.
There were more than a few hiccups, too. Williamson struggled to hold onto the ball all night, and coughed it up just about every time he tried to create off of the bounce (he finished with five turnovers). He was frequently caught flat-footed on defense.
The Spurs didn't put him in pick-and-roll much in the first half (when he was guarding the non-threatening Trey Lyles), but when he was matched up with Jakob Poeltl later on, the screens started coming. Williamson staunchly avoided switching onto the perimeter, and didn't even really present himself as the drop man. He stayed attached to the roller while the on-ball defender trailed overtop, and made no real attempt to tangle with the ball-handler. When he had no choice but to do so, it didn't go particularly well:
On offense, Williamson wavered between pressing and playing tentatively across his first three shifts, attempting only three field goals.
"He's going to be fine," Pelicans coach Alvin Gentry said, on cue, in his sideline interview after the third quarter. "Right now he's just playing so conservative."
That's when everything flipped, and Williamson's to-that-point underwhelming debut turned into the stuff of folklore. With a nudge from Gentry and Jrue Holiday, he came out in the final frame immediately looking like a more assertive player. On the first possession of the quarter, he made an aggressive spin move on the block, and though the layup didn't drop, he continued to attack.
"They just came to me and just said, 'Do what you do, don't worry about making mistakes, it's gonna happen, you just gotta move on and join the flow of the game,'" Williamson told reporters after the game. He didn't so much join the flow of the game as he became the flow of the game.
Early in the fourth is when things got started:
What's notable about that rebound is that the play leading up to it was a mess from a process standpoint. Williamson declined to contest the shot in favor of dropping back in the pick-and-roll, but then he also got badly beat out for rebounding position by Poeltl. It didn't matter. He somehow snagged the board, then pushed the ball up the floor and fired an absolute dart to E'Twaun Moore. It spoke to the considerable margin for error his physical gifts afford him.
That play proved to be the appetizer to a veritable fourth-quarter feast, as Williamson showed he's still very much the franchise-altering prodigy New Orleans drafted first overall without a second thought back in June. He scored 17 straight Pelicans points in three minutes of game time. One play saw him spin off a post-up for an alley-oop layup. Another saw him recover his own blocked shot attempt and put it back up and in. On another, he rolled hard to the rim, earned a trip to the free-throw line, and split the pair while "M-V-P!" chants rained down from the hometown faithful.
Most significantly and surprisingly, he hit four 3-pointers without a miss. By the time he splashed the fourth one from the left wing, he'd helped the Pelicans turn a 12-point deficit into a one-point lead. Williamson didn't hit four threes in any game at Duke. Here he was doing it in a quarter of a quarter of his first NBA game.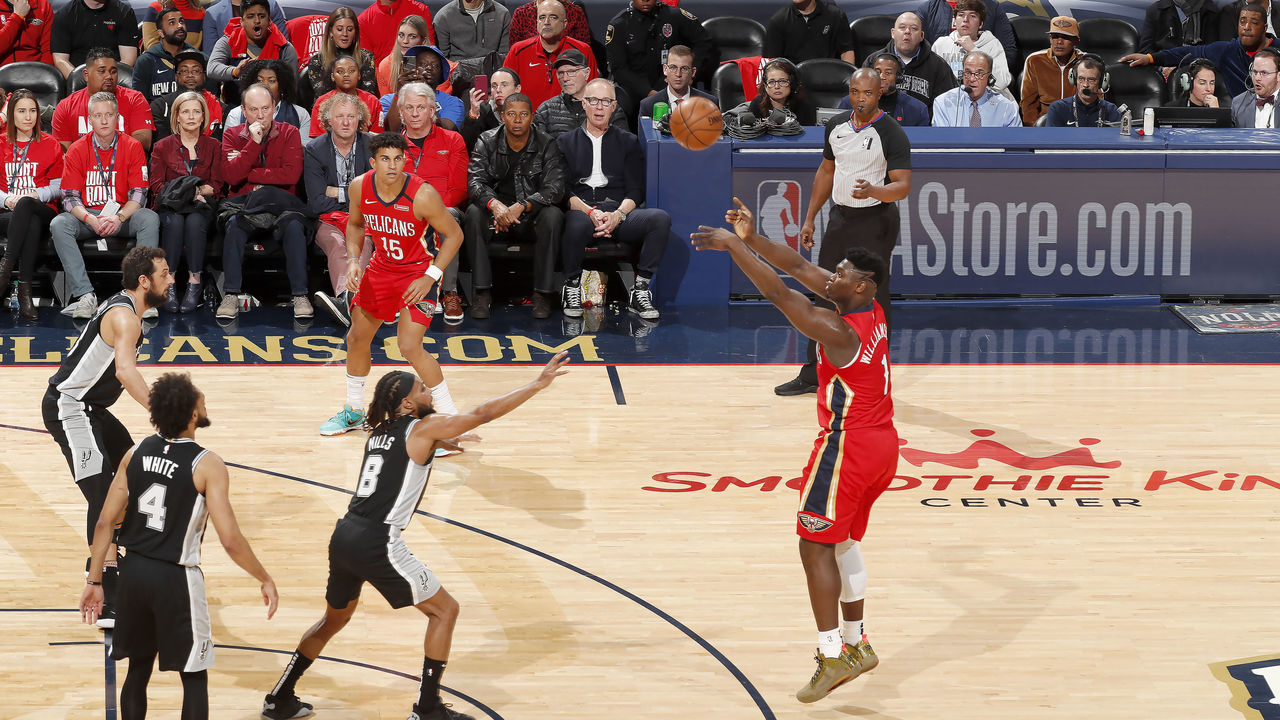 It likely won't happen this way very often. Williamson's shooting motion is still a bit unnatural, he shot only 33.8% on low volume from the shorter 3-point line in college, and his shaky free-throw shooting doesn't portend a sudden transformation into a long-range marksman. But if anything, the aberrant manner in which he piled up his points only made the moment feel more incredible and surreal. The Spurs kept zoning up and daring Williamson to shoot, he kept obliging them, and kept knocking them down, much to the delight of an increasingly incredulous and maniacal crowd at the Smoothie King Center.
The play that actually jumped out most to me was the recovery after he got blocked by Poeltl. His second-jump bounce - the speed with which he was able to recover and collect the loose ball and get it back up off the window - was astounding. And it's going to make him impossible to deal with around the hoop:
As Williamson approached and then crossed the four-minute threshold in the fourth, Gentry twice pulled back a sub from the scorer's table so the rookie could extend his magical stretch a little longer. But the coach ultimately relented, pulling Williamson just past the six-minute mark, with the Pelicans trailing by three.
The final accounting of his work in career game No. 1: 22 points on 8-of-11 shooting, seven rebounds, and three assists.
He watched from the bench as the Pelicans lost, 121-117, to the team they're chasing for the West's final playoff spot.
Gentry said he was acting on the directive of the team's medical staff when he yanked Williamson in the middle of his torrid run. "I ain't the brightest coach in the world, but I wasn't going to take him out in that situation unless I was told to," he told reporters.
"I think you've got to be smart about it," he added. "We understand that we have to look long term and not one game, short term, put him out there, play him extended minutes. We were not going to do that under any circumstances. But I think he made his point."
That didn't make it any easier for Williamson to swallow.
"I'm 19," he said after the game. "Honestly, in that moment I'm not thinking about longevity. I'm thinking about winning that game. So it was very tough. ... Me, personally, I don't want any restrictions. But I'm not a doctor or a trainer, so I've just gotta listen to them."
The thing is, even in a high-profile, nationally televised game with playoff implications, the result felt almost inconsequential. That's because it became abundantly clear, if it wasn't already, in three minutes: Williamson is the rare athlete who wields transportational power, the kind capable of turning every performance into a spectacle.
We already knew Zion was made of different material. With one three-minute burst Wednesday night, he showed just how flammable that material can be.
Joe Wolfond writes about basketball and tennis for theScore.