In an ideal world, the NBA would be playing the second round of the postseason right now.
We don't know how the standings might have changed if the regular season had continued. We don't know if we'll ever get to see a conclusion to the 2019-20 campaign. But in the spirit of what would've been the conference semifinals, we're breaking down the second-round playoff matchups as determined by our hypothetical first-round predictions.
Earlier, we predicted the West semifinals. Up next, the East.
No. 1 Bucks vs. No. 4 Heat
Any team in the East would need a lot to go right in order to beat Milwaukee four times out of seven, but Miami enjoys some unique advantages that could make this series competitive.
Hitting a ton of threes, particularly from above the break, is a must against Milwaukee's defensive scheme, and the Heat were the NBA's most accurate 3-point shooting team during the season (on the league's seventh-highest volume). They were also the rare team that actually shot better from above the break (38.8%) than from the corners (37.6%). Duncan Robinson is responsible for a huge proportion of those threes, but the Heat also have effective pick-and-pop weapons with Meyers Leonard and Kelly Olynyk, who combined to shoot 43.1% from deep on 5.5 attempts per game this year. That gives them another vital antidote to the Bucks' drop coverage.
At the other end, Bam Adebayo is about as close to an ideal Giannis Antetokounmpo defender as there is. He has the strength to absorb Giannis' force on the drive and to deter him at the rim. He also has the foot speed to hang with him on the perimeter. In short, he can serve as either a first or a last line of defense, slowing Giannis' progress at the point of attack or sitting back and waiting for him in the paint. It's not a total fluke that Miami won both games it played against Milwaukee during the regular season (including a 16-point rout in their second meeting), or that Giannis had a worse true-shooting mark against the Heat (47.9%) than against any other team.
All that said, the Bucks would still be pretty heavy favorites. It's worth noting that the Heat's best scorer, Jimmy Butler, inexplicably lost his ability to shoot this season. His offensive efficiency was sustained by a cavalcade of drives to the rim and trips to the free-throw line. Will he be able to keep that up when Giannis and Brook Lopez - by far the best rim-protecting tandem in the league - are standing between him and the basket?
Miami was extremely dependent on getting to the line to generate offense, which could be an issue against the foul-averse Bucks. Even the Heat's 3-point shooting might not prove to be the advantage it looks like on paper: While they have plenty of catch-and-shoot weapons, they don't have many reliable pull-up shooters, and the Bucks are as good as any team at forcing ball-handlers to try and beat them off the bounce, especially from the mid-range.
The biggest issue for the Heat is that they don't have enough two-way players. Some of the guys they would need in order to slow down Giannis and Milwaukee's offense - like Derrick Jones Jr. and Andre Iguodala - are non-shooters who would cripple their spacing against Milwaukee's floor-shrinking defense. A handful of the guys they rely on to keep their offense flowing - like Robinson, Leonard, Kendrick Nunn, Tyler Herro, and Goran Dragic - range from mediocre to disastrous defensively. Unlike the Bucks, whose best offensive and defensive lineups have a ton of overlap, the Heat would have to choose.
So, even if Giannis struggled at times against Adebayo, I think Milwaukee, on the whole, would have an easier time scoring on Miami than vice versa. The Heat would give the Bucks a good run, but they probably wouldn't have the juice to swing the upset.
Prediction: Bucks in 6 - Joe Wolfond
No. 2 Raptors vs. No. 6 76ers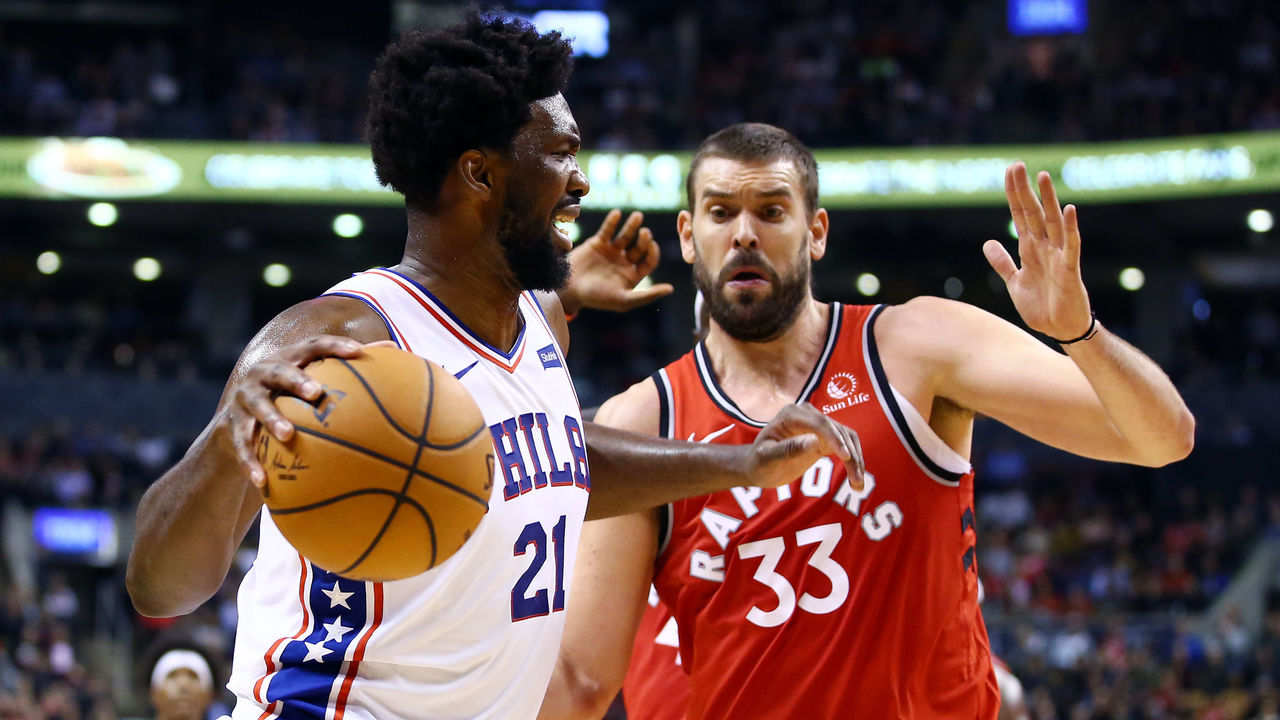 If anyone envisioned a second-round rematch between the Raptors and 76ers before the season began, that vision likely ended with Philadelphia exacting revenge. Seven months later, we've learned that this version of the Sixers might be even less equipped to beat a Kawhi-less Toronto squad than last spring's edition was to topple the Leonard-led Raptors.
In picking the preseason darlings to upset the third-seeded Celtics in a hypothetical first round, I leaned heavily on the fact that Boston had no one to slow down Joel Embiid. The Raptors, of course, have the ultimate Embiid stopper.
Embiid's arrival at Scotiabank Arena for a matchup with Marc Gasol is the NBA's real-life version of the Grand Theft Auto meme: "Ah s---, here we go again." Embiid and everyone watching know exactly how this is going to end: Gasol will frustrate and mostly negate him all series as Raptors head coach Nick Nurse matches the two behemoths' minutes.
With their most dependable scoring option neutralized, an already inconsistent Sixers offense will sputter. Their defensive length will trouble the Raptors' guards in what turns into an ugly series for those who want to see explosive scoring. In a defensive battle, however, Toronto's offense (and shooting) is more reliable, and Nurse will outwit Sixers coach Brett Brown to find advantages we didn't even know were there.
Not to mention that Serge Ibaka can share the floor with Gasol if the Raptors need to go big and match the Sixers' size, which Toronto did to great success in last year's postseason matchup.
At some point in their 2020 playoff run, the Raptors will realize how badly they miss Leonard's shot-making and his ability to take over games, but in this particular matchup, the Sixers will realize they miss Jimmy Butler even more.
The Raptors reduce the Sixers to tears all over again, only this time, they don't need as many games - or bounces on the rim.
Prediction: Raptors in 6 - Joseph Casciaro