Top 10 games of the NBA season: Part 2
Ned Dishman / National Basketball Association / Getty
With live NBA basketball on hold until further notice, it's a great time to look back at the best games of the 2019-20 season so far.
The following list was determined by theScore's basketball news editors. Factors taken into consideration were competitiveness, statistical importance, historical meaning, and outright memorability, but voters were able to use whatever criteria they desired when casting their decisions.
Before starting Part 2, make sure you check out Part 1.
5. Lakers def. Mavericks, 119-110 (OT)
Nov. 1, 2019
This one had a little bit of everything.
Reigning Rookie of the Year Luka Doncic and four-time MVP LeBron James went toe-to-toe with opposing 30-point triple-doubles. They also finished with 15 and 16 assists, respectively, making them the first players with opposing 15-assist triple-doubles in NBA history.
And yet, neither James nor Doncic had the game's marquee moment. Instead, that honor fell to Danny Green, whose buzzer-beating three saved the Los Angeles Lakers in the fourth and allowed them to win it in overtime.
4. Pelicans def. Jazz, 138-132 (OT)
Jan. 16, 2020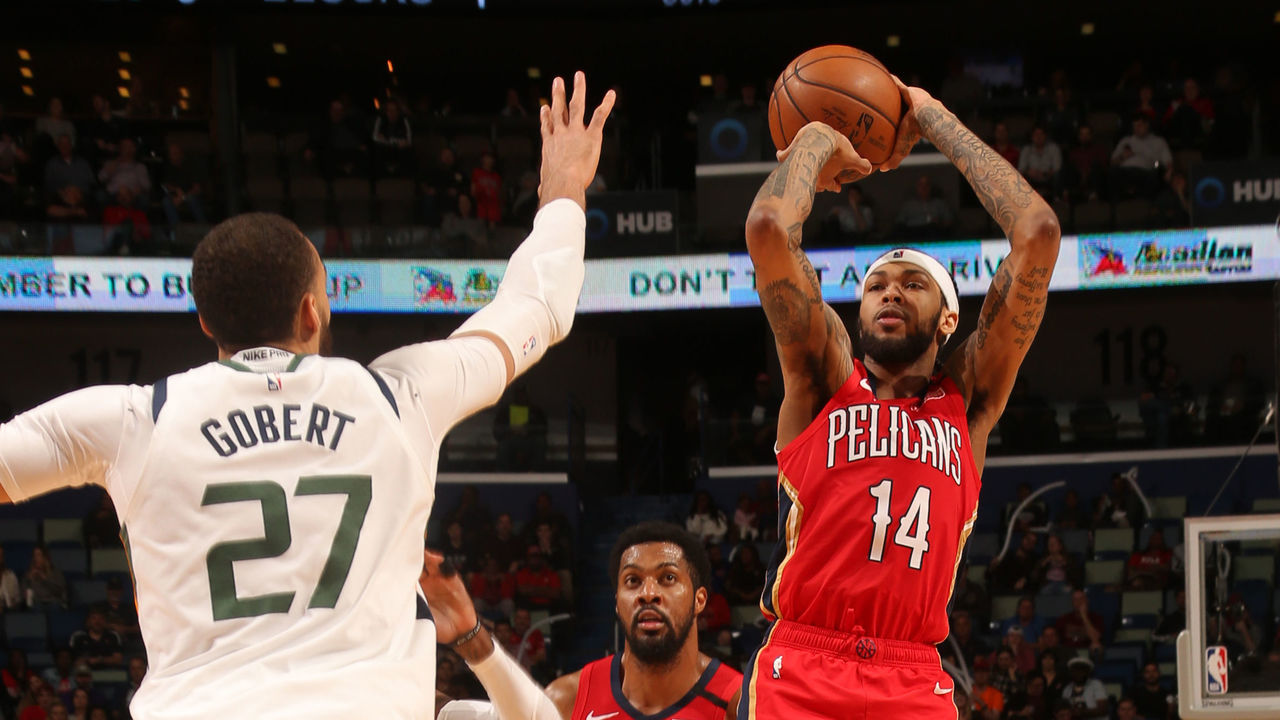 No game helped showcase Brandon Ingram as an All-Star-worthy player more than this January contest against the red-hot Utah Jazz, who entered the game riding a 10-game winning streak.
The first-year New Orleans Pelicans forward finished with a career-high 49 points on 15-of-25 shooting while outdueling fellow All-Star Donovan Mitchell, who tied his career best with 46 points for Utah. Ingram became the youngest player in Pelicans franchise history to register a 45-point game, besting the previous mark set by Anthony Davis, the headliner of the trade that landed the former in New Orleans the previous summer.
This matchup also featured one of this season's wildest endings to regulation, as a foul was called with 0.2 seconds remaining, allowing the Jazz to tie the game with a free throw.
3. Rockets def. Wizards, 159-158
Oct. 30, 2019
Do you like defense? Well, this game had none of it. In a contest with a final score reminiscent of an All-Star Game, the Houston Rockets and Washington Wizards combined to shoot 58% from the field.
At one point, Wizards broadcaster Justin Kutcher likened the contest to a game of HORSE. In the end, James Harden outscored Bradley Beal 59-46. In typical Harden fashion, he secured the one-point win on a free throw.
2. Raptors def. Mavericks, 110-107
Dec. 22, 2019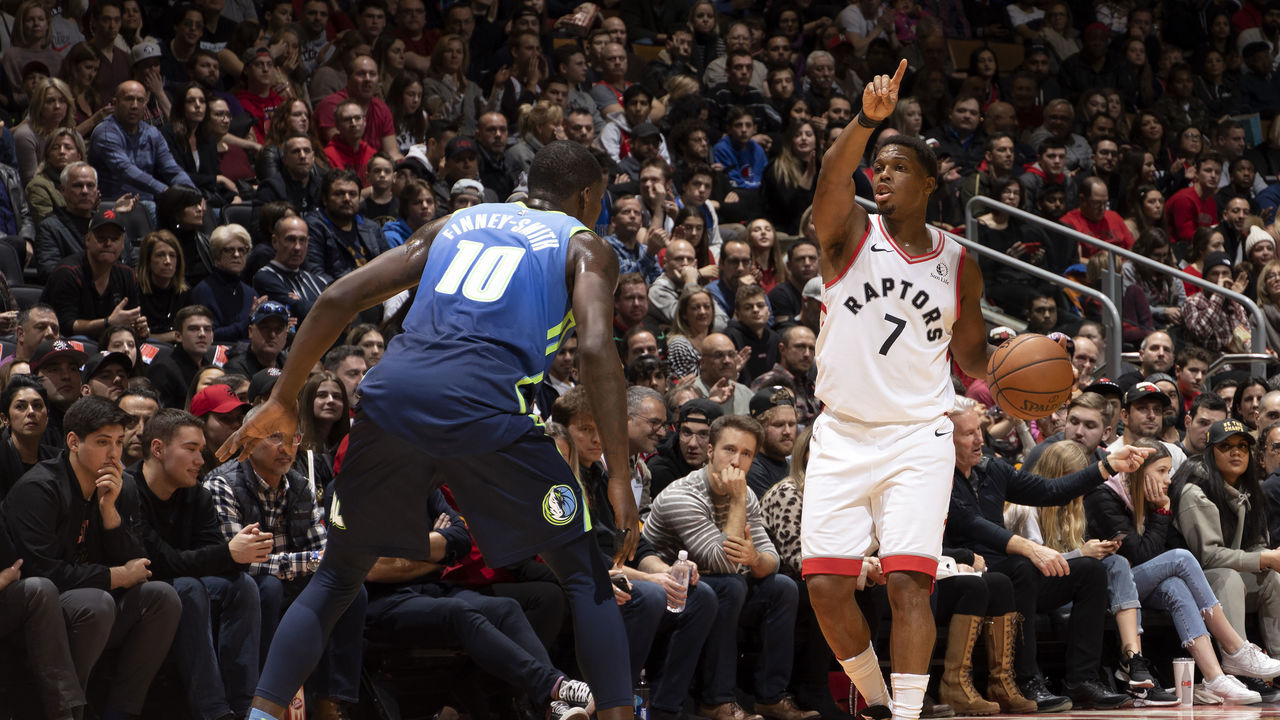 The Toronto Raptors completed one of the most improbable comebacks in NBA history, erasing a 30-point deficit against the Dallas Mavericks almost 10 years to the day the feat was last accomplished. Trailing 83-53 with 2:55 remaining in the third quarter, Toronto used an ultra-aggressive diamond press to spur its incredible rally.
With multiple key players on the shelf, the likes of Rondae Hollis-Jefferson, Chris Boucher, and Malcolm Miller each played vital roles, using their length on traps to help execute head coach Nick Nurse's game plan.
Offensively, Raptors star Kyle Lowry took charge. The All-Star guard nearly outscored Dallas on his own in the final frame, posting 20 fourth-quarter points. Boucher also provided some much-needed support, pouring in a career-high 21 points while Hollis-Jefferson chipped in with 18.
1. Celtics def. Clippers, 141-133 (2OT)
Feb. 13, 2020
All eyes were on this marquee matchup on the Thursday before the All-Star break. Jaylen Brown didn't play and Paul George left after 15 minutes with a hamstring injury, but there was still no shortage of star performances.
This double-overtime epic is as close as it gets to a Game 7 atmosphere in the regular season:
The Boston Celtics rode their starters hard to get the win: Jayson Tatum (39 points, nine rebounds), Marcus Smart (31 points, four steals), Kemba Walker (19 points, nine rebounds, seven assists), and Gordon Hayward (21 points, 13 rebounds) each logged at least 46 minutes.
After George's exit, the Los Angeles Clippers leaned heavily on Kawhi Leonard (28 points, 11 rebounds) and the dynamic duo of Lou Williams and Montrezl Harrell, who combined for 59 points, 19 rebounds, 11 assists, five blocks, and three steals off the bench.
The way the season was heading before the hiatus, a Bucks-Lakers NBA Finals seemed like the likeliest possibility. However, this Clippers-Celtics game is proof that there is no shortage of teams capable of putting on an incredible show in today's NBA.
Comments
✕
Top 10 games of the NBA season: Part 2
  Got something to say? Leave a comment below!