The NBA season is suspended indefinitely due to the COVID-19 outbreak, and while the league hopes it will eventually be able to resume and conclude the 2019-20 campaign, that's far from a foregone conclusion. This week, we're looking at the teams that stand to lose the most in the event of a canceled season.
Previously: Bucks' season of redemption | LeBron's last chance? | Clippers not built to last
Unlike the first three teams we covered in this series, the Rockets aren't dealing with the contract status of their franchise player, they aren't carried by a 35-year-old, and they aren't led by two stars on short-term deals.
James Harden, Russell Westbrook, Eric Gordon, and Robert Covington are all under contract through at least 2022, with P.J. Tucker and Danuel House Jr. locked up through next season. So why does it feel like the Rockets, as we know them, only had one more chance to get the job done? And what happens if they don't get that chance in the event of a canceled season?
Under general manager Daryl Morey, the Rockets have continued to rebuild and reinvent themselves on the fly. Since 2012, those reinventions have come with Harden serving as the fulcrum, especially since Mike D'Antoni took over as head coach in 2016 and made him the de facto point guard.
When they swapped expensive veteran point guards last summer - and gave up a ton of assets to turn Chris Paul into Westbrook - Morey appeared to be throwing his remaining chips on the table. Then came the deadline-week megadeal that sent Clint Capela to Atlanta, brought Covington back to Houston, and all but cemented that the Rockets were going all-in on the most extreme version of "small ball" any contender had ever committed to.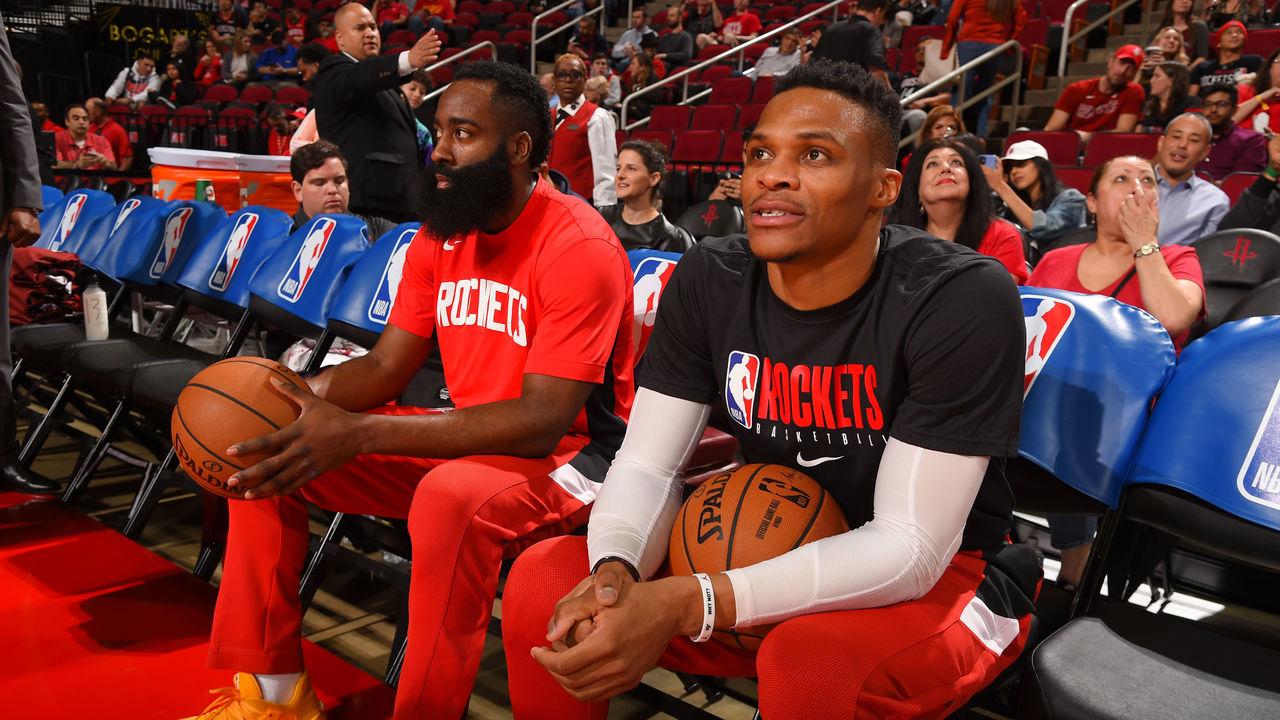 It didn't take a rocket(s) scientist to read the writing on the wall.
With D'Antoni in a contract year - plus Rockets owner Tilman Fertitta's interesting thoughts on the concept of a "lame duck" coach - and Morey having used up just about every last bargaining chip at his disposal in recent years, the coach and GM were on the hot seat. Dealing Capela almost appeared to be a last stand. It was the type of move that proclaims, "If we're going down, we're going down on our own terms."
Though the Rockets would be at an obvious size disadvantage every night - they were already a poor (23rd-ranked) defensive rebounding team before the trade - there were legitimate basketball reasons to believe the bold moves could work.
Namely, with Capela - and any other traditional big man, for that matter - out of the way, Westbrook would have a clear lane to rampage his way into the paint the way a younger version of himself did with regularity. Between the combined attacking and playmaking of Westbrook and Harden, and the shooting prowess of their teammates, Houston could simply dare teams to keep up.
In addition, while the lack of a true big man put Houston at a defensive disadvantage in the middle of the floor, the Rockets actually touted impressive size and length at virtually every other position. They were also defensively versatile, and could once again switch everything on that end of the court.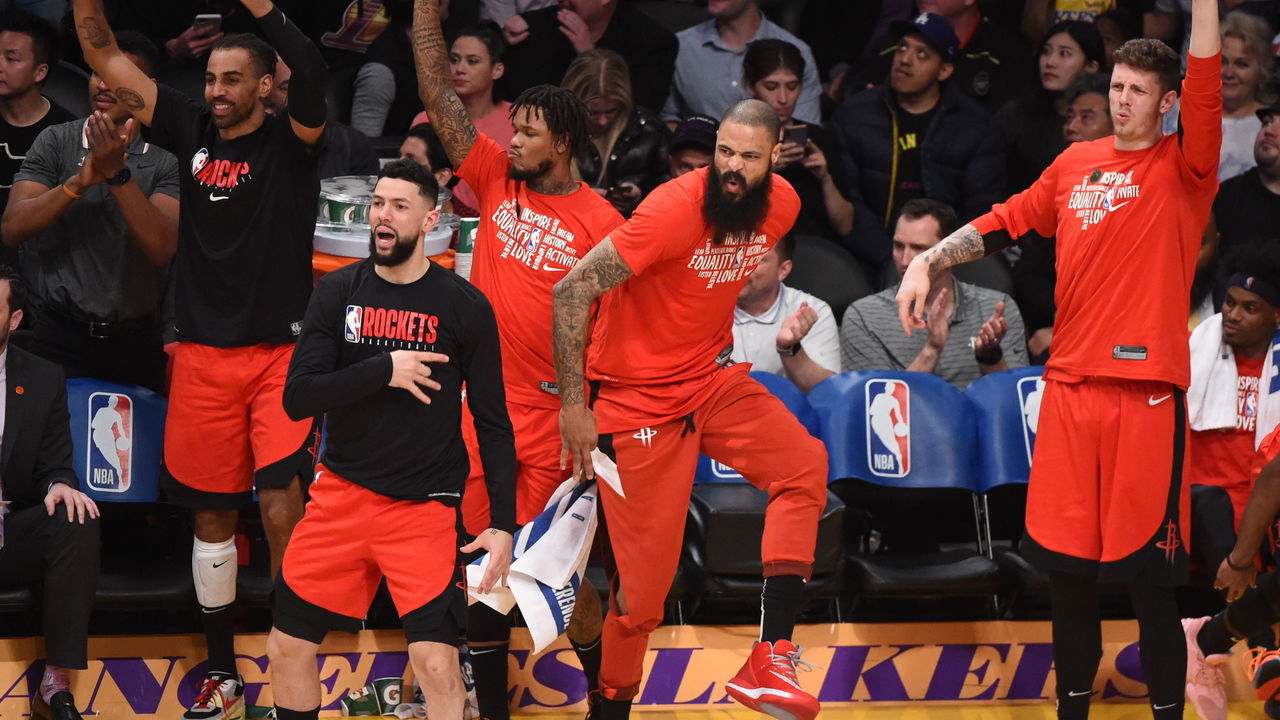 The results were mixed.
Beginning with the night the Capela deal went down and ending with a thrilling overtime victory in Boston three-and-a-half weeks later, Houston won eight of 10, which included road victories over the Lakers, Jazz, and Celtics.
However, sandwiched between that run and what might've been a season-ending victory over the Timberwolves was the most wretched stretch of Houston's season.
Over the span of a week, the Rockets lost at Madison Square Garden to the lowly Knicks, got blown out by the Clippers on national TV, lost in Charlotte, and got drilled at home by the anemic Magic, who opened up a 32-point lead en route to a 20-point victory.
At their best, the Rockets looked like clear-cut contenders. On their worst days, they looked like first-round cannon fodder. And though the sample sizes obviously weren't equal (49 games compared to only 15), it's interesting to note the end results were strikingly similar both before and after the Capela trade.
| 2019-20 Rockets | Win% | ORtg (rank) | DRtg | Net |
| --- | --- | --- | --- | --- |
| Pre-trade | .633 (9th) | 113.3 (3rd) | 109.6 (15th) | +3.7 (9th) |
| Post-trade | .600 (T-7) | 113.5 (8th) | 111.1 (14th) | +2.5 (8th) |
Still, the star power of Harden and Westbrook, the team's defensive versatility, and the variance that comes with a 3-point-heavy attack made Houston the Western Conference team with the highest ceiling outside of Los Angeles. It would've been fascinating to see the Rockets - especially with a rejuvenated Westbrook - take their shot at one of the Lakers or Clippers at some point, if given the chance.
That their dynamic backcourt might no longer get that chance - and that Morey, and D'Antoni especially, might not get the opportunity to go down swinging in their own unique way - is a shame.
If the 2019-20 season is now nothing more than a memory, it's fair to wonder whether Morey and D'Antoni's last chance in Houston is already behind them.