The NBA season is suspended indefinitely due to the COVID-19 outbreak, and while the league hopes it will eventually be able to resume and conclude the 2019-20 campaign, that's far from a foregone conclusion. This week, we're looking at the teams that stand to lose the most in the event of a canceled season.
Previously: The Bucks' season of redemption | LeBron's last, best chance?
What's a win-now team to do when there is no "now" in which to win? That's the question the Los Angeles Clippers are facing.
The Clippers are not built for the future. They surrendered their best young player, their most efficient scorer, five first-round draft picks, and two first-round pick swaps in order to get Paul George - and, by extension, sign Kawhi Leonard - last summer. They dished out another first-rounder (the last one they could trade before 2028 due to the Stepien Rule) to acquire a half-season rental in Marcus Morris at the deadline. They're about as all-in as all-in gets.
Leonard and George only have one guaranteed year left on their contracts after this one. (Both hold player options for the 2021-22 season that they're almost certain to decline.) Of course, both also specifically chose the Clippers just nine months ago, so there's no reason to think they'll be looking to bolt at the first opportunity. Except for the fact that this is the NBA, where change comes at whiplash-inducing speed and the future is never set in stone.
The Clippers had no illusions about what they were sacrificing in the long term when they made their big offseason push. They deemed the sacrifice worthwhile, because it meant at least two years of legitimate championship contention and a chance to finally carve out some history and cachet in their own market, where they've spent their entire existence in the Lakers' shadow. They're here for a good time, not necessarily a long time.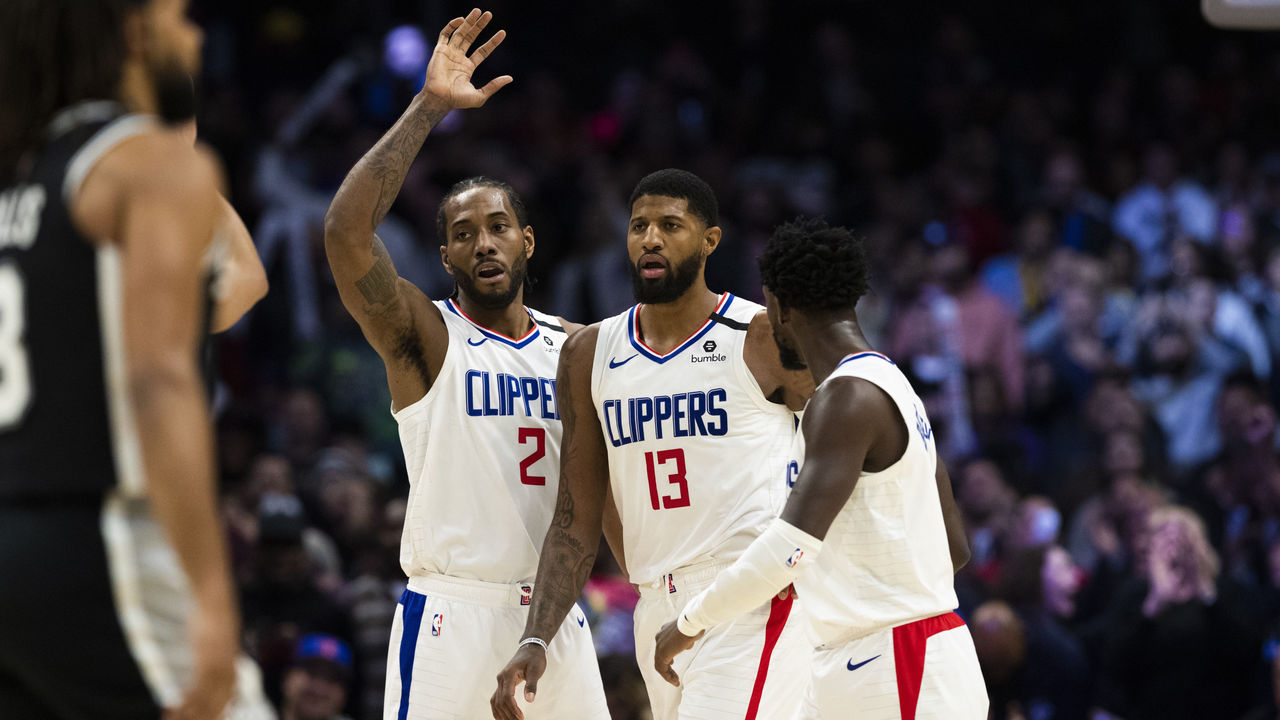 What they obviously couldn't have predicted is that one of their two guaranteed seasons with Leonard and George would be suspended and quite possibly canceled.
If it is canceled, this Clippers season would leave a lot to be desired. They were exceptional in spots, but uninspired in others. They seemed to struggle with the transition from scrappy underdog to superstar-led contender, and consequently dealt with some internal disharmony that got leaked (or in some cases, expounded outright) to the media. That they were 44-20 despite sleepwalking through stretches of the season and playing just 32 games with both of their superstars in the lineup tells you how talented they were.
What's really frustrating is they'd just begun to find their groove and hint at the playoff monster they would become. Leonard had been playing at an MVP level for two solid months. He and George were finally healthy at the same time, and starting to click. With both of them on the floor, L.A. outscored teams by 11.6 points per 100 possessions.
The Clippers won seven of their last eight games before the season was halted, including convincing wins over the Nuggets, Rockets, Thunder, and 76ers. They'd moved into the top five on both sides of the ball (third in offense, fifth in defense). They'd won two of three meetings against the Lakers, whom they looked overwhelmingly likely to meet in a blockbuster Western Conference final.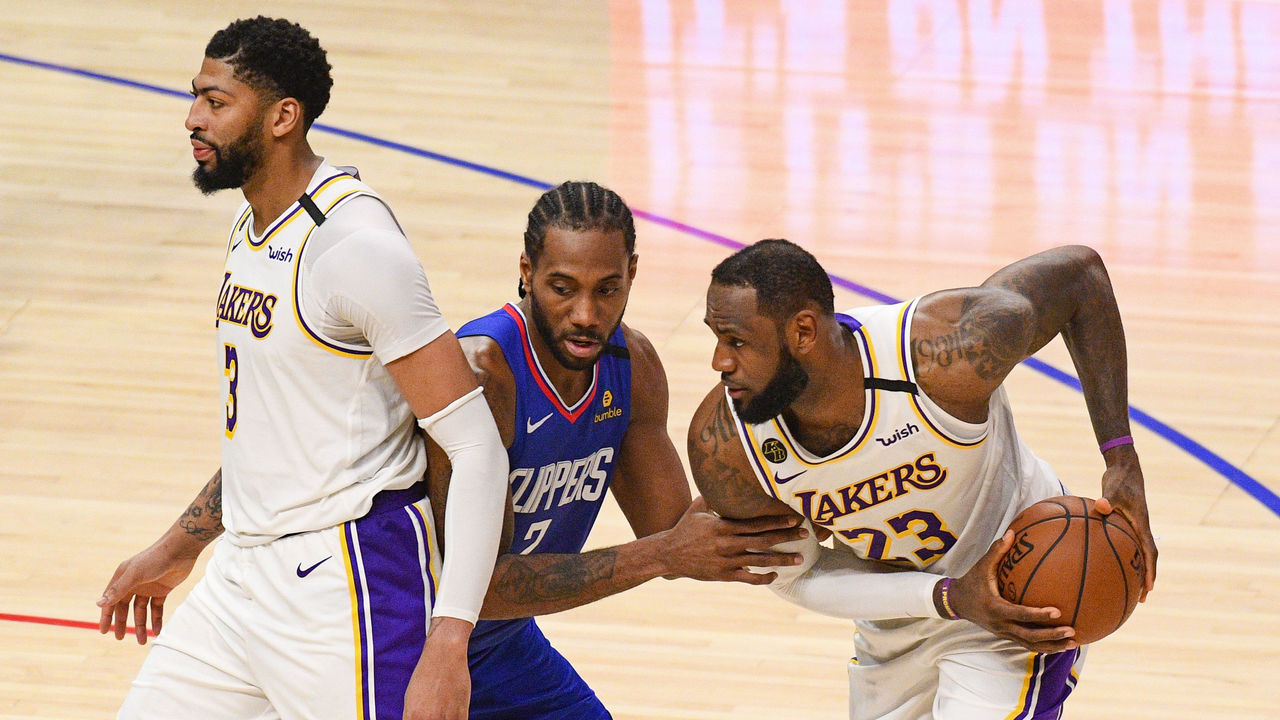 Now they're staring at the possibility of going into next season with nothing to show for Year 1 of the Leonard-George era, no data points on how they'd stack up against the Lakers in a playoff series, and with both of those guys on expiring contracts. That would put them in a serious pressure cooker. Even last year's Raptors, who knew going in that they were likely signing up for a one-year rental with Leonard, arguably didn't have as much riding on the 2018-19 season, because their future was comparatively secure. The Clippers' asset cupboard is almost entirely bare - Landry Shamet is the closest thing they have to a blue-chip prospect, and he profiles as role player. Doling out that last first-rounder will really sting if all it winds up getting them is 12 (mostly substandard) games from Morris.
Meanwhile, Montrezl Harrell, arguably L.A.'s third-best player, is set to become an unrestricted free agent, and is due a significant raise on his $6-million-a-year contract. The Clippers own his Bird rights, and may have no choice but to meet his asking price given their paucity of bigs and lack of cap space with which to replace him. Morris will likely be looking for a long-term deal after posting career highs in scoring and 3-point percentage on his one-year "prove-it" contract.
For all that, this interruption may turn out to be a blip on the Clippers' quest to conquer the league. No team looks poised to overtake them next season as West favorites (or at least co-favorites, with the Lakers). Leonard and George are just 28 and 29 years old, respectively, and the most likely scenario still involves them sticking around beyond 2021, keeping the Clippers in the title hunt into the mid-2020s. If the partnership succeeds the way most pundits expected it to before the season, the Clippers may well be able to sustain themselves into the future by sheer dint of organizational equity and glamor-market allure.
But the fact remains: The Clippers, as much as any team in the league, are built for the present. And the present is suddenly a gigantic question mark.