Eyes on the prize: How the Warriors can win or lose the NBA title chase
Photo illustration by Nick Roy / theScore
With this season presenting what looks like the most level NBA championship field since The Decision, we're assessing the bona fides of eight legitimate 2019-20 contenders. What will propel them to the title this year? What will prevent them from winning it? Let's examine both sides.
Other entries in the series: Milwaukee Bucks | Utah Jazz | Philadelphia 76ers | Houston Rockets
Today: Golden State Warriors
Why they'll win the championship
The first building block for any championship foundation is a superstar who's good enough to be in the conversation for Best Player Alive. There are a half-dozen or so such stars in the NBA; Stephen Curry is one of them.
The two-time MVP has averaged 27.3 points, 6.2 assists, and 5.1 rebounds on a staggering 48-43-91 shooting split over the last four seasons. He's the type of transcendent talent who gives you an inside track to legitimate contention.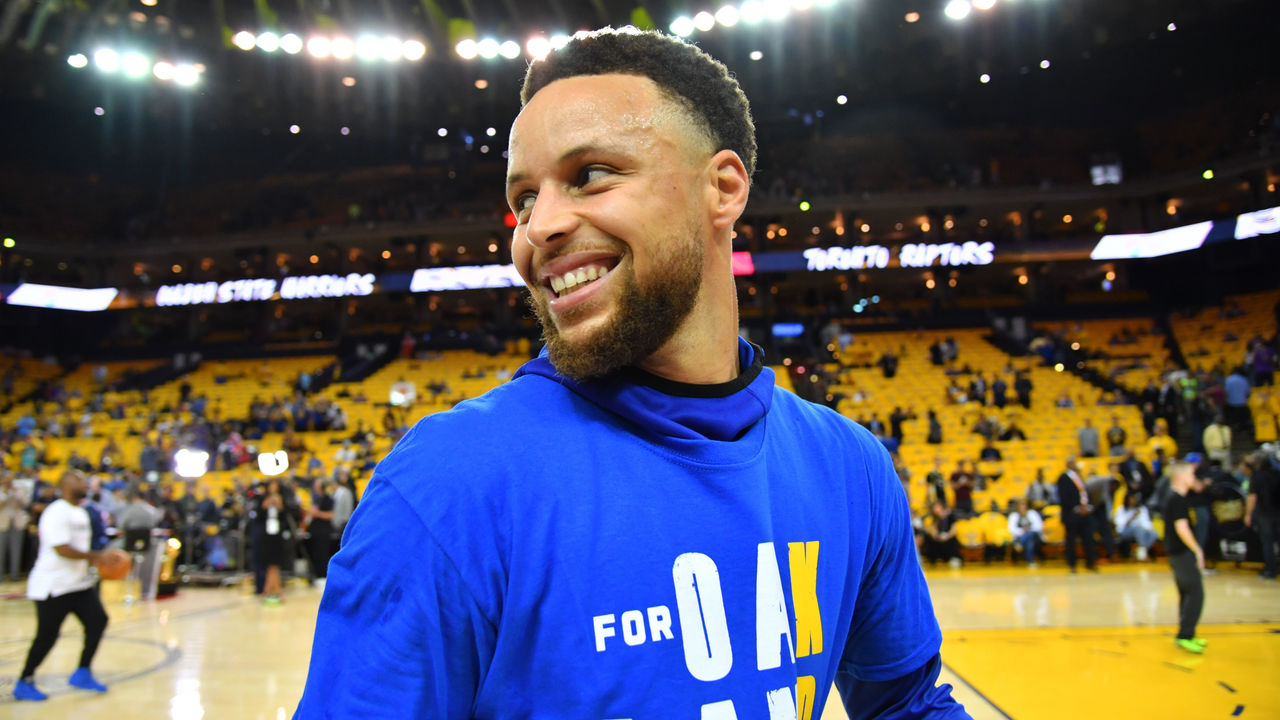 Losing Kevin Durant to free agency and Klay Thompson to ACL surgery - until at least the All-Star break - is a devastating blow to the five-time defending Western Conference champions, but the backbone of a contender remains, particularly if Draymond Green starts the season with the same kind of urgency that he finished last year with.
Green, who's taken his foot off the regular-season pedal over the last couple of years, has made the theory of "82-game players versus 16-game players" famous in the process. At full throttle - which Green hit during the home stretch and playoffs last season - the former Defensive Player of the Year is still a two-way game-changer. He can anchor an elite defense at one end, partner with Curry to pick-and-roll opponents to death at the other, and mentally torment rivals into submission in the 94 feet between them.
While a Curry-Durant pick-and-roll became Golden State's - and the league's - most unstoppable weapon over the last three years, let's not forget that a Curry-Green action is breathtaking in its own right. What Green lacks in pure scoring ability, he makes up for in playmaking and smarts. Give Curry an inch of space off a Green pick, and you're giving up a 3-point look to the greatest shooter of all time. Blitz Curry to force the ball out of his hands, and he'll calmly find Green, who can then carve you up on the short roll.
If Curry and Green are in the lineup and at their best driving Steve Kerr's motion offense, the demise of the Warriors will have been greatly exaggerated.
But there's more. D'Angelo Russell could provide the Durant-less Warriors with exactly the type of self-creation they need, with or without Thompson. Russell can help prop up reserve units on the offensive end while Curry rests and Thompson rehabs, and he can turn Curry into an off-ball nightmare for opponents when they share the backcourt. Think of the way Toronto shut down Golden State's attack with a box-and-one when Curry manned the floor without Thompson or Durant. Defenses won't be able to do that with an off-the-dribble threat like Russell out there.
The final ingredient here is Thompson. If Curry, Green, and Russell get the Warriors into playoff position - as they should - and Thompson returns to the lineup before mid-April, this team will have as good a shot as any other contender in the wide-open title race.
Why they won't win the championship
Thompson's out until at least the All-Star break, and even a March return would only give him nine months of recovery time for one of the most catastrophic injuries a basketball player can suffer. There's no guarantee he'll play a minute of NBA ball this season.
During his absence, the Warriors' margin for error will narrow considerably. Without question, the 2019-20 Dubs are the thinnest and weakest version of the team's Steve Kerr Era. There's Curry, Green, Russell, two intriguing centers in Kevon Looney and Willie Cauley-Stein, and … not much else in terms of capable rotation talent.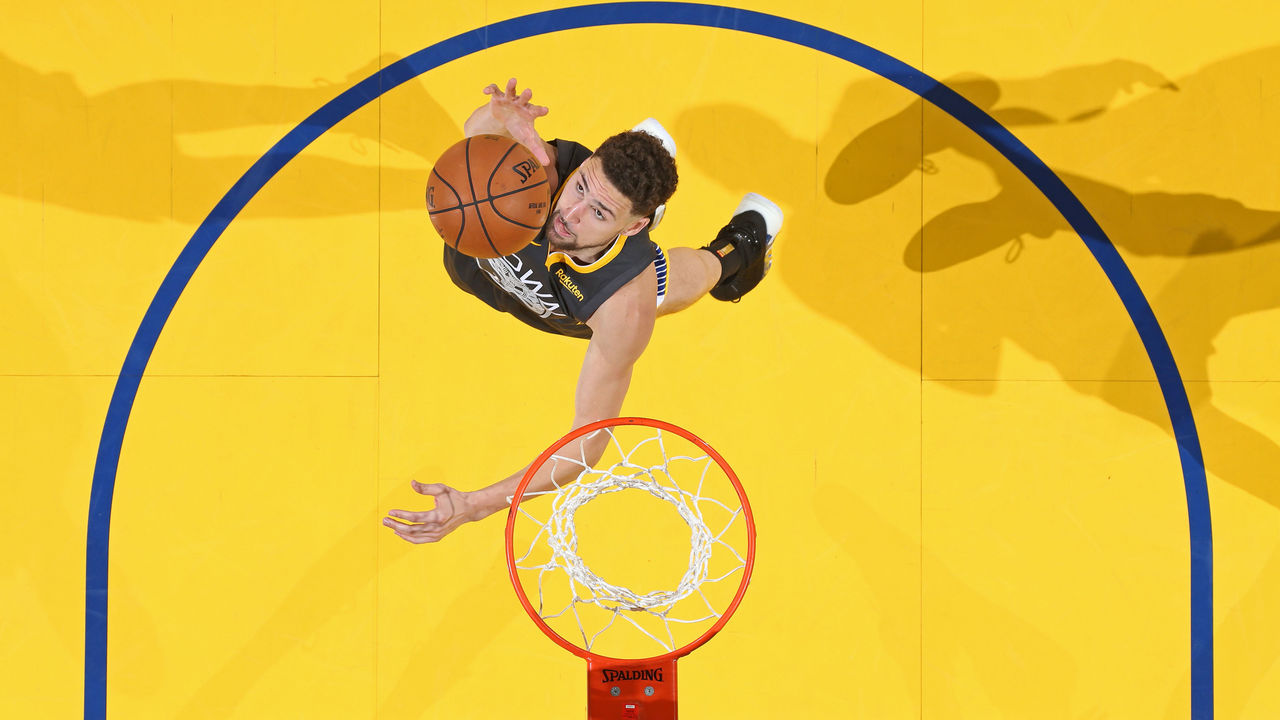 Additionally, Curry missed 44 regular-season games over the last two years while Green missed 28. They also combined to log more than 7,000 playoff minutes across the last five seasons as the Warriors made The Finals each spring.
Curry's not going to play a full 82-game schedule, and without KD and Klay around, any contest he misses will be tough for the Warriors to win, no matter the opponent. Green at max effort is still a dynamo, but he may no longer be able to push himself to the limit between October and April if he wants to have something left in the tank for May and June. Golden State, however, is no longer deep enough to survive Green pacing himself during the regular season.
The lack of depth, and a lack of individual scoring ability beyond Curry and Russell, will create another troublesome ripple effect. Kerr will need to strategically stagger his backcourt stars to ensure at least one of them is on the floor as often as possible, but that also means Curry and the Warriors will be susceptible to box-and-ones. The fact that it worked for the Raptors in June means other teams will test variations of it when Curry (or Russell) flies solo.
As for Russell, he hasn't actually proven to be an efficient pick-and-roll orchestrator yet. Will Curry, an otherworldly off-ball talent upgrade, help in that regard? Sure, but again, what happens to a Russell-led offense when Steph's on the bench? It could get ugly for a team that has no choice but to hand heavy rotation minutes to guys like Alfonzo McKinnie, Alec Burks, and Jacob Evans.
Curry and Green - and to a lesser extent, Russell - will keep the Warriors competitive, and then some, when on the court and at their best. But there are too many question marks on the depth chart, too much uncertainty about Thompson's return, and perhaps too many miles on the bodies of Curry and Green to bet on Golden State emerging from this deep field of title contenders.
Joseph Casciaro writes about basketball for theScore.
Comments
✕
Eyes on the prize: How the Warriors can win or lose the NBA title chase
  Got something to say? Leave a comment below!