Does anyone benefit if the Wizards extend Bradley Beal?
Now that the "interim" tag has been removed from his title in the Washington Wizards' restructured front office, general manager Tommy Sheppard faces a task that is at once head-achingly complicated and relatively straightforward.
It's complicated because the Wizards have a capped-out roster that is startlingly devoid of both present-day talent and future building blocks. It's straightforward because his predecessor, Ernie Grunfeld, set a low bar during an ignominious 16-year tenure. All Sheppard really has to do to distinguish himself from Grunfeld is craft a coherent plan and commit to a direction.
The most obvious direction at the moment is a complete teardown and ground-up rebuild. The team has taken small steps toward that, but completing the process would mean trading All-Star shooting guard Bradley Beal, which Sheppard seems unwilling to consider.
Instead, he said he plans to offer Beal - who is signed through 2021 - a three-year, $111-million max extension as soon as Beal becomes eligible to sign it Friday.
Of course Sheppard doesn't want his first order of business as full-time Wizards GM to be trading an in-his-prime star who's spent his entire seven-year career in Washington. Beal is coming off a career season and recently supplanted John Wall as the face of the franchise. On the other hand, it's hard to see the benefit of an extension for either party.
From the Wizards' perspective, there are two big questions to consider. First, do they have a realistic path to anything resembling contention (or even respectability) in the five years Beal's extension would run? Second, would Beal be a more attractive trade piece on a max extension than he is with the two years and approximately $56 million currently left on his deal? The latter question is complicated; the former, less so.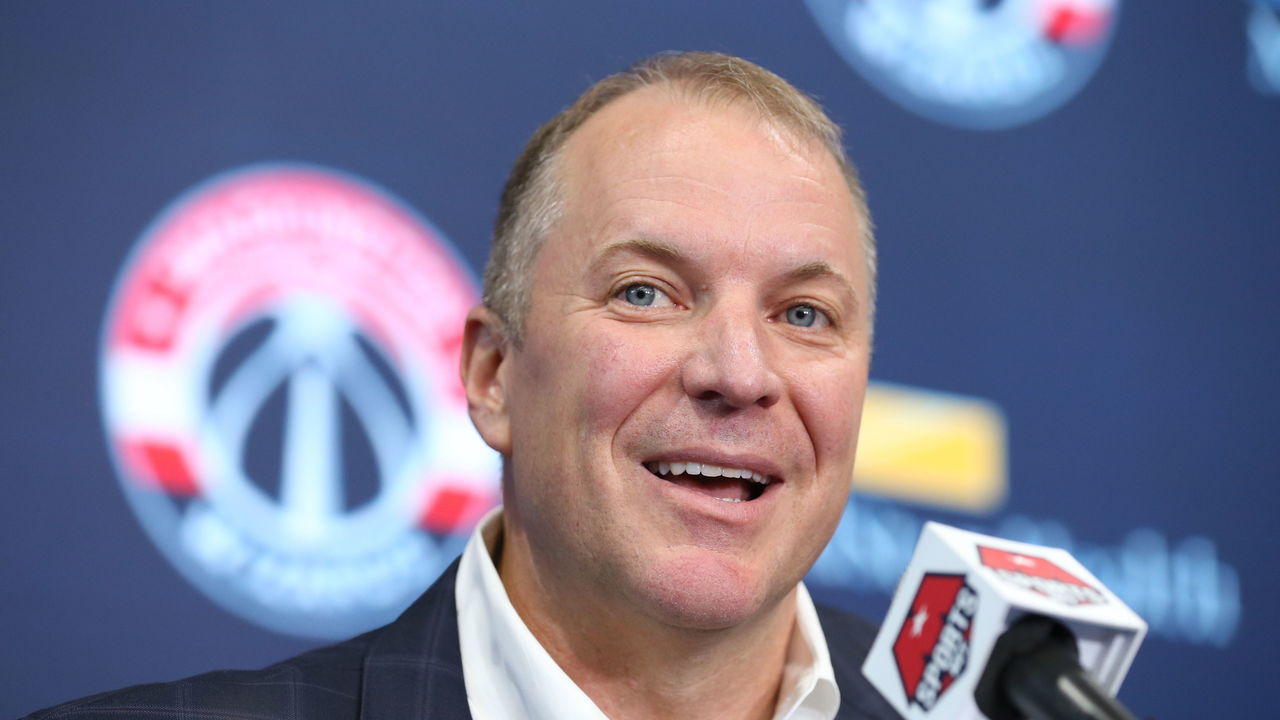 Sheppard said he's been rebuffing trade offers for Beal throughout the offseason and doesn't plan to engage in trade talks even if Beal rejects the extension. Those statements involve an element of necessary lip service - it behooves the Wizards to demonstrate a firm commitment to Beal for as long as they employ him - but, in reality, they'll have no choice but to explore his market if he declines to reciprocate that commitment.
Difficult as that might be for the front office and for fans to swallow, it wouldn't be a terrible outcome. Trading Beal could net the Wizards a considerable return that they could use to jump-start their fledgling rebuild. It wouldn't be on the level of what Paul George brought the Thunder, who benefited from a unique set of circumstances, but in a vacuum, Beal's trade value shouldn't be too much lower. He's not as good as George (defensively, the chasm is enormous), but he's one of the 20 or 25 best players in the league, he's three years younger, he carries a lower cap hit, and he will enter next season with a clean bill of health.
That last point is critical. After gaining a reputation for being injury-prone early in his career, Beal has proved to be exceptionally durable. He's played all 82 games the last two seasons, missed just five games over the last three years, and led the league in total minutes played last season. (Alternatively, teams could view that as a red flag, given that workloads are increasingly correlated with injuries. The fact that he played all those minutes for such a pitiful team makes it all the more puzzling.)
Beal's plug-and-play game would fit snugly in just about any backcourt. He can play on or off the ball, can be a scorer or a playmaker out of the pick-and-roll, and, when he cares to, can passably defend either guard spot. He would represent an upgrade at a premium position for about 26 NBA teams, he consistently raises his level in the playoffs, and he just turned 26.
Under different circumstances, those would all be reasons for the Wizards to hold onto him. It made sense for them to build around Beal when the roster had solid complementary players on similar timelines, such as Otto Porter, Kelly Oubre, and Tomas Satoransky. It made sense when Wall still had some semblance of trade value.
But the Wizards traded Porter and Oubre last season for what collectively amounted to a half-season of Bobby Portis, Jabari Parker, and Trevor Ariza. They signed-and-traded Satoransky to the Bulls earlier in July. Wall's game careened off a cliff even before he ruptured his Achilles at home in February. He's expected to miss the entire 2019-20 season while recovering from an injury that has destroyed careers, and his four-year, $170-million supermax extension hasn't even kicked in yet. The Wizards simply don't have the means to take advantage of Beal's prime.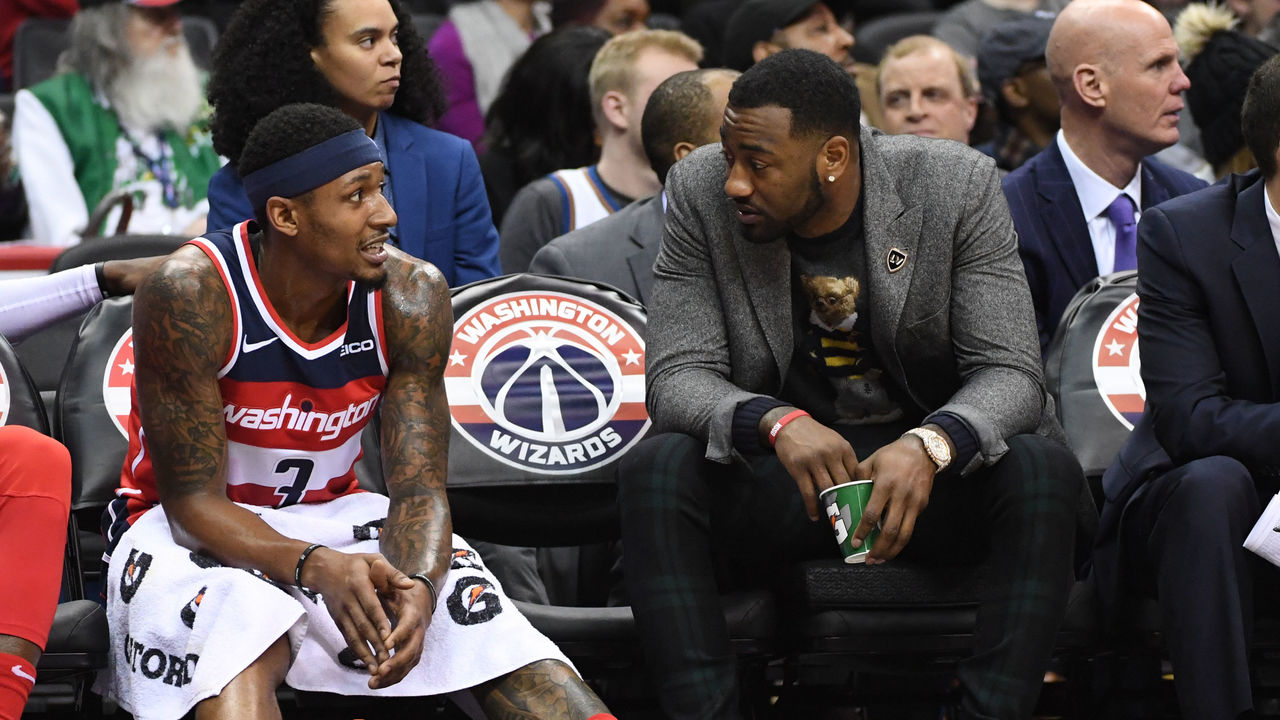 Wall was Beal's age when he signed his extension, but it's reductive to use that precedent as a deterrent to extending Beal - whose skill set is far less dependent than Wall's on raw athleticism and figures to age more gracefully. However, the Wall situation remains instructive. It's an example of how quickly things can change, how precipitously a player's trade value can flatline, and how perilous it can be to lock in a second-tier star - even a young one on an ostensibly upward trajectory - at a huge figure for a half-decade.
That's not to say Beal won't be in high demand if the Wizards extend him and then put him on the block when they are allowed (after Dec. 15). We've seen players of his caliber traded for solid returns shortly after signing long-term max deals, Blake Griffin and Russell Westbrook being two recent examples. (We're still waiting to see about Kevin Love.)
Beyond trade value, the Wizards have plenty of reasons for wanting to retain a young, bankable star in a market that has struggled to capture fan interest. Not only does Beal give the Wizards someone recognizable to rally around and sell, he also represents their best chance of luring another such player.
But the Wizards weren't getting meetings with brand-name free agents when Wall was an All-NBAer. Even an optimistic projection wouldn't expect the Wizards to come out of an extended Beal era in much better shape than, say, the Hornets during Kemba Walker's tenure. Short-sighted thinking is what trapped the Wizards in a purgatory of their own making during the Grunfeld era. Is that what the new leadership aspires to?
For Beal, who will have until mid-October to decide whether to sign the extension, the questions are a bit simpler. Does he see a future in Washington? To what extent can he overlook the team's inevitable on-court struggles in order to attain financial security and the prospect of more off-court stability?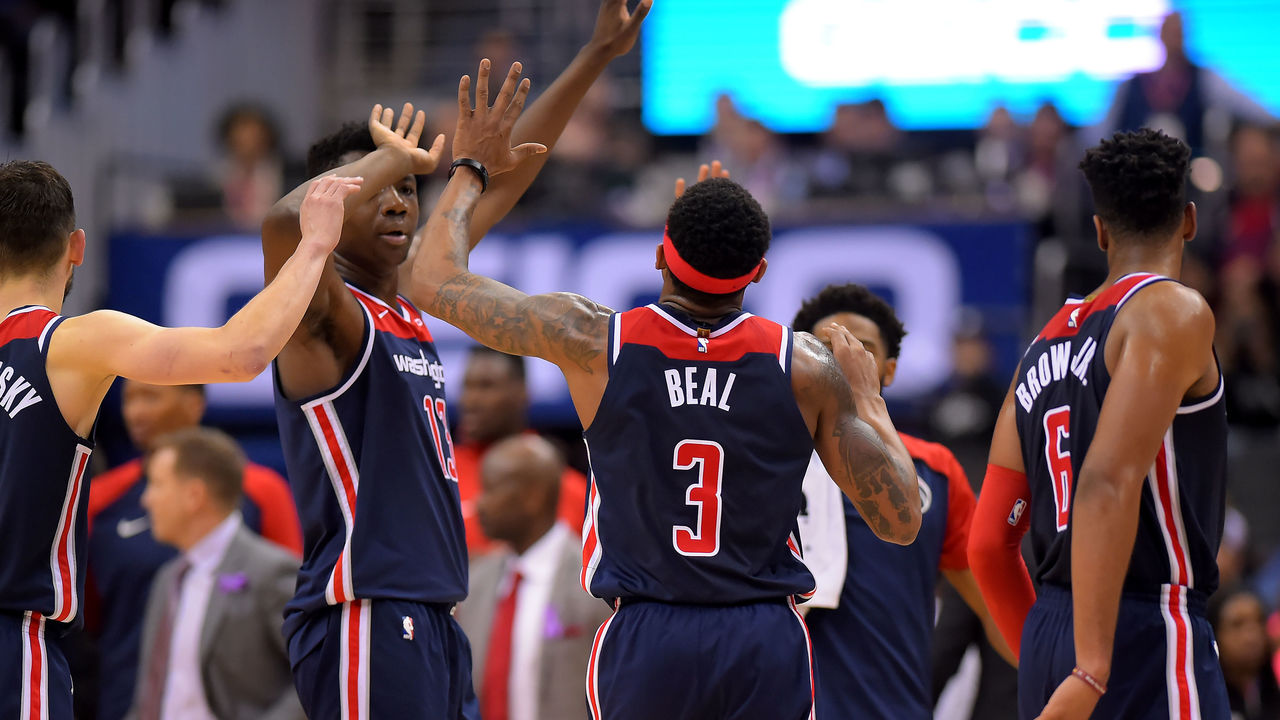 Last season, Beal seemed disillusioned with the Wizards' dysfunctional culture. During a reportedly "volatile" practice in November, a frustrated Beal apparently told team officials, "I've been dealing with this for seven years."
Maybe the new front office can convince him that things will change for the better. After all, Beal did reportedly say the issues started "at the top," according to the Washington Post's Candace Buckner. He and Wall have never been a clean fit, personally or professionally. If he sticks around, Beal would assume the role of unquestioned alpha and culture-setter, and he'd be able to reshape the team's internal dynamic however he sees fit. Sheppard told Wojnarowski that Beal will have a say in the team's personnel decisions. If the team's culture starts at the top, then to a large extent, it now starts with Beal. He likely won't have that kind of equity anywhere else.
That doesn't mean he should sign an extension now. It's not like the option will disappear if he holds off. He can sign a four-year, $155-million extension next summer, a deal that will almost certainly be available if he stays healthy and performs at last year's level. If he makes an All-NBA team, he'll become eligible for a five-year supermax that's projected to be valued north of $250 million, though it's hard to imagine the Wizards - after what figures to be a lost season - inking him to what could be the richest contract in league history.
An extension would buy the Wizards more time to prove that Beal has something to look forward to, but it's unclear that they'd be able to do anything meaningful with that extra time. To the extent that Washington can be said to have a "core," the players who would conceivably comprise it are years away from contributing to a competitive team. The re-signed Thomas Bryant is a perfectly fine center, but he's limited, and his type is a dime a dozen in today's big-man-saturated NBA. We may not know what Rui Hachimura is going to be for a while. Who else on the roster has even moderate upside? Troy Brown? Mo Wagner?
If the Wizards tank this season, the flattened lottery odds will make their draft position a bit of a crapshoot. If another star expressed interest in teaming up with Beal, Wall's contract and the team's lack of non-Beal trade assets would hamper its ability to make a move. The Wizards finished 28th in the league in defensive efficiency last season and don't project to be any better in 2019-20. How long is Beal willing to wait?
The Wizards have already signaled their intent to offer the extension, so the concerns from their end are already effectively moot. The ball is in Beal's court, and rejecting the offer could be beneficial for both him and his current team.
Comments
✕
Does anyone benefit if the Wizards extend Bradley Beal?
  Got something to say? Leave a comment below!