The why of Kawhi: A timeline of the last 14 months of tension and emotion
Matteo Marchi / Getty Images Sport / Getty
Oftentimes, the journey is more important than the destination.
Kawhi Leonard may be on his way to the Toronto Raptors in the blockbuster trade of the summer, but Wednesday's news is merely the culmination of more than a year of uncomfortable buildup between the San Antonio Spurs and their homegrown superstar.
May 14, 2017 - The Zaza incident
As memories begin to blur, it's easy to conflate the injury that knocked Leonard out of the 2017 postseason with the one that caused him to miss all but nine games in the 2017-18 campaign. These were, however, two separate injuries.
Kawhi rolled his ankle when the Golden State Warriors' Zaza Pachulia stepped under his left foot midway through Game 1 of the second round of the playoffs. He would miss the rest of the postseason, effectively ending the Spurs' year.
December 2017 - The return of Kawhi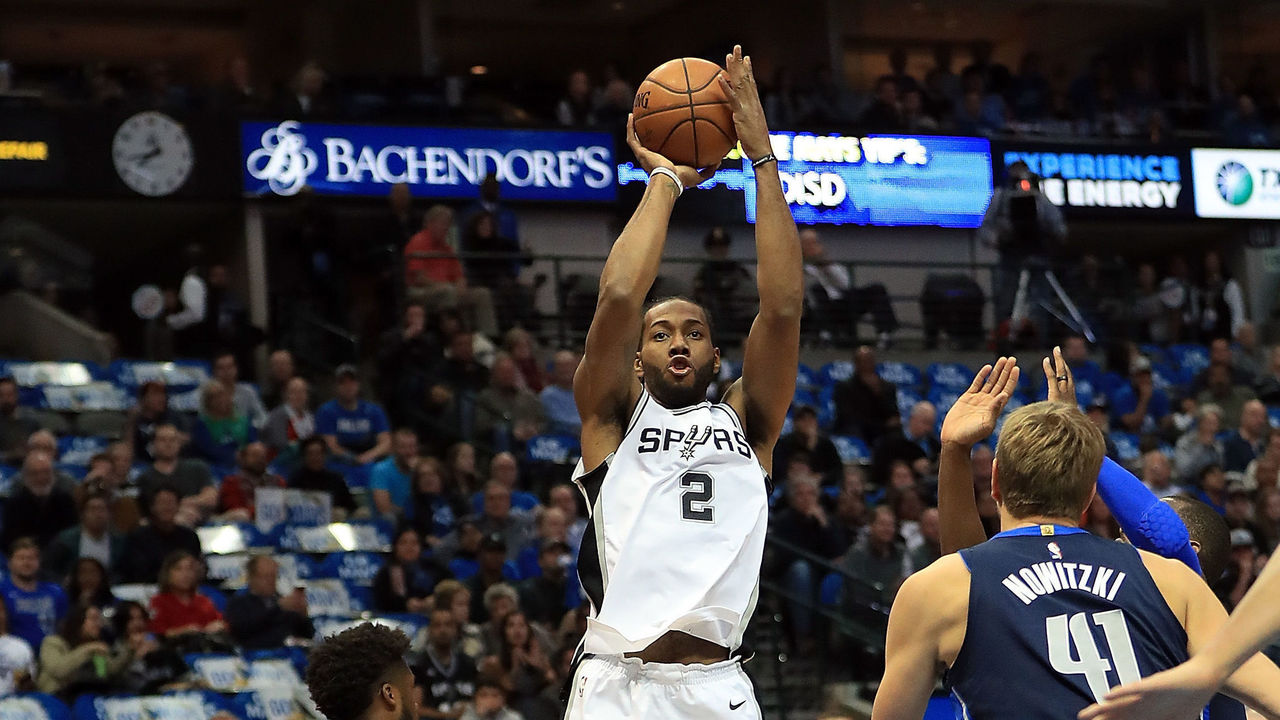 Leonard had some company in his recovery process. Prior to Kawhi's season-ending ankle injury, his teammate Tony Parker ruptured his left quadriceps tendon in the Spurs' first-round series against the Houston Rockets.
Kawhi's injury rehab proved troublesome - though it was now his right quadriceps which was preventing him from hitting the court. After being shelved for the majority of 2017, Leonard finally returned to full-court practices in early December.
He officially made his 2017-18 season debut on Dec. 12 - two weeks after Parker made his - recording 13 points and six rebounds in just under 16 minutes against the Dallas Mavericks.
Jan. 17, 2018 - Shut down again
A partial tear in his shoulder sidelined Leonard for three straight games in early January, but he returned to play a little over 28 minutes in a 32-point victory over the Denver Nuggets on Jan. 13, tempering fears that the shoulder injury would prove debilitating.
And then, Leonard was put on ice. With his quadriceps tendinopathy flaring up, he was shut down indefinitely to continue his rehab.
Jan. 22, 2018 - Cracks begin to show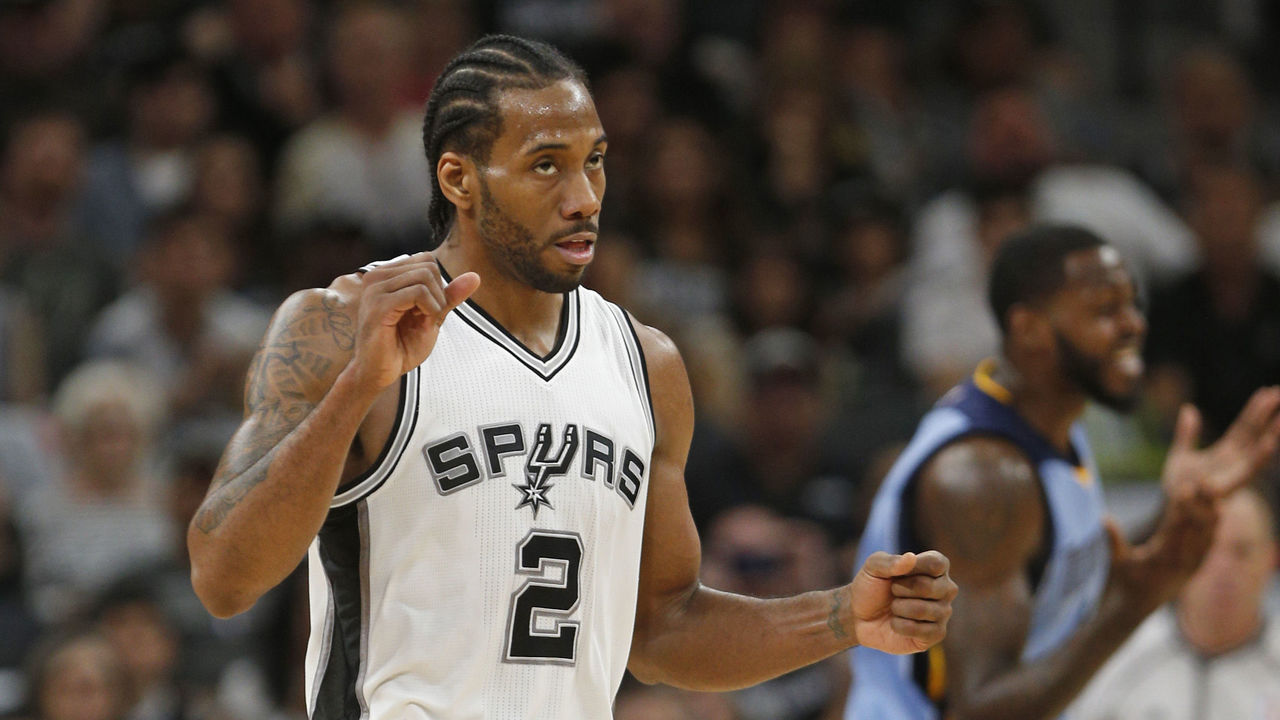 Shortly after restarting his rehab, reports indicated Leonard's recovery timeline was beginning to create a rift within the organization, though both Spurs general manager R.C. Buford and the player's camp were quick to dispel any notion of tension.
Prior to this, concerns surrounding Leonard's availability were confined to his physical well-being. Now, it appeared some were growing frustrated with Leonard's distance from the team. It was the first reported instance of personality clashes between player and organization.
Feb. 21, 2018 - Kawhi continues to sit
A month into his second prolonged rehab stint, it was reported that despite receiving clearance from team doctors to return to games, Leonard continued to sit out. Prior to February's All-Star break, he spent 10 days in New York City consulting with a third-party specialist.
March 18-23, 2018 - The players-only meeting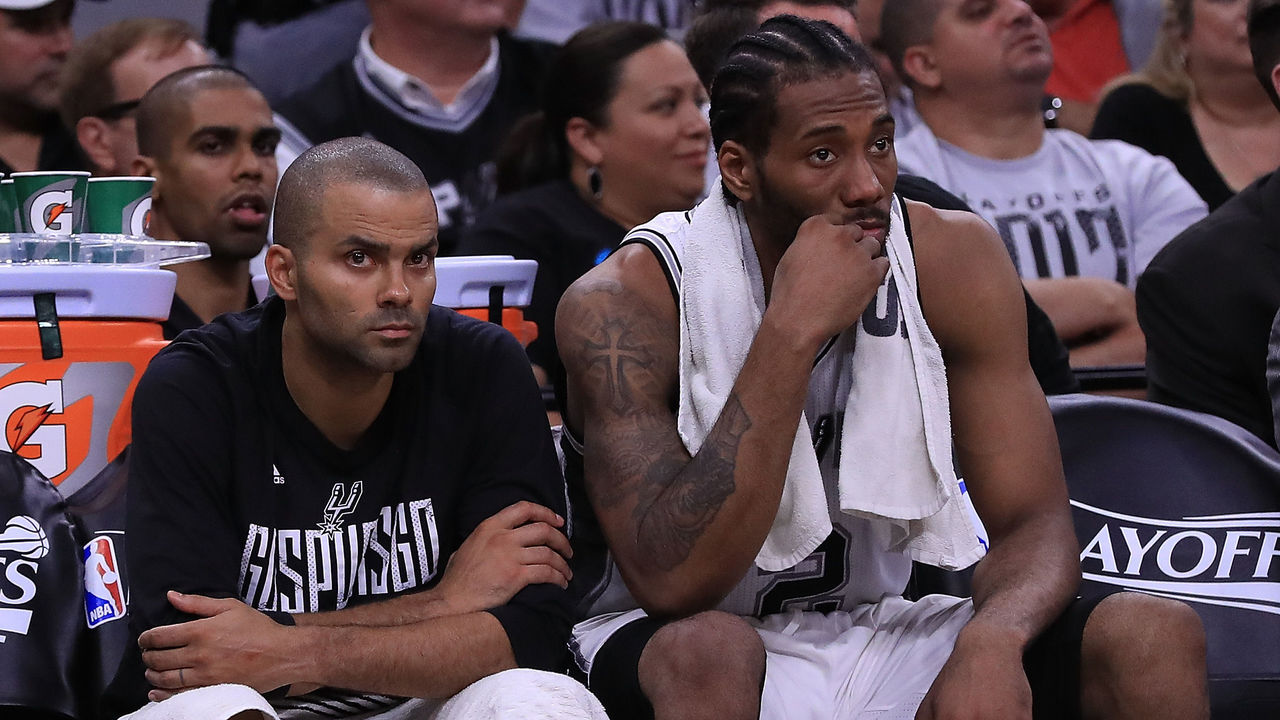 With Spurs fans waiting on Leonard's own medical team to give the go-ahead, players began speaking publicly about the situation with increased regularity.
Unbeknownst to the media until three days after its occurrence, the Spurs - reportedly led by Parker - called a players-only meeting on Saturday, March 18. There were conflicting reports about the tenor of the meeting, though Leonard's injury status was said to be a point of contention.
On March 21, veteran Manu Ginobili said the Spurs had to "think that (Leonard was) not coming back." Those words referred to the regular season and playoffs and proved to be prophetic.
For his part, Parker told the media on March 23 that his own quadriceps injury was the same kind of injury, but "a hundred times worse" than Leonard's.
By the end of the month, Kawhi was back to rehabbing away from the team in New York City.
May 2018 - Kawhi's future comes into focus
The Spurs' season ended on April 24 with a first-round playoff defeat at the hands of the Warriors, with Kawhi still out and noticeably absent from the sidelines.
It was reported in early May that San Antonio had grown worried Kawhi's inner-circle would attempt to force the team to trade its star wing to a more prominent media market. By the end of the month, the Spurs were said to be considering offering Leonard a five-year, $219-million designated player contract - the largest possible extension any team could offer.
June 15-21, 2018 - Kawhi wants out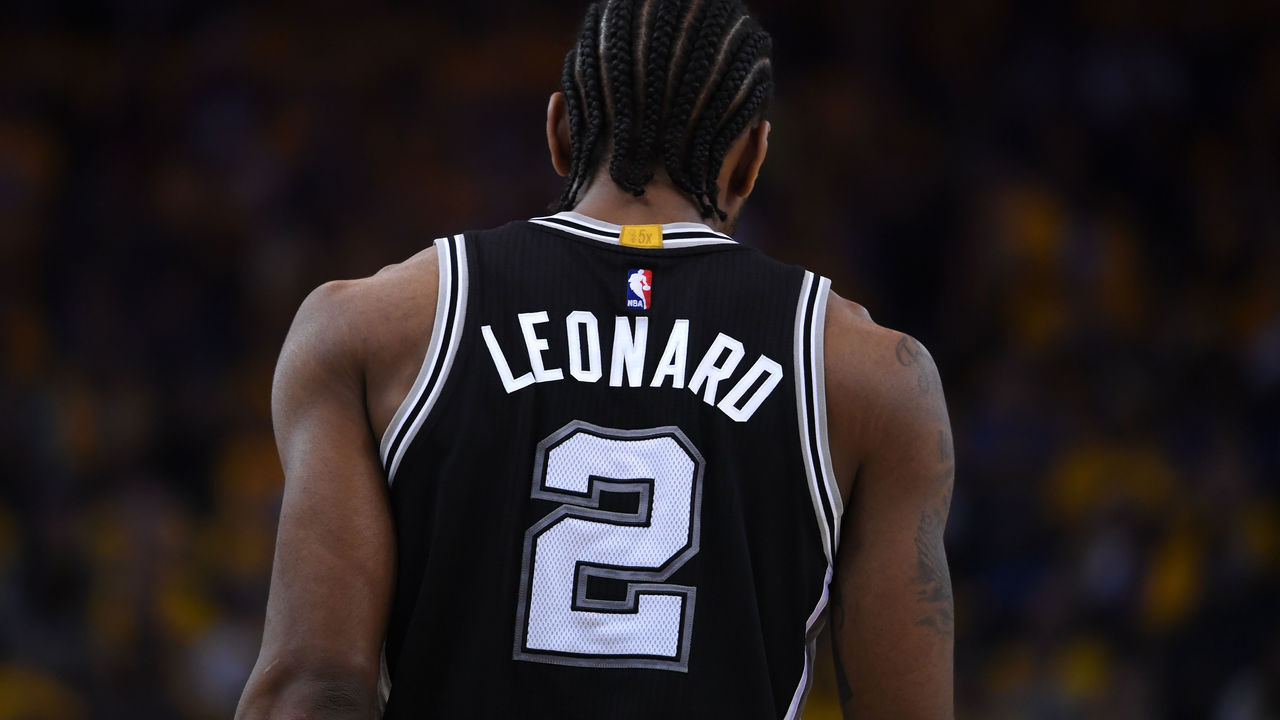 After months of beating around the bush, Leonard indicated his wish to be traded, preferably to the Los Angeles Lakers. He reportedly planned to tell teams he would sign in L.A. in 2019 when he could decline his 2019-20 player option and enter free agency.
On June 21, it was reported that while the Spurs were "willing listeners" to offers for Leonard, they had not yet begun actively shopping the superstar. With Leonard's camp angling at an L.A. homecoming and the Spurs looking to extract as much value for their rapidly depreciating asset, the back-channel announcements essentially kicked off trade watch for Kawhi in earnest.
June 28-July 6, 2018 - The "last straw"
By the end of June, it was clear that one way or another, the last remnants of the Spurs' dynasty were beginning to evaporate. According to ESPN's Adrian Wojnarowski and Zach Lowe, the comments made by Parker earlier in the season, comparing the two quad injuries, proved to be the "last straw" for Leonard.
On July 6, Parker would leave the Spurs first, after 17 seasons, signing a two-year deal with the Charlotte Hornets.
July 12-17, 2018 - Raptors emerge as Vegas favorites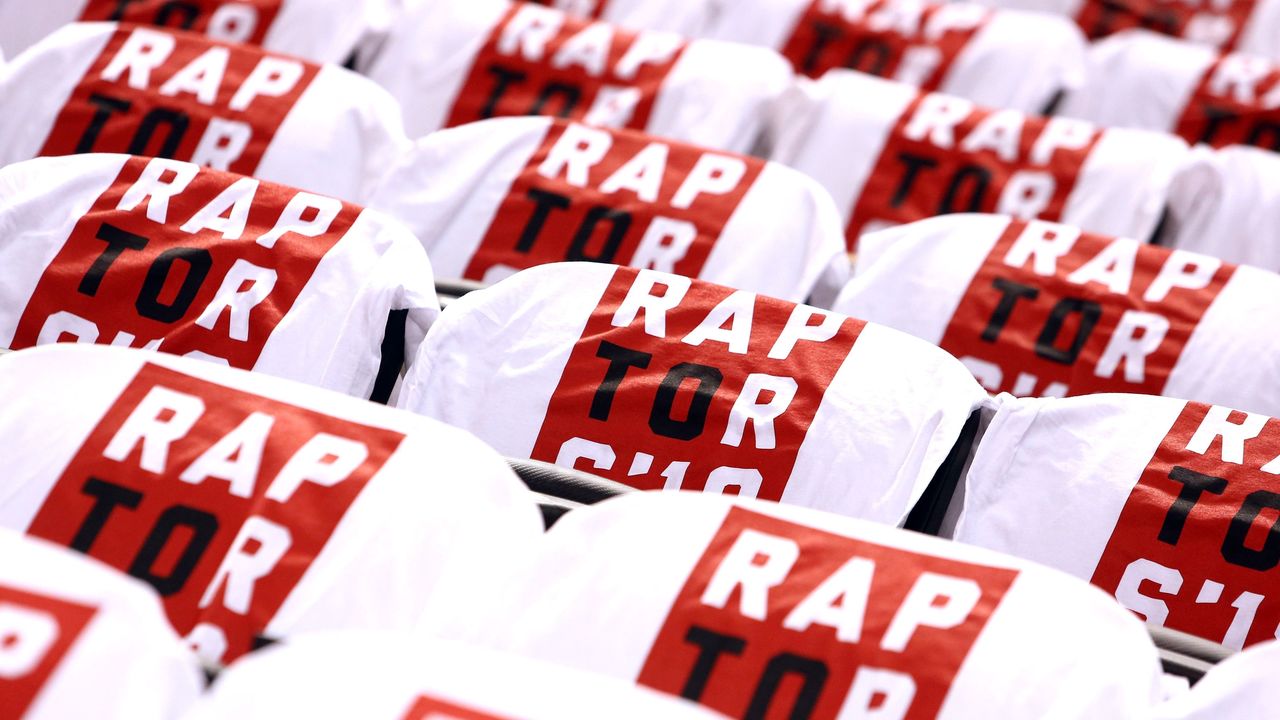 Much to the collective guffaw of denizens of the internet, the Toronto Raptors were given the best odds to land Kawhi for the 2018-19 season by sportsbook OddsShark.
Toronto was far from the only team to emerge as a potential suitor for Leonard, with the Lakers, Celtics, 76ers, Clippers, Nuggets, Wizards, Suns, and Trail Blazers each rumored to be linked at some point.
On July 17, however, the bidding war the Spurs surely sought had not materialized. In fact, there were more reports of which team wouldn't be involved in a Leonard blockbuster than which one would. For instance, the Sixers reportedly refused to include Joel Embiid, Ben Simmons, or Markelle Fultz, and the Celtics wouldn't part with any of Kyrie Irving, Gordon Hayward, Al Horford, Jayson Tatum, or Jaylen Brown.
The Lakers took the same approach to how they handled the Paul George situation last summer, evidently refusing to part with the necessary collection of young talent to acquire Leonard now when they arguably have the best chance of signing him next summer, anyway.
July 18, 2018 - Leonard traded to the Raptors
And here we are. The Raptors have officially acquired Leonard and Danny Green in exchange for a package featuring four-time All-Star DeMar DeRozan, third-year big man Jakob Poeltl, and a protected 2019 first-round pick.
(Photos courtesy: Getty Images)
Comments
✕
The why of Kawhi: A timeline of the last 14 months of tension and emotion
  Got something to say? Leave a comment below!