TORONTO - Measuring how far the United States men's national team has fallen might be an impossible task.
Intertwined intangibles like intensity and desire are also difficult to calculate, but it was clear Tuesday at Toronto's BMO Field that one side had far more of both.
Canada beat the USMNT for the first time since 1985, topping the visitors in a 2-0 result that could've been far more lopsided if not for some uncharacteristically untidy finishing from teen talents Alphonso Davies and Jonathan David.
John Herdman's side was first to most balls, displaying limitless energy and a collective motor the U.S. lacked; players such as unheralded blue-collar brethren Kamal Miller, Steven Vitoria, and Samuel Piette thrived in a combative affair.
The U.S., conversely, was drab.
Days removed from a USMNT-record, 13-minute hat-trick versus Cuba, Weston McKennie appeared more interested in barking at the ref than in making penetrative runs from the midfield. Forwards Josh Sargent and Jordan Morris were conspicuously feeble, and the midfield duo of Michael Bradley and Cristian Roldan was invisible save for a slew of heavy touches and misplayed balls. Same for the back four, who were just about as influential as the frail breeze that danced among the players on a chilly October night.
Christian Pulisic might have been the lone U.S. player with a legitimate excuse after the Chelsea benchwarmer's early dismissal was chalked up to an untimely illness.
When Gregg Berhalter spoke ahead of Monday's training session, the U.S. manager said motivating his side against an opponent that could taste the unfamiliar tang of blood wouldn't be an issue.
"I don't think intensity's an issue with us," Berhalter told theScore. "When you think of the heritage of who were are as a soccer nation, intensity comes right along with it."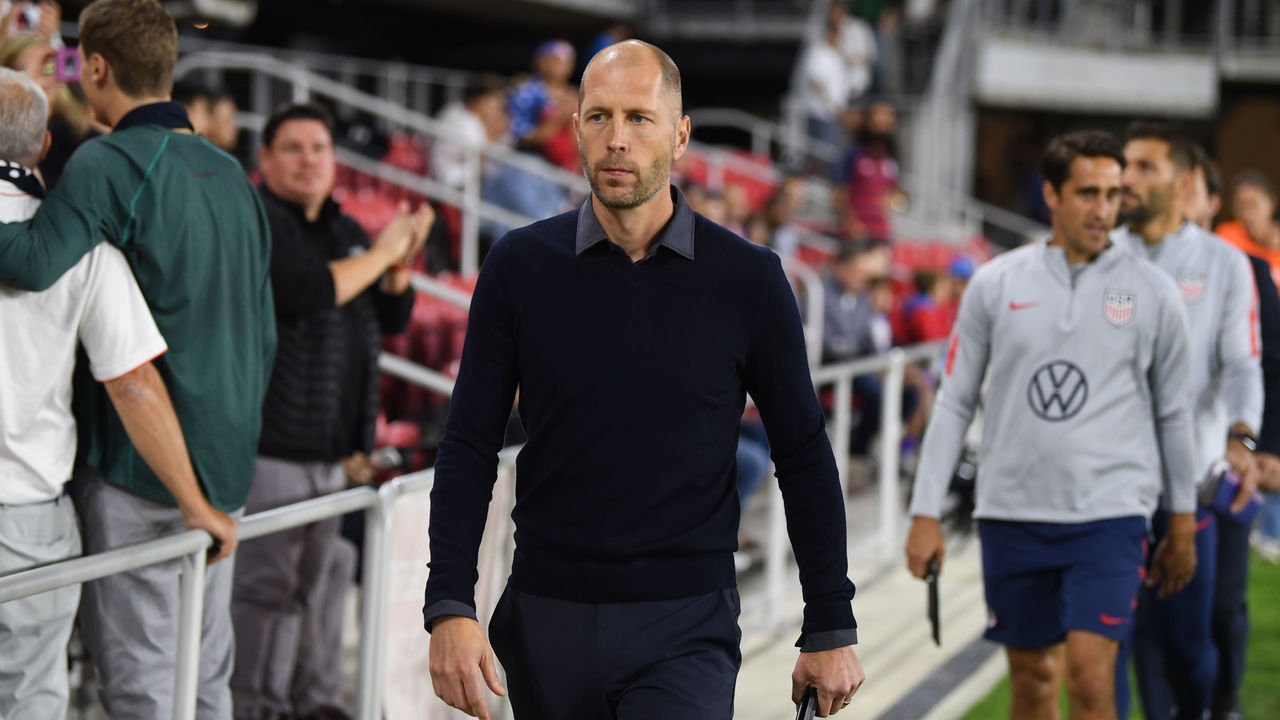 Curious just how drastically things can change overnight. When a noticeably nonplussed Berhalter spoke following the defeat, the manager tasked with overseeing a rebuild had changed his tune.
"I think the first thing that stood out to me was Canada's desire," Berhalter conceded. "Give them credit, but having said that, the minimum we expect is to match that."
He later added: "I wasn't happy with the desire we displayed tonight. Too many 50-50 balls we lost and that hurt us."
If the Americans were short on desire, the Canadians had it in droves. A match that initially seemed suited to Herdman's habit of keen and pragmatic tactical adjustments - the same habits he employed in an ultimately unsuccessful clash with Mexico - was instead determined by effort.
But Canada's Milan Borjan was effusive in his praise of Herdman following the Red Star Belgrade shot-stopper's second international clean sheet on the spin.
"I just want to say to him in front of all of you - thank you for bringing the spirit and belief and energy to these guys," Borjan said with a gesture to his manager at the post-match press conference. "This win goes to this man right here."
If motivation was all it took to win the World Cup, Herdman would use the iconic trophy as a paperweight.
Part of Herdman's job is that of a tactically astute tutor, and part is that of a motivator. Following Tuesday's one-sided victory, it's clear Canada's former women's national team boss is executing at both ends of the managerial spectrum.
"You're buzzing as a coach when you see guys step to that next level of human performance and binding as a group," Herdman said in an attempt to shift the praise.
The manager also spoke highly of Vitoria, Miller, Piette and early substitute Liam Fraser - players previously cited as examples of the quality with which Canada would never succeed.
When Herdman took the pitch to congratulate his players after the match, a hulking Miller hugged his gaffer with an intensity not unlike what Canada exhibited through 90 minutes. One could have excused Herdman for fainting under the full-back's constrictor-like grip.
Perhaps the U.S. thought it could play down to its opponents. Perhaps Berhalter's charges took Canada for granted. Perhaps it's time the U.S. considered itself a program discovering new lows, not one on the cusp of joining the world's best.
It might be easier for Berhalter to motivate that way.