Acuna's MVP form, three teams already in trouble, and 5 more observations
Megan Briggs / Getty Images
Leading off …
Ronald Acuna was not a poor performer last season, but he wasn't quite his MVP-level self.
He was returning from an ACL tear in his right knee that limited him to 116 games in which he posted a career-low 114 wRC+. Yes, he was still 14% better than the league-average hitter, but he wasn't Acuna.
The Atlanta Braves' franchise cornerstone appears to be back to 100% this season.
On Monday, he launched a towering home run into the third deck at Citi Field, a place where very few baseballs have landed. Only Pete Alonso, Yoenis Cespedes, and Aaron Judge have also reached that rarified real estate.
His skills are looking more like they did before the knee injury, with the added gain of cutting his strikeout rate by nine percentage points.
Last year his swing flattened, he had less power, resulting in a 2-mph decline in average exit velocity. There was also a decline in his fly-ball rate.
This year, he is enjoying the greatest average exit velocity of his career (95.5 mph), which ranks second in baseball, trailing only the Blue Jays' Matt Chapman. Acuna's 4.0-mph improvement ranks as the 11th-greatest jump among hitters with at least 80 plate appearances this season.
His MVP-level form is a reminder that players are not often at 100% when they return from a serious injury. And at 25, Acuna might still have another level to reach.
"I'd say the only difference is last year I had to battle with some pain in the knee … it comes with recovering from that type of injury," Acuna told theScore via an interpreter late this spring. "Just being able to practice, and train at 100%, without any restrictions, was (important)."
Braves hitting coach Kevin Seitzer said that without Acuna having his lower body at 100%, it sapped his power last season.
"(This spring) his swing looks like it did before," Seitzer said. "Last year, we were trying to make adjustments with his swing … but his power, his hand speed, comes from his lower half. And it was his right knee, so he didn't have that explosive backside that he's had that made him Ronald Acuna.
"When hitters start to compensate with their upper body, they lose the bat speed, things flatten out, or you get steep, you get long."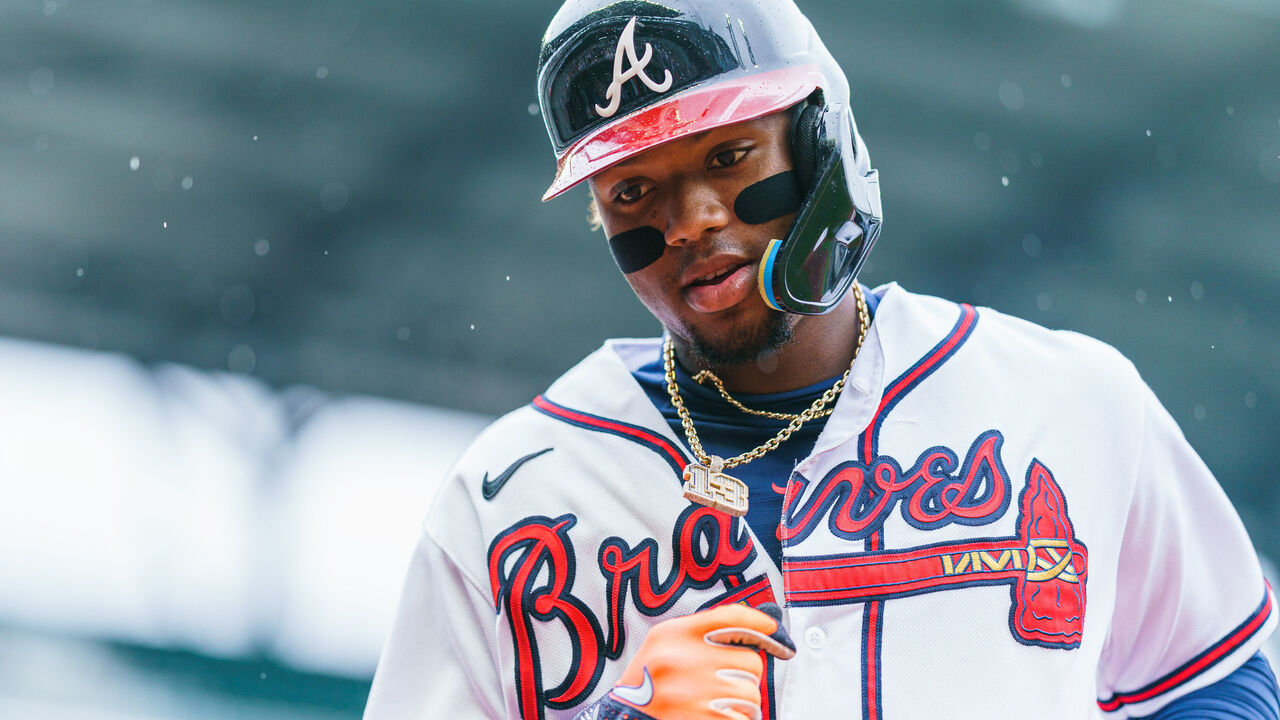 There were also some questions about how much he'd run, but he leads the majors with 15 steals. He's been caught only twice.
FanGraphs projects him to finish with a 31-homer, 48-steal season, and 7.2 WAR. There are only four members of the 40-40 club in MLB history. Acuna finished with 41 home runs and 37 steals in 2019.
"Hopefully one day I will be able to get 40-40, but my real goal is to stay healthy," Acuna said.
If he does, he might just land his first MVP award.
No. 2: Wander is here
We profiled the uber-talented Wander Franco last spring to understand how his precocious skillset was born. Part of the Tampa Bay shortstop's unusual talent level can be explained by environment: His hometown, Bani, Dominican Republic, has produced more major leaguers, per capita, than anywhere else in the world. The older kid he grew up playing with down the street? Cleveland star Jose Ramirez.
He might have broken out last season had he not suffered injury setbacks. He hit .313 with four home runs last April before leg and wrist injuries derailed his season.
This year he's off to another tremendous start, on pace for a 30-30 season at age 22.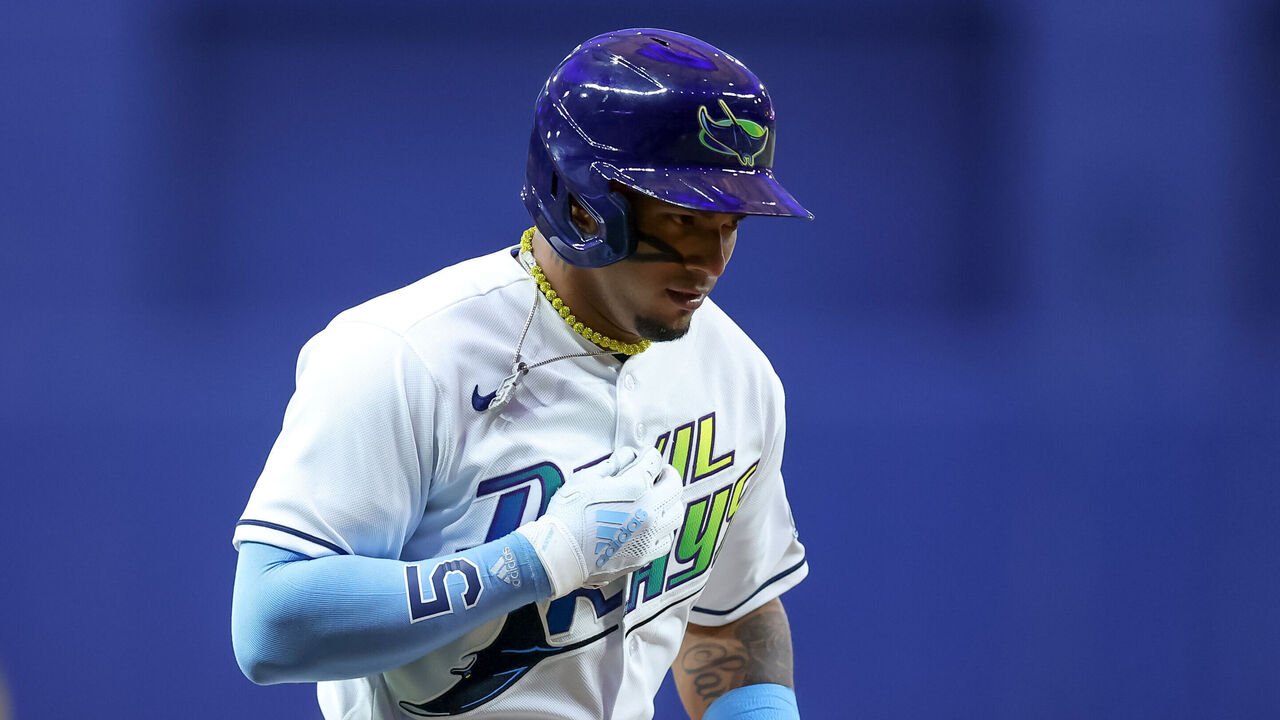 How many shortstops age 22 or younger have hit 30 or more home runs in a season? One: Alex Rodriguez. (He pulled off the feat as a 20-year-old in 1996 and a 22-year-old in 1998).
Only five 22-year-old and younger shortstops have hit 25 home runs and batted at least .300. Franco is on pace to join that group, too. Always in possession of elite hand-eye coordination and hit tool, he's increased his average exit velocity and raised his average launch angle this year.
He joins Acuna as the two most talented 25-and-under position players in the game. They're both in the top five in FanGraphs WAR this season.
When you're that skilled, you can get away with this:
No. 3: The Yankees are in big trouble
Aaron Judge is on the injured list with a hip strain. Carlos Rodon, who has yet to make an appearance this season because of a forearm strain and a back problem, had a setback in his latest throwing session.
"He can't get over that final hump," manager Aaron Boone said of Rodon.
Just as he returned from injury Wednesday night, Harrison Bader had to leave the game after a collision. There's been some poor fortune thus far in the Bronx. But there's also been some questionable planning.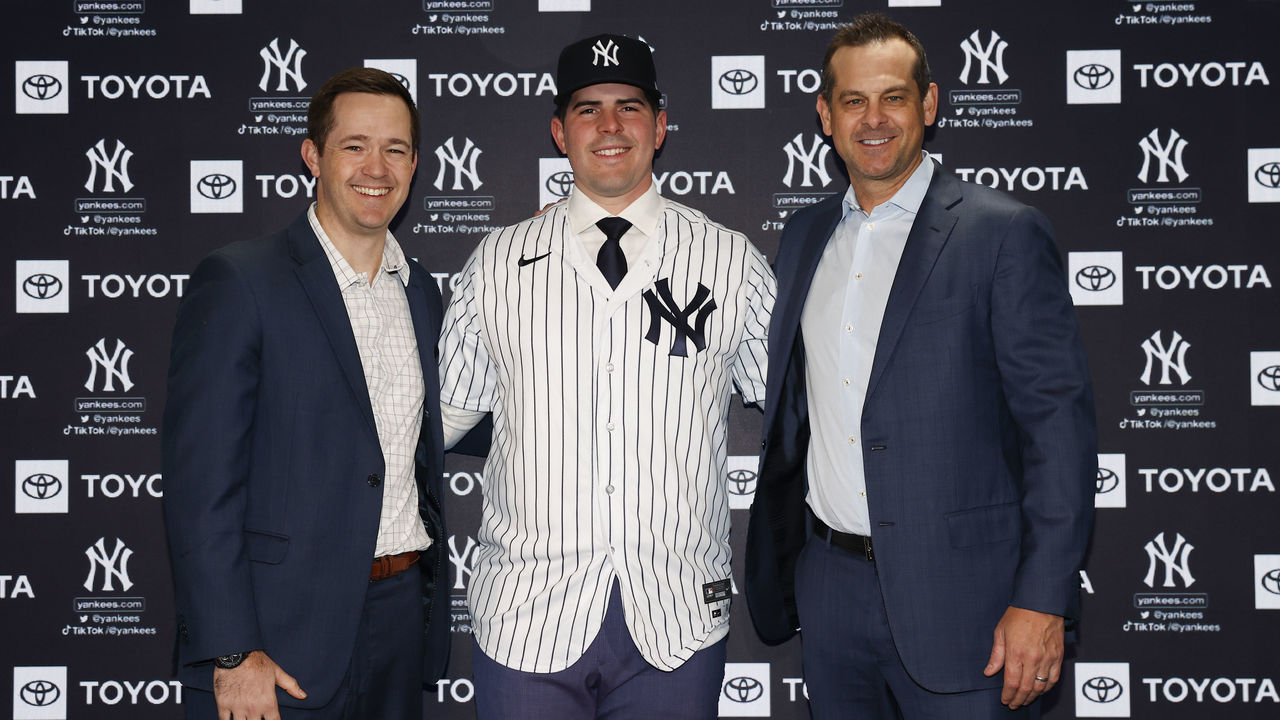 Rodon, Giancarlo Stanton, Josh Donaldson, Luis Severino, and even Judge have lengthy injury histories. Those players account for $131 million of the club's Opening Day $277-million payroll.
The lineup now appears as anemic as any Yankees lineup in recent memory. Names such as Jake Bauers, Isiah Kiner-Falefa, and Willie Calhoun are populating it this week.
The Yankees entered play Friday ranked 23rd in wRC+ (88), meaning they were 12% worse than a league-average lineup. That's three spots below Oakland. The Yankees also rank 26th in runs scored per game.
The club is 6-0 in games started by Gerrit Cole but 11-15 in other games.
Although they are 17-15, they are in last place in the AL East. They haven't finished at the bottom of a division since 1990.
Yankees GM Brian Cashman spoke to reporters for 28 minutes Wednesday, emphasizing that if healthy he still believes the Yankees can still be a "championship" team.
"The worst thing that could happen is when you have a lot of stuff happening at the same time, which is going on with us right now," Cashman said.
Of course, it's not just the injuries - it's trading away depth and prospects in recent years for questionable short-term returns such as Joey Gallo, Sonny Gray, and Frankie Montas at the last two trade deadlines.
While the season is still young, the Yankees are certainly no lock for the postseason, though FanGraphs is still quite bullish on the club and gives them a 64% chance, which is down from 81% in the preseason. That seems too optimistic. The Yankees have to get healthy quickly. And even that might not be enough in a tough AL East.
No. 4: The Cardinals might be in even deeper trouble
The Cardinals entered play Friday 10 games behind the division-leading Pittsburgh Pirates. ​​The Cardinals have not been so far out of first place on May 1 of a season since 1907.
The Cardinals' lineup has been average, although Nolan Arenado has yet to lock in.
More worrisome is they simply don't have a bat-missing impact starter. That's especially problematic in the shift-ban era. St. Louis' staff is a collection of middle- and back-of-the-rotation arms. The starters rank in the bottom third in strikeouts and ERA.
I thought that would be more of a postseason problem preventing the club from advancing deep into October, but now the Cardinals might face an issue in simply getting to the playoffs. There must be urgency to address the rotation.
It's past time to call up Matthew Liberatore, who appears to have made real skill gains with a career-best 33.8% strikeout rate in Triple-A.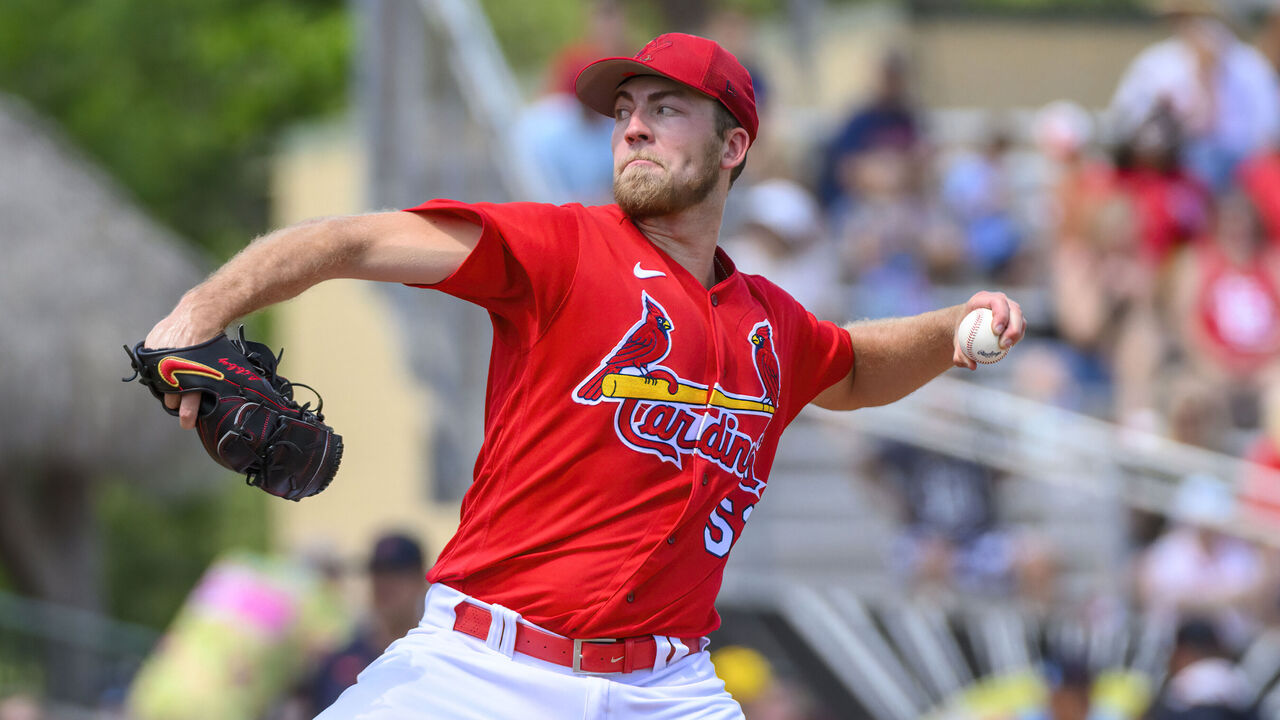 And it's time to find external help, too.
Cleveland entered play Friday with just an 80 wRC+ and a surplus of pitching - at least when everyone is healthy. Prospects Logan Allen and Tanner Bibee have debuted in recent weeks, and both, to date, have been excellent. Gavin Williams and Cody Morris are other prospects expected to contribute this year.
The Cardinals have impact young bats, the Guardians impact arms. They should hop on the phone.
No. 5: Also in trouble? The reigning champs
A day after Houston Astros pitcher Jose Urquidy was placed on the IL with shoulder soreness, Luis Garcia left his start in the first inning Monday with a right elbow issue. The Astros, who already lost Justin Verlander to free agency, have seen their rotation become depleted early this season. They are no longer the player development factory they were in their recent heyday as their prospect pipeline is drying up.
In addition to the pitching woes, the lineup has lost its firepower with injuries to Jose Altuve and Michael Brantley, and flatlining power numbers from free-agent pickup Jose Abreu. Abreu has hit just one home run in his last 85 games entering play Friday. Minute Maid Park is only favorable to right-handed batters if they are pull-heavy, something Abreu is not.
The Astros are still talented, but they are also in decline. The AL West is wide open.
No. 6: How tough are things for the White Sox?
They made 11 roster moves on Tuesday. Eleven, including designating pitchers Jake Diekman and Franklin German for assignment.
They even brought up Billy Hamilton, who's only had 194 plate appearances in the previous three seasons. But he can still create havoc on the bases. He scored from second on an infield ground ball Wednesday night (he was running on the pitch). I'm still begging a club to employ Hamilton as a super sub, and have done so since 2018, even though Hamilton called it the "stupidest idea" he's ever heard when I presented it to him back then.
No. 7: When patient is too patient
One scout I spoke with a couple of weeks ago wondered if the Padres' Juan Soto, who has an elite batting eye, is too discerning in his pitch selection, sapping some of his ability to do damage. His swing rate at pitches in the strike zone at the time was a career-low rate (54%), down from 63% in his 6-WAR, 34-homer breakout season in 2019 at age 20.
Entering play Friday, Soto is hitting .227 but has a .397 on-base percentage. His wRC+, despite being above average at 131, is at a career low.
While plate discipline is important, the ideal outcome for a batter is not to draw a walk, it's to produce impact hits. Since the start of last season, only five MLB hitters have watched more called strikes pass through the "heart" of the strike zone, according to Baseball Savant. In other words, Soto may be letting too many opportunities pass him by.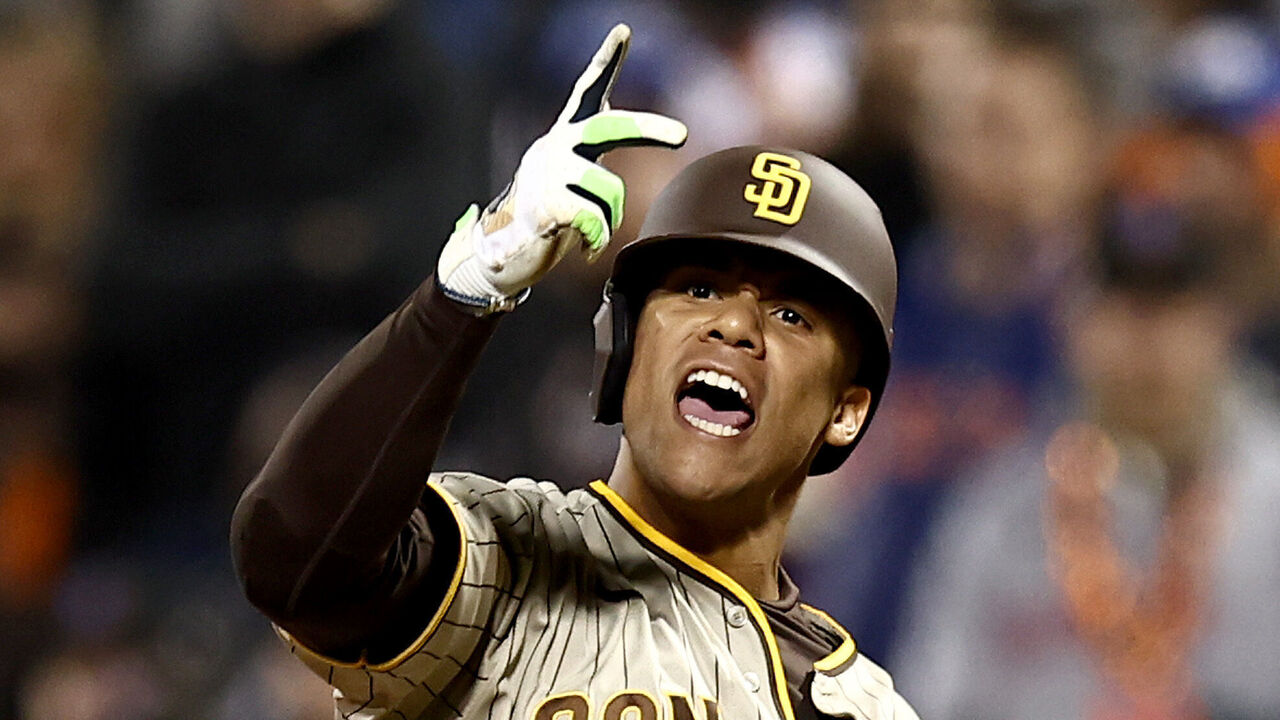 Soto warmed up this week and increased his overall swing rate to 38.9% over the past seven days. His zone swing rate has rebounded to 58.9%, but that's still almost four percentage points below his career rate. A more aggressive Soto is just what the Padres need.
No. 8: Can the Rangers keep it up? It's all about one arm
Is the Texas Rangers' 18-12 start sustainable? A large part of that is dependent upon the health of Jacob deGrom, who remains the best pitcher in the game when he's healthy. The Rangers are 6-0 in his starts.
DeGrom is back on the IL, where he's spent so much time in recent seasons, with elbow inflammation, though no structural damage was found on the MRI. It's unclear how much time he will miss.
From 2016-20, deGrom was one of the most durable starters in the game, tossing the fifth-most innings. He's spent time on the IL in each of the last three seasons and failed to reach 100 innings in either of the last two years. While the stress fracture seemed to be a freak injury last spring, elbow issues in 2021 and this season are more concerning.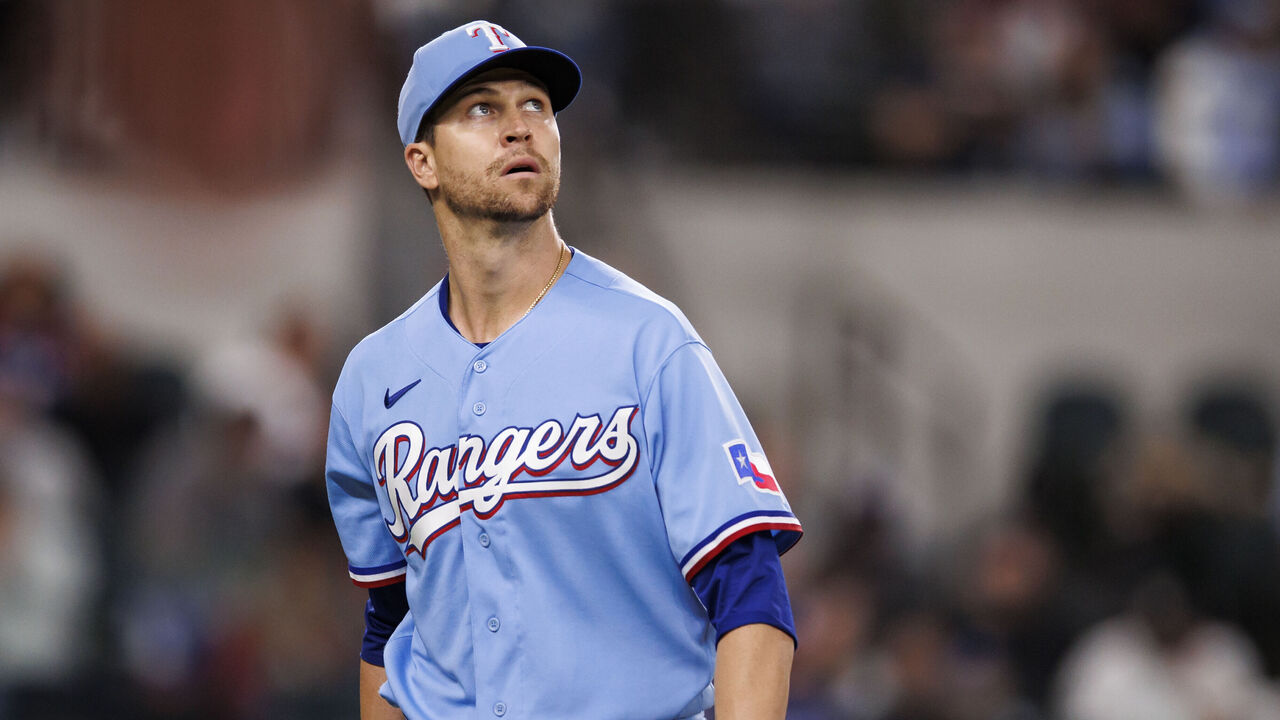 The Rangers' $185-million investment in deGrom was still worth the risk, I believe, and if he can give the team 130-plus innings this year, they could very well take down the weakened Astros in the AL West.
No. 9: Cold arms
MLB pitching had its worst April ERA (4.36) since 2004, and early-inning blowups have been particularly common. Pitchers' first-inning ERA (5.01) was the worst since 2006 (5.36). Perhaps March and April were just outliers, but maybe starters are struggling to get into the flow of games with the new rules.
Stat of the week
7,349 | Feet above sea level of Mexico City's Estadio Alfredo Harp Helu, where the San Diego Padres and San Francisco Giants played a two-game series last weekend. The stadium's elevation is 2,000 feet above that of Coors Field, which is a big deal as baseball physics expert Dr. Alan Nathan demonstrated on Twitter.
If MLB is to ever expand to Mexico, Monterrey might make more sense as the city is only 1,770 feet above sea level and almost 600 miles closer to the U.S.
They said it:
◾️ "Anything is possible. Never give up." - Pirates infielder Drew Maggi after appearing in his first major-league game last week after 13 years and 4,491 plate appearances in the minor leagues.
◾️ "Sometimes I sit in ownership meetings and I think, 'How in the world could these guys have made money to buy a team?'" - White Sox owner Jerry Reinsdorf speaking during a Milken Institute Global Conference panel called 'Game Changers.'
◾️"People were paying for sports who really didn't want the sports. … Streaming is coming along but it doesn't produce the money that the cable bundle produced. And there's basically near panic because where are we going to replace this money in the short term?" - Reinsdorf on the RSN issues teams are facing due to cord-cutting.
You don't see that every day
Don't believe anyone who says they were there for the Miller vs. Miller duel. Two of the most promising young arms to debut this year faced off in front of an announced crowd of only 2,583 fans in Oakland.
Starting Lineup is a bi-weekly collection of reporting, observations, and insights from the Major League Baseball beat.
Travis Sawchik is theScore's senior baseball writer.