Winners and losers from the winter meetings
Is it ever nice to have the winter meetings back. After a several-year hiatus, MLB's silly season returned with over $1 billion handed out over several wild days in San Diego. Here are our winners and losers:
WINNERS
Aaron Judge
Boy, did this bet pay off.
After rejecting New York's seven-year, $213.5-million offer in spring training, Judge pretty much had the Yankees over a barrel as the American League single-season home-run king. The result was a nine-year, $360-million deal that was nearly 70% better than the initial proposal he declined.
The Padres apparently offered far more than what he signed for, while the Giants represented a homecoming and a boyhood dream. The threat of New York losing him to California seemed to be very real - or at least, Judge made it seem that way. If the first choice was always staying in New York, then Judge and his agent played this entire game to perfection, backing the Yankees into a corner until they paid up.
So, now Judge gets to be a Yankee for life on a contract that'll make him rich beyond most people's wildest dreams. Forget the winter meetings - he might be the biggest winner of the offseason already.
Free-agent starting pitchers
The starting pitching market exploded during the meetings, perhaps beyond what most were expecting. While Justin Verlander got the massive payday he was looking for from the Mets, it was the middle tier that really emerged victorious.
Andrew Heaney's two-year, $25-million deal in Texas was a harbinger of things to come. (He apparently turned down even more money from Boston and Toronto to pitch closer to his native Oklahoma City.) Jameson Taillon parlayed two middling years with the Yankees into a four-year, $68-million deal with the Cubs, while the Phillies continued their spending spree by handing Taijuan Walker $72 million.
Heaney, Taillon, and Walker will likely get thank-you notes from the likes of Ross Stripling and Chris Bassitt, whose costs have no doubt skyrocketed in the last 72 hours. The remainder of the top tier, including Carlos Rodon and Japanese star Kodai Senga, should now easily get deals in excess of $100 million. Pitching has never been so lucrative.
Dave Dombrowski
Dombrowski wasn't about to sit on his laurels after the Phillies' surprising World Series run. The future Hall of Fame executive did it again, luring more star power to Philadelphia in the form of shortstop Trea Turner on an 11-year, $300-million megadeal. Then he opened owner John Middleton's wallet some more, handing $72 million to Taijuan Walker and another $15 million to lefty reliever Matt Strahm.
If that wasn't enough, Dombrowski also nabbed two players from his former club in the Rule 5 Draft.
Dombrowski is one of baseball's most fearless executives who'll stop at nothing to win. That's all you can really ask for as a fan.
Cody Bellinger
Bellinger was one of the offseason's most fascinating free agents. Many wondered what type of contract the 2019 National League MVP would be able to secure after being non-tendered by the Dodgers. Bellinger's agent, Scott Boras, made it clear from the get-go that his client was looking for a one-year "pillow" deal to try and rehabilitate his value following consecutive dreadful seasons.
Bellinger's pedigree and talent enticed a number of teams, including a few that wanted to ink him for multiple years. Ultimately, Bellinger decided on the north side of Chicago, signing a $17.5-million pact with the Cubs. On paper, it seems like a really nice fit. The Cubs had a gaping hole in center field as well as a glaring need for some power from the left side of the plate.
Bellinger might benefit from a change of scenery in Chicago. The slugger hasn't been the same player since he dislocated his shoulder while celebrating a home run during the 2020 postseason. If he can stay healthy and make the necessary mechanical tweaks to his swing, it wouldn't rate as a huge surprise if Bellinger cashed in on a long-term deal at this time next year.
Justin Verlander
Fresh off his third career Cy Young and second World Series title, Verlander was looking to get paid. Luckily for him, the Mets were very willing to pay up after losing Jacob deGrom. Verlander parlayed that desperation into a two-year, $86.66-million deal that's tied with new teammate Max Scherzer for the highest average annual value in baseball history. Not bad for a 39-year-old on the other side of Tommy John surgery.
Xander Bogaerts
Wow. This contract is jaw-dropping. The Padres missed out on Turner, and then Judge, only to pivot to Bogaerts. It was clear that A.J. Preller wasn't leaving the winter meetings without a star acquisition, and he accomplished that in the late hours Wednesday.
Bogaerts is a fantastic player who just posted a career-high 6.1 WAR thanks in large part to his much-improved defense. He's a five-time Silver Slugger who excelled in one of the toughest markets in Boston. Still, $280 million blew the doors off the expected ceiling. Maybe it shouldn't have been a surprise after seeing what the Phillies gave Turner.
Is it an overpay? Absolutely. But landing star free agents will never come cheap. The Padres knew that, and they were rewarded for their boldness. After making $85 million across his first 10 seasons, Bogaerts will make more than three times that over the second half of his career.
Guardians
The Guardians desperately needed an infusion of power into a lineup that finished second last in home runs last season. Although he struggled after a deadline deal to the Padres, Josh Bell should be an ideal fit for Terry Francona's lineup.
Bell sits 10th among MLB first basemen since 2019 with 89 home runs and seventh in RBIs over that same span. It was painfully clear that Cleveland needed more offensive firepower after the team mustered just 17 runs and a paltry .580 OPS across its seven playoff games.
If Bell can recapture the form he showed with the Nationals in the first portion of 2022 (.301 average and 14 home runs), the Guardians will feel very good about their two-year, $33.5-million investment in the switch-hitting slugger.
LOSERS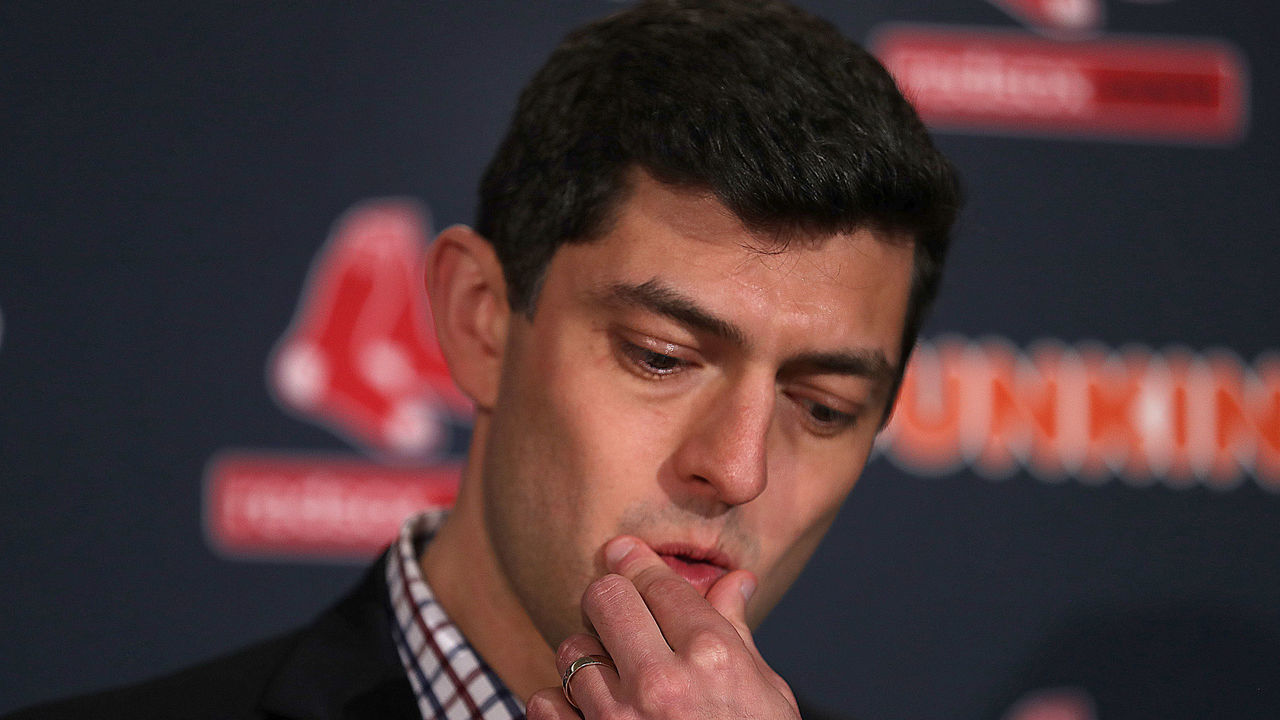 Boston Red Sox
The Red Sox aren't losers for letting Bogaerts walk over $280 million. That's a pretty bad contract for a player entering his age-30 season. However, Boston should be on the hook for not extending Bogaerts when the club had the chance. The team reportedly offered him an additional year in the spring that would've raised his contract to $90 million over four years. That's just insulting based on his resume and what he's done for the Red Sox over the past decade. Now the four-time All-Star and two-time World Series champion will be a distant memory, just like Mookie Betts when he was traded because he was "too expensive" for one of pro sports' marquee franchises.
The Bogaerts departure leaves a sour taste on what had been an otherwise decent start to Boston's offseason. The additions of Chris Martin and Kenley Jansen to the bullpen should serve as a major boost, and the big-ticket signing of Masataka Yoshida for $90 million appeared to signal the team thought a turnaround in 2023 was on the horizon. But the fact that the club offered Bogaerts just $70 million more than it did to a 29-year-old outfielder who's never played in the majors makes it all puzzling.
Chicago Cubs
It seems like the Cubs have added players over the last two years just to tell their fans they're spending money. Chicago gave Taillon $68 million and picked up Bellinger, but the team also watched as its franchise catcher, Willson Contreras, bolted for the arch-rival Cardinals. If the Ricketts family wanted to pay up, the Cubs could've brought back Anthony Rizzo, or lured Jose Abreu up from the South Side, or done far more to make the team competitive in 2023. The NL Central is winnable if the Cubs want to contend. It doesn't feel like they do.
San Francisco Giants
For a fleeting moment, it looked like the Giants were going to pry Judge from the Yankees. Social media buzzed after reports started circulating that "Arson" Judge was planning on taking his talents to the Bay Area. Unfortunately for Giants fans, that euphoria proved to be short-lived. Farhan Zaidi secured outfielder Mitch Haniger on a three-year deal, but the Giants once again couldn't land the big fish they've so desperately coveted over the past few years.
Judge joins Bryce Harper and Giancarlo Stanton on the list of San Francisco's failed superstar pursuits. Zaidi could pivot to try and sign star shortstop Carlos Correa. That'd go a long way to helping salvage the offseason. However, the Giants still feel worlds away from their incredible 2021 campaign without the next pillar of their franchise. They look to be extreme long shots to put pressure on the likes of the Dodgers and the Padres in the NL West next season.
Chicago White Sox
Does anyone know what the White Sox are doing? General manager Rick Hahn has mused about a "blockbuster" trade to shake up the roster, but they've done nothing to indicate they want to play in the deep end this winter.
The White Sox plummeted to .500 last year after two straight playoff berths signalled the end of their long and painful rebuild. Franchise icon Abreu has already left for a better chance at playing in October. Hahn's only major move came before the winter meetings when he signed Mike Clevinger to a one-year deal. A Clevinger rebound would be good news in the short term, but it means nothing if they want to sustain this young core long term.
Ultimately, the Sox are going to have to pick a direction. By standing pat over the last three days, they've come no closer to making a decision. Meanwhile, more and more free-agent and trade targets are coming off the board. The White Sox wasted a really good opportunity to make a splash, and who knows if it'll come their way again.
New York Mets' rotation
Yes, the Mets got Verlander to replace deGrom and team up with Scherzer, and they added Jose Quintana. That's not a bad haul, especially considering what they lost in deGrom and Taijuan Walker. But they still need more. A third mid-rotation starter, such as Ross Stripling, would go a long way for the Mets heading into the season.
The Mets are still a very good team, albeit one that's a work in progress. They left San Diego with a couple of nice prizes, but not everything they needed. Billy Eppler and Steve Cohen still have some shopping left to do.
Toronto Blue Jays
When the Blue Jays dealt slugger Teoscar Hernandez to the Seattle Mariners on Nov. 16, many assumed it was a precursor to a bigger move. So far, that hasn't been the case as Toronto has been eerily silent. The Blue Jays are still actively looking for starting pitching help and are "engaged" with a number of players, according to assistant general manager Joe Sheehan.
That's all fine and dandy, but other playoff contenders are making big moves. The Blue Jays must find a way to add some impact in the near future so they can try and continue the upward trajectory they've been on since 2020.
The clock is ticking with young stars Vladimir Guerrero Jr. and Bo Bichette inching closer to free agency. General manager Ross Atkins has always been meticulous in how he looks to improve his roster each offseason, but there needs to be a heightened level of urgency to maximize every opportunity to win. Accomplishing nothing at the meetings feels like a bit of a letdown.
Comments
✕
Winners and losers from the winter meetings
  Got something to say? Leave a comment below!