Game 2 of the 2017 World Series will be remembered for a long time as a crazy, home run-fueled marathon that turned into an instant classic.
Even before Wednesday's 11-inning nail-biter was completed, it had already entered World Series lore as one of the most exhilarating games to ever be played in the Fall Classic. But while Game 2 was a roller-coaster ride of insanity, plenty of other World Series contests rival it in terms of sheer craziness. Let's take a look back and rank Wednesday's contest among the 10 wildest games in World Series history.
10. 2005 Game 2: White Sox 7, Astros 6
The Astros apparently love nutty World Series games. Game 2 in 2005 featured a memorable game-changing grand slam from White Sox slugger Paul Konerko, although it actually didn't factor into the decision after the Astros tied it in the ninth. But the White Sox still came out on top in remarkable fashion when Scott Podsednik - a light-hitting leadoff man who had hit a grand total of zero homers all year - walked it off against All-Star closer Brad Lidge. That's baseball.
9. 2016 Game 7: Cubs 8, Indians 7 (10)
How fun was this classic from one year ago? From David Ross becoming the oldest player to homer in a Game 7 to Rajai Davis' jaw-dropping blast off Aroldis Chapman, to the Cubs finally vanquishing their ghosts after a rain delay - and don't forget the Indians almost pulling it out in the bottom of the 10th. Few will ever forget this wild night.
8. 1997 Game 3: Marlins 14, Indians 11
The coldest World Series game ever played - 38 degrees at first pitch - was also one of the lousiest. The Indians and Marlins combined for 26 hits in this insane marathon that was tied at 7-7 through eight. Then Florida scored seven in the ninth to pull away, only to allow another four Cleveland runs in the bottom half before finally, and mercifully, ending things.
7. 1975 Game 6: Red Sox 7, Reds 6 (12)
A 12-inning classic that featured lead changes, dramatic catches, a memorable game-tying shot, and Carlton Fisk waving it fair. Even the players knew this was an all-timer as it was happening. In the category of truly bizarre or even "ugly" games, this ranks a bit lower - but 42 years later, the whole night remains a magical and wonderful roller coaster of wild baseball.
6. 2005 Game 3: White Sox 7, Astros 5 (14)
Hey, look, it's the Astros again. The third game of 2005 is tied for the longest World Series contest by number of innings. It saw a combined 17 pitchers used and was decided on a homer by Geoff Blum in his only at-bat of the series. Then, the White Sox Game 2 starter, Mark Buehrle, got the save in the bottom of the 14th - but only after he'd finished drinking "a few" beers in the clubhouse.
5. 2017 Game 2: Astros 7, Dodgers 6 (11)
Last night was insane on so many levels. The lead changes, the homers, Dave Roberts' bullpen management. It wasn't the best game tactically, but boy was it a fun one, and is easily a top-five wild World Series game. Still, you've got to trust us - this wasn't the zaniest ever, even if it's the most recent in your mind.
4. 1986 Game 6: Mets 6, Red Sox 5 (10)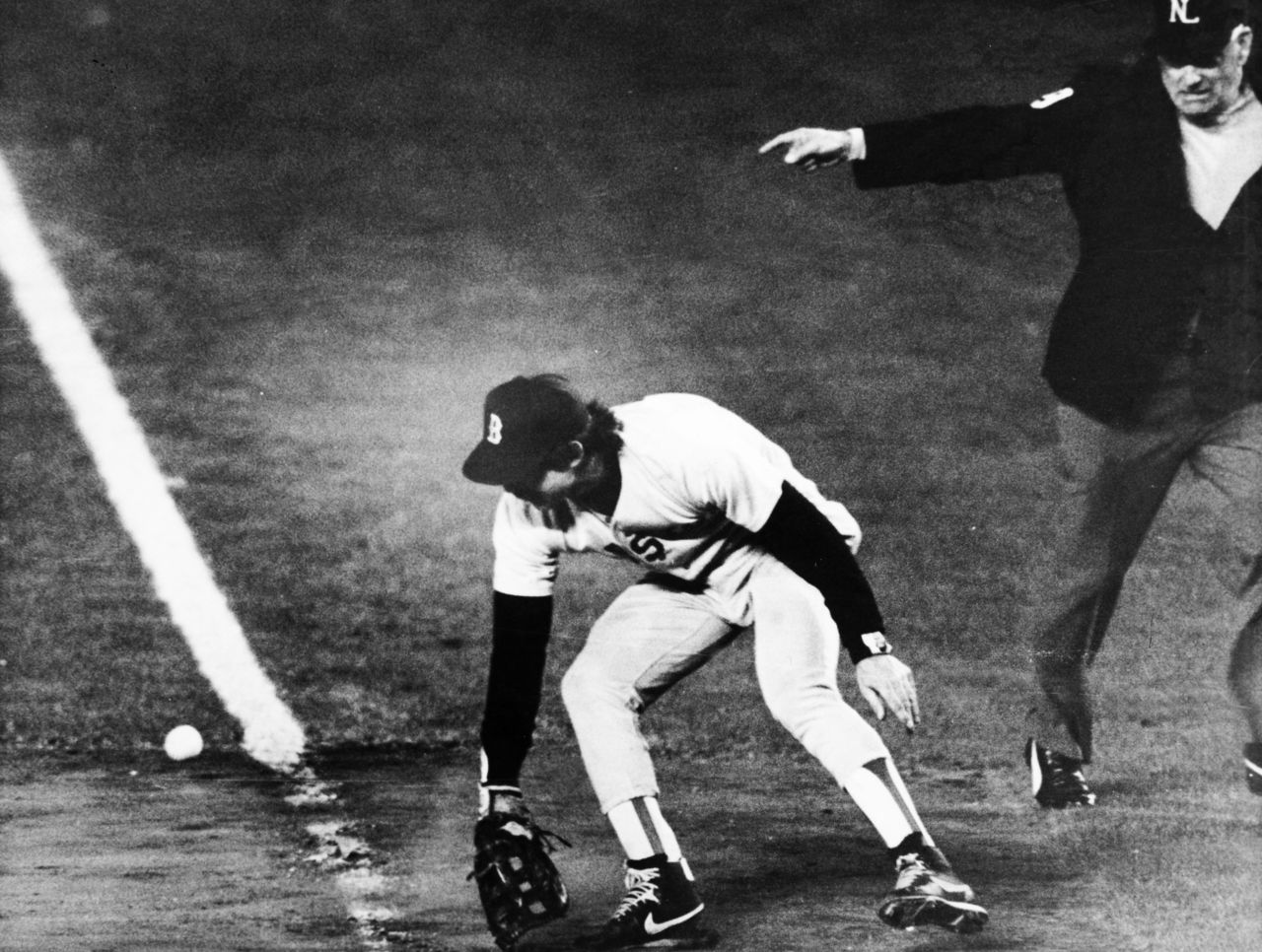 (Courtesy: Getty Images)
Boston scored two in the top of the 10th, Shea Stadium accidentally congratulated the Red Sox before the game was over, and then the most famous rally ever started. Bob Stanley threw a wild pitch, and, well ... you know the rest. Here's Vin Scully and RBI Baseball to reconstruct the insanity for you.
3. 1960 Game 7: Pirates 10, Yankees 9
David slew Goliath in 1960, but it took about 1,000 slingshots to do so. The lead changed hands four times - twice in the final two innings - during this off-the-wall Game 7 that incredibly featured zero strikeouts and also saw a Pirates rally start on a ball that bounced off a pebble and into Yankees shortstop Tony Kubek's throat. Then Bill Mazeroski hit the only walk-off homer in a World Series Game 7, because of course he did.
2. 2011 Game 6: Cardinals 10, Rangers 9 (11)
This game saw twelve lead changes when including plays that tied it up. It had a series-changing snafu by Nelson Cruz with the Rangers one strike from a championship, which was almost erased by Josh Hamilton's go-ahead blast in the 10th - and even that lead didn't last. St. Louis native David Freese saved the Cardinals with his ninth-inning triple, and then again with his 11th-inning walk-off homer. This game had everything and left your head spinning.
1. 1993 Game 4: Blue Jays 15, Phillies 14
Played on a cold, rainy night at Veterans Stadium, the Blue Jays and Phillies combined for 29 runs on 32 hits in the strangest, ugliest, highest-scoring, and wildest World Series game in history, which was somehow still a lot of fun. The score was 7-6 after three innings, and the game's lasting image remains Toronto starter Todd Stottlemyre pitching with a bloody chin (and possible concussion) after executing the worst slide in history.
The Phillies took a 14-9 lead into the eighth inning, only to watch closer Mitch Williams allow the Jays to score six, highlighted by Devon White's game-winning two-run triple. This series may be more famous for Joe Carter, but Game 4 remains a strange classic in its own right, and is by far the wildest World Series game ever contested. If you still have doubts, take 4 1/2 hours and watch it yourself.