For Rafael Nadal, the 2016 Australian Open lasted all of one match.
With the latest in a string of gutting Grand Slam losses, the world No. 5 was bounced in the first round Tuesday by 47th-ranked Fernando Verdasco, 7-6(6), 4-6, 3-6, 7-6(4), 6-2 in a grueling four hours and 41 minutes.
It's the first time Nadal has lost his opening match in Melbourne, and only the second time he's lost in the first round of any major. But he lost like he's so often lost during the last year-and-a-half: by getting outhit and overwhelmed by a more aggressive, more powerful, and utterly fearless opponent.
Verdasco had no particular reason to be so utterly fearless, save perhaps for the fact that he'd come within an eyelash of beating Nadal on Rod Laver before. Back in 2009, the two played an epic, five-plus-hour semifinal, which Nadal finally wrested away en route to his first and only Aussie Open title. But that was a rare positive result for the 32-year-old Verdasco, who came into Tuesday's match with a 2-14 record against his Spanish countryman and has been on a steady decline almost from the moment he achieved that career-best result seven years ago.
And yet, much like what happened to Fabio Fognini - another guy Nadal had previously owned - at the US Open this past fall, Verdasco found himself transported, bursting with belief, whaling away and being rewarded, swinging so hard from his heels he was coming out of his shoes.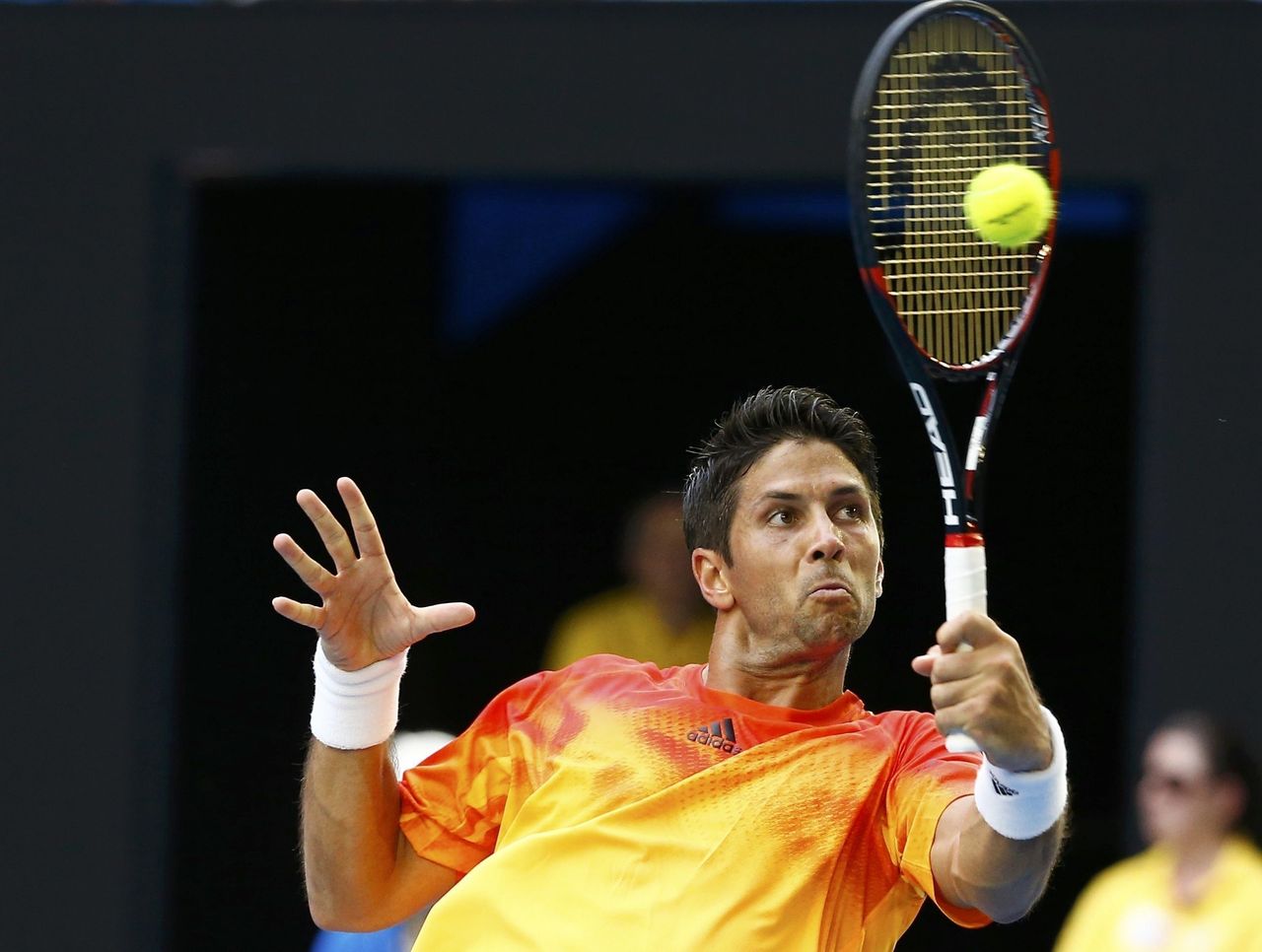 As he did against Fognini, Nadal had the finish line in his sights multiple times. Some sloppy play cost him the first set, but he settled in, tightened things up, and took the next two without much issue. Twice in the fourth set he was two points from the match. Then, after Verdasco held his nerve to steal the tiebreaker and take the match the distance, Nadal quickly went up a break and consolidated for a 2-0 lead in the fifth. And that was it. He didn't win another game.
Verdasco's gameplan for the match was clear: hit the piss out of every ball in sight, and hope to find the court. In the deciding set, though, it looked less like a gameplan than an inevitability. Verdasco was a man possessed; the ball exploded off his strings as he bombed 135-mph serve after 135-mph serve and cracked ungodly crosscourt forehands on the run. He finished with 90 winners. Seriously, 90 winners. 90. Winners.
The last one came on match point.
"I think I played unbelievable," Verdasco said in his on-court interview, somehow underselling it. "I just started hitting winners. I don't know how. I just closed my eyes, and everything was coming in."
That's a tough pill to swallow for Nadal, who's probably getting fed up with watching helplessly as guys play the match of their lives against him. Before Verdasco it was Fognini, and before Fognini it was 102nd-ranked qualifier Dustin Brown at Wimbledon. Before Brown it was Novak Djokovic, obliterating Nadal's mythos of indestructibility at Roland Garros, and before that it was Tomas Berdych, ending a 17-match losing streak against him in Melbourne. Still before that, it was a 19-year-old Nick Kyrgios bursting onto the scene at the All England Club.
All of this has happened since Nadal won his last major, and it's getting harder to chalk it up to coincidence. He hasn't been past the quarters at a Slam since winning the 2014 French Open, and he's now failed to escape the third round in the last three he's played.
The fact is, he's been unwittingly complicit in all of it. Nadal has always hit with an inordinate amount of topspin, but he's no longer able to use that as a weapon. His once-fearsome groundstrokes have lost their wicked bite; they hang up and often drop inside the service line. His second serves get routinely devoured. Balls that used to scrape the sidelines now drift into the alleys.
He used to bend howling, shape-shifting running forehands up the line or around the net posts, and rifle returns back to the baseline that ricocheted up to eyeball-level. Now his shots bounce listlessly into opponents' wheelhouses. He used to inspire dread in his opponents, but now he inspires confidence. He used to take the fight to his opponents, but now they take it to him. He used to fire himself up with primal snarls and ear-splitting Vamos!es and angry fists that tore at the air around him. Now, he scrunches his eyes and puffs out his cheeks in exasperation.
He always seems to be playing defense, always back on his heels, always treading water. He gets bullied, beat back, dragged around the court. His matches are increasingly won or lost on the rackets of those across the net from him.
"Obviously is tough, especially because is not like last year that I arrived here playing bad and feeling myself not ready for it," Nadal said after the match, echoing the sentiments he expressed at every Slam after the Aussie last season.
"This year was a completely different story. I have been playing and practicing great and working so much. You know, is tough when you work so much and arrives a very important event and you're going out too early."
Nadal suggested throughout most of last season that his biggest issue was confidence, and once he rediscovered it, he'd be fine (Nadal has always been one of the most optimistic Nadal prognosticators). Much as this would represent a curiously long confidence drought for a 14-time Slam champion, it's not an unreasonable notion. Because when you're stuck in mental and emotional quicksand, you can sense that you're somehow altering the airspace around you, making your own bad luck. Your opponent starts to play better simply by proximity, anxious thoughts creep in, the universe turns on you, things go sideways. Even if that's the only thing that's ailing Nadal, even if he just needs to find a way out of that quicksand, it's tough to see when or how he does it after this latest loss.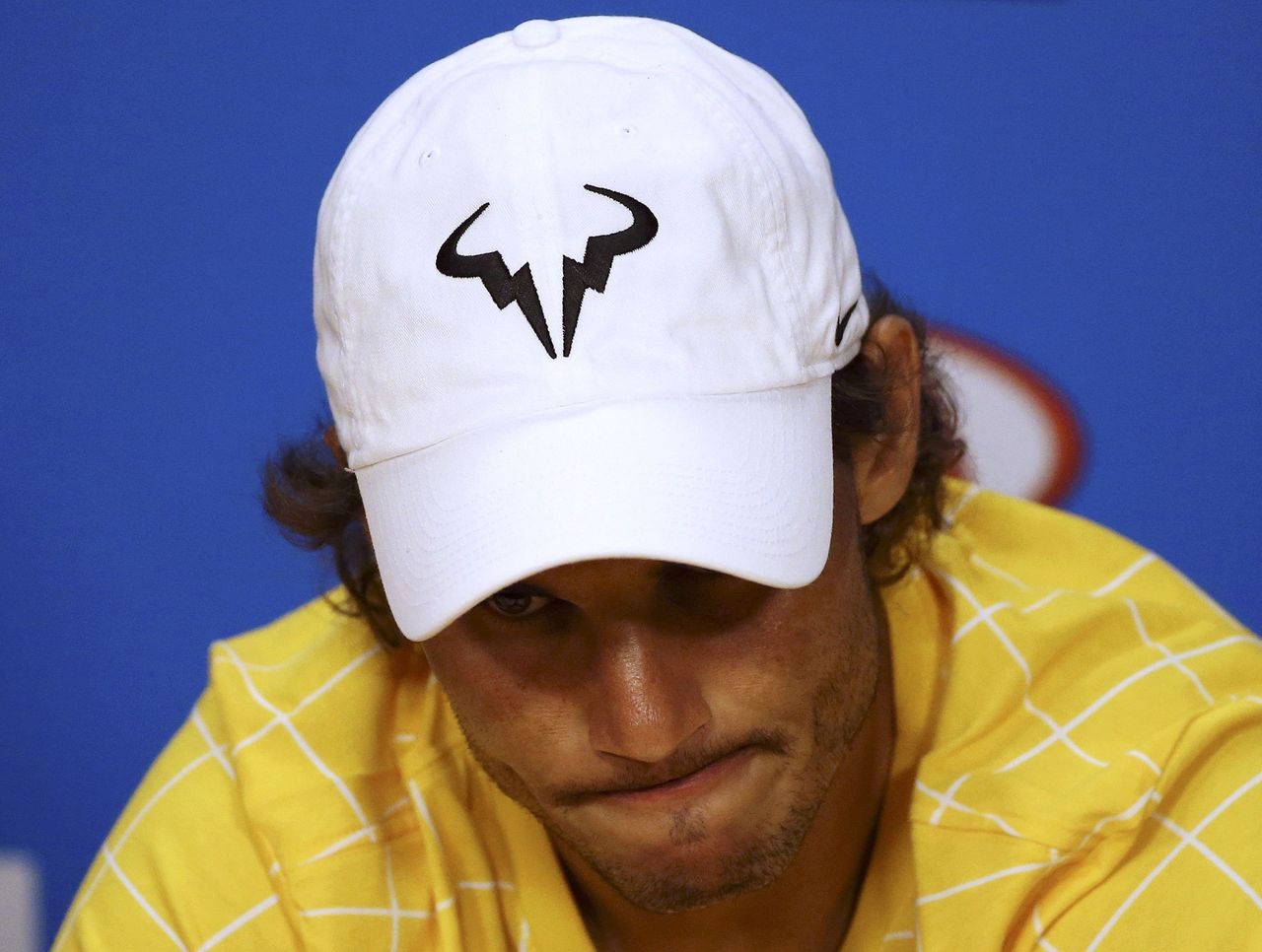 Some will say Nadal is in denial and maybe they'd be right. Maybe he's feeling the effects of his age - he's 29, but with many more miles on his odometer than that number would indicate - and won't acknowledge it. Or maybe he really doesn't feel it. Maybe the issue he calls "confidence" is just the imperceptible chain reaction that throws everything off because he gets to the ball, or gets his racket head out, a millisecond later than he's used to. Maybe in a sport in which so much of the action is reaction, in which you'll miss a shot you make 99 times out of 100 because of some microscopic shift in your grip, the angle of your racket, the position of your feet, or the timing of your backswing, the line between success and failure will always feel razor slight. Tennis is perhaps the easiest sport in which to attribute outcomes to divine provenance.
It's sad to watch this version of Nadal; sad to watch him lose, and sad to watch him root around in the byways of his subconscious, searching for the elusive seed of his struggles. And it's a bit harrowing, too, because it can feel like you're staring at mortality manifest. You can almost sense yourself aging when you watch him play, and not just because his hair seems to be thinning out in real time.
The decline of a once-great athlete always manages to take us unawares, even if it's a decline we ought to have seen coming. Being a sports fan (or just a human) means living in a perpetual present, where recency bias overwhelms and neither the sheen of victory nor the smudge of defeat lingers too long once it's replaced by the other. But in living in a perpetual present, we tend to imagine the future as more of the same, which is, finally, a failure of imagination. Because everything changes. Even Rafa Nadal.