True north: Canadian women make statement at Rio 2016
To subscribe to breaking news alerts and scoring updates for Rio Soccer, click the star in the top right corner of theScore app.
Fans of Canadian soccer have considerable room in their hearts for the Canadian women's national team.
The men's team has little by way of tangible glory. A 2000 Gold Cup win and a rare World Cup appearance decades ago are blips of success in its history. By contrast, Christine Sinclair and her teammates prove time and time again that Canada is equal-parts friendly and fierce.
At Rio 2016, the Canadian women also proved themselves fighters.
Four years removed from a controversial bronze-medal finish at London 2012, John Herdman's side seeks redemption in the form of Olympic gold, and if the first three matches of this affair are any indication, they might very well find it.
When the dust settled on the group stage of the competition, only Canada emerged thrice triumphant.
Related: Canada stuns Germany to top Group F; quarterfinal date with France looms
In the year since Canada faltered as host of the 2015 FIFA Women's World Cup, Herdman has worked tirelessly to ensure that the next iteration of his team has a clear vision on how to play, and more importantly, how to win.
Twice outranked in Group F, Canada opened its Rio 2016 adventure against Australia. Young star Janine Beckie won the match in less than 30 seconds. Canada was down a player for much of the match, too.
Her goal, the quickest in Olympic women's history, served as a warning to those teams that followed as she and Sinclair dispatched the Matildas 2-0, then combined to defeat Zimbabwe 3-1 in the next match.
While the sunny shores of Brazil proved kind to Canada, a tilt against Germany was a foregone conclusion, even before a ball had been kicked.
For as iconic and accomplished as Sinclair may be, and for all of Canada's efforts on the international stage relative to their male counterparts, there still exists a gap in perception.
Perhaps it is an old way of thinking, whereby elite soccer talent is found predominantly in Europe and South America. The United States, the most accomplished team in the world, is an outlier to that status quo.
Canada is perennially on the fringe of being considered among the elites like France, Germany, England, Brazil, and the U.S.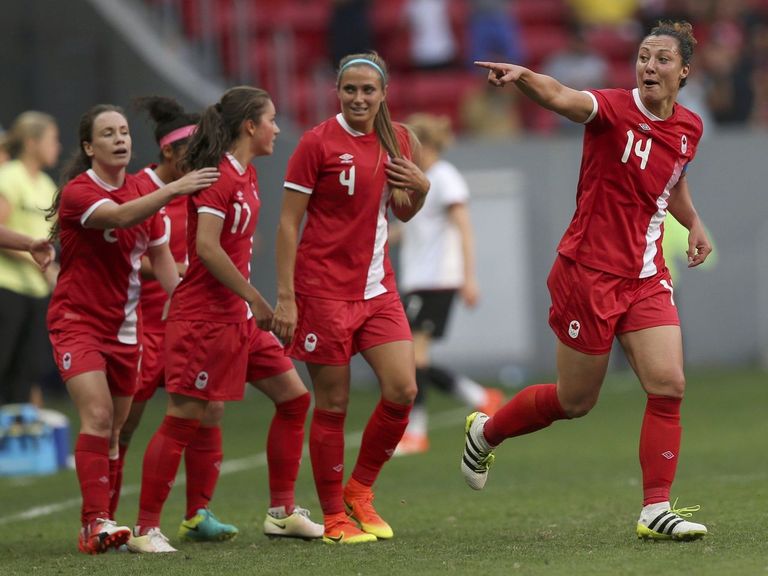 Going into Rio 2016, Canada was still very much an underdog.
It's why when Melissa Tancredi scored twice against Germany in a 2-1 win in Brasilia, the response was not an assured nod, but a mix of shock and celebration.
That jubilation was subdued by the enormity of the task ahead, but celebrated nonetheless.
Canada's path to gold includes a quarterfinal clash against France, and likely a rematch with Germany in the semifinals. It will take a gargantuan effort to even win bronze again, doubly so in a gold-medal match against Brazil or the U.S.
Bronze will not be enough this time around for a group deserving of more, but sport, as life, does not always reward the deserving.
Win or lose, though, Canada has already succeeded at Rio 2016.
With three Group F wins, a message resounded, loud and true: Canada is no longer an underdog.
Canada is a force on the international stage.
Comments
✕
True north: Canadian women make statement at Rio 2016
  Got something to say? Leave a comment below!