NHL Power Rankings: Rangers break into top 10; Red Wings, Ducks slip
Abelimages / Getty Images Sport / Getty
1. Nashville Predators (Last week: 1)
It's all gravy for the Predators, who improved to 24-3-1 on home ice and will stage the homecomings of both Cody Franson and Mike Santorelli well before the March 2 trade deadline.
The move, which satisfies their needs in one transaction, effectively lobs the ball to the 29 other teams in pursuit.
2. St. Louis Blues (Last week: 2)
With three wins - including a 6-3 triumph over the Lightning - St. Louis maintained its hold on the runner-up position. The same cannot be said of Vladimir Tarasenko and his status in the Blues' room.
3. Chicago Blackhawks (Last week: 4)
Pat Kane has actually never scored versus the Penguins. This is just a mirage. A beautiful, beautiful mirage:
4. Tampa Bay Lightning (Last week: 3)
The Bolts have 10 scorers with 10 or more goals. The Blues and Hawks would have to fuse in order to amount to as many. 
Maybe they could hang with the Preds, then.
5. Montreal Canadiens (Last week: 6)
The Canadiens' season in one (long-winded) stat. Carey Price is 17-3-1 with a 1.46 goals-against average in his last 21 appearances and has allowed two goals or less in each of those wins.
That's Vez--no Hart Trophy stuff.
6. Pittsburgh Penguins (Last week: 8)
The Penguins' return to health has coincided with their power play flat-lining. They've whiffed on all 15 opportunities this month, one that has featured their full compliment of forwards - save for Pascal Dupuis.
7. New York Islanders (Last week: 10)
Anders Lee turned down scholarship offers to play quarterback at both Stanford and Harvard. The Islanders' new top-line winger, however, was back to distributing Saturday, netting a career-high four assists versus the Blue Jackets.
8. Detroit Red Wings (Last week: 5)
Detroit is winless in four games versus the Canadiens and Lightning, and has been outscored 14-6 in the process. With one of those Atlantic powers nearly certain to be the Red Wings' first-round opponent, Ken Holland better be burning up the phone lines.
9. Anaheim Ducks (Last week: 7)
Ryan Getzlaf put Alex Ovechkin on blast for "embarrassing the game" with embellishment. Hypocrisy, ain't it grand?
10. New York Rangers (Last week: 11)
The Rangers scored at least five goals in three straight wins on the annual fathers' roadtrip. There will still be lessons to be had on the charter back to New York though, because Dads.
11. Washington Capitals (Last week: 9)
Ovechkin scored two goals, four points, reclaimed the lead in the NHL scoring race and lit the Getzlaf powder keg Sunday night. As if there was any debate he was in the Hart Trophy running.
12. Los Angeles Kings (Last week: 13)
With four straight wins, the Kings appear to have woken from their half-season slumber. 
Justin Williams appears a touch slower along in the process though.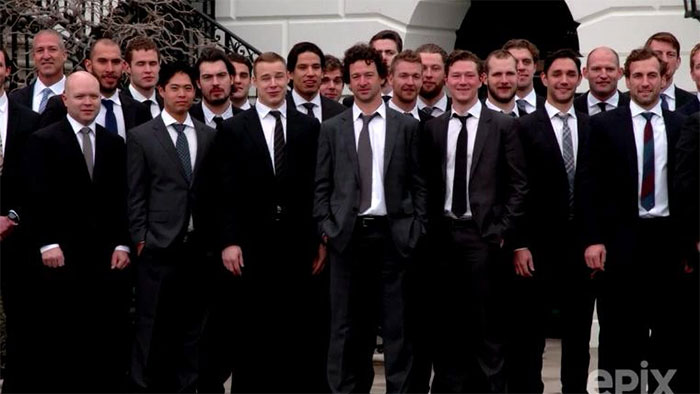 (Courtesy: Epix)
13. Minnesota Wild (Last week: 14)
The Wild have their goaltender - do they finally have the free agent they broke the bank for in the summer?
Just four players have more multi-goal performances than Thomas Vanek since he came into the league. He got his first with Minnesota in game No. 49.
14. Winnipeg Jets (Last week: 18)
"Yeahhh, we'll be good with Tyler Myers and Drew Stafford, thanks."
15. Boston Bruins (Last week: 12)
There's a game-worn 1929 Eddie Shore jersey going for $24,000 on eBay. I guess we'll find out if there's another Boston-area resident desperately clinging to the past. (That's a Peter Chiarelli joke, my friends.)
Seriously though- call up the kids. The Panthers are just three points back.
16. Calgary Flames (Last week: 16)
Considering how many lives he was able to touch, it was appropriate Steve Montador was a journeyman defenseman. Here's his greatest moment on NHL ice:
17. Vancouver Canucks (Last week: 15)
The Kings, Wild, Jets AND Flames won Saturday night?"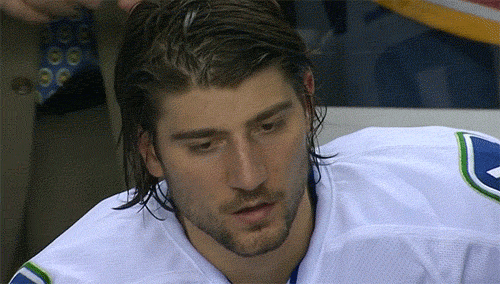 18. San Jose Sharks (Last week: 17)
Now at five straight losses on home ice, the Sharks' once loyal fanbase is quickly wavering. San Jose is experiencing its worst attendance in nine seasons.
19. Philadelphia Flyers (Last week: 20) 
The Flyers have put together the least impressive nine-game unbeaten streak imaginable. With narrow wins over the Sabres, Leafs and 'Yotes, Philadelphia has won one game by more than one goal during its 6-0-3 run without the benefit of an empty net. 
But hey, they're only five points back.
20. Florida Panthers (Last week: 19) 
Sean Bergenheim used up what's left of his NHL clout to request a trade from Florida after feeling disrespected by head coach Gerard Gallant, who offered a wonderful take on the situation:
I haven't picked on (Bergenheim). If he gave me 100 percent (against the Wild), he'd be playing tonight.
Collect the last of that $11 million and move along, Sean.
21. Columbus Blue Jackets (Last week: 22)
Those lunch-pail Blue Jackets - you'd think - would thrive on the dramatic. Not quite.
22. Colorado Avalanche (Last week: 23)
You need a team of researchers to explicate Alex Tanguay's hockeydb. After seeing his career seemingly come to an end three times over, the 35-year now shares the Avalanche scoring lead over the likes of Nathan MacKinnon and Matt Duchene.
23. Dallas Stars (Last week: 21)
In honor of NBA All Star weekend, let's watch Jason Spezza put Aaron Ekblad on a poster once more.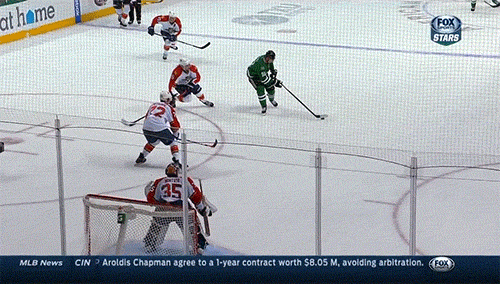 24. Ottawa Senators (Last week: 26)
Most teams get up for increased competition - the Senators do the opposite.
Ottawa has shamed both the Coyotes and Oilers over the past seven games, kicking the extra point in each contest and combining for a 14-4 score. 
25. Carolina Hurricanes (Last week: 25)
If it happens in a Hurricanes game, chances are Justin Faulk was there.
The All Star defenseman is seeing 5.66 goals scored per 60 minutes of even strength ice. That's tops among skaters who have played 750 minutes.
26. New Jersey Devils (Last week: 24)
Jaromir Jagr blew out the candles on his 43rd birthday this past weekend. The hockey world holds out collective hope that he closed his eyes and wished for a trade.
27. Toronto Maple Leafs (Last week: 28)
If Brendan Leipsic learned anything from this dinner table discussion, the Maple Leafs may have gotten a good one.
28. Arizona Coyotes (Last week: 27)
Mark Arcobello - who didn't have the time to document his stays in Nashville or Pittsburgh - became just the second player in NHL history to record a point with four different teams in one season.
29. Edmonton Oilers (Last week: 29)
Nail Yakupov's first goal in 12 games Monday was peak Nail Yakupov.
He attempted three one-timers in a span of 12 seconds, fanning on the first and missing wildly on the second before a pass wide of his wheelhouse forced him to shorten his wind-up.
And voila!
30. Buffalo Sabres (Last week: 30)
We must concede, this looks pretty darn good. Not as good as "97" will - er - might.
Comments
✕
NHL Power Rankings: Rangers break into top 10; Red Wings, Ducks slip
  Got something to say? Leave a comment below!