Systems Analyst: Justin Schultz is just lost in the D-zone
Justin Schultz almost perfectly encapsulates why the Edmonton Oilers struggle. He's a talented player who can make great offensive plays, but for whatever reason he can't (or won't) put it together on the other side of the puck.
There's a few reasons why this could be the case - with hockey smarts and effort being the front-runners - but regardless, it's sinking the team.
First, the good.
Schultz is an NHL player because he can do things other defensemen simply can't. Look at him pick up this pass in his feet through the neutral zone right at the start of the clip:
That's top-pair NHL skill.
Obviously, the Oilers are OK with him periodically jumping up into the play. They'll take the potential scoring chances against them that may result from the risk-taking, because those same risks result in more good - for them - than bad, generally speaking.
But the scales start to tip towards "this isn't working" when the natural opportunities that come with risk-taking are combined with bone-headed defensive coverage.
Check this out from last night.
Below we've got Winnipeg Jets forward Mark Scheifele behind the net. Schultz's partner, Andrew Ference, has taken the other forward, so the only thing Schultz should be thinking is "who's my guy?"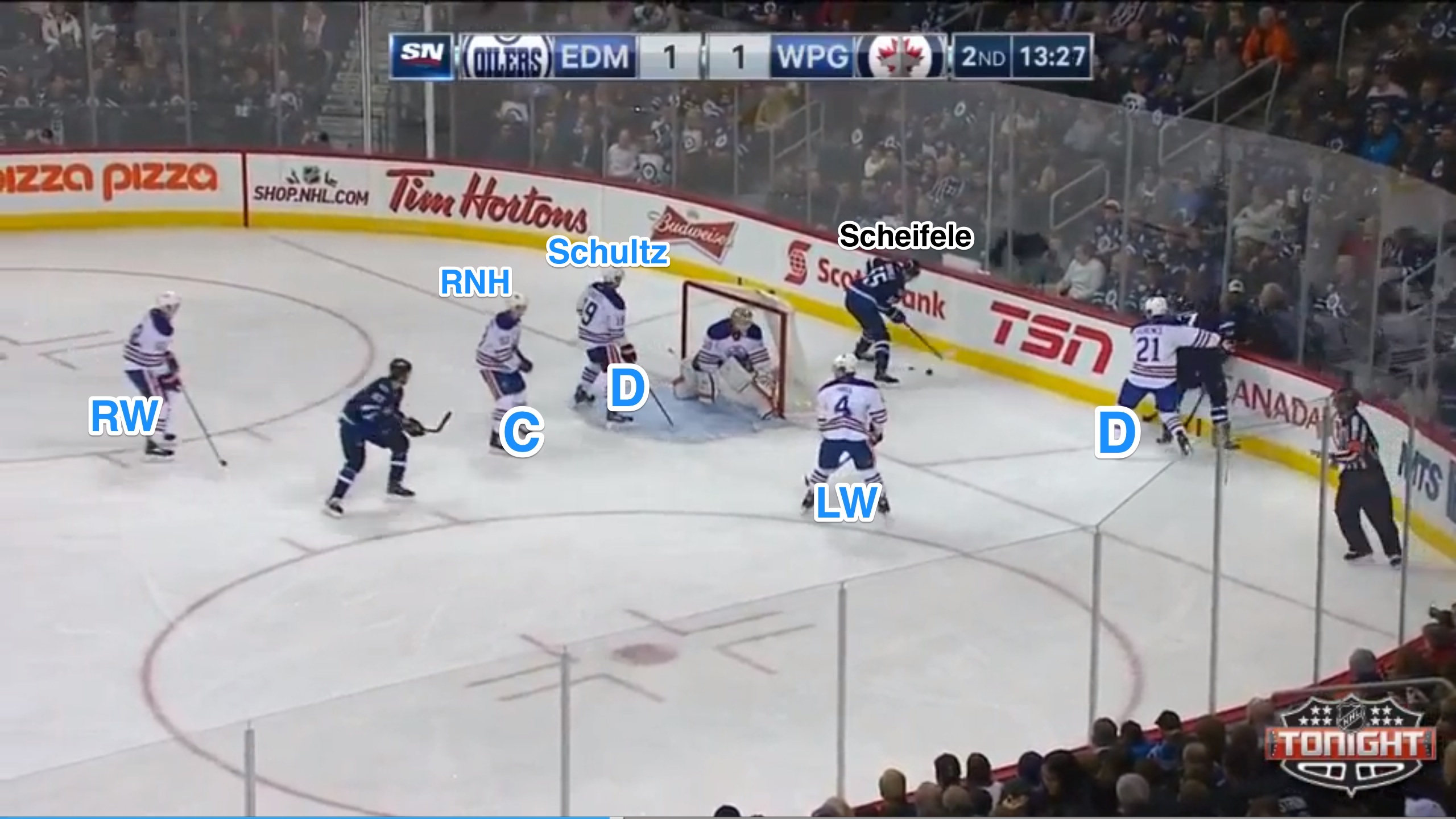 Oilers' center Ryan Nugent-Hopkins - who would be the other low defensive player - has to be thinking the same thing. Taylor Hall is bizarrely low, but teams are doing that these days. The theory is: if you shrink the zone, you can always run out to the points if the puck moves up there.
So, Schultz waits, looking at Scheifele, who makes his move.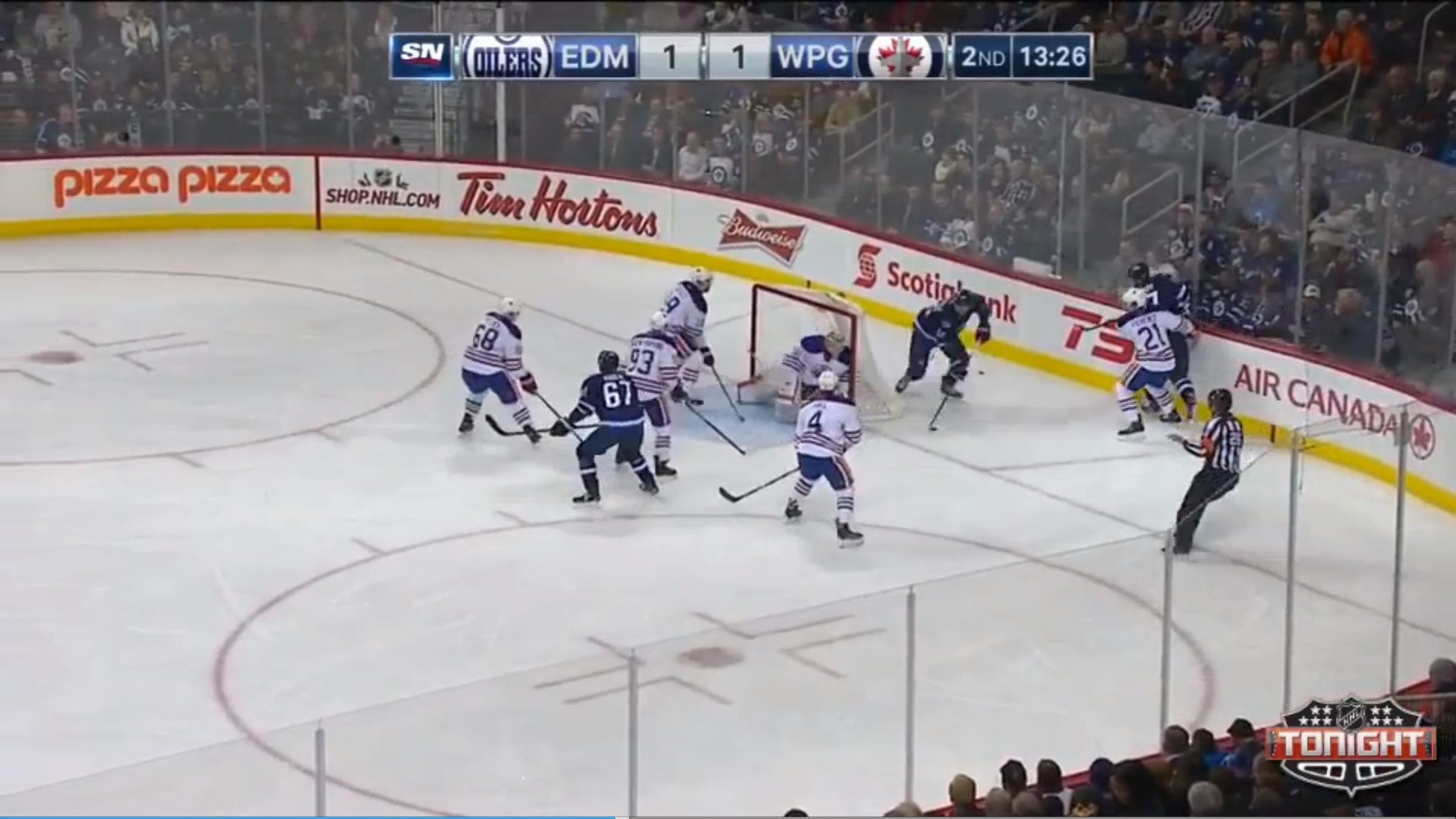 How Schultz doesn't realize that the guy with the puck behind the net is his guy is beyond me. Who does he think his guy is, if not Scheifele? If he communicated to RNH that he should take the puck-carrier it would make sense, but then you'd see Schultz looking for the other low forward.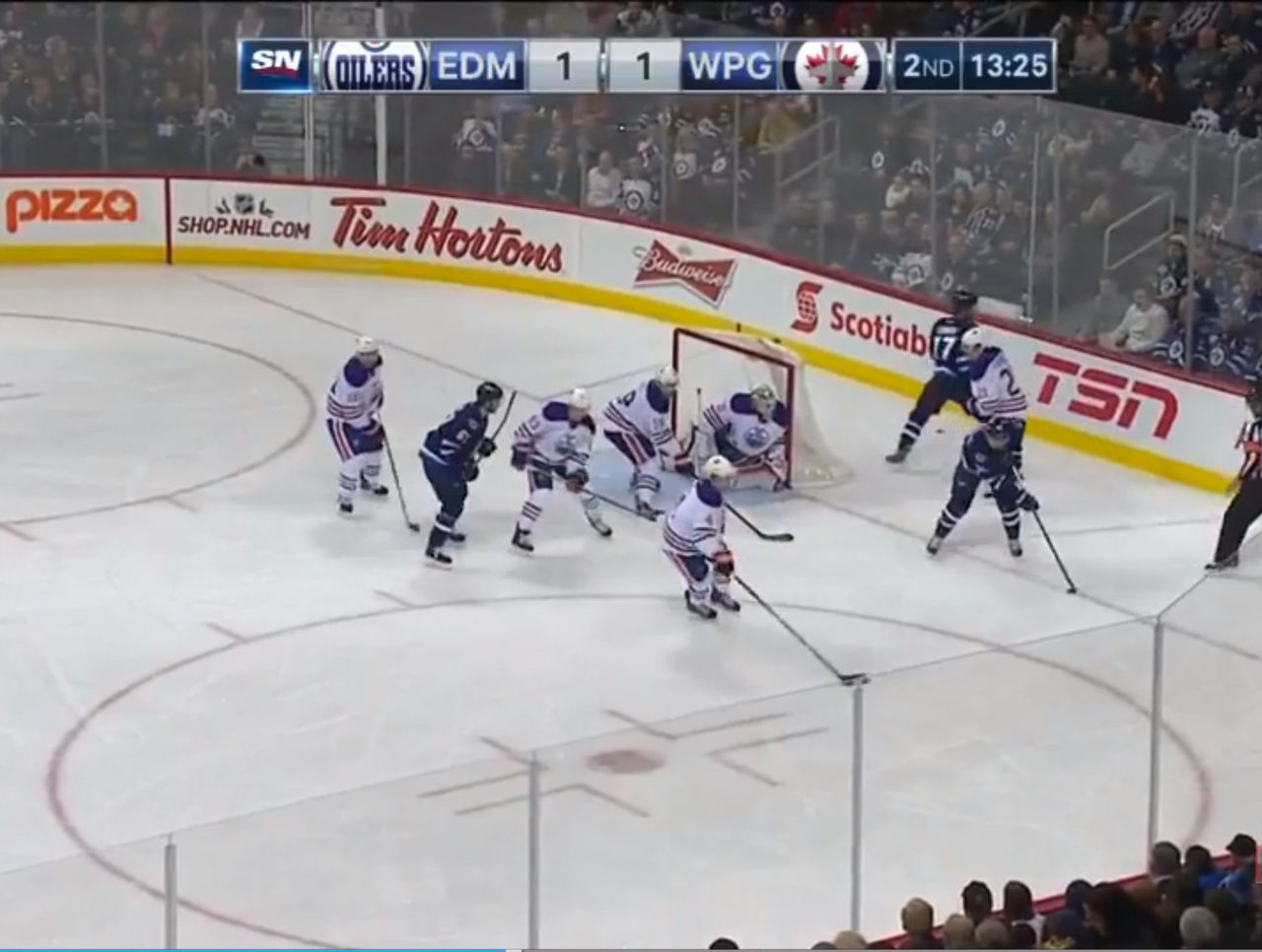 You can see in the frame above he takes a step towards the guy with the puck, but below he opts out, for whatever reason.
That reason might be that he sees Hall there, who could take a swipe at Scheifele, but Hall apparently thinks "Uh-oh, this guy with the puck is skating at me," so he gets the heck out of there. That makes "shrinking the zone" a little pointless, but I suspect he's thinking a D-man or centerman is going to be grabbing the puck carrier, so he's cutting off the top.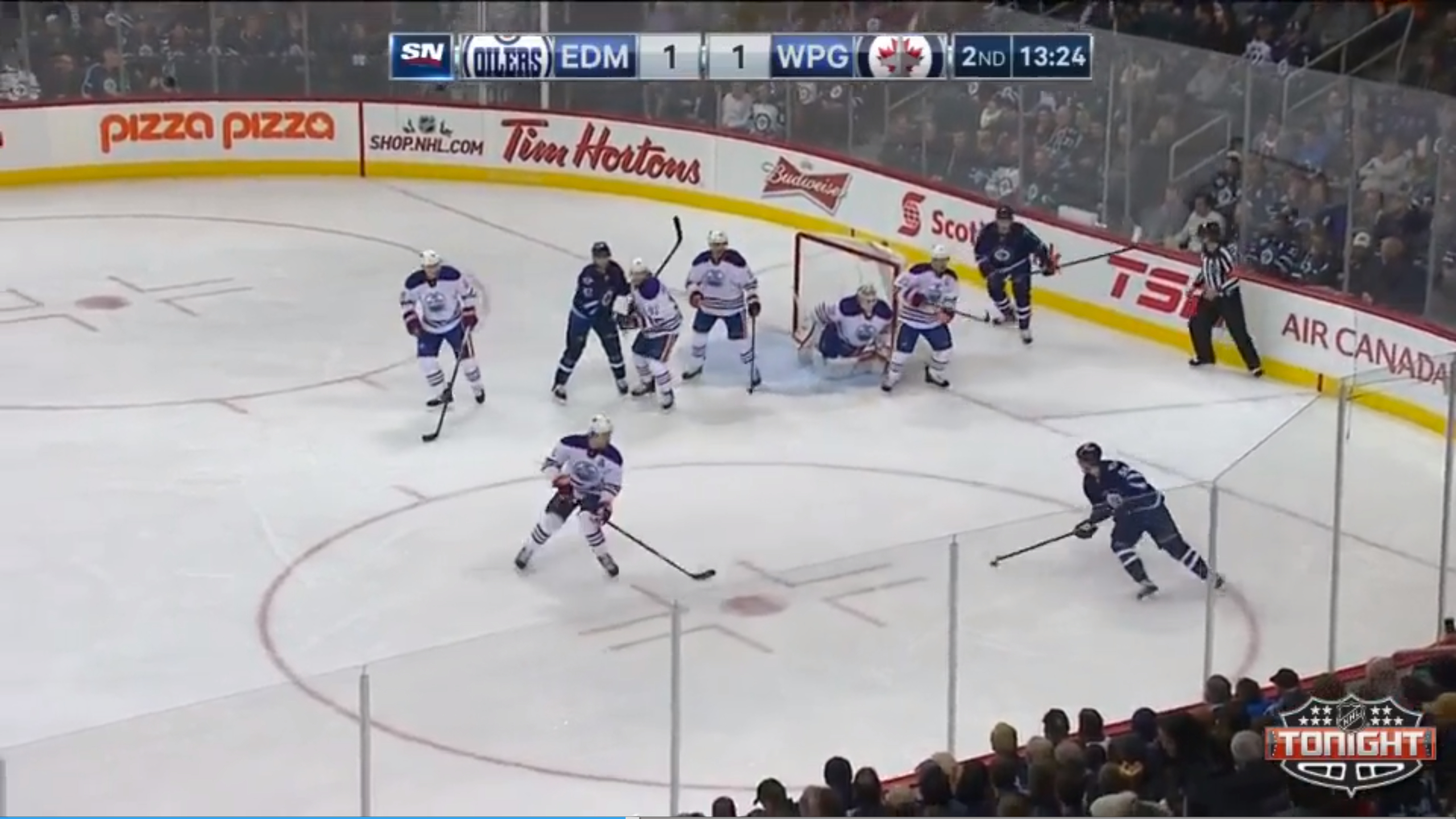 Now Scheifele's going to cut in, because, well, look. RNH has his guy, and Schultz is still … I have no idea what to call this defending. He's just … chilling?
The Jets' forward starts to shoot, so all the Oilers panic, abandoning whoever they were once covering.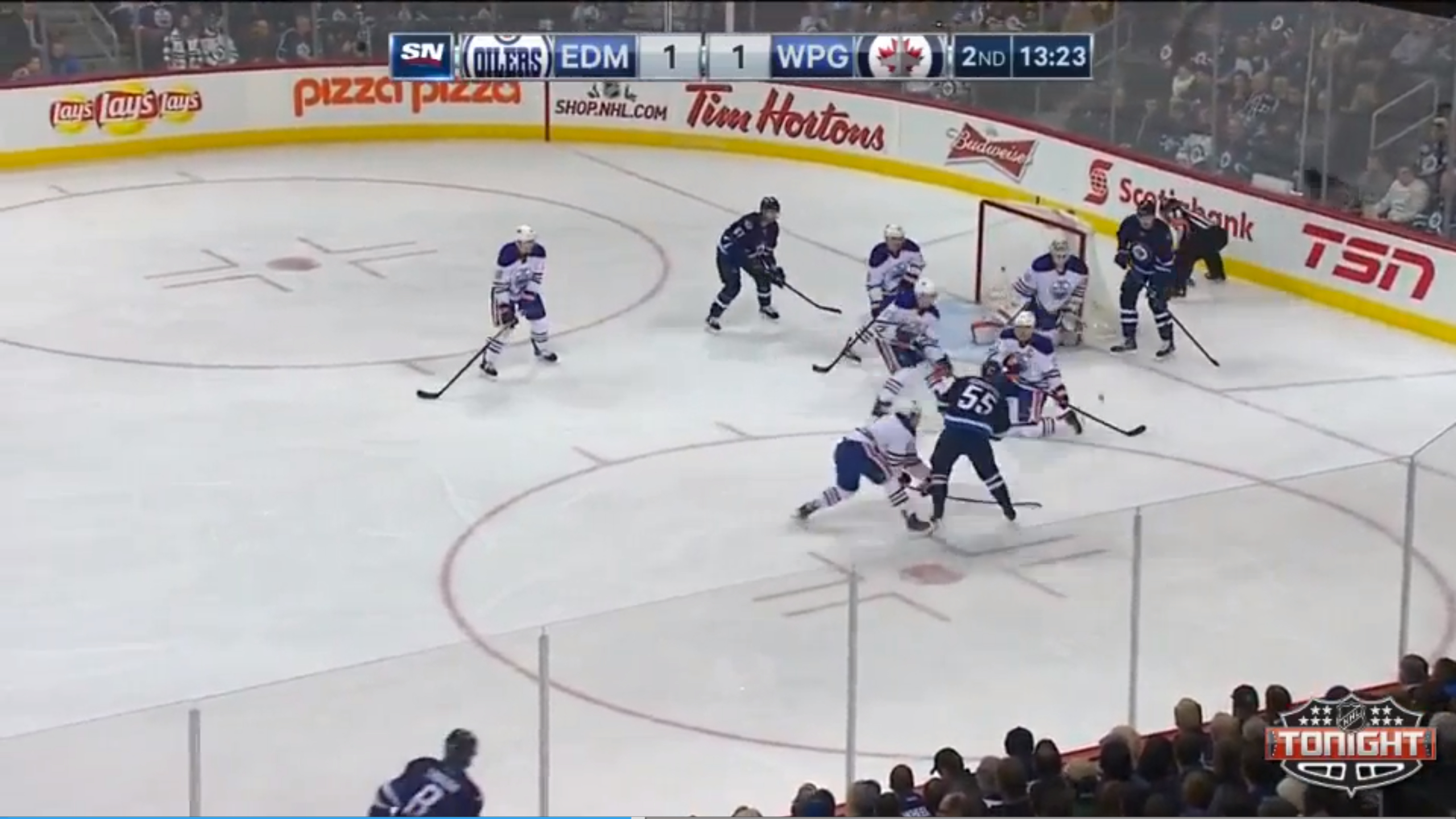 What's even more remarkable is that Schultz hasn't even picked up RNH's now-alone guy, he's still just hanging out with his boy Scriv-dawg.
Your thoughts on that defending, Craig MacTavish?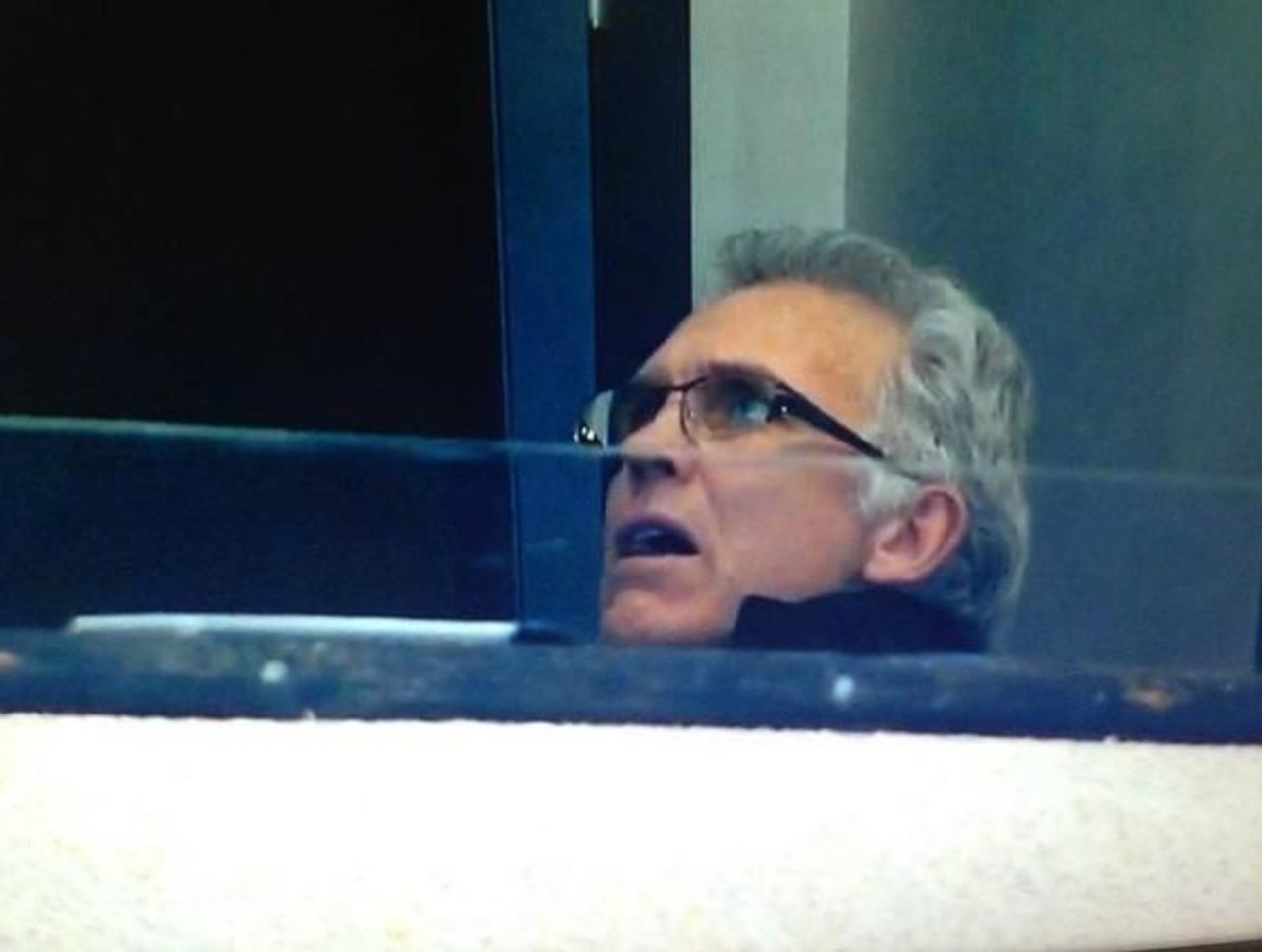 The Jets didn't score here, but when people say that bad teams find a way to lose, it's usually because they give up a boatload of chances on what should be simple coverage.
There's a reason Schultz is falling out of favor with Oilers fans: he's a talented hockey player who might be able to contribute positively, but only on a good team with a good partner. For now, though, he remains a prime example of why the Oilers continue to struggle. They've got the talent to do big things with the puck, but away from it, either the hockey smarts or the effort just aren't there.
You hope it's the latter, but it probably isn't.
Comments
✕
Systems Analyst: Justin Schultz is just lost in the D-zone
  Got something to say? Leave a comment below!