Unique Team Traits: When the Sharks enter the O-zone, there's a good chance they're getting a shot
theScore's multi-part team previews include a look at something that separates each team from the pack. From specific breakouts to power-play formations and beyond, Justin Bourne and Thomas Drance hope to highlight something you haven't noticed in the past.
What we noticed
No team in hockey was more successful at generating shots off zone entries than San Jose
The Sharks do a lot of things really well, and have a number of traits that might qualify as unique. Did you know only two NHL clubs iced the puck more than them last year? What's up with that? Did you know that last season they generated more shots than any team in hockey when up 5-on-4, but that their power-play shooting percentage was so god awful (26th overall) that they finished 20th in power-play conversion rate? CURIOUS.
But what's most interesting is that this is a highly skilled team that dumped the puck in a surprising amount - and made it work. Nobody, not the Kings, Blues or anyone you'd associate with dumping in pucks was as good as San Jose at recovering them and getting shots.
More on how that shook out statistically below, then we'll get to explaining their black magic. Er, teal magic.
The numbers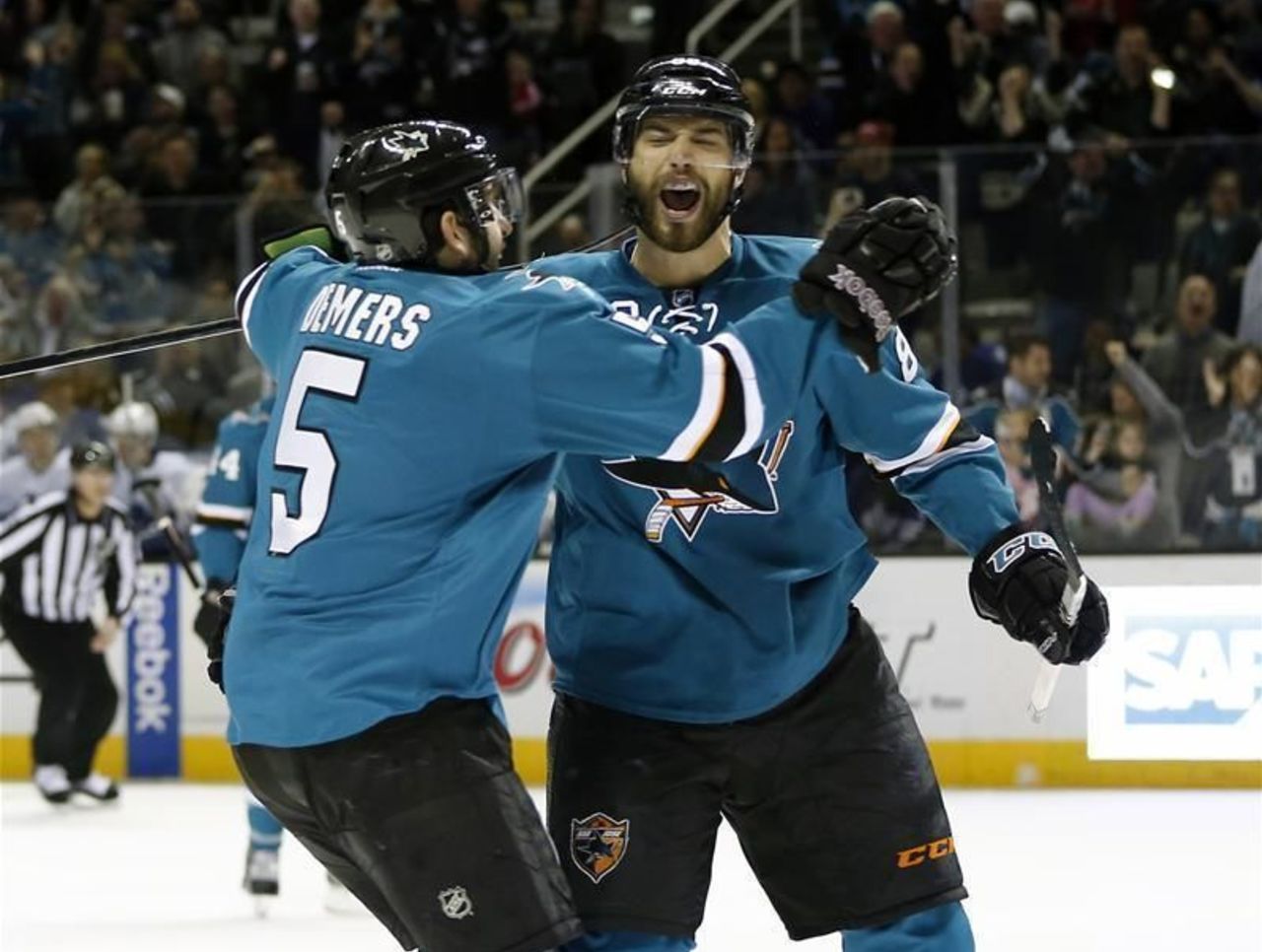 The Sharks managed the third best shot differential in the NHL last season at even-strength, and did so despite losing the neutral zone battle through the first 50 or so games of the season (our sample size). In contrast with other top puck possession teams, the Sharks permitted more zone entry attempts against (2,997) through January 19th than they attempted themselves (2,897). So that's not where they made their hay.
What they did do was generate their nearly league-leading shot differential by being far and away the most efficient club at generating offense after gaining the opposing blue line. The Sharks managed to take .54 shots per entry last season, which was easily the best mark in the league (the Kings were second with .51, with the bulk of the league far in their rearview mirrors).
They also posted a league best mark of .77 shots per controlled entry (the Rangers were second with a .75 shots per controlled entry mark, and only eight teams managed a rate of .7 or better) and were also the most efficient dump and chase team in hockey, managing .37 shots for per dump in (the Kings were second best with a .35 shots per dump in mark, and only nine teams managed a rate of .3 or better).
So no team in the entire league was more imposing when it came to gaining the blue, and turning that into offensive pressure. Here's why.
The breakdown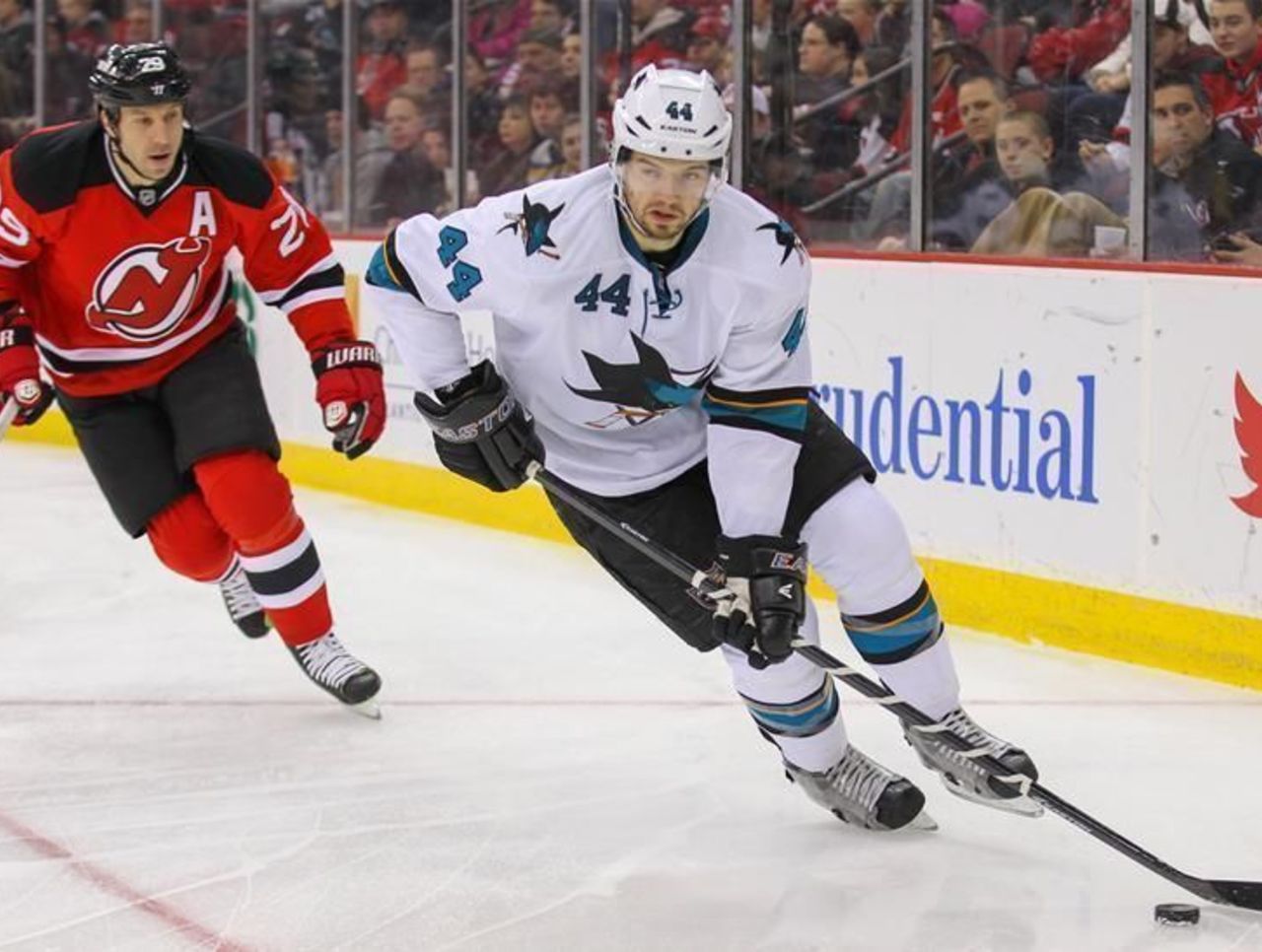 Earlier in this series, we wrote about the Vancouver Canucks and their goofy-aggressive forecheck, which led to them offering up more turnovers than a bakery. Well, the Sharks are aggressive as well, but not like, ravenous badger aggressive. More "invading a cat's space" aggressive - they're not coming at you unless they've got reason.
Before we get to the forecheck, the obvious: the 2013-14 Sharks were a really talented team that could skate, pass and dangle. They would've had more success entering the zone than a bottom-feeding team had they used field hockey sticks. Joe Thornton, Patrick Marleau, Tomas Hertl, Logan Couture, Joe Pavelski, Marc-Edouard Vlasic, Dan Boyle, Justin Braun, etc, etc. They were good.
What I think they do exorbitantly well is A) show patience, and B) when they do dump it in, they crash like gangbusters in a 2-1-2 (more on that in a bit).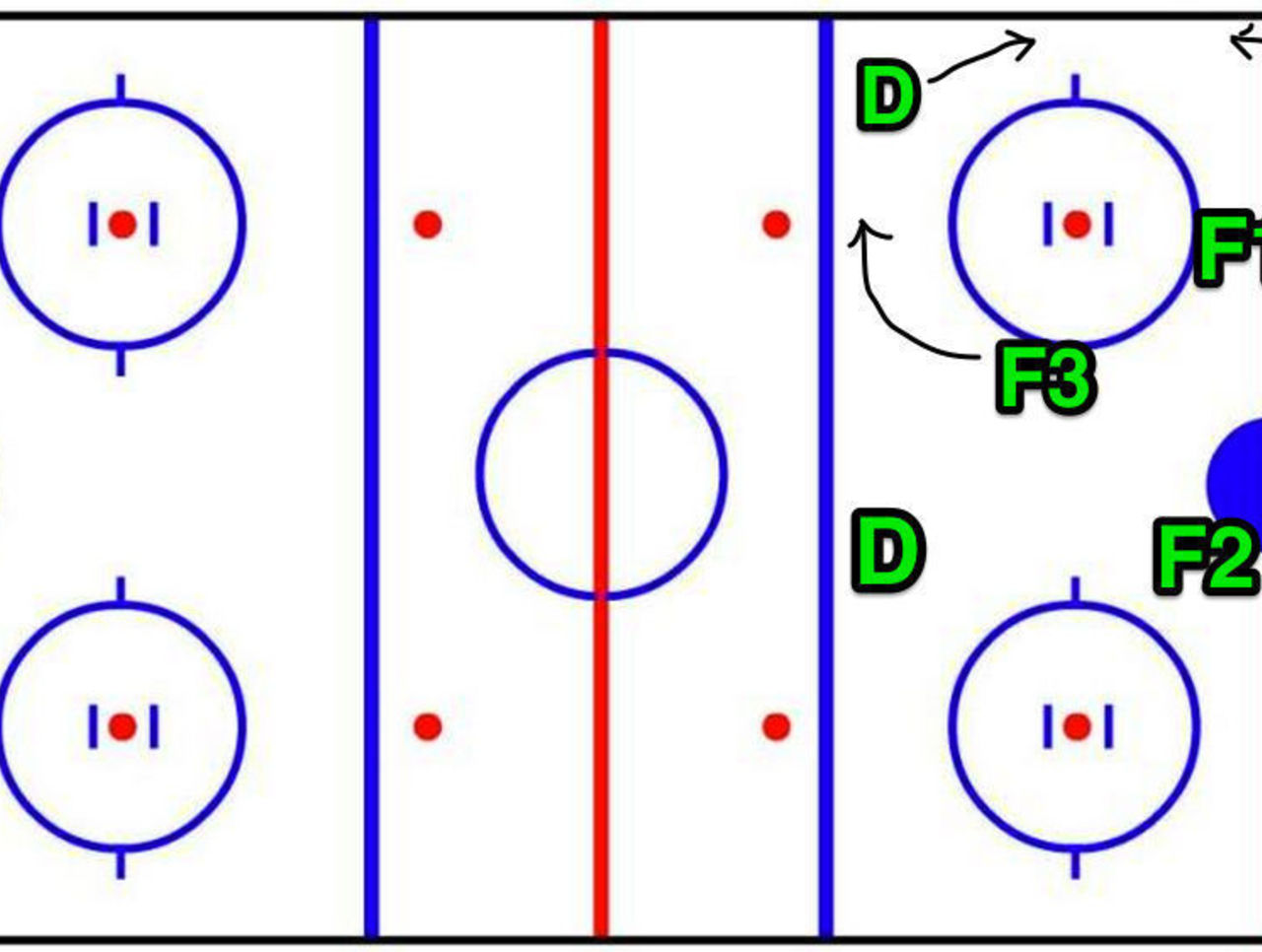 First, the patience part: I learned something from playing hockey with my Dad's "Legends of Hockey" team (oh man, that's a weak name drop) a few times over the years. They're old. When they have it, they have it. They ain't getting rid of it and chasing it, so, when there's nothing for them, they regroup like a soccer team and try again.
That's the Sharks.
"Ahh, you know what, I better not force this."
A quick regroup, and look where that hard rim is going to end up - where two Sharks are on the far side (which is to say, smart dump).
And once they put the puck in the zone, look out. They send two on the forecheck, with F2 reading off the puck, looking for the most likely outlet for the eventual puck carrier that F1 is chasing.
Here's an example of an F2 reading below, and note something else: when the puck is put on the wall, check out defenseman Jason Demers activate (No. 5), as he can sense they've got the opposition under pressure.
Somewhere, F3 is backing up Demers to avoid an odd-man rush (as the Canucks often failed to do). Using the D-man there instead of F3 just allows quicker pressure, as F3 is farther toward the middle.
When the D-men know they're jumping on opposing wingers, they're able to keep pucks in and prolong offensive zone possessions, which is precisely why the Sharks "shots to dump-ins" ratio was so good last season.
When you're an aggressive team on the forecheck, you have to be responsible or you're going to give up some massive opportunities, as the Canucks demonstrated last year.
But for the large part, the Sharks were pretty disciplined within their aggressive system, which has put them in the playoffs consistently for years. Combine that with a smart roster that showed patience through the middle, and you've got a team producing good shot numbers off every zone entry.
Comments
✕
Unique Team Traits: When the Sharks enter the O-zone, there's a good chance they're getting a shot
  Got something to say? Leave a comment below!