Unique Team Traits: The Canucks' aggressive forecheck allowed for too many odd-man rushes
theScore's multi-part team previews include a look at something that separates each team from the pack. From specific breakouts to powerplay formations and beyond, Justin Bourne and Thomas Drance hope to highlight something you haven't noticed in the past.
What we noticed
The Vancouver Canucks gave up way too many odd-man rushes due to their overly aggressive forecheck
Few coaches feel the need to infuse their personalities directly into their team the way John Tortorella does. Torts has the Torts brand, and he wants you to know that his teams are a reflection of (how he views) himself. They're gonna be hard workin', fast paced and tough. Grrr, etc.
In Vancouver, Tortorella took over a team that won its division five straight years, and led them straight to the basement, finishing ahead of only Edmonton and Calgary in the Pacific. He changed a lot of things, and a lot of things went wrong.
Their powerplay was a mess of wrong-handed shooters looking hopelessly ineffective (15.6 percent success rate, 26th in the league). They prioritized shot blocking, which gave their goalie fits (more on this in Florida's preview). And boy oh boy, did they forecheck. They forechecked to a fault.
The change
Under Alain Vigneault, the Canucks were a little more systematically passive, particularly when they had the lead. They "played fast," yes - that's the new slang for being quick with your decisions and acting without hesitation - but they certainly didn't send everyone at the puck kamikaze style.
When Tortorella took over the Canucks and changed, well, everything, the forecheck was a focal point.
Here's Kevin Bieksa early last season:
"To have new systems and have them stick is going to take some time. When you're playing, you rely on instinct.

"We're going to have to think a different way. We're going to need more pressure on the forecheck.

"We played fast last year but this is going to be a little more aggressive style."
That same article mentions Tortorella's emphasis on going full aggro. As he said to his players in practice...
"We're not aggressive enough on the puck. They're going to see that. How we enter the zone forechecking, our neutral zone, all of that is going to start to come into play."
The problem with pursuit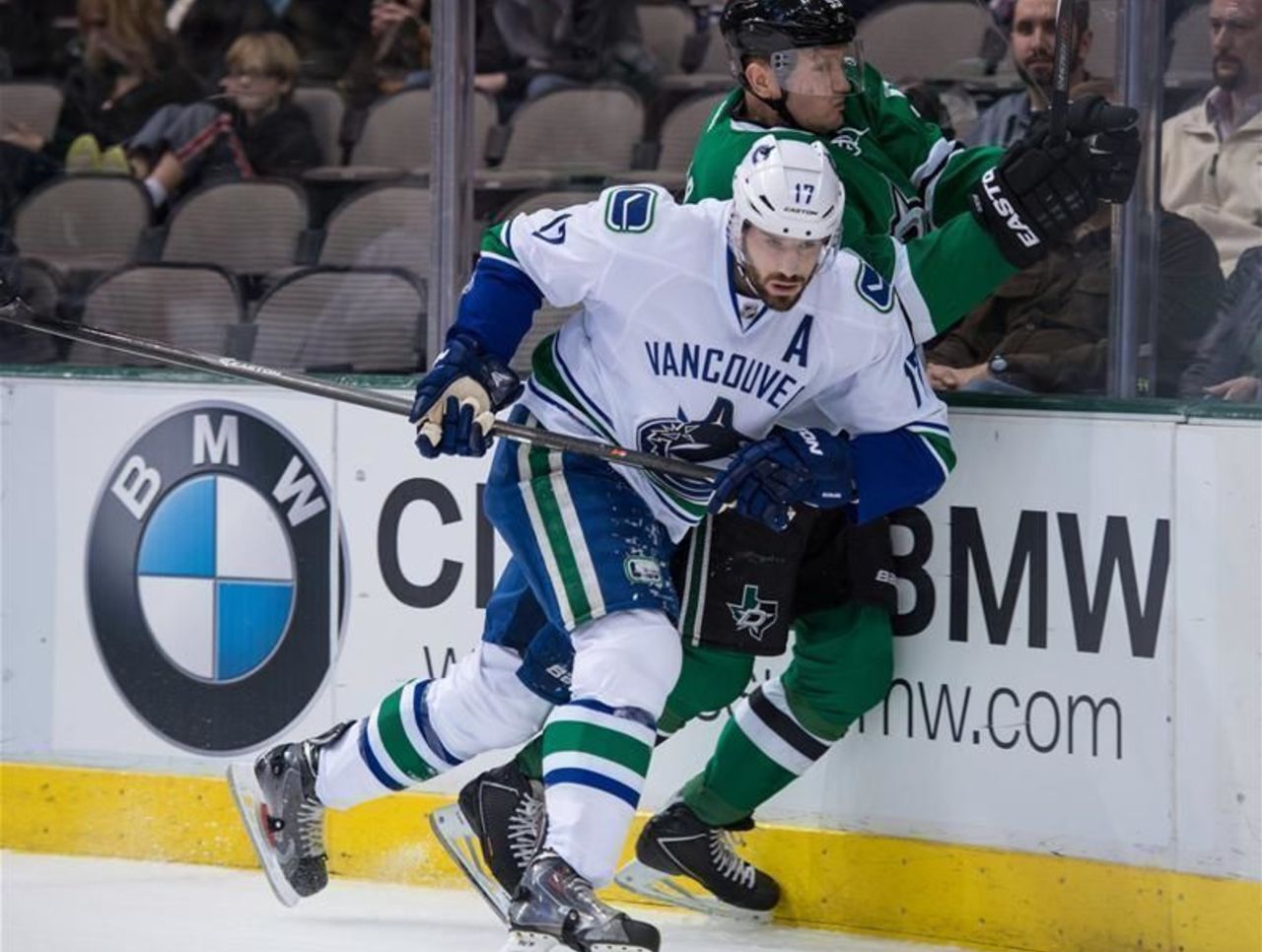 In any forecheck, your F1 is pursuing the puck like a bat out of hell, trying to get a body on the defender to separate him from the puck. Ideally you'd steer him up the wall into F2, paste him against the glass, F2 would pick up the puck, and you'd have an in-zone party.
F2's job, in most systems, is purely to read. If F1 gets body on the D-man, he can jump in and dig. If the puck goes corner to corner, he'll drift across to F3's spot. If the D-man eludes F1, he'll take away the wall, and stay above the winger.  
That might involve backing off a bit, conceding the forecheck didn't work, and falling into your neutral zone forecheck, which isn't easy to penetrate when you've got numbers back. It's a reasonable concession to make, but not one the Canucks wanted to make very often.
Here's a look at your generic forecheck. F3 is generally going to be high in the middle above the slot.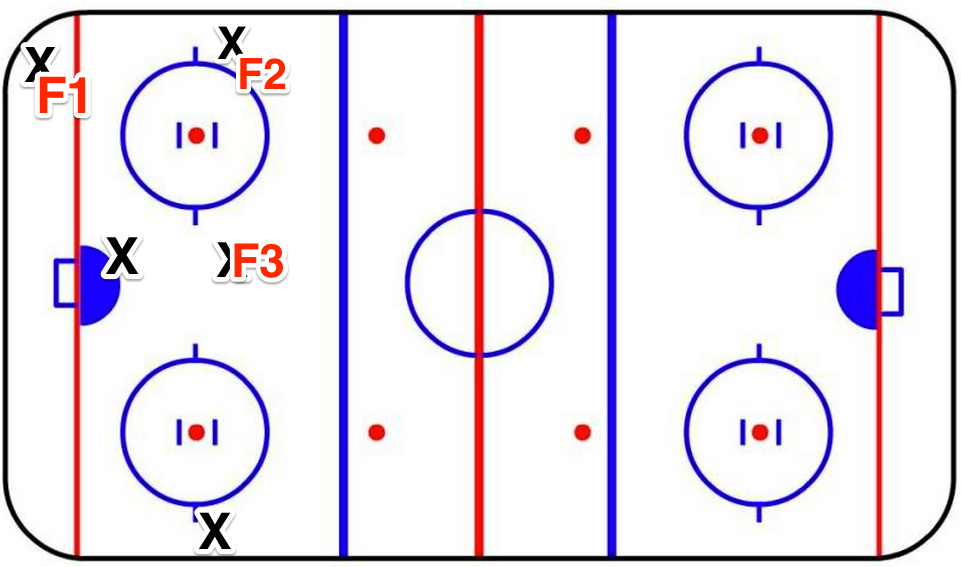 It's situational, but for the most part, if the play goes corner to corner, it's a pretty easy shift (sometimes F3 will jump down, but for simplicity's sake we'll keep F1 in pursuit).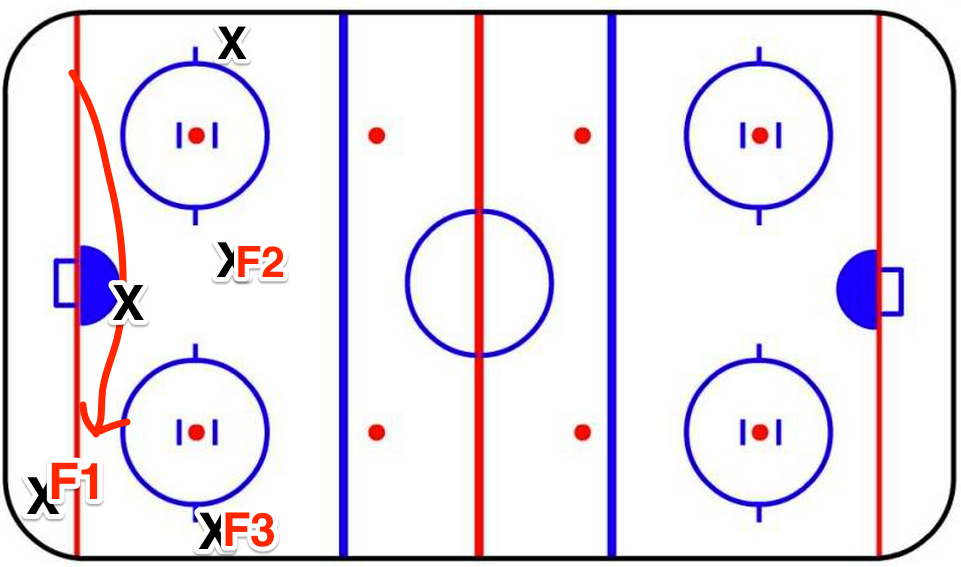 Now, some coaches will use F3 to take away the far wall. He can also read and jump down if he has a shot at the puck, so, now we're getting a bit more aggressive.
When you start to get into looks like this, you start to create more turnovers. Great! Also, you tend to get more guys trapped when the play is heading back to your own net. Less great!
When you get more guys trapped, you start giving up more odd-man rushes, which are grade A scoring chances. And if a D-man pinches to top it all off, ho buddy, look out.
And here's where the Canucks got themselves in trouble.
The breakdown
The Canucks sent at least two guys in almost every instance, and freed up F3 to jump if he thought he could make a play. Generally, they sent a guy at the puck and F2 to the other side of the net (to take away an option before it even exists), but even when play dictated that they'd be pursuing the puck in a more traditional forecheck, F2 was still aggressively involved.
When the forecheckers got beat, they allowed a defenseman to pinch on the wall, hoping that F3 would pull back to cover.
That's a fine rotation … assuming F3 didn't decide to jump down around the time the first two guys in got beat, while the D pinched and rotated.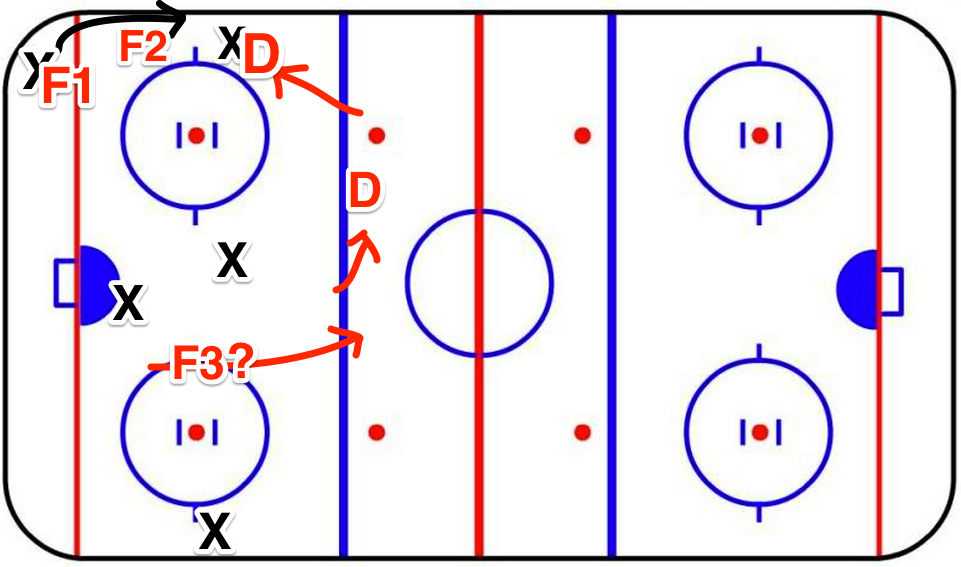 If F3 isn't able to get back because he's too deep, you're boned.
At times, this forecheck can be really effective.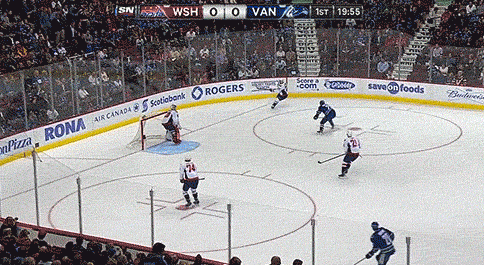 You can see Alex Burrows already on the aggressive side of the winger on the wall above, and moments later they've got three forwards below the offensive goal line, something that's a no-no according to every non-Tortorella coach I've ever heard.
Below is an example of the proper way F3 (number 32, Dale Weise) is supposed to rotate back to cover for the aggressive, pinching D-man.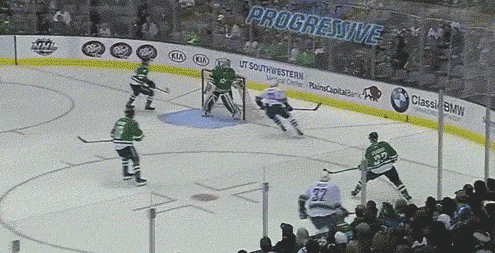 And below is how it went wrong far too often. F3 gets trapped while the D pinches, and the rush is headed back the other way, and fast.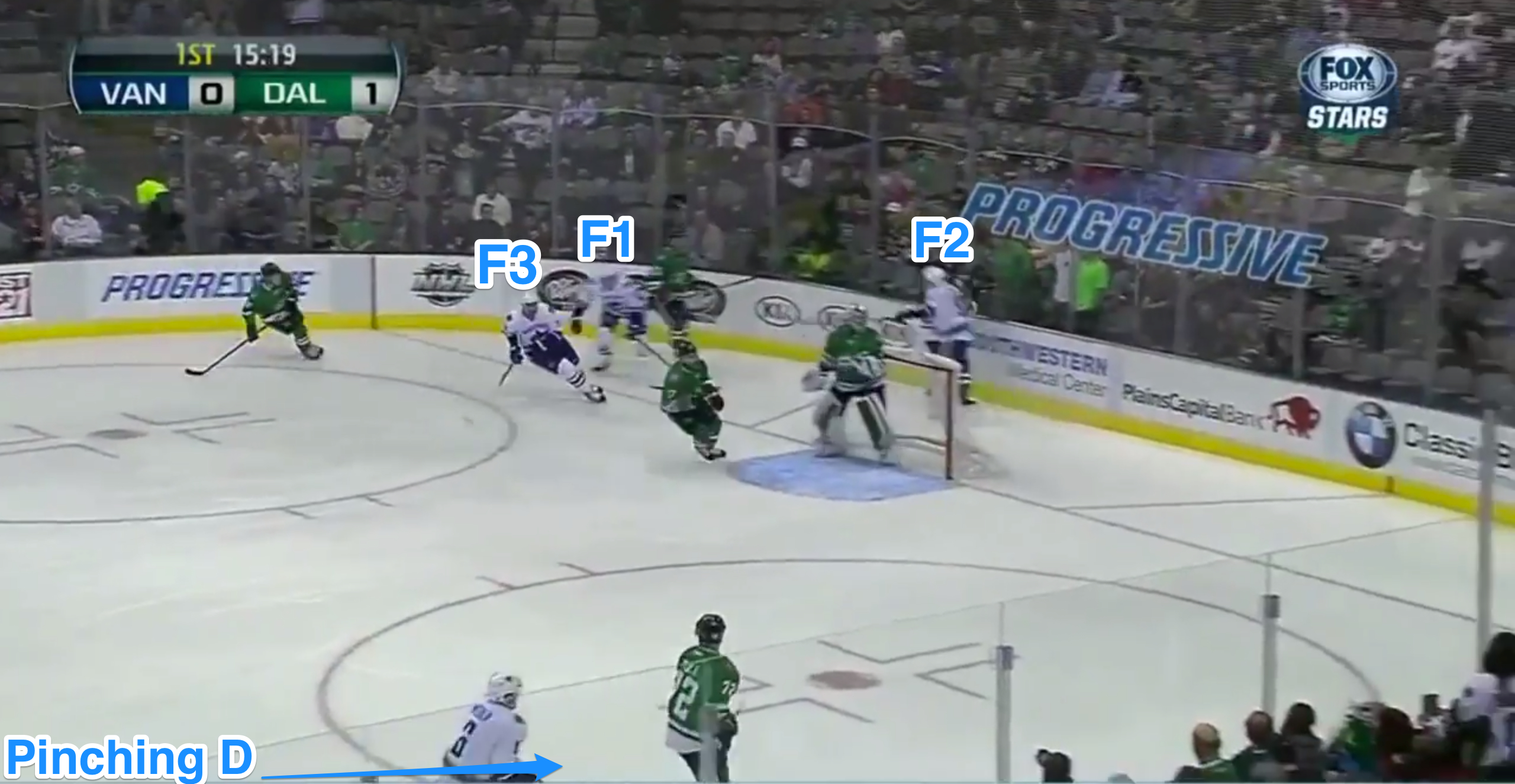 And F3 battles to get back...but the combination of not having time to set and engage, and just straight up Not Being A D-man hurt them.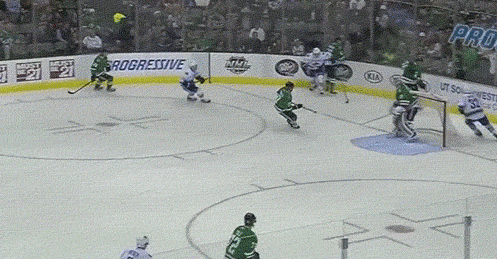 Unless you're a team filled with extremely disciplined players erring on the side of caution, odd-man rushes are going to happen when you're as aggressive as Vancouver chose to be last season.
And when you're playing in the Western Conference, with opponents offering limited scoring opportunities, the last thing you want to do is be the team offering up a few freebies per game. That's the type of thing that keeps you on the outside of the playoffs, looking in.
It's your turn, Willie Desjardins. Allow me to suggest something a little more passive.
Comments
✕
Unique Team Traits: The Canucks' aggressive forecheck allowed for too many odd-man rushes
  Got something to say? Leave a comment below!