Unique Team Traits: The Edmonton Oilers love of offense traps them in the D-zone
theScore's multi-part team previews includes a look at something that separates each team from the pack. From specific breakouts to powerplay formations and beyond, Justin Bourne and Thomas Drance hope to highlight something you haven't noticed in the past.
What we noticed
The offensive thirst of the Oilers' wingers forced their team to spend more time in the D-zone
The original plan for the Oilers was to break down the difference in their defensive zone coverages last season. They started in the swarm…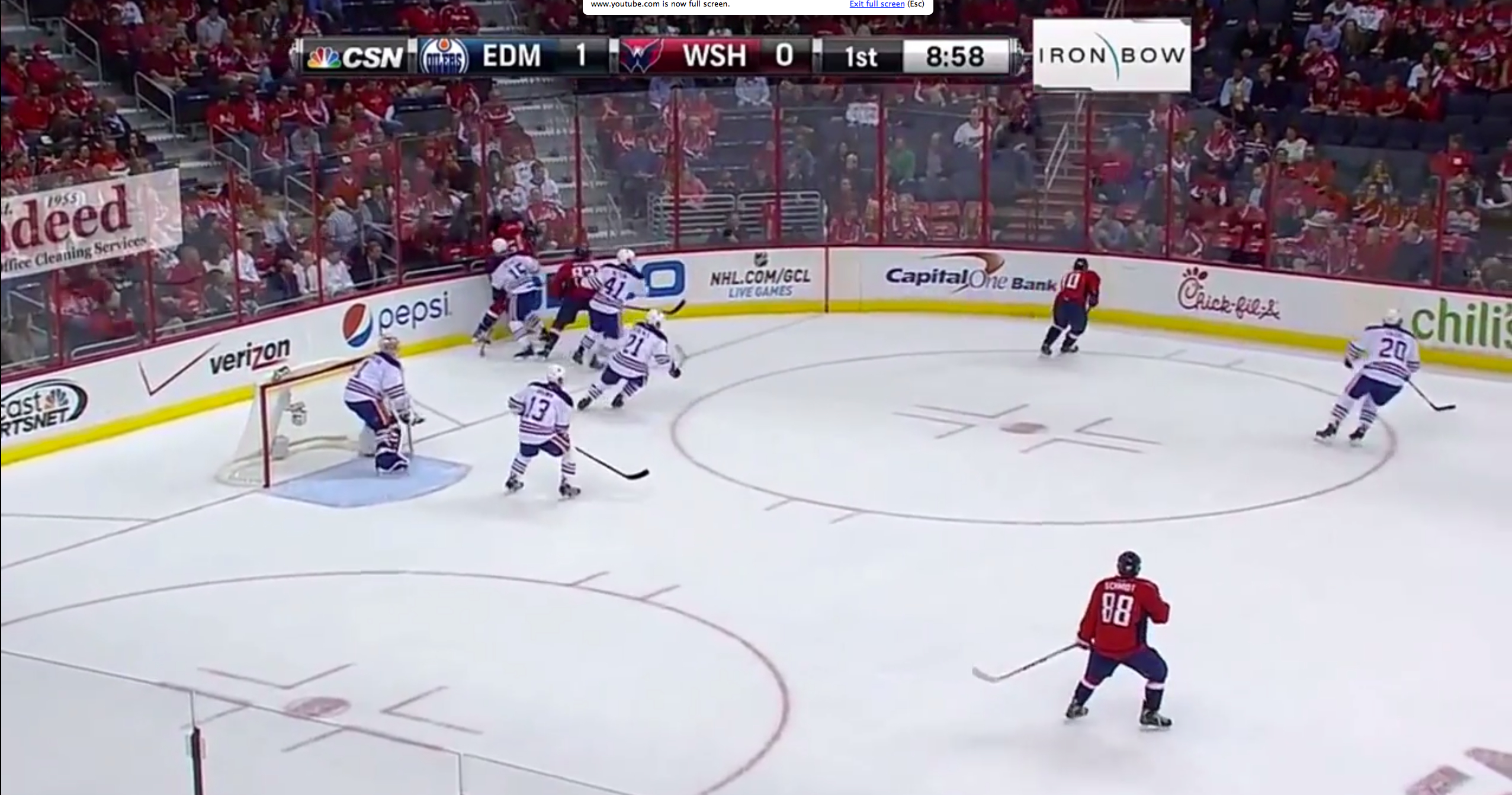 (They have three men on the puck, and look how low the weak side winger plays to free up that extra "swarm" defender down low.)
Before they shifted gears back to a more traditional look…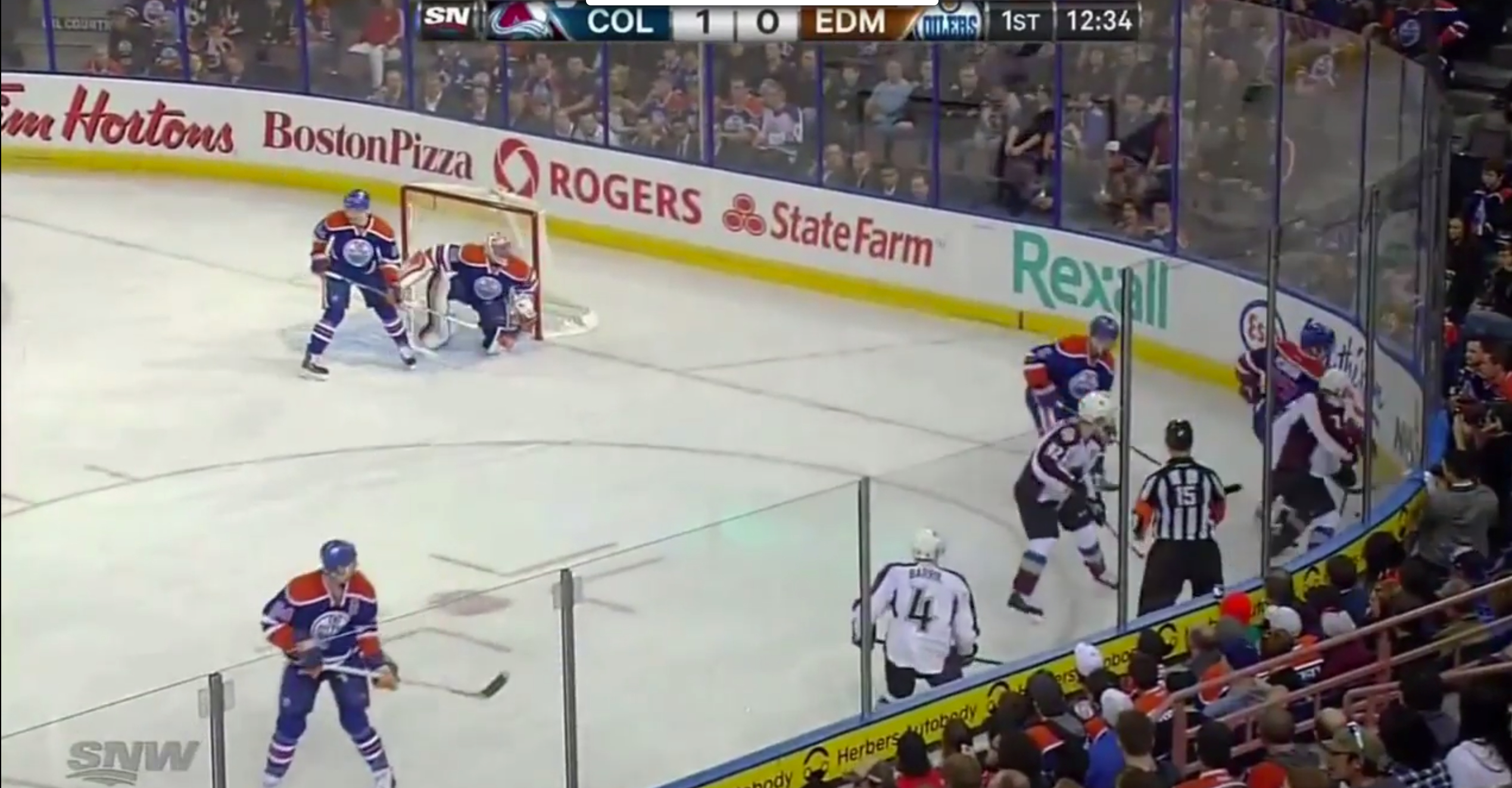 (A D-man and center in the corner, a D-man in front, and a not-pictured winger in the high slot. Trust me though, he's there.)
Oilers head coach Dallas Eakins made the change with a "My bad," as he came to find out that his players somehow didn't know the premise of even basic D-zone coverage.
But the more video we watched of their systems, the more the Oilers wingers stood out as liabilities in both.
The opposing net sings a siren song for offense-first forwards, and like the puck, can pull less disciplined players out of their positions, which can kill breakouts.
It's really tough to look like a D-man who can "make that good first pass" (an integral skill) if you have nobody to give it to, which could be at least part of the reason the Oilers D looked so terrible last year. Half the time they had at least one forward in full "jailbreak" mode busting up the ice thirsting for goals when they'd have been better off coming up as a unit.
Here's how Dallas Eakins described his forwards early in the season:
"The message to our team over the last probably week is that I see our group so excited to score goals, like, boy, they love to score, but we need a group that is equally encouraged and excited to stop goals. It's the same thing on the scoreboard.

"Like the Boston Bruins, they are excited to keep pucks out of their net. They are excited about it. And we've go to get that into this group. and I'm not sure our group is quite wired like that, but eventually they'll be wired like that."
Flying the zone can be the difference between getting the puck into the offensive zone and getting hemmed in your own end, which the Oilers share of even-strength shot attempts - 44.3 percent at 5-on-5, which was third worst in hockey - indicates happened fairly often.
Sadly for those wingers, it was more than just leaving their own end early. They also demonstrated their love of goal scoring by generally refusing to actually stop in the D-zone. It's a common theme with offensive players - if you keep moving you don't get as tired, and you get the puck with speed instead of at a standstill. How personally beneficial!
The problem there, is that constantly moving naturally moves you out of position, and contributes nothing to a team trying to leave the zone as a unit.
The breakdown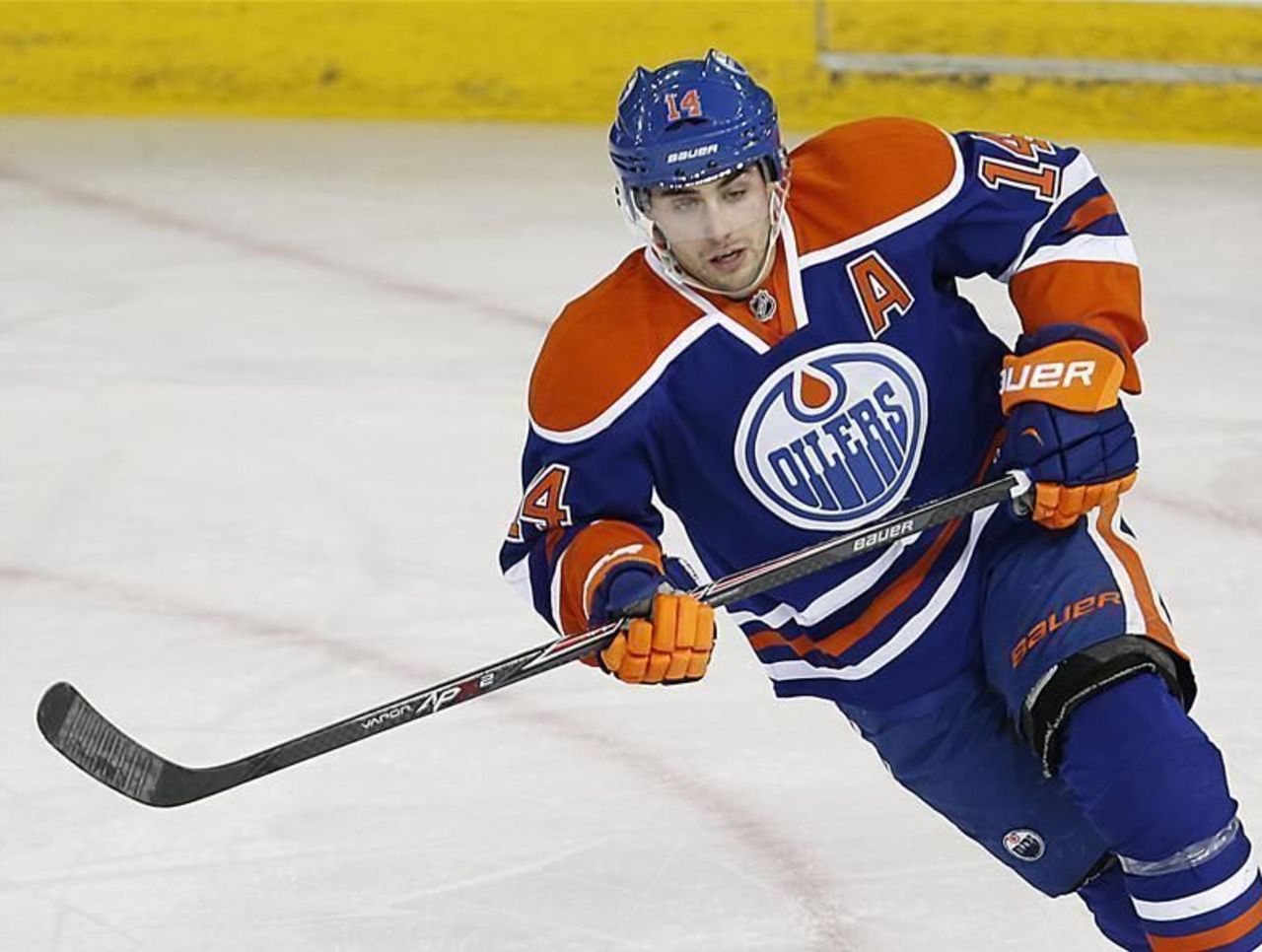 Jordan Eberle is probably the worst Oiler when it comes to springing the zone and leaving his linemates out to dry through the neutral zone. David Perron isn't real great for this either.
Look how far ahead of the play the latter is here.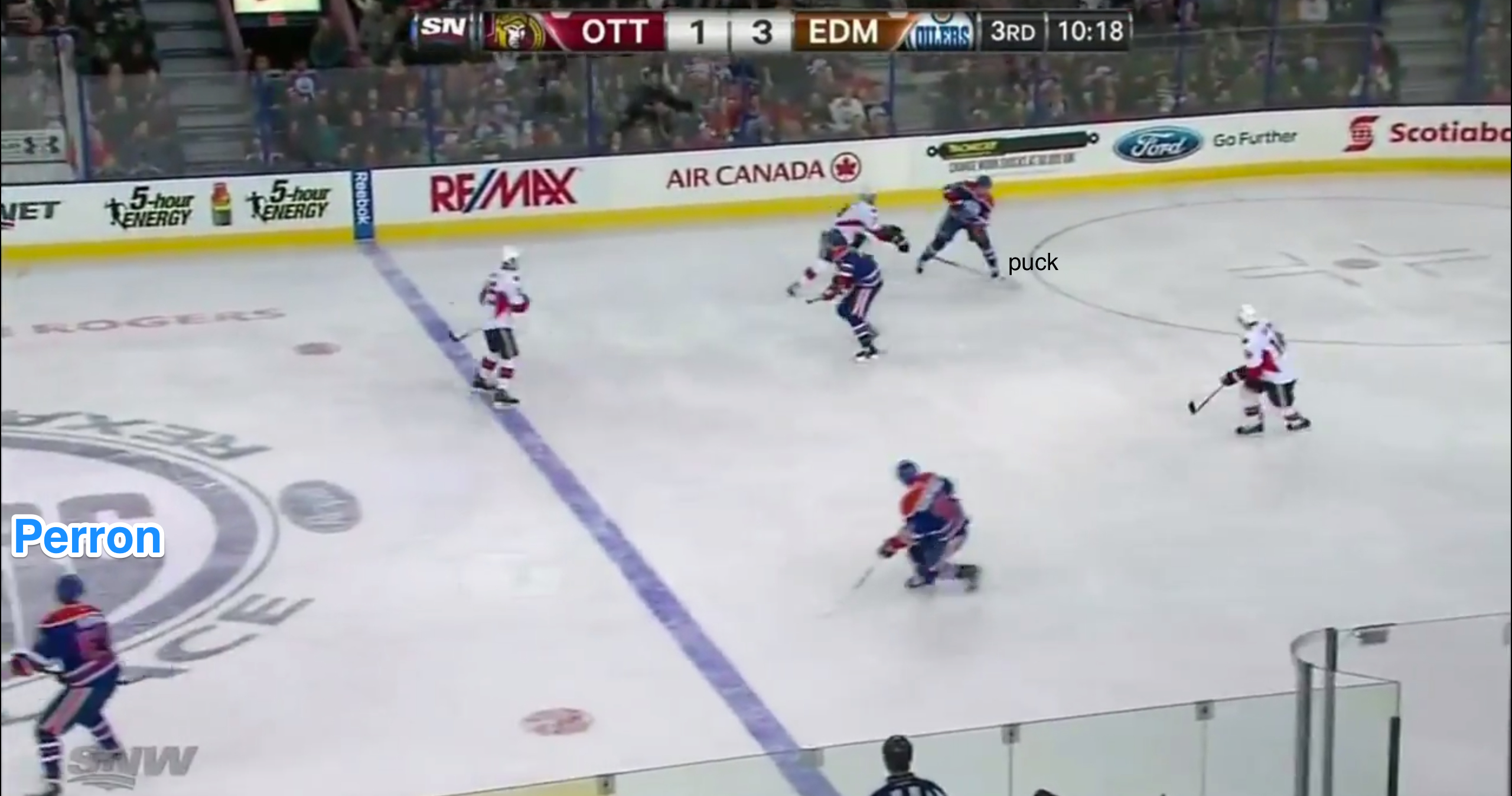 Even if he gets the puck there, he's on top of the opposing D-men, and going to get it poked off his stick. Of course, he didn't get the puck there anyway. Hardly anyone ever does.
Eberle's turn. Justin Schultz picks up the puck in the corner…
He moves up the wall where there's traffic…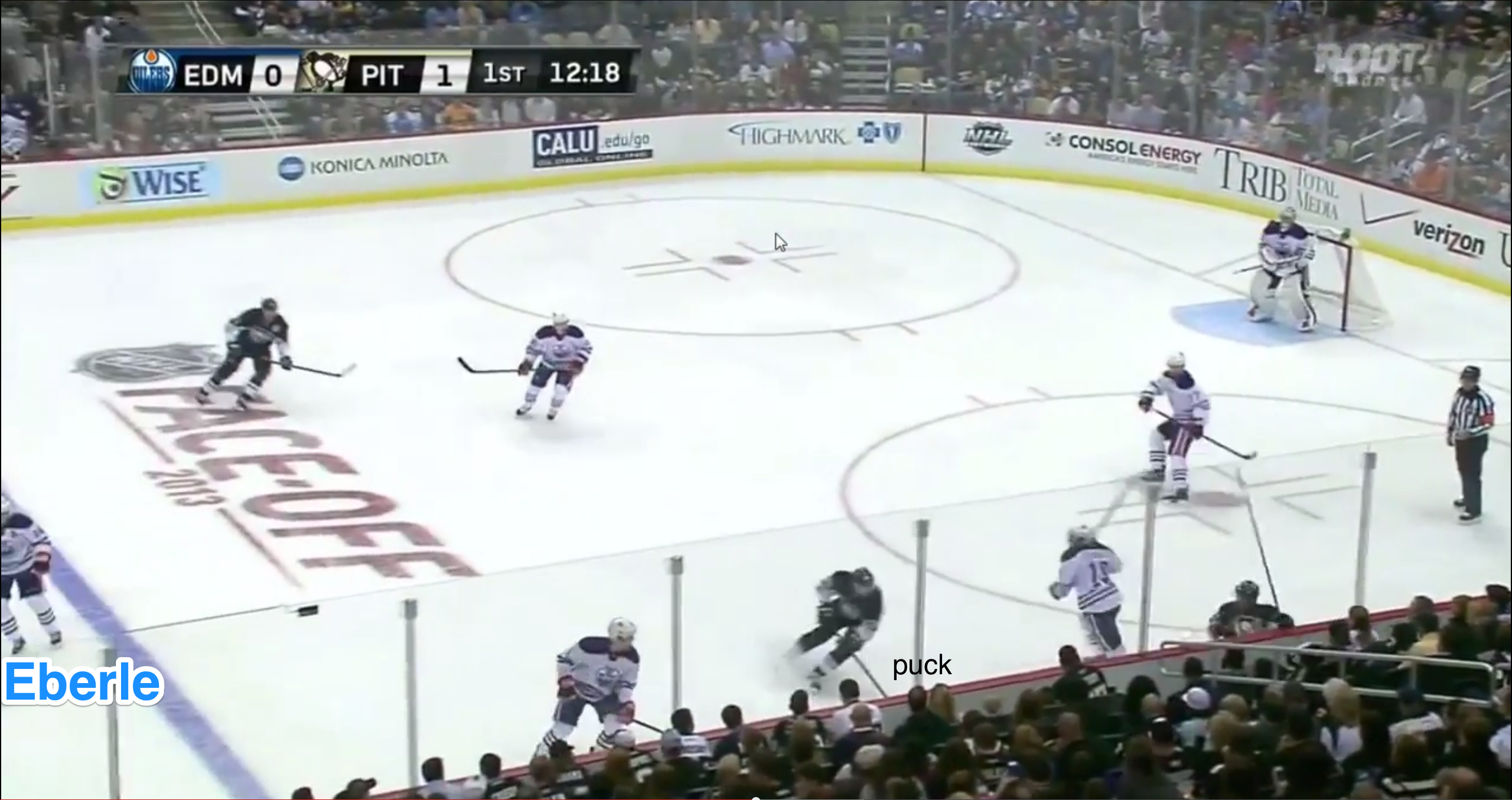 And what's Eberle going to do from there? He's so far up and across so early that even if he gets a puck banged off the glass he's alone and skating into the boards, and into the opposing D without support. The Oilers eventually get the puck back here, and Eberle swoops all the way back to his side, where he gets a pass and he's all alone in the neutral zone.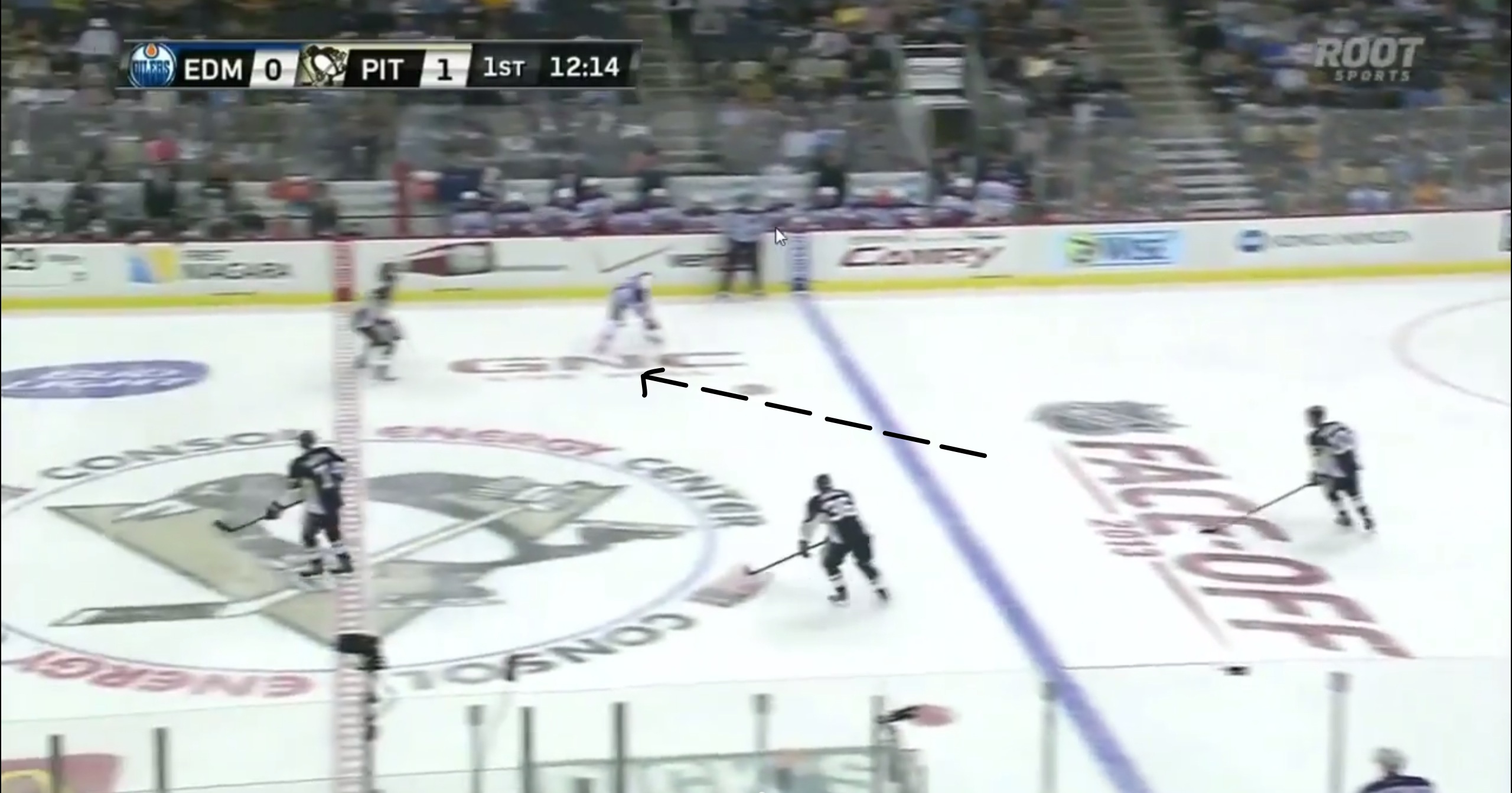 He turned it over trying to skate in by himself here, and the Pens went back the other way.
Here's a similar play where the puck is moving around the boards. Eberle sees his team is going to get first touch on it.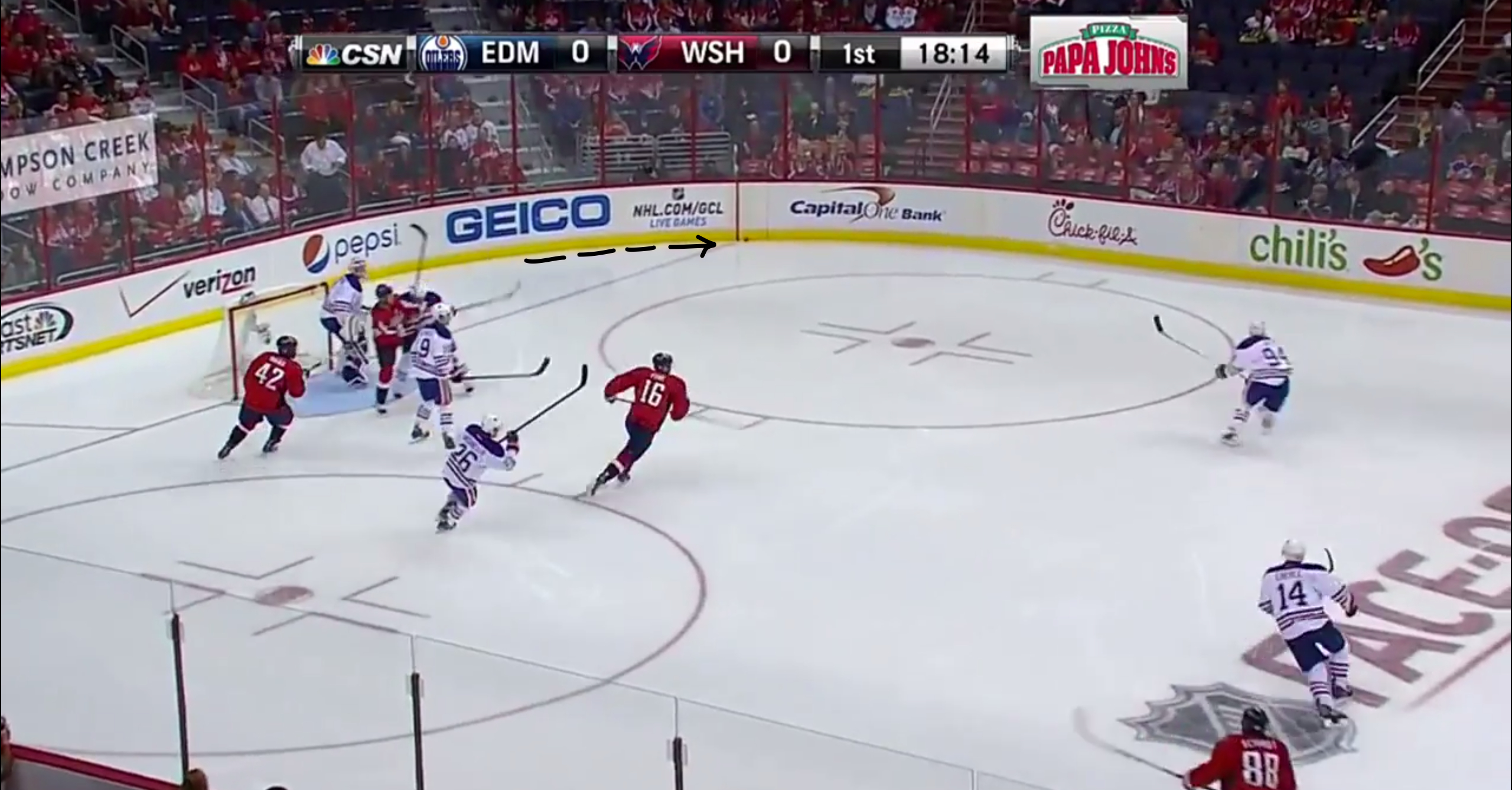 He comes across, and then … byeeee…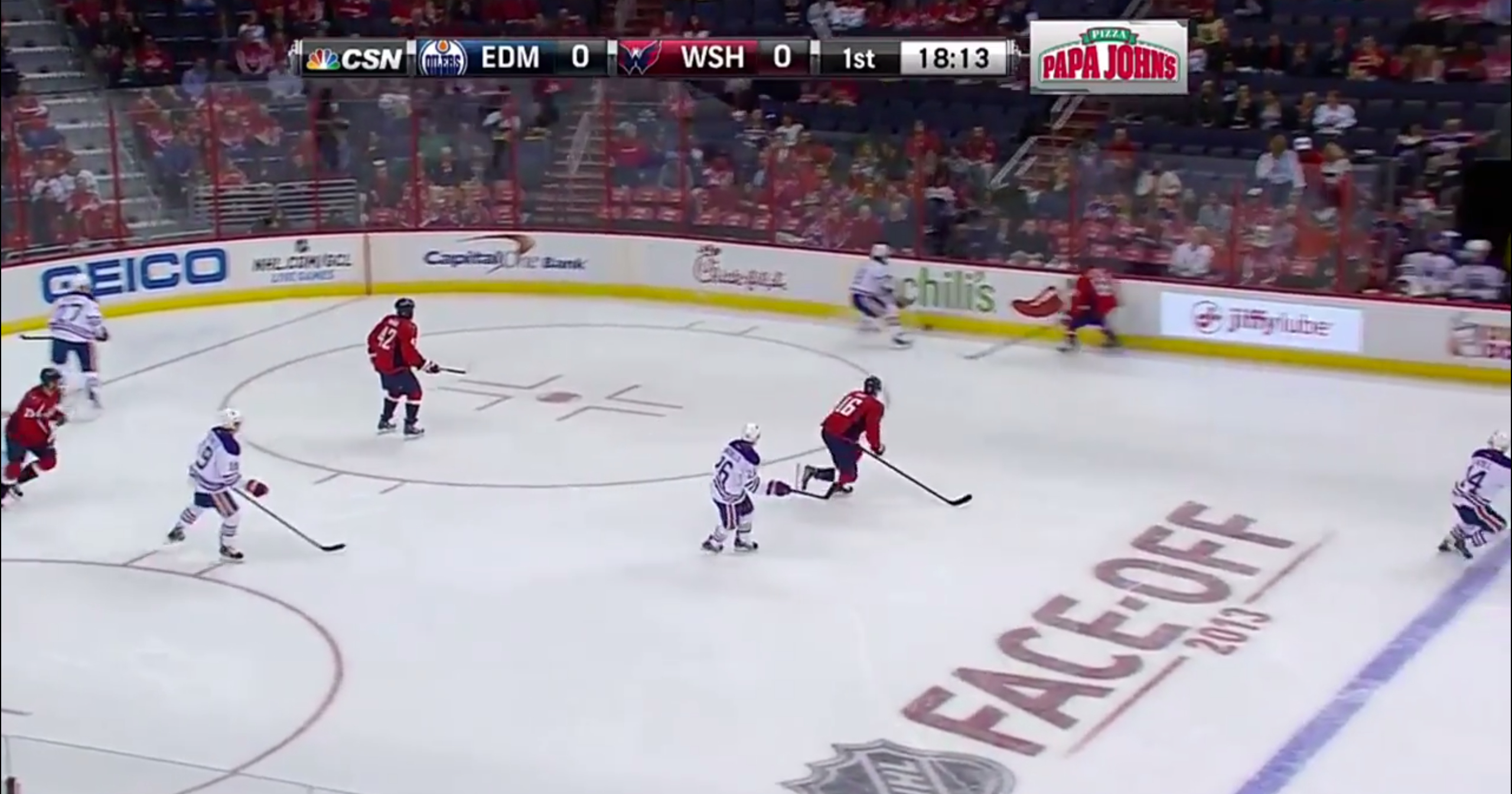 What's he going to do from up there? How's he going to help his team? Hell, he pivots to backwards just to keep an eye on the play from out there. The puck got turned over, and Eberle is out of the frame for a solid chunk of time trying to get back.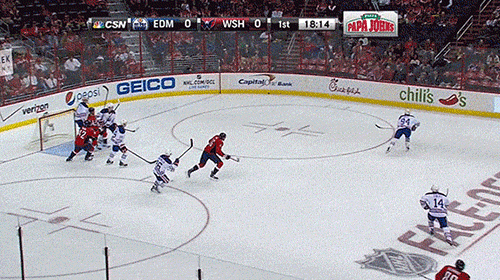 [Courtesy: CSN]
It's worth noting that examples of this were far less available as the Oilers moved deeper into the season. Dallas Eakins clearly identified this, and tried to limit it.
Stops and starts? No thanks
As I mentioned earlier, a winger committed to playing defense will put the brakes on when he's identified where he's supposed to be. You want to stay in your D-man's shooting lane, provide low help if need be, and be looking to give your teammates options when they get the puck.
The breakdown
Here, Ales Hemsky (number 83) should be returning to the slot area in his D-man's lane, and should stop with his toes pointed up ice. Check out how the puck sucks him in, he stares at it, and drifts from his position towards it.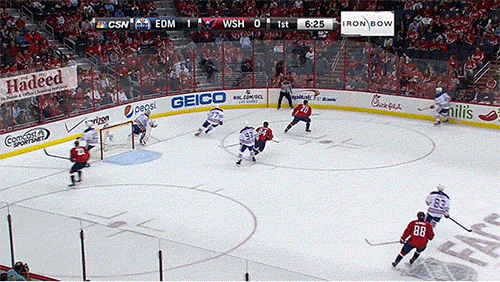 Had he stopped in a defensively responsible spot, he'd have been in a good position to receive the breakout pass. Instead, his drifting forces the angle of the pass to be too acute he can't receive it. The puck ends up in the back of the net.
One more from Eberle. He's a little high on the breakout, he's swooping about, and he's puck watching.
A D-man tries to hit him with a pass…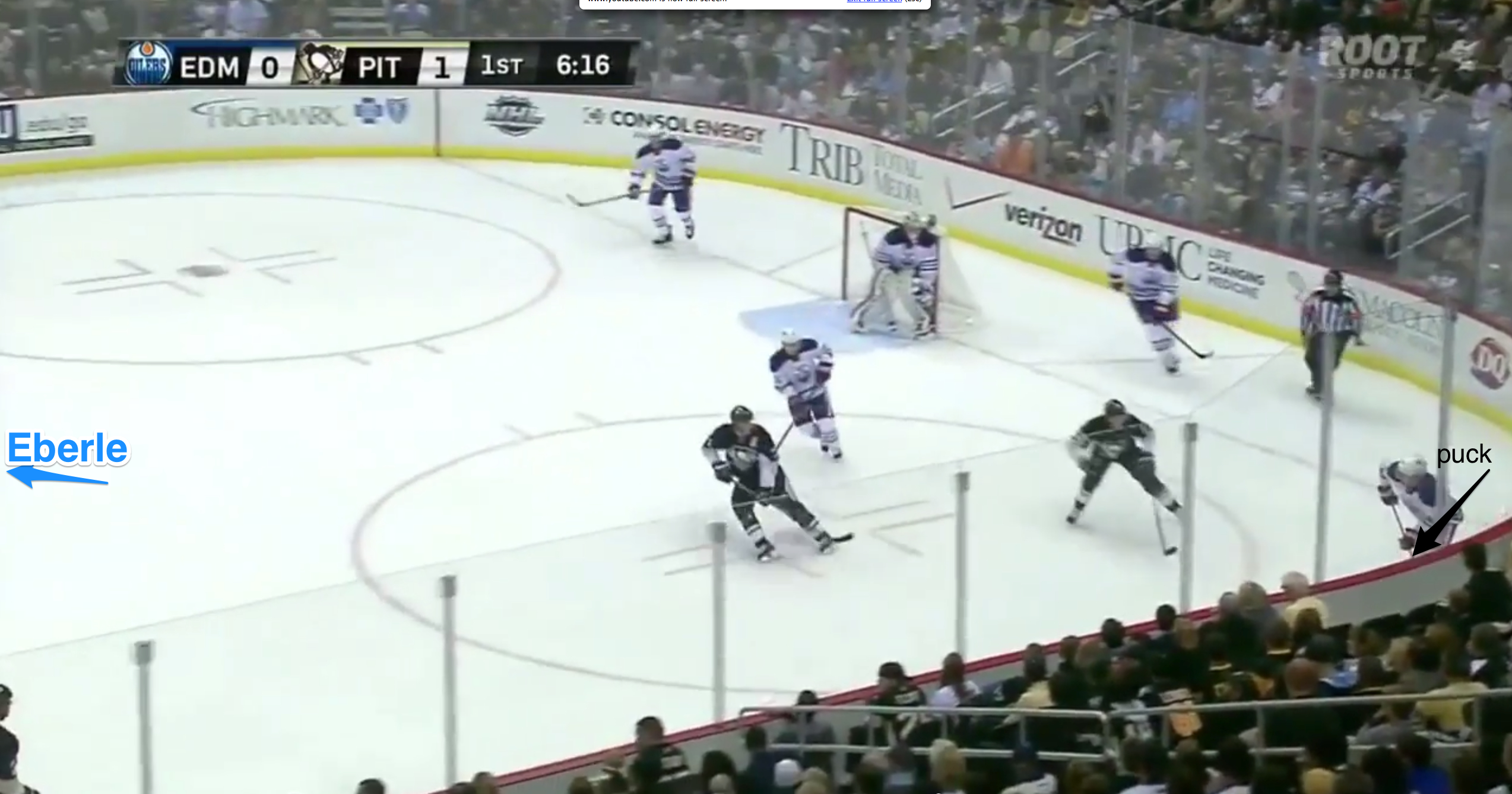 ...it hits him in the skate…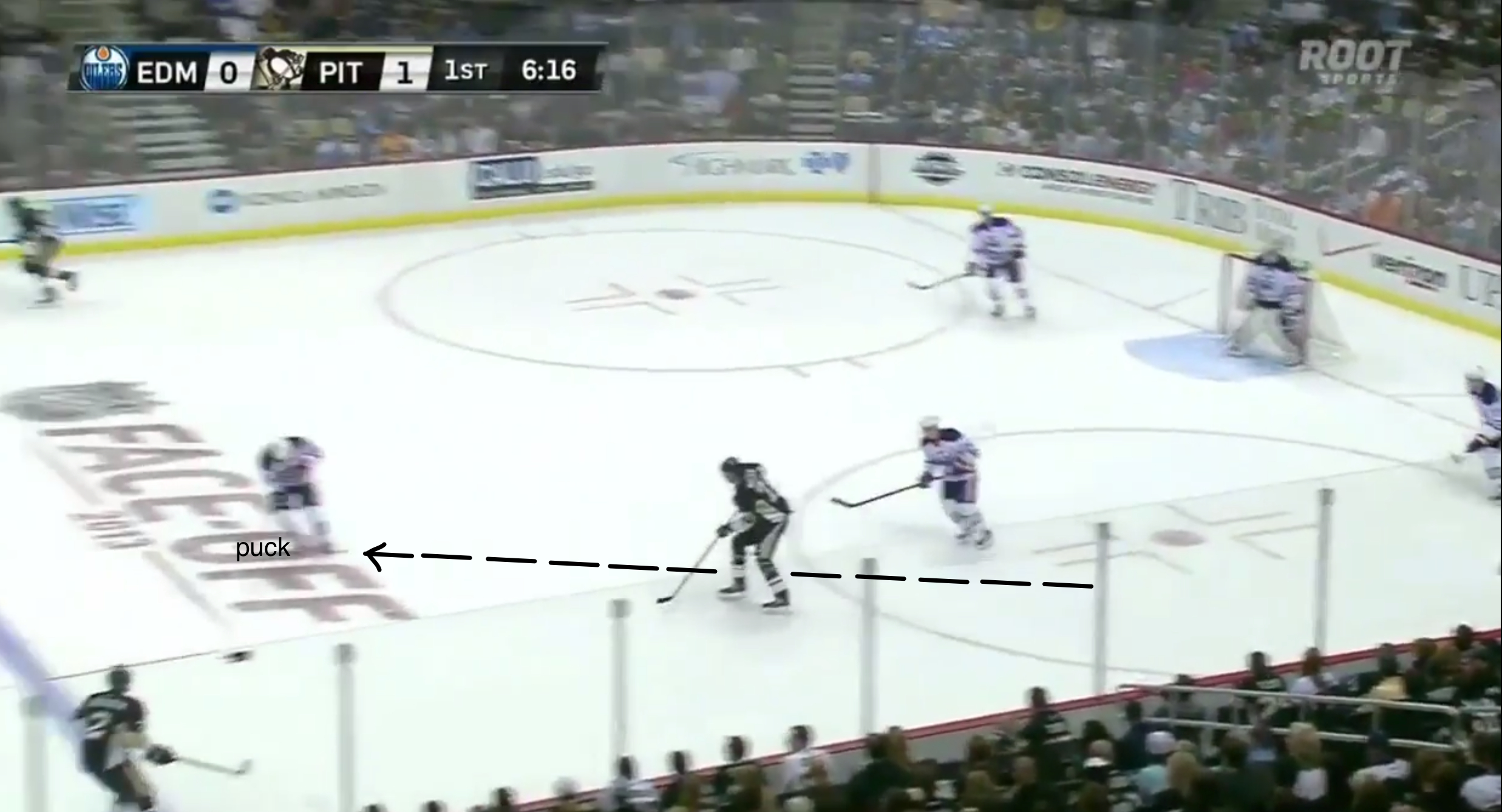 But he doesn't stop on it. Actually, he doesn't stop for anything.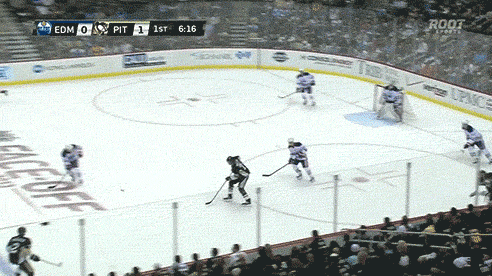 He should stop on Malkin to defend him. He should find his check in the D-zone (the D-man who eventually gets the shot from out wide). He does none of that, because he's thinking about the puck, and not position.
The Oilers young talents are obviously that - talents. I understand that they'll only feel like they're succeeding if they're scoring, and that obsession often overrides the understanding that they need to prioritize defense as well.
Eakins is the right guy to drill that message home, and I think those guys will learn. But until they mature enough to be cognizant of that fact, the Oilers won't be able to take the next all-important step in their rebuild.
Comments
✕
Unique Team Traits: The Edmonton Oilers love of offense traps them in the D-zone
  Got something to say? Leave a comment below!