Ranking the NHL's 6 best defense pairings entering 2023-24
Bill Smith / National Hockey League / Getty
Hey, someone has to try to stop Connor McDavid when he's on a breakaway. Somebody gets paid to step in front of those booming Alex Ovechkin one-timers. Let's just hope the league's blue-liners healed all their wounds so they can do it again for another 82 games.
Behold, the top six defense pairings heading into the 2023-24 campaign.
All stats are from the 2022-23 regular season at five-on-five:
TOI = time on ice together
CF% = corsi (shot attempts) for percentage
GF% = goals for percentage
xGF% = expected goals for percentage
Honorable mention: Vince Dunn-Adam Larsson 🦑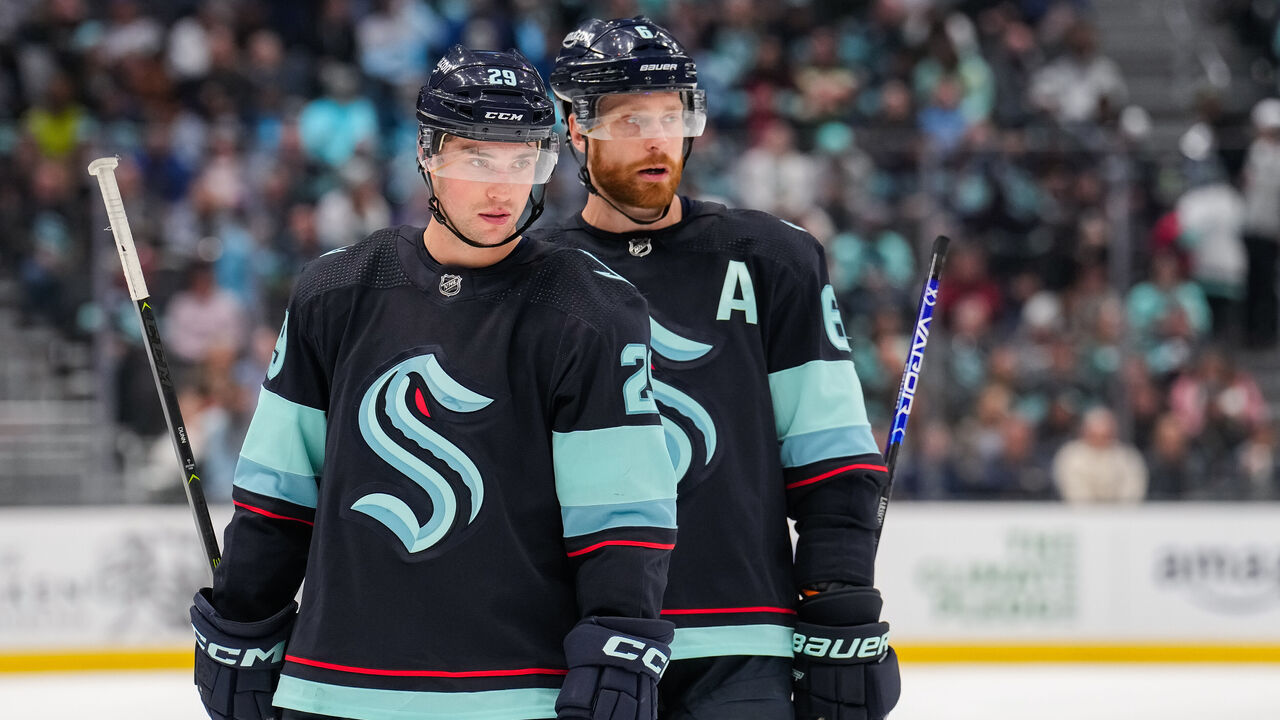 | TOI | CF% | GF% | XGF% |
| --- | --- | --- | --- |
| 1369 | 54.7 | 57.5 | 53.2 |
Dunn and Larsson's glow-up in their second season together coincided with Seattle's vast improvement in its sophomore campaign.
With that pairing on the ice at five-on-five in 2021-22, the Kraken were outscored 22-29 and owned a shot differential of minus-16. Seattle also finished 30th in the league's standings while recording an abysmal minus-69 goal differential. But a different story unfolded in 2022-23, with Dunn and Larsson consistently helping the Kraken dictate play while making up the league's busiest pairing. Out of all defensive duos to see at least 900 minutes of ice time together at five-on-five, Dunn-Larson rates in the top four in shot attempts share and goals share.
Both Dunn and Larsson also reached new career highs in points last season, but the former was the standout. Dunn's 64 points in 81 games were the second most on the team and ranked 10th among all defensemen league-wide. The duo works stylistically, too, thanks to Larsson's stay-at-home tendencies. He placed 33rd in the NHL in defensive zone stick checks and fifth for body checks last season while pacing all Kraken skaters with 222 hits and 173 blocks, per NHL.com's Alison Lukan.
Look to the Kraken and the Dunn-Larsson pairing to continue to make strides in Year 3.
6. Alec Martinez-Alex Pietrangelo ⚔️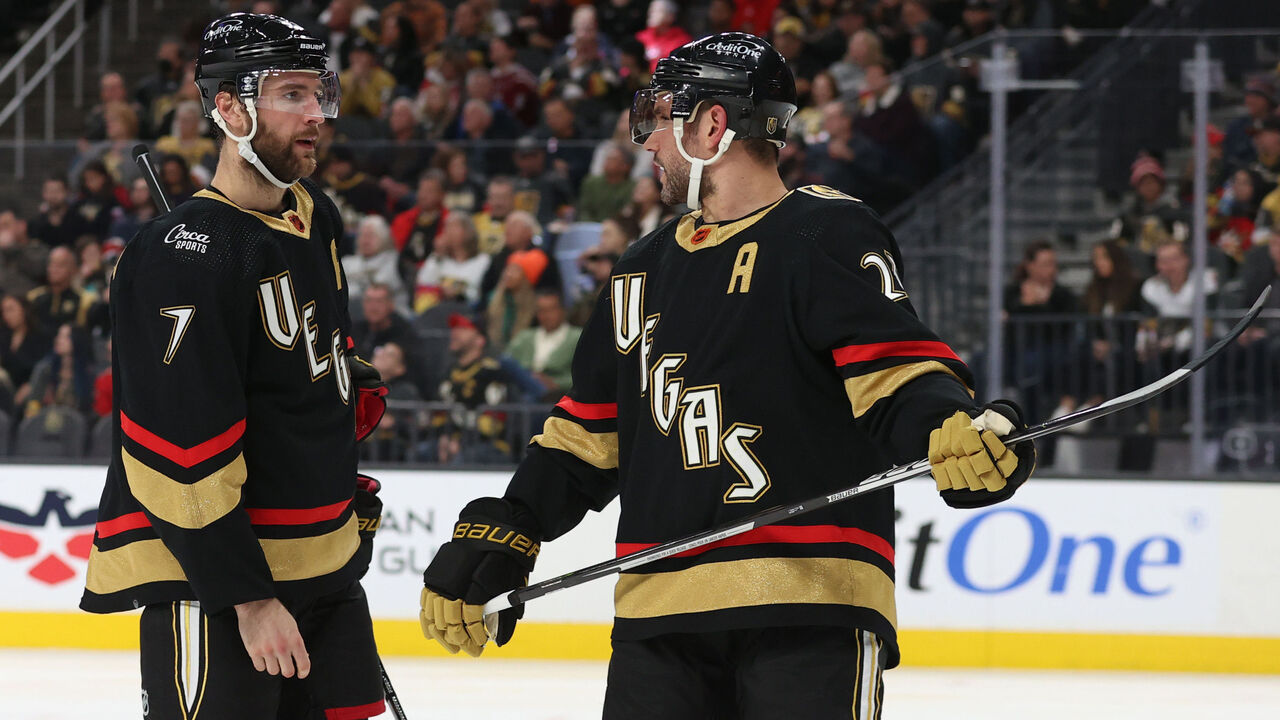 | TOI | CF% | GF% | XGF% |
| --- | --- | --- | --- |
| 902 | 46.9 | 61.6 | 53.9 |
Defense wins championships, and this pairing knows how to win.
Martinez and Pietrangelo have a whopping five Stanley Cup championships between them, with the veteran duo most recently helping the Golden Knights lift Lord Stanley's Mug in June.
The pair logged just under 320 minutes of ice time together at five-on-five last postseason, and Vegas outscored opponents 19-10 in those minutes while boasting an impressive goals-against-per-minutes rate of 1.88. That's no small feat, given that Martinez and Pietrangelo frequently matched up against top forwards, including Connor McDavid in the second round. Pietrangelo was the Golden Knights' most utilized skater in the playoffs, eating up a team-leading 23:25 every game - more than three minutes clear of Shea Theodore in second place.
There's some serious mileage on both players. Martinez and Pietrangelo are over 30 years old, and the former has appeared in almost 800 contests, while the latter is close to hitting the 1,000-game mark. However, they're hardy and reliable. Both ranked in the top eight league-wide in blocked shots during the regular season (Martinez led the pack with 244), and Pietrangelo placed second on the team in shorthanded ice time (164:08).
Though Pietrangelo is the true star of the pairing, Martinez shouldn't be overlooked. He led all Golden Knights defensemen in goals above replacement (12.1) and wins above replacement (2.1) last season.
5. Matt Grzelcyk-Charlie McAvoy 🐻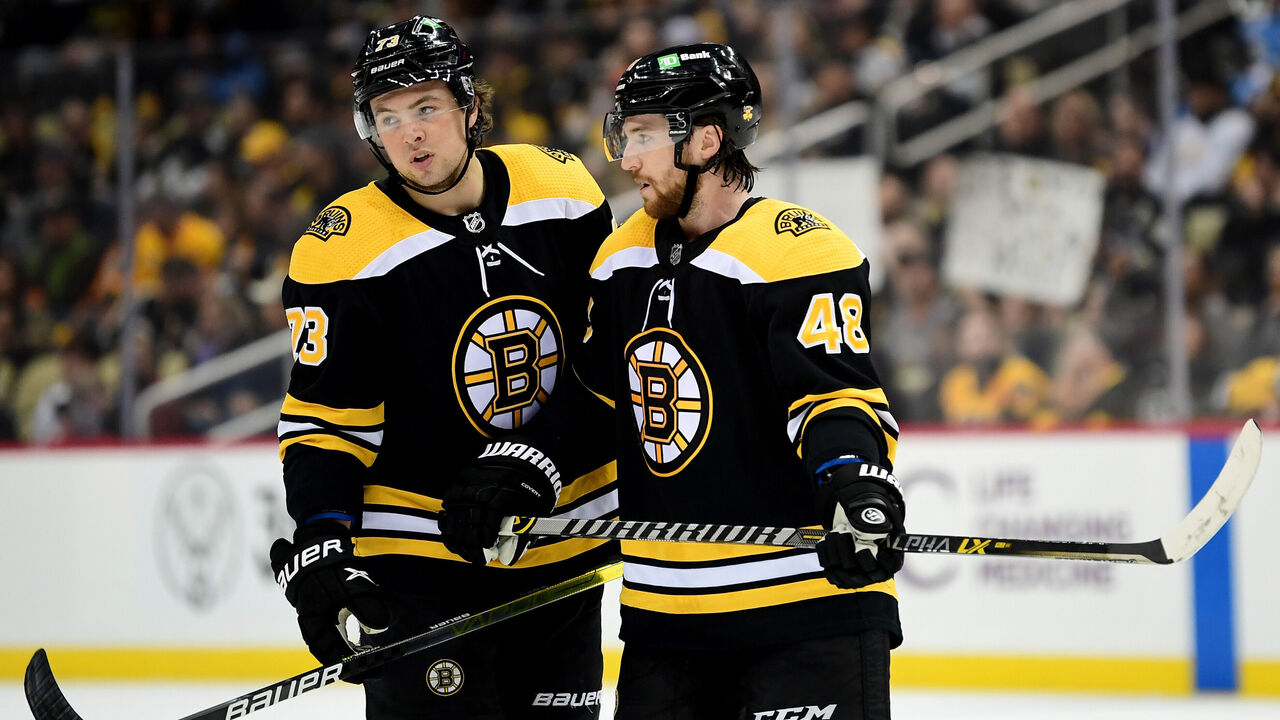 | TOI | CF% | GF% | XGF% |
| --- | --- | --- | --- |
| 604 | 53.2 | 70.6 | 54.9 |
Sure, Grzelcyk and McAvoy don't have the best track record in the playoffs, but they work in the regular season. That's great news for the Bruins, who could use some consistency and familiarity in the aftermath of Selke Trophy king Patrice Bergeron's and David Krejci's retirements.
Boston outscored opponents 36-15 at five-on-five with the duo on the ice last season, the NHL's second-highest ratio among all pairs to skate at least 500 minutes together. Grzelcyk and McAvoy also posted a minuscule 1.49 goals against per 60 and a hefty 3.58 goals for per 60, which both rank in the top five league-wide. They didn't see as much time together last season as the other pairings on this list, but that's partially due to both starting the campaign injured, and McAvoy spent around 250 minutes on a pair with Hampus Lindholm. However, Grzelcyk and McAvoy's shared 604 minutes was a new high for the duo.
Now, you may be thinking, "The Bruins were an insurmountable force in the regular season, everyone probably put up strong numbers." You'd be right, but Grzelcyk and McAvoy have built up quite the reputation of being an elite, reliable duo for Boston in recent seasons.
Grzelcyk has been McAvoy's most common partner since 2020-21, and the results have paid dividends. Over the past three seasons combined, the duo ranks third in CF% (58.1) and first in GF% (72.9) and xGF% (61.2) among all pairs to see at least 1,000 minutes together at five-on-five. Simply put, the Bruins have controlled the puck and kept it out of their net at staggering rates when Grzelcyk and McAvoy are off the bench.
4. Jonas Siegenthaler-Dougie Hamilton 😈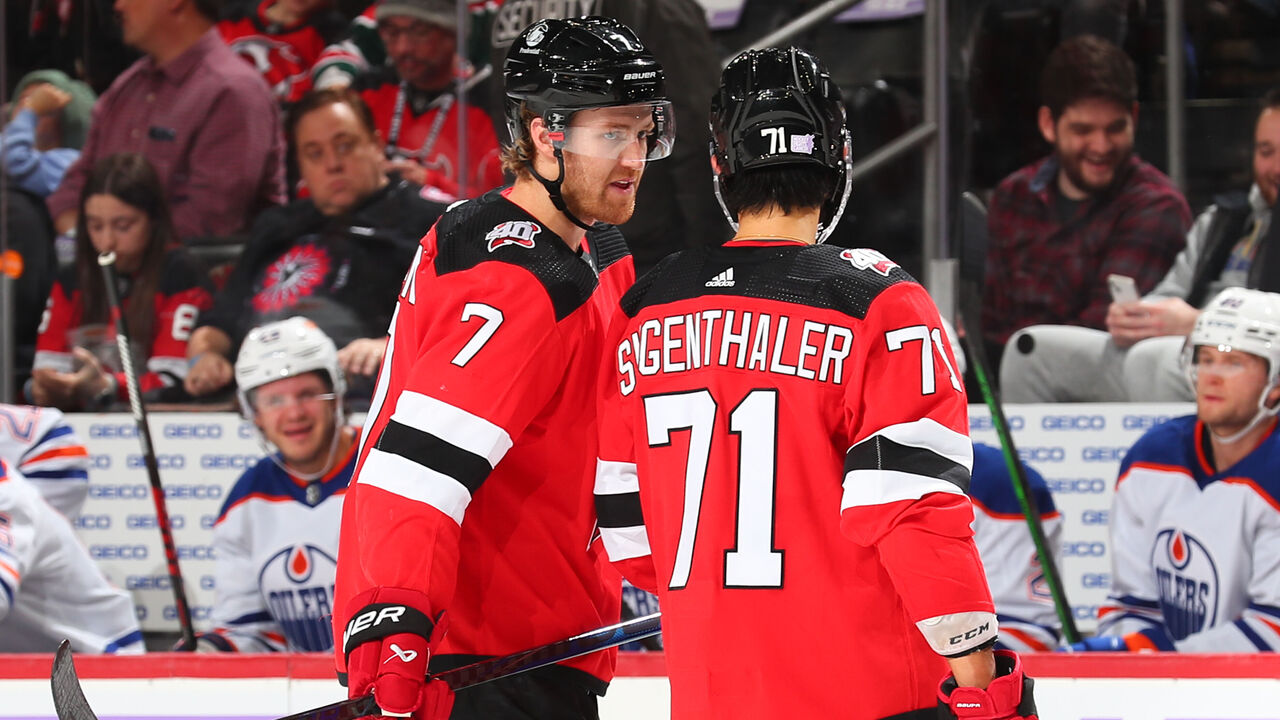 | TOI | CF% | GF% | XGF% |
| --- | --- | --- | --- |
| 1019 | 54.5 | 61.6 | 55.5 |
The Devils were puck-possession fiends as they enjoyed their long-awaited breakthrough in 2022-23. Their top pairing of Siegenthaler and Hamilton undoubtedly had something to do with that newfound success.
New Jersey outscored opponents 61-38 with the duo on the ice at five-on-five while hogging around 56% of the scoring chances and high-danger opportunities. Siegenthaler's shutdown style is well-suited to Hamilton's offensive approach, which is reminiscent of what Jaccob Slavin brought to the table as Hamilton's partner for three seasons in Carolina. Unsurprisingly, the stylistically similar partnership also clicks in New Jersey, so it tracks that Siegenthaler and Hamilton were one of the league's best duos at driving offense. Their 3.59 goals for per 60 was the third-highest clip among all pairs to see at least 500 minutes together at five-on-five.
Individually, Hamilton officially arrived in New Jersey last season. Injuries sabotaged his first campaign as a Devil, but he's now shown why he's worth every penny of the seven-year, $63-million extension he signed in July 2021. With Siegenthaler at his side, Hamilton posted a career-high 22 goals and 74 points while ranking fourth in scoring among all blue-liners.
However, Siegenthaler and Hamilton didn't take the lion's share of the reps against opponents' top players last season like some of the other duos on this list - that mantle belonged to John Marino and Ryan Graves. That may change in this upcoming campaign. Graves departed to Pittsburgh, and the Devils may not want to saddle rookie Luke Hughes with too much responsibility right out the gate.
3. Ryan Lindgren-Adam Fox 🗽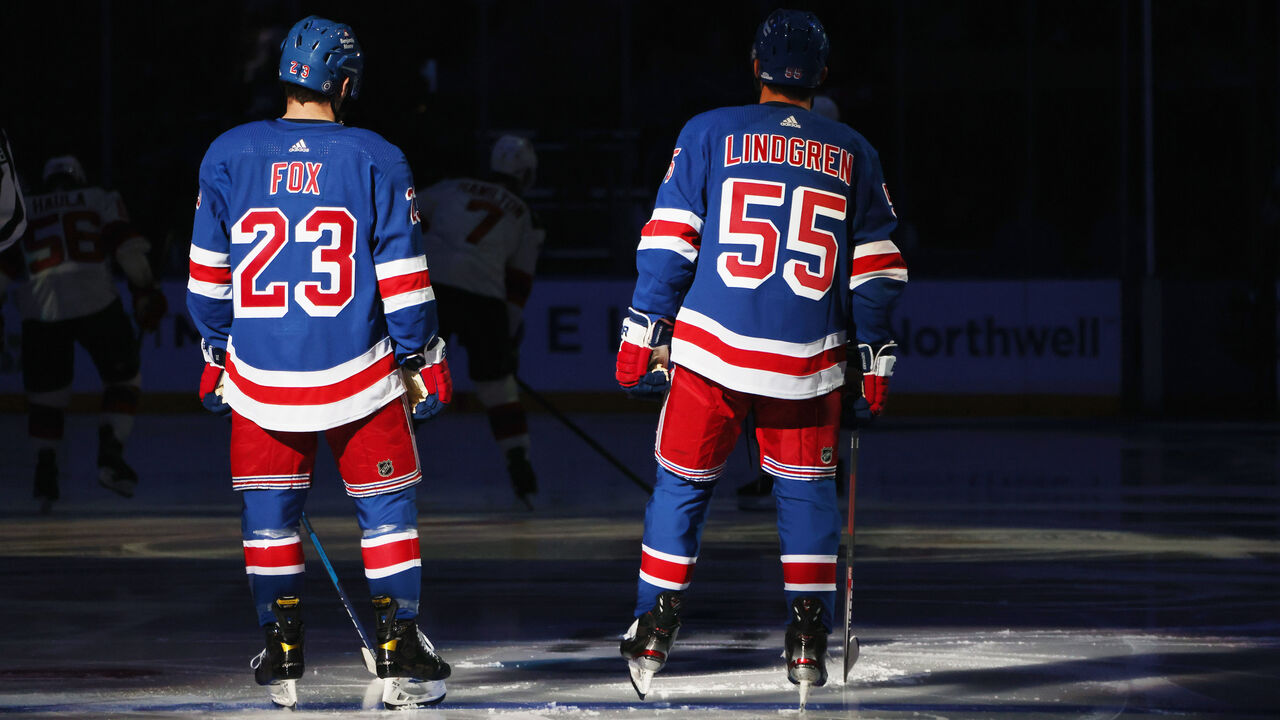 | TOI | CF% | GF% | XGF% |
| --- | --- | --- | --- |
| 895 | 54.8 | 61.1 | 54.3 |
Death, taxes, and another season in which Fox and Lindgren belong on this list.
The Rangers didn't thrive during their Lindgren-and-Fox-less minutes in 2022-23. Namely, New York's key possession metrics tanked without the duo on the ice at five-on-five, with the team's GF% (50.2) and xGF% (46.2) dipping at least 8%. Out of all the Rangers pairings to see at least 200 minutes of ice time together, Lindgren and Fox were the only duo to post GF% and xGF% rates above 50%.
Fox is an incredible defenseman on his own - recently named a Norris Trophy finalist for the first time since winning the hardware in 2021. But Fox and Lindgren just pair nicely together. Fox spent most of his time with Niko Mikkola when Lindgren missed almost 20 games due to injury, and the makeshift duo's underlying numbers all slipped below 50%.
Lindgren and Fox have been a fixture of the Big Apple's back end for four seasons running. The duo has skated an astounding 3,370 minutes together at five-on-five since 2019-20, and the Rangers have outscored opponents 160-110 over that span. That's dang impressive, given that both Fox and Lindgren are only 25 years old (perhaps adding to their chemistry, their birthdays are a mere six days apart). We can't wait to see what Year 5 brings for the talented twosome.
2. Jaccob Slavin-Brent Burns/Tony DeAngelo 🌀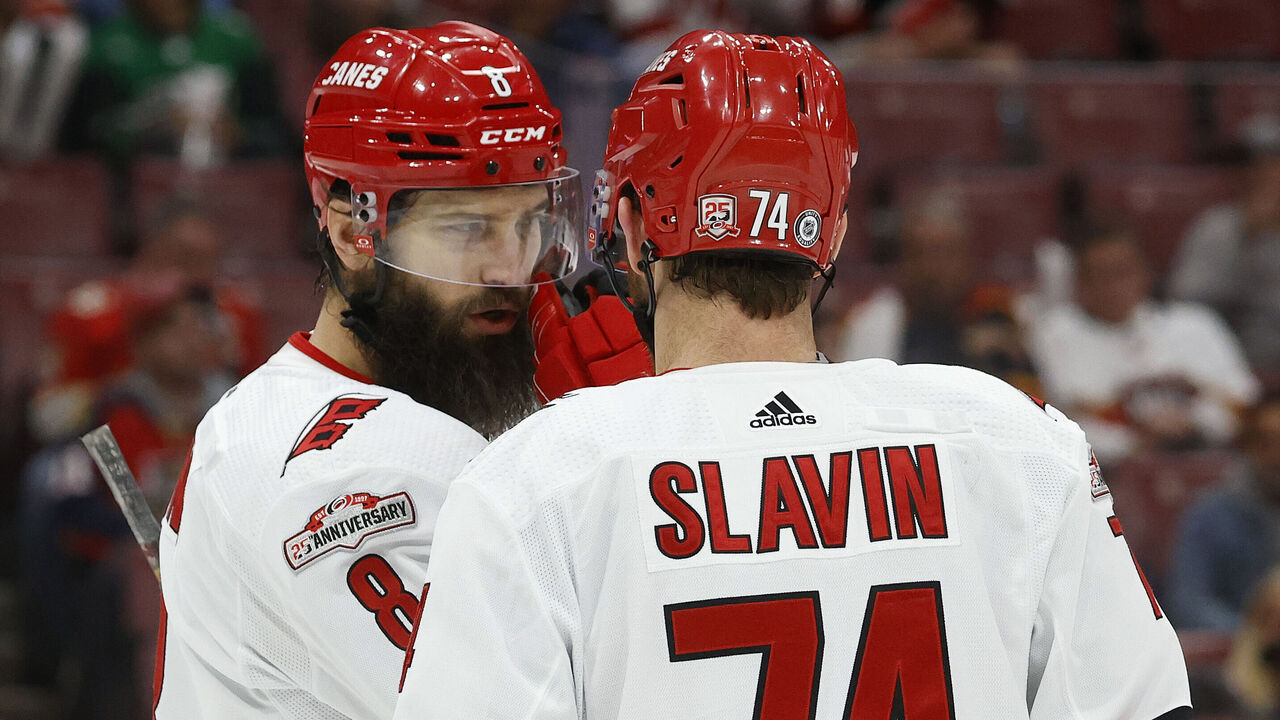 | Pairing | TOI | CF% | GF% | XGF% |
| --- | --- | --- | --- | --- |
| Slavin-Burns (2022-23) | 1182 | 61.9 | 57.1 | 60.7 |
| Slavin-DeAngelo (2021-22) | 684 | 55.3 | 66.7 | 59.4 |
We don't even know who will make up the other half of this pairing in 2023-24, and it still took the No. 2 spot on this list. That's how gosh-darn good the oft-underrated Slavin is. The Hurricanes stalwart and shutdown wizard has two options for the upcoming campaign: He'll either play alongside Burns for the second season in a row or rekindle his relationship with DeAngelo.
Let's start with the burly veteran Burns. Opponents had an awful time getting anything done whenever Burns and Slavin were off the bench last season. The Hurricanes controlled a whopping 61.1% of the high-danger chances (312-199) and 62.8% of the scoring chances (726-431) with the duo on the ice at five-on-five. Those impressive rates are the highest of all pairings to see more than 500 minutes of action together in 2022-23.
But wait, there's more! Burns posted his highest point total (61) since 2018-19 in his first season with Slavin and ended up back on the Norris Trophy ballot after a three-year drought. Slavin's entire thing is about making his running mate look great, so it'd be logical if Carolina wants to keep him and Burns together. But that's also why a reunion with DeAngelo makes sense.
DeAngelo was ... bad on a bad Philadelphia Flyers team in 2022-23. His minus-15.1 defensive goals above replacement last season was the bottom of the barrel in the entire NHL, and he was a team-worst minus-27. However, he and Slavin formed a solid pairing in 2021-22, so it could be worth revisiting for the Hurricanes, who may want to strap a top-notch babysitter to DeAngelo's side.
1. Devon Toews-Cale Makar ⛰️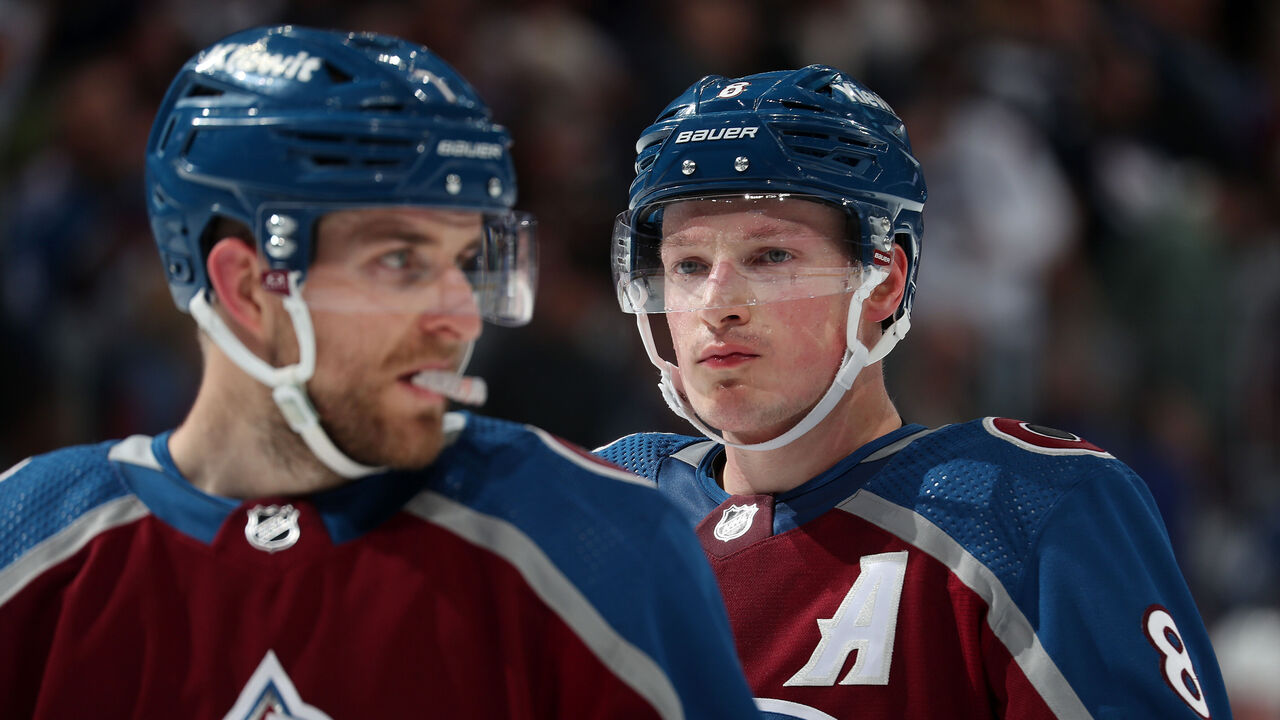 | TOI | CF% | GF% | XGF% |
| --- | --- | --- | --- |
| 753 | 57.7 | 62 | 58.2 |
Any pair featuring the best defenseman in the league (Makar. It's Makar) will have a decent shot at claiming the No. 1 spot on this list. But don't be fooled, Toews pushes the duo over the edge.
Injuries decimated the Avalanche's back end in 2022-23 - Bowen Byram and Josh Manson missed substantial time, while Makar was sidelined for 22 games due to concussion issues and lower-body ailments. Luckily for them, Toews suited up for all but two contests, and he was an absolute workhorse, logging 25 minutes per game against elite competition while posting his second straight 50-point season. Colorado outscored the opposition 79-54 at five-on-five with Toews out there, and that margin narrowed to 95-91 with him on the bench.
Toews obviously does his best work with Makar (more on him later), but the responsible blue-liner admirably shouldered the hefty workload in his usual running mate's absence. In a little under 750 minutes at five-on-five with Toews on the ice sans Makar, Colorado dictated 51.5% of the shot attempts, 56.5% of the goals, and 53.5% of the expected goals.
OK, now it's time to give Makar his flowers. Despite missing time, he was still named a Norris Trophy finalist after posting 17 goals and 66 points in 60 games while leading the league in average ice time (26:23). When healthy, he and Toews again formed the NHL's most formidable tandem, this time while having to help the Avs overcome key absences. Out of all defensive pairs to see at least 500 minutes of ice time together at five-on-five, Toews and Makar ranked third in xGF% and fifth in GF%.
Notables to miss the cut:
Brady Skjei-Brett Pesce, Hurricanes
Adam Pelech-Ryan Pulock, Islanders
Jakob Chychrun-Thomas Chabot, Senators
Jacob Middleton-Jared Spurgeon, Wild
(Analytics source: Evolving-Hockey, Natural Stat Trick)