Moving on from D.J. Smith is Senators' only hope of saving season
Rich Graessle / National Hockey League / Getty
NHL head coaches have a short shelf life. Sometimes when the message becomes stale, it's time for a fresh voice with new ideas and motivation tactics. It doesn't necessarily mean the coach isn't good at his craft. Sometimes it's just time for a change.
The Ottawa Senators have reached this point with D.J. Smith.
Smith, hired by the Sens in May 2019, is the league's seventh-longest-tenured head coach. Between the six coaches ahead of him, four (Jon Cooper, Mike Sullivan, Jared Bednar, Craig Berube) have won Stanley Cups, one (Rod Brind'Amour) won the Jack Adams Award, and the other (Todd McLellan) has a long track record of success and led the upstart Los Angeles Kings to the playoffs last season.
Smith has accomplished none of this.
Ottawa never even sniffed the playoffs in Smith's first three years on the job, finishing second-last in its division each season. But that's understandable - they were rebuilding.
Expectations changed this past summer, though. The offseason additions of household names like Alex DeBrincat, Claude Giroux, and Cam Talbot were supposed to be the missing ingredients to help the Senators' budding young core make the leap. At the very least, the hope was for the team to stay in the race and play meaningful hockey down the stretch.
The expectations placed Smith firmly on the hot seat in our preseason pressure cooker preview.
But things have gone worse than even the most pessimistic critic could've imagined. The 6-12-1 Senators entered Friday with the NHL's second-worst points percentage (.342). On Ottawa's current pace, it's projected to be the worst season in franchise history since 1995-96 - when the club was still in its infancy stages.
There have been underlying improvements this season that show the Sens have been slightly unlucky, but it's hard to give this team the benefit of the doubt. On the bright side, Ottawa generates plenty of offense, ranking third in the league in five-on-five expected goals for per 60 minutes. But certain issues have remained defensively, as the club ranks 23rd in expected goals against per 60.
Additionally, the Senators rank 17th in goals per game and 28th in goals against per game. The defensive struggles are particularly alarming considering it's been a consistent issue throughout Smith's tenure. Smith played 45 NHL games as a defenseman and ran the Toronto Maple Leafs' blue line as an assistant coach under Mike Babcock before taking the Ottawa job. Theoretically, his teams should excel defensively.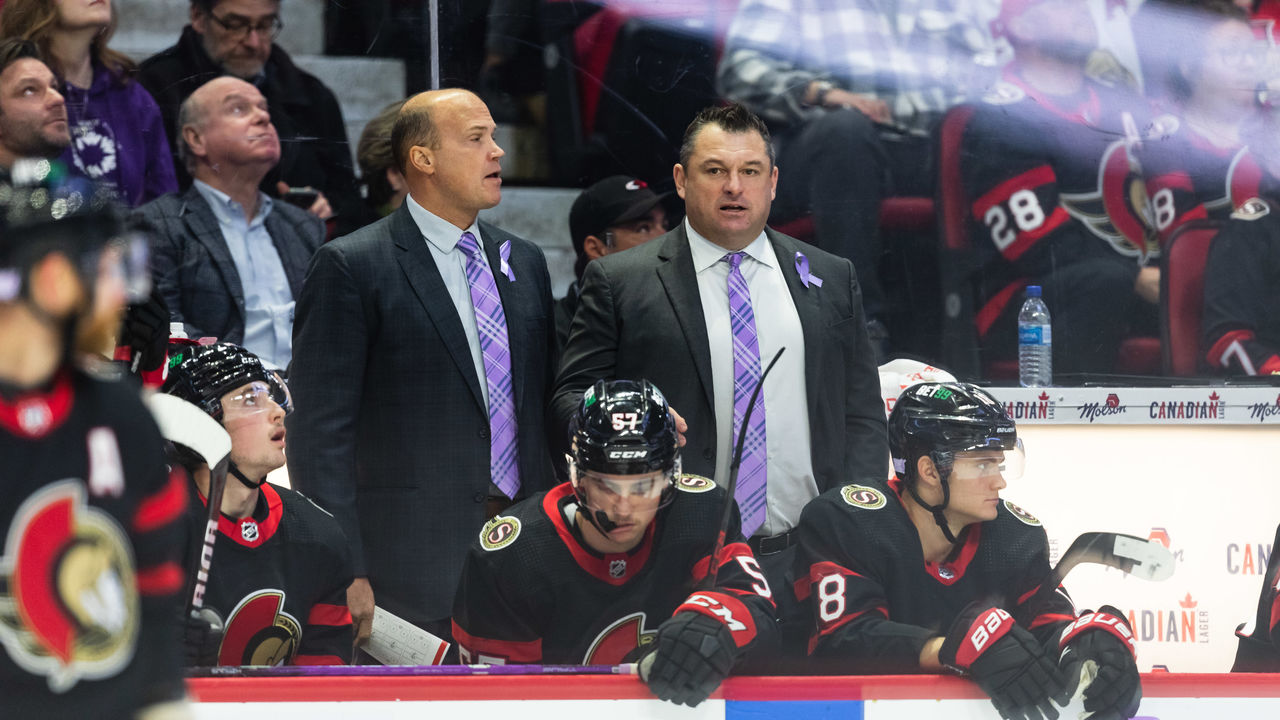 But this isn't entirely on Smith. The architect of this roster, general manager Pierre Dorion, deserves blame, too. While the Sens possess a vaunted top-six forward group, their depth up front is lacking. They also have multiple holes on defense, and the goaltending is average, at best.
Injuries haven't helped, either. Center Josh Norris only played five games before being ruled out for three-to-five months. Stalwart defenseman Thomas Chabot is also currently sidelined. But every team deals with injuries. It's no excuse for a start this bad.
Given their flaws, sprinkled with some bad luck, it might feel like the Senators' season is already doomed. But MoneyPuck still gives them a 21.6% chance to make the playoffs - better than 11 teams. Yes, that seems generous, but it shows that it isn't completely over.
It might be over if Smith remains behind the bench, though. If Dorion chooses to keep Smith, it could be another head-scratching move on his resume.
However, we can't rule out the possibility Dorion hasn't received clearance from above to fire Smith. After all, Smith is signed through next season. And a small market team like the Sens - whose ownership is currently in flux - may not be comfortable paying somebody not to coach for them.
If that's the case, this club has bigger issues that won't be settled until the franchise is under new ownership. But if not, the clock is ticking on Smith.
The Senators wouldn't necessarily have to hire a big-name head coach to find success. They have several intriguing internal options to consider, including Troy Mann, who, by all accounts, has done a nice job developing players with the AHL's Belleville Senators. The club also has associate coach Jack Capuano, who enjoyed a solid seven-year tenure as the New York Islanders' bench boss from 2010-17.
But whether it be Mann, Capuano, or someone else, it's become evident the Sens need a fresh voice. Several teams in the past have seen immediate turnarounds after a coaching change. While it may seem like a desperate move, it's Ottawa's only chance of saving its season.
(Analytics source: Natural Stat Trick)
Comments
✕
Moving on from D.J. Smith is Senators' only hope of saving season
  Got something to say? Leave a comment below!