NHL Power Rankings: Each team's best player not attending the All-Star Game
National Hockey League / Getty
This is the eighth edition of theScore's NHL Power Rankings for the 2022-23 campaign. Check back for updated rankings every other Monday during the regular season.
In this edition, we pick the player having the best season on each team that won't be participating in this week's All-Star Game.
1. Boston Bruins (38-7-5)
Previous rank: 1
Patrice Bergeron. Remarkably, the Bruins captain has only attended three All-Star Games in his 19-season career. The front-runner for a record-extending sixth Selke Trophy, the 37-year-old continues to elude Father Time.
2. Carolina Hurricanes (32-9-8)
Previous rank: 2
Sebastian Aho. Though Martin Necas has his own case because he leads the Hurricanes with 45 points, we're giving the edge to Aho because he's put up similar numbers despite playing in seven fewer games. The dynamic forward has 21 goals - tied with Necas for the most on the team - and 44 points in 42 contests.
3. Toronto Maple Leafs (31-12-8)
Previous rank: 4
William Nylander. Of course, it's tough to imagine an All-Star Game without Mitch Marner and the now-injured Auston Matthews, but come on. Nylander paces the Maple Leafs with 28 goals, and his 59 points in 51 games are tied with Marner for the most on the team. The Swede has never been named an All-Star, and now would've been the perfect time.
4. Tampa Bay Lightning (32-15-1)
Previous rank: 5
Brayden Point. He's flown under the radar to rank in the top 10 in goals league-wide this season with 29. Already surpassing his 2021-22 goal total in 18 fewer games, the 26-year-old continues to be a vital cog in the Lightning machine that doesn't get nearly enough attention.
5. New Jersey Devils (32-13-4)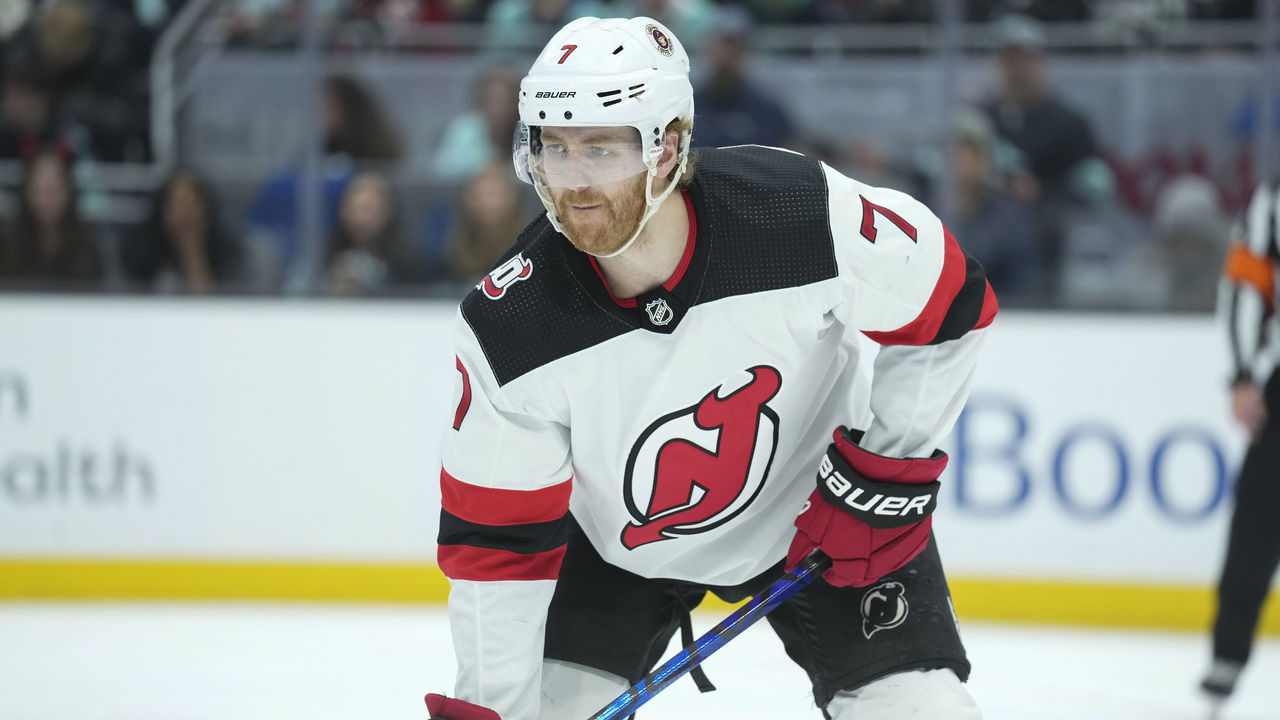 Previous rank: 7
Dougie Hamilton. The high-flying Devils have plenty of exciting candidates, but their star defenseman gets the nod here. Hamilton has really settled in during his second season in New Jersey and ranks fifth among all blue-liners with 46 points in 49 games.
6. Dallas Stars (28-13-10)
Previous rank: 9
Jake Oettinger. The Central Division had some terrific goalie options to send to South Florida, but Oettinger is a legitimate Vezina Trophy candidate this season with a 21-7-7 record and .923 save percentage.
7. Edmonton Oilers (28-18-4)
Previous rank: 14
Zach Hyman. It's going to be nearly impossible for a third Oilers forward to make the All-Star Game as long as Connor McDavid and Leon Draisaitl are in town. That being said, Hyman is deserving of some recognition for his stellar campaign. The 30-year-old has already blown past his career high in points and is just one back from matching his high mark in goals.
8. New York Rangers (27-14-8)
Previous rank: 8
Mika Zibanejad. With three players making the roster (Artemi Panarin, Adam Fox, and Igor Shesterkin), the Rangers certainly aren't hurting for representation at February's festivities. However, Zibanejad easily could have joined them, seeing that he leads his team with 22 goals.
9. Colorado Avalanche (27-18-3)
Previous rank: 16
Artturi Lehkonen. The Avalanche are well-represented with three All-Stars, so options here are limited. We're far from a world where Lehkonen deserves to go to the marquee event, but he deserves some credit in this exercise, considering he's second on the team in goals and fourth in points.
10. Seattle Kraken (29-15-5)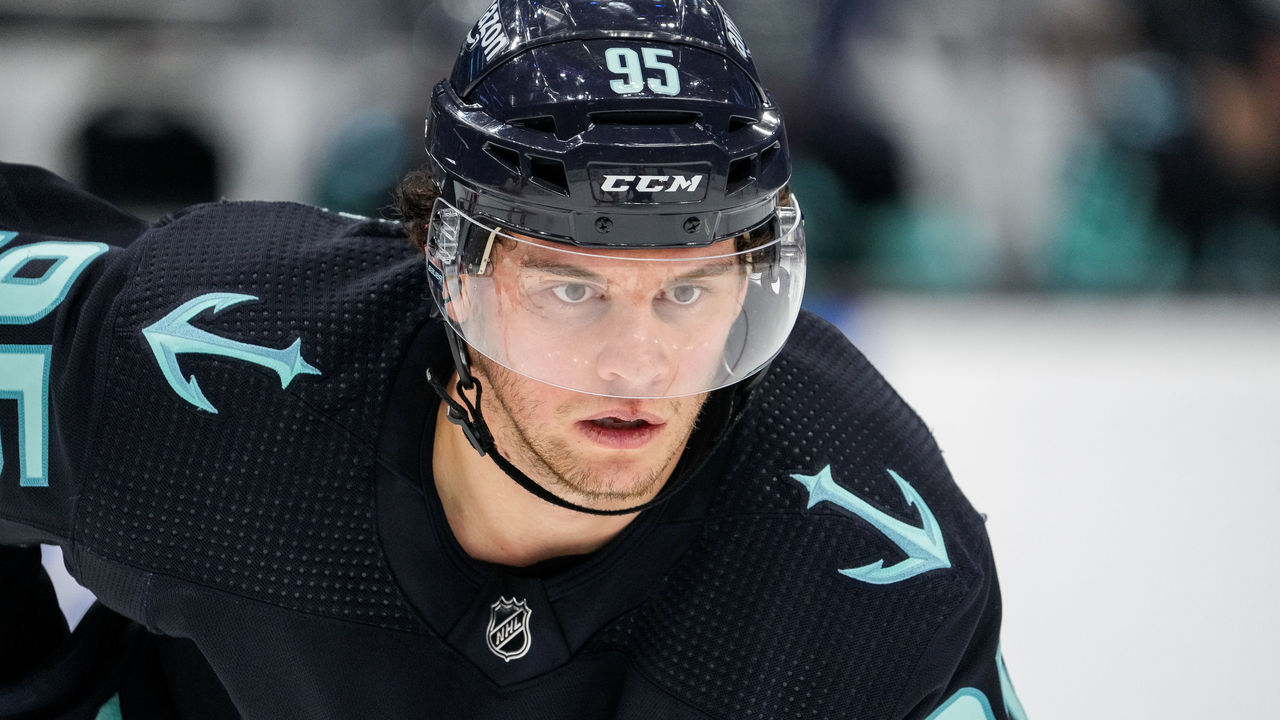 Previous rank: 6
Andre Burakovsky. It was the right call to elect the younger, more marketable star in Matty Beniers, but our candidate leads the surprising Kraken with 39 points on the year.
11. Buffalo Sabres (26-19-4)
Previous rank: 19
Rasmus Dahlin. This one's easy. The Sabres blue-liner ranks second among all NHL rearguards in goals (14) and points (55) while averaging just over 26 minutes of ice time a night. If that wasn't enough, there are no defensemen on the Atlantic Division's All-Star roster. For shame.
12. Winnipeg Jets (31-19-1)
Previous rank: 3
Kyle Connor. The perennially overlooked star leads the Jets in scoring with 57 points through 51 contests and is one of six players to have scored 200 goals since 2017-18. He's also attended only one All-Star Game in his career.
13. Nashville Predators (24-18-6)
Previous rank: 22
Roman Josi. The Predators are one of two teams without a skater at the All-Star Game (Vegas is the other), but their captain could easily be making the trip to Florida this weekend. The high-octane blue-liner is tied for the team lead in scoring with 41 points and is one of nine players averaging over 25 minutes this season.
14. Los Angeles Kings (28-18-6)
Previous rank: 12
Anze Kopitar. Kevin Fiala has a 12-point advantage on the Kings' scoring list this season, so it's difficult to find another truly deserving candidate here. We'll go with the captain, who has shown he's still got it with 40 points at 35 years old.
15. Minnesota Wild (27-17-4)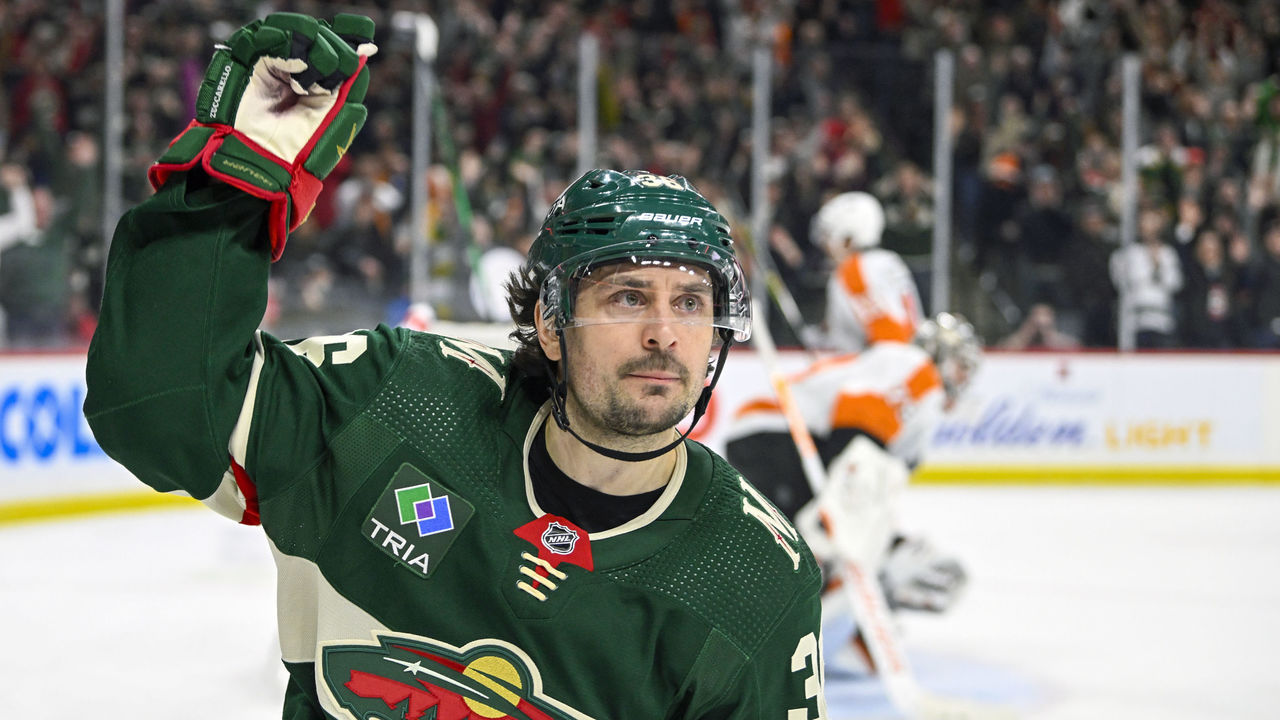 Previous rank: 11
Mats Zuccarello. Did you see his overtime winner against the Flyers?! That's All-Star material right there. The 35-year-old ranks second on the Wild with 19 goals and 48 points, behind Minnesota's sole representative, Kirill Kaprizov.
16. Florida Panthers (24-22-6)
Previous rank: 21
Carter Verhaeghe. The All-Star Game hosts added Aleksander Barkov as a second representative to replace Matthews. Even with two forwards at the event, the Panthers' leading goal-scorer won't be participating: Verhaeghe paces the team with 26 tallies.
17. Vegas Golden Knights (29-18-4)
Previous rank: 10
Jack Eichel. If not for missing 13 games due to injury, there's a solid chance he would be participating in the All-Star Game. The Golden Knights star has 15 goals and 34 points in 38 games, unsurprisingly operating as his team's most dynamic offensive presence.
18. Pittsburgh Penguins (24-16-9)
Previous rank: 15
Evgeni Malkin. Geno sits behind only Sidney Crosby in scoring on the Penguins this season and is cruising along at over a point per game at 36 years old. It's hard to fathom that Malkin has only been to two All-Star Games since 2009.
19. Calgary Flames (24-17-9)
Previous rank: 13
Elias Lindholm. The Swedish sniper leads the Flames with 45 points on the season, seven clear of Calgary's representative, Nazem Kadri. Lindholm's lethal release would have been a treat to watch in the accuracy shooting contest.
20. Washington Capitals (26-20-6)
Previous rank: 17
Evgeny Kuznetsov. The Capitals don't have a ton of viable options beyond Alex Ovechkin, so we defaulted to their second-most productive player. Still, an All-Star forward with six goals? Not ideal.
21. Ottawa Senators (23-23-3)
Previous rank: 25
Tim Stutzle. The 21-year-old tops the Senators with 20 goals in 45 games while leading all Ottawa forwards in average ice time (20:39). The 2020 third overall pick is well on his way to having a career campaign - and he's just downright fun to watch.
22. New York Islanders (25-22-5)
Previous rank: 18
Mathew Barzal. With all due respect to Brock Nelson, who's having a great season in his own right, how many hockey fans prefer to watch the unsung winger over one of the league's most exciting talents? Barzal has three fewer points on the year but has dazzled before in the fastest skater event and has the perfect style of play for the three-on-three tournament.
23. Detroit Red Wings (21-19-8)
Previous rank: 23
Filip Hronek. He's on pace to easily surpass his career high with 33 points in 48 games. After mediocre underlying numbers in his first four seasons, the 25-year-old leads the Red Wings in goals above replacement this campaign.
24. Philadelphia Flyers (21-21-9)
Previous rank: 24
Travis Konecny. As the Flyers' leader in goals and points, the fact that he was passed over in favor of Kevin Hayes was one of the more peculiar All-Star Game choices. Konecny finding form as a point-per-game forward has been one of the few bright spots in what has largely been a year to forget for Philadelphia.
25. San Jose Sharks (15-25-11)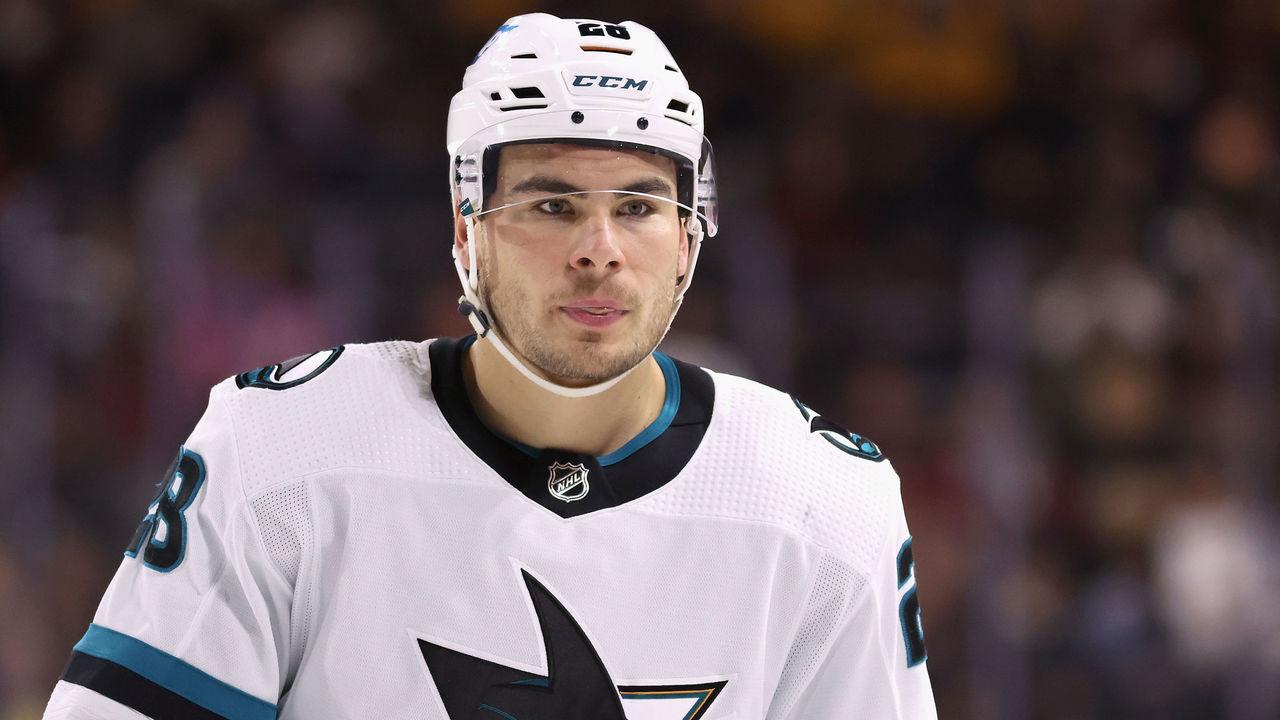 Previous rank: 28
Timo Meier. There's no doubt that Erik Karlsson was the right choice to represent the Sharks at the All-Star Game, but Meier has been no slouch on the slumping Pacific Division squad this season, either. The 26-year-old has 28 goals on the season so far, tied with Nylander for the 12th most in the league.
26. St. Louis Blues (23-24-3)
Previous rank: 20
Jordan Kyrou. Vladimir Tarasenko has the name value but was a peculiar choice to rep the Blues. Kyrou leads St. Louis with 47 points and is the reigning fastest skater champion.
27. Vancouver Canucks (20-26-3)
Previous rank: 26
Quinn Hughes. Things might be going atrociously for the Canucks this season, but they've still got two players going to the All-Star Game in Bo Horvat and Elias Pettersson. Hughes had a case of his own, though. He's one of five defensemen to produce at a point-per-game rate this season, with five goals and 40 assists in 45 contests.
28. Montreal Canadiens (20-26-4)
Previous rank: 27
Kirby Dach. The Canadiens' offseason acquisition has set new career highs in goals, assists, and points through 50 contests. He's emerged as the best in a slim list of options from the Habs with Cole Caufield's season-ending injury.
29. Anaheim Ducks (16-29-5)
Previous rank: 30
Trevor Zegras. He has the same amount of points as Troy Terry and produced one of the most memorable moments in All-Star Weekend history last year with an otherworldly shootout move. His skills deserve to be showcased.
30. Arizona Coyotes (16-28-6)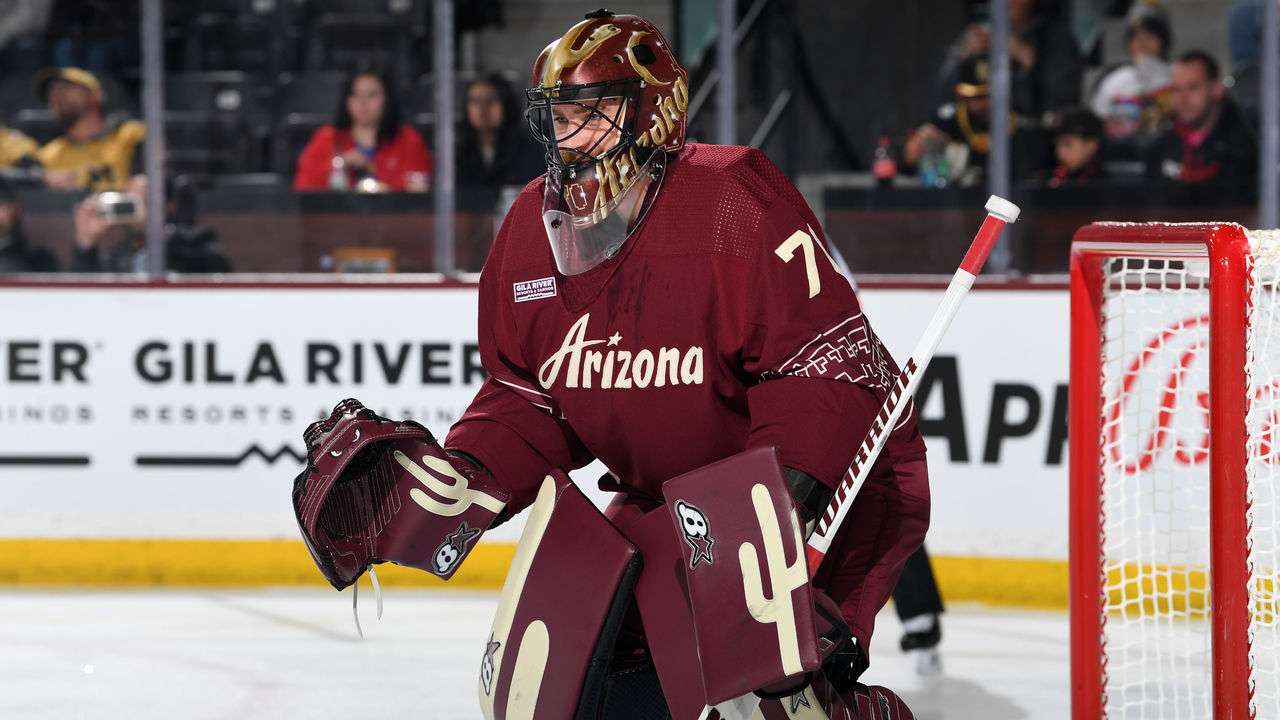 Previous rank: 31
Karel Vejmelka. Being a goaltender for the Coyotes can't be an easy job, but the 26-year-old has performed more than admirably with a .907 save percentage. What's more, he ranks 12th among all netminders in goals saved above expected (12.99) and 23rd in goals saved above average (3.61) at all strengths. Not bad at all.
31. Chicago Blackhawks (15-29-4)
Previous rank: 32
Max Domi. He isn't the flashiest name on the Blackhawks' roster, but he's certainly been a bright light on a struggling team. He tops Chicago with 35 points in 48 games - one ahead of Patrick Kane - and is tied with Taylor Raddysh for the team lead with 14 goals.
32. Columbus Blue Jackets (15-32-3)
Previous rank: 29
Kirill Marchenko. Look, the Blue Jackets are a mess this season. It would have been easy for us to write "Patrik Laine" here and call it a day, but we chose the rookie instead. He has 13 goals (somehow, no assists) and is only one tally behind Laine and Boone Jenner for the team lead despite playing fewer games. Keep shooting that puck!
(Analytics sources: Evolving-Hockey, Natural Stat Trick)
Comments
✕
NHL Power Rankings: Each team's best player not attending the All-Star Game
  Got something to say? Leave a comment below!