Ranking the NHL's divisions in 2022-23
Dave Sandford / National Hockey League / Getty
It's almost hockey time again, so guess what that means? Drama! Rivalries! Goals! Trades! Tanking! Chaos! Extremely heated playoff races! Playoff races that are decided 20 games in!
We've got a whole new 82 contests to work with, but before puck drops on Game 1, let's see how the NHL's divisions stack up in 2022-23 from weakest to strongest.
4. Central
| Team | 2021-22 Record | Goal Diff. | Playoffs |
| --- | --- | --- | --- |
| Avalanche | 56-19-7 | +78 | Won Stanley Cup |
| Wild | 53-22-7 | +57 | Lost in 1st round |
| Blues | 49-22-11 | +69 | Lost in 2nd round |
| Stars | 46-30-6 | -8 | Lost in 1st round |
| Predators | 45-30-7 | +14 | Lost in 1st round |
| Jets | 39-32-11 | -5 | Did not qualify  |
| Blackhawks | 28-42-12 | -72 | Did not qualify |
| Coyotes | 25-50-7 | -106 | Did not qualify |
Yes, the Central Division does boast some heavyweights (a big hello to the Stanley-Cup-winning Avalanche), but what drags it down to last place on these rankings is the mere presence of the Coyotes and Blackhawks, who will be far more interested in the race for projected 2023 first overall pick Connor Bedard than they will be in Stanley Cup aspirations this season.
Both teams were among the league's bottom five in goal differential last year, and it's probably only going to get worse: Chicago is rocking with an unsteady tandem of Petr Mrazek and Alex Stalock, while Arizona will likely move on from star defenseman Jakob Chychrun this campaign.
There are even some caveats for the division's talented hard-hitters. Colorado is still a safe bet to take the No. 1 spot in the Central, but it lost some of its key offensive depth this summer and will be relying on an unproven one-two punch of Alexandar Georgiev and Pavel Francouz in the crease. Meanwhile, due to last summer's costly contract buyouts, the Wild could only afford to add one full-time NHLer to their ranks in Sam Steel, who can't possibly replace the loss of Kevin Fiala. And the Blues lost David Perron, who was the MVP of their productive power play.
The Predators and Stars, who outperformed expectations in 2021-22, will be waiting for signs of weakness from teams at the top and clambering to prove they can make substantial noise in the postseason. Nashville is probably closer to that level than Dallas - especially after adding Ryan McDonagh to the blue line - but Filip Forsberg, Matt Duchene, and Roman Josi all had career seasons last year, which will be difficult to replicate.
On the opposite end of the spectrum, the Jets might be the biggest question mark, given that they entirely failed to meet expectations during a drama-filled campaign. It was an oddly quiet offseason in Winnipeg, but there is a chance that new head coach Rick Bowness can give the club the reset it very much needs.
3. Pacific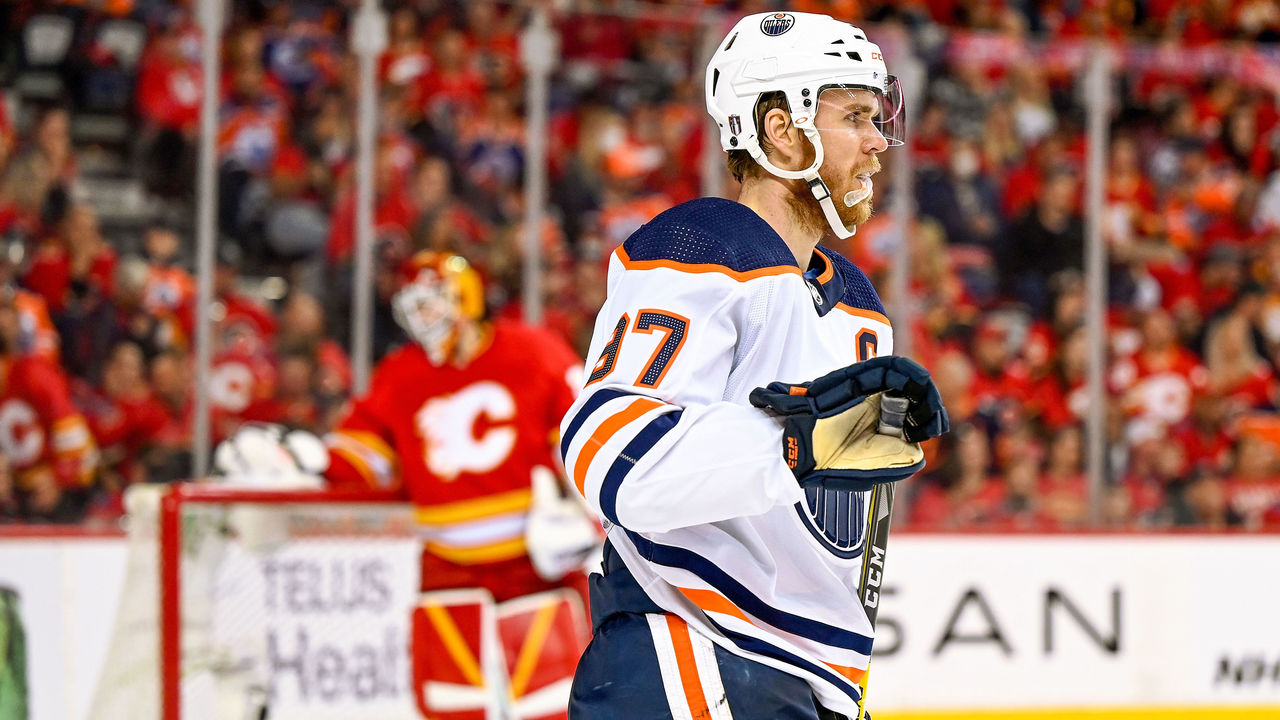 | Team | 2021-22 Record | Goal Diff. | Playoffs |
| --- | --- | --- | --- |
| Flames | 50-21-11 | +85 | Lost in 2nd round |
| Oilers | 49-27-6 | +38 | Lost in semifinals |
| Kings | 44-27-11 | +3 | Lost in 1st round |
| Golden Knights | 43-31-8 | +18 | Did not qualify |
| Canucks | 40-30-12 | +13 | Did not qualify  |
| Sharks | 32-37-13 | -50 | Did not qualify |
| Ducks | 31-37-14 | -39 | Did not qualify |
| Kraken | 27-49-6 | -69 | Did not qualify  |
If we could have a tie for the second-best division in the league, we would, but someone had to take the No. 3 spot. Here's why it ended up being the Pacific.
Working in the Pacific's favor: Have you seen the Oilers and Flames?! Edmonton finally got its goalie in Jack Campbell after three seasons of Mike Smith and Mikko Koskinen. Connor McDavid and Leon Draisaitl are still freaks. Evander Kane has given the club another weapon up top. And just south of Edmonton, Calgary recovered beautifully after losing Johnny Gaudreau and Matthew Tkachuk by bringing in Jonathan Huberdeau, MacKenzie Weegar, and Nazem Kadri. Look for these provincial rivals to pull no punches as they grapple for first place in the division.
Working against it: The Golden Knights conundrum. Vegas could have been the reason the Pacific vaulted to second place, but there are too many question marks here. Mark Stone and Jack Eichel finally look healthy, but the Golden Knights lost Max Pacioretty, and even that would be easier to swallow if their goaltending situation isn't what it is. With Robin Lehner out for the season, Sin City will be relying on Adin Hill, Logan Thompson, and Laurent Brossoit - that doesn't inspire confidence for a team with hopes of pushing its way back to the postseason.
As for the California teams, the Kings are clearly the best off and will probably be in the throes of the playoff race once again. The Fiala acquisition makes them even more dangerous than they were last year, and they'll likely get a healthy Drew Doughty back, who was fantastic when he was healthy in 2021-22. The young Ducks added defenseman John Klingberg, but it'll still be an uphill battle for them to jockey for a postseason spot in the Western Conference. The Sharks are just stagnating.
Rounding out the Pacific are the Canucks and Kraken, two squads that have done the right things to improve this season. In Vancouver, virtually every player saw increased production once head coach Bruce Boudreau took over, so what can the Canucks accomplish during a full 82-game campaign with him at the helm? The playoffs aren't entirely out of the question. Meanwhile, the Kraken addressed their scoring issues in the summer, and Shane Wright and Matty Beniers will be fun to watch, but it's all for nothing if Seattle doesn't get decent goaltending from Philipp Grubauer.
2. Metropolitan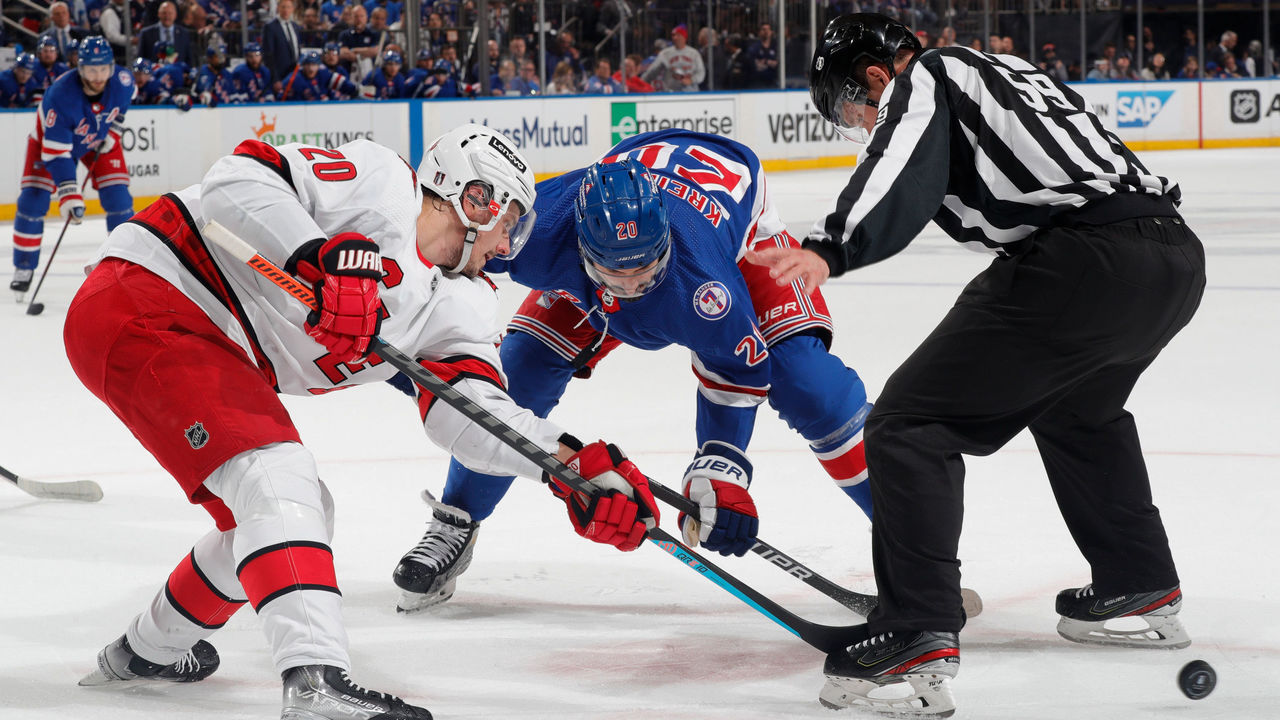 | Team | 2021-22 Record | Goal Diff. | Playoffs |
| --- | --- | --- | --- |
| Hurricanes | 54-20-8 | +76 | Lost in 2nd round |
| Rangers | 52-24-6 | +47 | Lost in semifinals |
| Penguins | 46-25-11 | +43 | Lost in 1st round |
| Capitals | 44-26-12 | +30 | Lost in 1st round |
| Islanders | 37-35-10 | -6 | Did not qualify |
| Blue Jackets | 37-38-7 | -38 | Did not qualify |
| Devils | 27-46-9 | -59 | Did not qualify |
| Flyers | 25-46-11 | -87 | Did not qualify |
The Metropolitan Division has a lot going for it, but we still think the Atlantic Division (spoiler alert) holds the edge, so here the former is in second place.
The Hurricanes or Rangers could conceivably be the Eastern Conference representative at the Stanley Cup Final. Few teams are deeper than Carolina, and thanks to additions like Brent Burns and Pacioretty (even with the injury), the Hurricanes seem destined for a lengthy playoff run. Standing in the way of their dreams are the Rangers, who just eliminated Carolina from the postseason in the second round. New York will be a contender as long as Igor Shesterkin keeps doing his thing.
It's impossible to imagine a postseason field that doesn't include the Penguins and Capitals, and it looks like they'll both be playing hockey come springtime once again. Washington addressed one of its biggest weaknesses, snapping up goalie Darcy Kuemper fresh off a Stanley Cup victory, while Pittsburgh will remain Pittsburgh after re-signing Evgeni Malkin and Kris Letang.
There's a real chance that the playoff picture in the Metro will look the same as it did last year. Some of the bottom teams got better, but they will likely reappear in the bottom half of the division because of how tight the top is. The Blue Jackets shocked the hockey world when they landed Johnny Gaudreau, but he can't possibly fill every single hole on the roster. The Devils made some solid moves this summer, such as scooping up postseason wunderkind Ondrej Palat, but a lot is going to have to go right for them to get over the hump. The wayward Flyers will likely improve on last year's results thanks to the outspoken veteran presence of head coach John Tortorella, but making the playoffs is a bit of a longshot by this point with Ryan Ellis and Sean Couturier once again on the sidelines.
The Islanders are the dark horse here. The Isles are largely riding with the same roster this campaign, but that isn't necessarily a bad call: They started their surprisingly disappointing 2021-22 season on an ungodly 13-game road trip and were decimated by COVID-19. New York will almost certainly be chomping at the bit to redeem itself and carve out its path to relevancy, but the club will have to do so without bench boss Barry Trotz.
1. Atlantic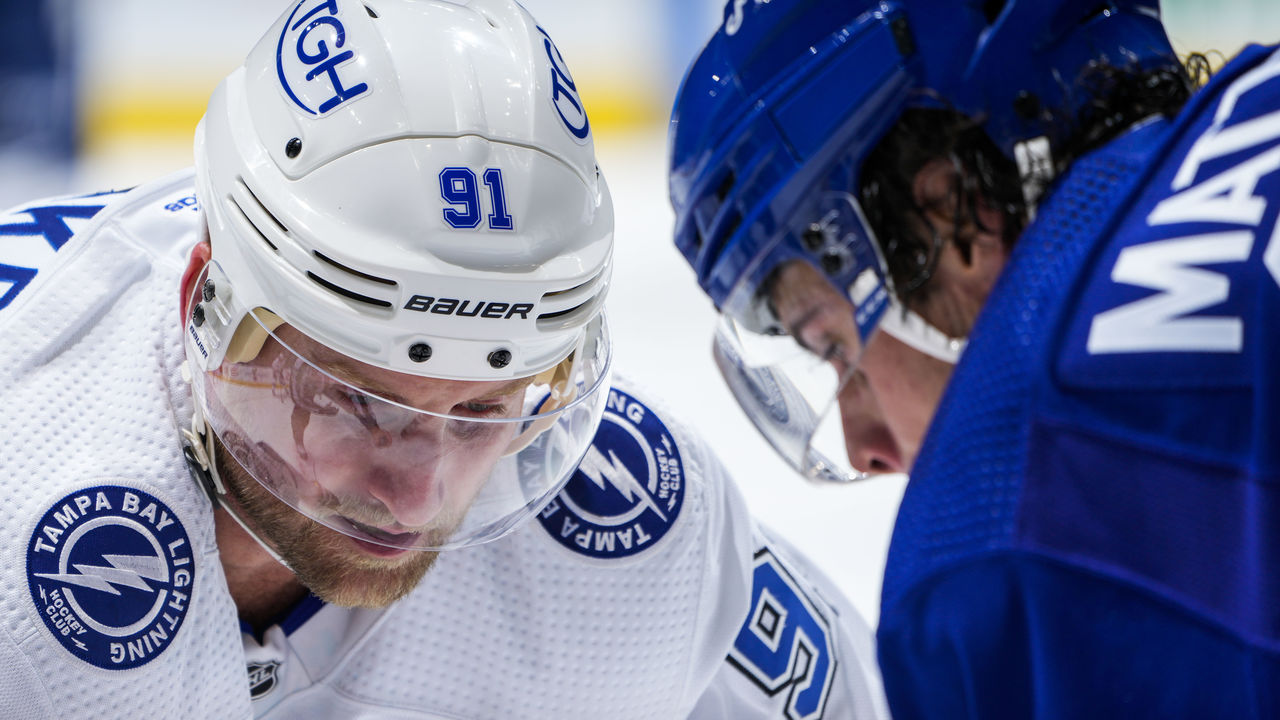 | Team | 2021-22 Record | Goal Diff. | Playoffs |
| --- | --- | --- | --- |
| Panthers | 58-18-6 | +94 | Lost in 2nd round |
| Maple Leafs | 54-21-7 | +62 | Lost in 1st round |
| Lightning | 51-23-8 | +54 | Lost in final |
| Bruins | 51-26-5 | +35 | Lost in 1st round |
| Sabres | 32-39-11 | -58 | Did not qualify |
| Red Wings | 32-40-10 | -82 | Did not qualify |
| Senators | 33-42-7 | -39 | Did not qualify |
| Canadiens | 22-49-11 | -98 | Did not qualify |
Get ready for the Atlantic Division to be a competitive bucket of fun.
The Panthers might not repeat as the division leaders after they traded Huberdeau and Weegar to the Flames, but they're still one of the best teams in the Atlantic because of Tkachuk, who is frequently referred to as a "unicorn" because of his unique coveted skillset. Of course, their state rivals are also in contention for the division's top spot. The Lightning had to part ways with McDonagh because of cap issues, and they lost Palat in free agency, but their core remains in place. We've seen the Bolts lose key players before, but it's never stopped them. A fourth consecutive run to the Stanley Cup Final wouldn't be a stretch.
The status of the Maple Leafs and Bruins is where things start to get interesting. The Leafs are taking a risk, running with a tandem of the oft-injured Matt Murray and youngster Ilya Samsonov. It'll be absolute pandemonium in Toronto if neither goalie pans out, but Auston Matthews could at least help his club outscore its potential problems in the crease. Boston, meanwhile, has already run into some injury trouble: The B's will be without Brad Marchand, Charlie McAvoy, and Matt Grzelcyk to start and will have to kick off the year strong to aid their playoff hopes.
Because of these shaky factors, there could be some wiggle room for Atlantic teams that struggled last season to climb the standings - namely the Senators and Red Wings. Ottawa scored the seventh-least goals in 2021-22, which the front office partially remedied when it added Alex Debrincat and Claude Giroux to its top-six forward group, but the team's defense is still spotty. Detroit added the likes of Perron, Ville Husso, Andrew Copp, and Ben Chiarot to complement Year 2 of Moritz Seider and Lucas Raymond.
The Sabres are also sniffing around but aren't on quite the same level as the Senators and Red Wings, who already have their work cut out for them in trying to dethrone the Panthers, Lightning, Maple Leafs, and Bruins. The Canadiens will certainly be one of the bottom teams in the division, but youngsters like Nick Suzuki, Cole Caufield, and 2022 first overall pick Juraj Slafkovsky should still make them exciting to watch during Martin St. Louis' first full season as an NHL head coach.