McDavid and Draisaitl have already authored legendary postseasons
Derek Leung / Getty Images
Hockey sometimes resembles basketball when Connor McDavid has the puck. He's the NHL's closest analog to an NBA superstar who barely rests in big games, spearheads the lion's share of offensive possessions, and bends the sport to his will.
His up-ice rushes captivate viewers and dictate what happens in a matchup. McDavid acts, and the supporting characters - teammates, defenders, referees, awestruck fans - react. His dominance swings series, like when the Edmonton Oilers edged the Los Angeles Kings in Round 1. Leon Draisaitl fed him in overtime Thursday for the snipe that eliminated the Calgary Flames.
Game 5 of the Battle of Alberta was chaotic and stirring. The teams combined for a record four goals in 71 seconds. Another that entered the net off Blake Coleman's left skate was disallowed in the third period. The legitimacy of Edmonton's 5-4 win will be debated for decades, but the outcome is incontestable: McDavid's incredible spring continues.
Already a two-time league MVP, McDavid raised his play to new heights to propel the Oilers to the Western Conference Final. His 26 postseason points tie him with Draisaitl for the NHL lead. He's drawn seven penalties - up from zero when Edmonton suffered upsets last year and in the 2020 bubble - by continually fooling or gaining a step on the defense. Opponents slink away humbled and, so far this postseason, defeated.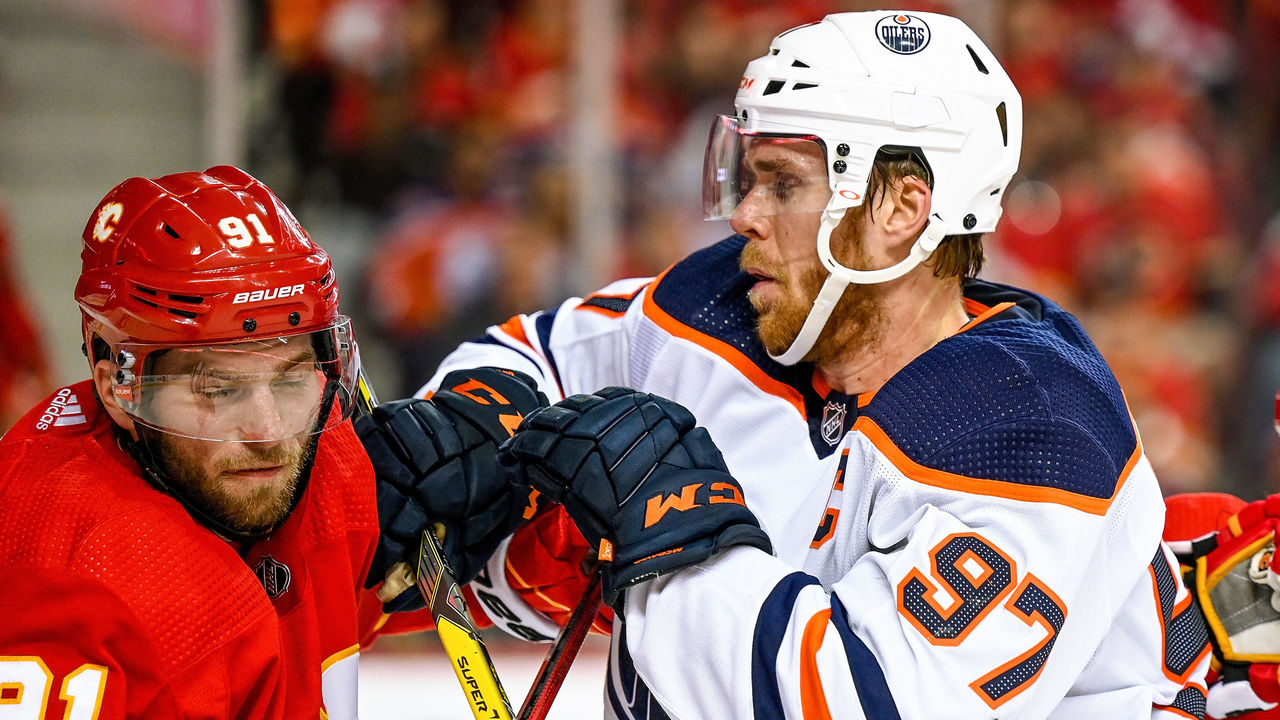 Players are praised when they accomplish in four rounds what McDavid and Draisaitl have achieved in two. They've combined for 52 points in a dozen games. They've dished 19 assists apiece; no other NHLer has more than 15 points. Evander Kane's 12 goals lead the playoffs, and either McDavid or Draisaitl created the scoring chance every time he tallied against Calgary.
Producing in the playoffs is supposed to be hard. Usually, it is. But McDavid and Draisaitl's offensive pace is historic:
Their respective current point totals would have topped the leaderboard in seven full postseasons since the 2005 lockout: 2019, 2015, 2014, 2013, 2012, 2011, and 2007.

Four of the nine forwards to win the Conn Smythe Trophy in the salary-cap era scored fewer than 26 points.

Wayne Gretzky was the last player to reach 20 points in fewer playoff games.

Three players in NHL history - Gretzky, Mario Lemieux, and Paul Coffey - have averaged two points per game for an entire postseason (10 games played minimum), a rate that McDavid and Draisaitl have exceeded to date.

McDavid's 10 multi-point games are four shy of the NHL record, which Gretzky and Lemieux co-hold. Draisaitl has seven.
McDavid is blazing fast, elusive, dexterous, and an original thinker. His gifts produce a highlight per period. Against the Flames, he threaded the puck between his legs to spin loose from Noah Hanifin and feed Kane for a tap-in. Against L.A., he weaved through four Kings skaters to convert a solo rush, and he escaped a hook to recover possession twice and roof the dagger in Game 7. It's seriously impressive that L.A. held him scoreless once.
McDavid got minimal help when the Winnipeg Jets swept the Oilers from the 2021 playoffs. Edmonton managed two goals against the Jets when he was on the bench. Winnipeg swarmed and jostled McDavid and limited him to four points, modest by his Hart Trophy standard. His relentlessness stood out against L.A. and Calgary; the pep in his step was noticeable and suggested he wouldn't be denied.
Draisaitl, meanwhile, just finished a round for the ages. His 17 points against the Flames established a new record for a five-game series. That Draisaitl is a brilliant passer was clear in Game 5 when he teed up Darnell Nurse and Evan Bouchard for one-timers and spun off the boards in overtime to put the puck on McDavid's tape. He helped shooters torment Jacob Markstrom, which meant Mike Smith's .907 save percentage made him the far better goalie in the series.
Edmonton's secondary forwards stepped up, too. Kane, whose alleged violation of COVID-19 protocols spurred the San Jose Sharks to terminate his contract, signed with the Oilers in January and has thrived with his new team as a top-line finisher. Zach Hyman, Ryan Nugent-Hopkins, and Kailer Yamamoto haven't needed a superstar to spoon-feed them offense, freeing Jay Woodcroft to unleash McDavid and Draisaitl together.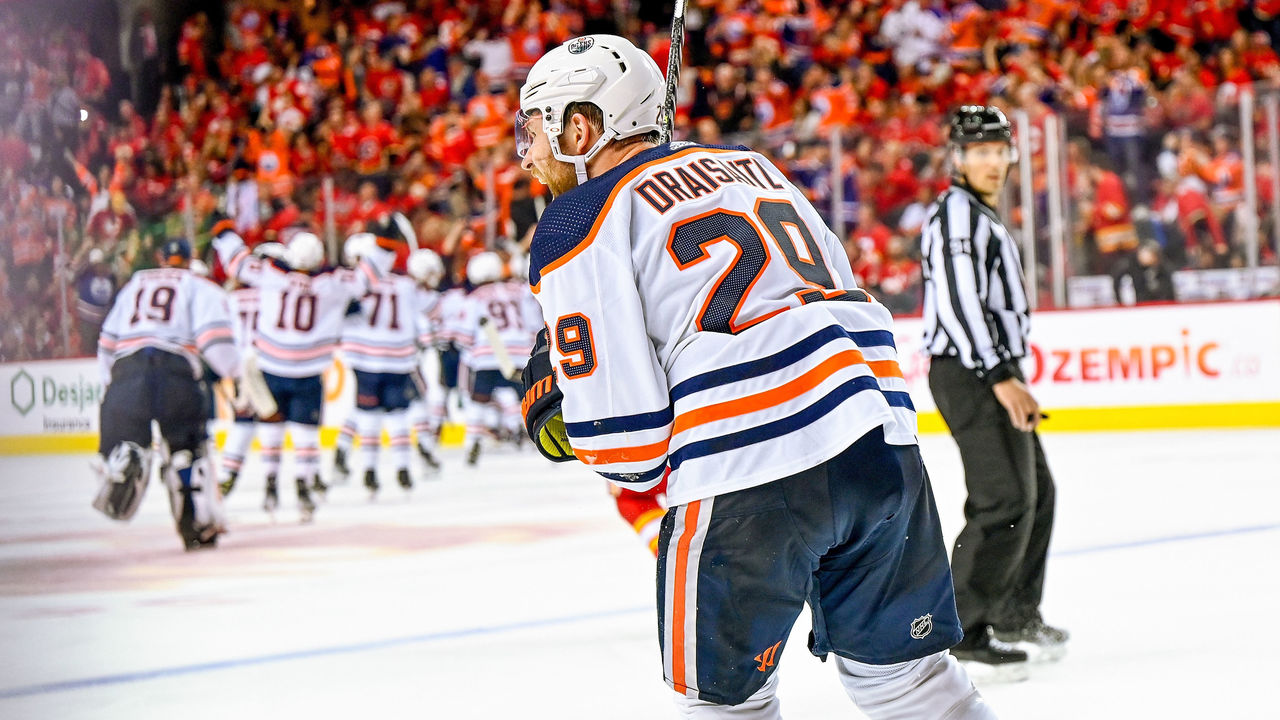 Woodcroft presided over the auspicious third chapter of Edmonton's season. A hot 16-5-0 start gave way to a 7-13-3 skid, during which reporter Jim Matheson accused Draisaitl of pissiness and at the end of which Dave Tippett was fired. The Oilers went 26-9-3 after the team promoted Woodcroft, making the playoffs comfortably. They'll face either Nathan MacKinnon's electric Colorado Avalanche or the deep St. Louis Blues in the next round.
This conference final is the furthest the Oilers have gotten since drafting McDavid. Widening the lens, it's the franchise's best run since 2006 when a No. 8 seed backstopped by Dwayne Roloson reached Game 7 of the Stanley Cup Final. Fernando Pisani became an Edmonton folk hero in those playoffs. Chris Pronger contributed a team-high 21 points.
McDavid could double that output if the Oilers keep advancing. He and Draisaitl are on track to join Gretzky and Lemieux as the NHL's only 40-point playoff scorers.
Their offense serves the pursuit of the ultimate goal. Sustain this tear, and Edmonton has championship potential.
Nick Faris is a features writer at theScore.