Connor McDavid got the help he needed to snap the Oilers' playoff skid
Icon Sportswire / Getty Images
When Tyson Barrie scored late in Game 6 to prolong the Edmonton Oilers' season, Connor McDavid raised his hands at the net front and paused to look skyward in Los Angeles. He'd had a fabulous game, and his relief was visible.
When McDavid scored late in Game 7 to extinguish the Kings, Kailer Yamamoto hopped three times as he raced to mob his captain. He'd fed McDavid on the rush and watched him get hooked, ring the post, tap the puck through a defender's legs, and roof a backhand over Jonathan Quick. Yamamoto's awe was visible.
Before McDavid finished the job himself, he got the help he needed to break Edmonton's playoff habit of collapsing against less-heralded opponents. Mike Smith's second shutout - he made 29 stops Saturday as Edmonton won 2-0 - upped his postseason save percentage to .938. Gutting out an ankle injury, Leon Draisaitl teamed with McDavid and Yamamoto to dominate the Kings in Game 7.
That line's will matched its ample skill Saturday, notably on Cody Ceci's game-winner. Draisaitl won the offensive-zone faceoff that preceded the goal. Yamamoto leapt at the blue line to catch and foil the Kings' attempted clearance.
McDavid and Ceci took care of the rest, and the Oilers advanced in the playoffs for the first time in five years. They'll either contest the Battle of Alberta in Round 2 or face red-hot goalie Jake Oettinger and the Dallas Stars.
Beating L.A. means the Oilers avoided yet another postseason letdown. Shoddy goaltending undercut them in 2020 against the Chicago Blackhawks, the No. 12 seed in the Western Conference bubble. In 2021, McDavid's supporting cast flopped in a sweep to the Winnipeg Jets. Edmonton featured the Hart Trophy winner, first Draisaitl and then McDavid, in both seasons.
McDavid has lost a lot in the spring by slim margins. Up 2-0 in the second round in 2017, Edmonton dropped back-to-back overtime results to the Anaheim Ducks and fell 2-1 in Game 7. The Jets won Games 2, 3, and 4 last year in sudden death. The Oilers have allowed six straight goals in postseason overtime, most recently when Adrian Kempe clinched Game 5 for the Kings.
Edmonton might have moved on sooner than Game 7 if Smith hadn't allowed the Kings to score following his own turnover in the series opener. Defensive breakdowns put the Oilers in a hole in Game 5. Darnell Nurse missed Game 6 because he headbutted Phillip Danault, but McDavid bailed him out with a three-point night to ward off elimination. His mastery outweighed Edmonton's miscues, buying everyone else time to figure it out.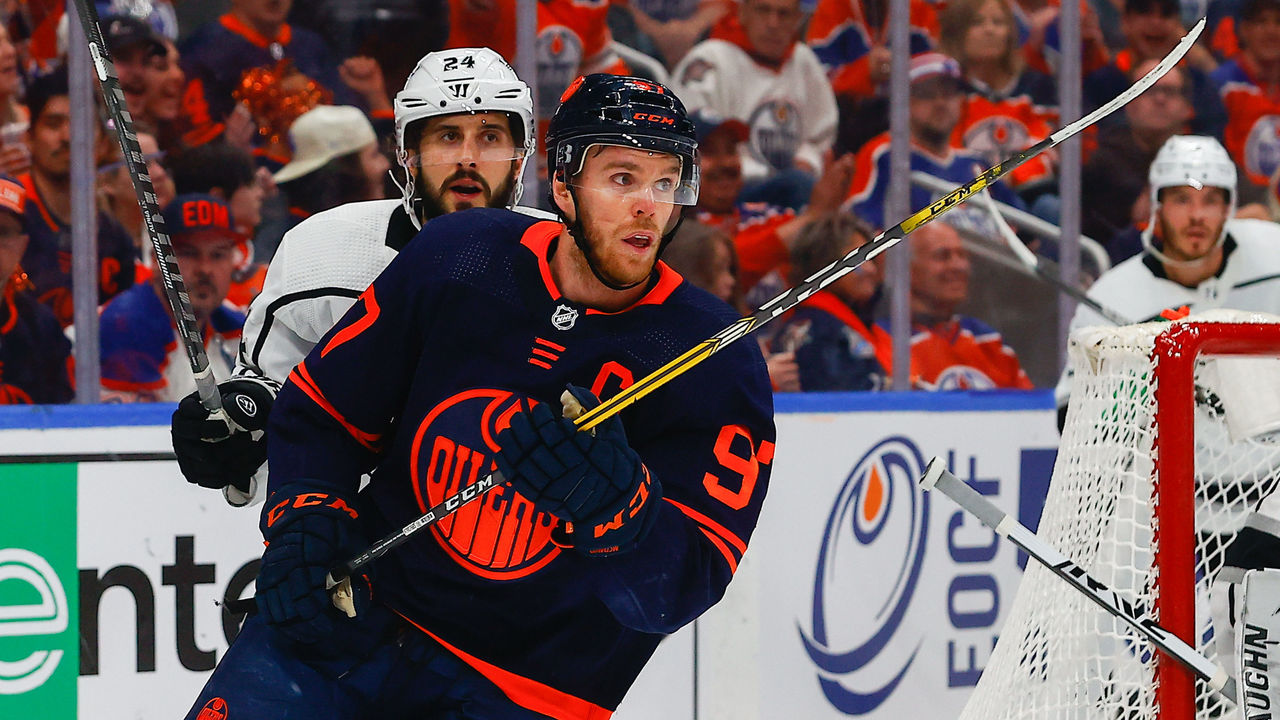 This series was McDavid's finest to date. He's the second NHLer, following Rick Middleton in 1983, to put up multiple points six times in one round. McDavid trucked Sean Durzi on the opening shift of Game 7 and, in the course of playing 27:23, generated 10 of his series-high 43 total scoring chances. Edmonton outchanced L.A. 17-4 at five-on-five Saturday when McDavid skated with Draisaitl and Yamamoto.
Crucially, no teammate undermined McDavid. Defensive slipups were minimized in Game 7; the Kings didn't score a backbreaker while the superstars rested. Draisaitl was seriously hobbled, but his vision and playmaking made him a threat regardless. Nurse splayed to block Kempe at point-blank range in the first period, saving a possible goal.
This Oilers team is deeper than last season's. Edmonton added Evander Kane and Zach Hyman to make sure the second line is dangerous even when McDavid plays with Draisaitl. Kane's seven goals against L.A. tie him for the playoff lead. Meanwhile, Smith's 6.74 goals saved above average, as tracked by Natural Stat Trick, rank second in the postseason to Oettinger's 9.06.
The Kings, a playoff team for the first time since 2018, impressed in defeat. They're on the rise as their Stanley Cup core ages and as an elite prospect pool, headlined by Quinton Byfield, trends toward NHL readiness. They pushed the Oilers to the brink despite losing by six twice with Drew Doughty and Viktor Arvidsson out injured. Dustin Brown's retiring, but Carl Grundstrom shone in a top-six role and Danault reaffirmed that he's a two-way force.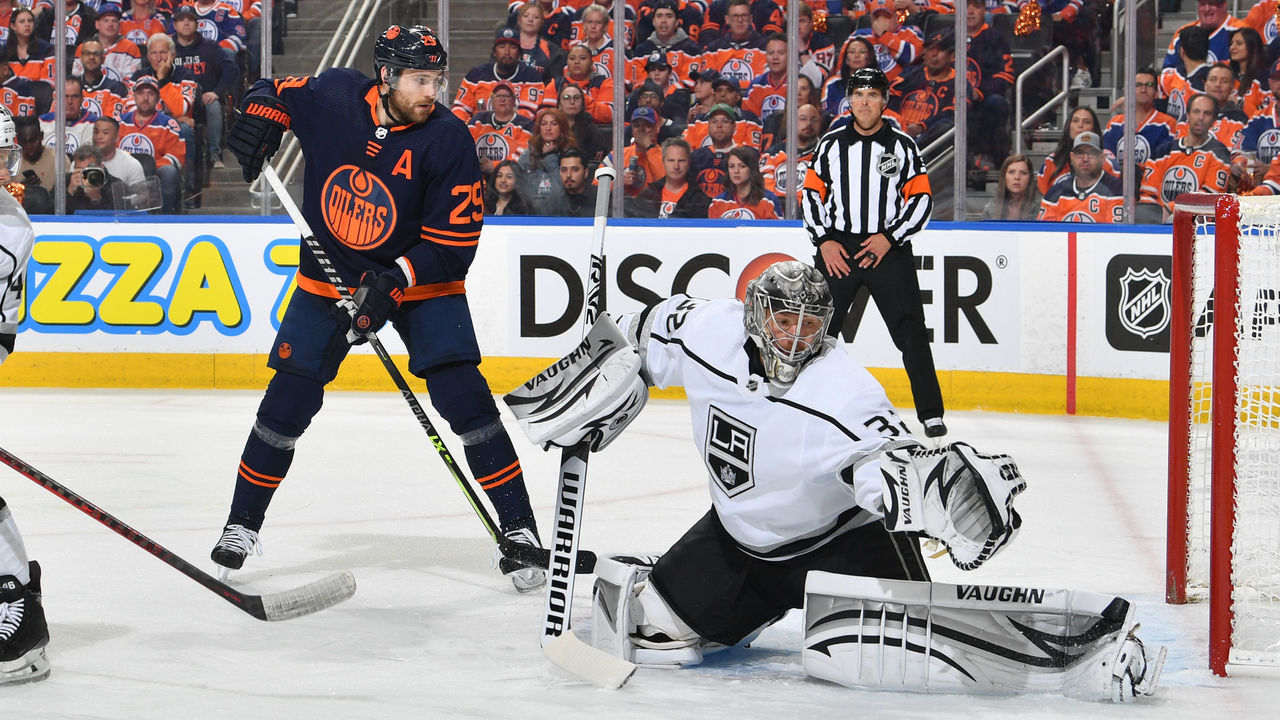 Whomever Edmonton faces next presents challenges to surmount and opportunities to exploit. The Calgary Flames are a juggernaut at both ends of the ice but have struggled to score on the Stars in Round 1. Oettinger's .954 save percentage is awesome but unsustainable, and Dallas entered the postseason as its lowest-scoring team.
No matter the foe, the Oilers' power play should continue to be a weapon. L.A. killed the only penalty of Game 7, but Edmonton still went 7-for-19 (36.8%) in the series. McDavid, Kane, Hyman, and Yamamoto all tallied on the man advantage, and Draisaitl racked up three power-play goals.
What's more, McDavid currently has as many playoff points (14) as the Flames' trio of 40-plus goal-scorers - Johnny Gaudreau, Elias Lindholm, and Matthew Tkachuk.
Edmonton exhaled when McDavid's assist to Barrie helped clinch Game 6. When Oilers fans saw him dazzle live Saturday - when he burned Durzi, solved Quick, and literally uplifted Yamamoto - the home crowd roared.
Nick Faris is a features writer at theScore.