What to watch for in Flames-Stars as Calgary aims to close out series
Derek Leung / Getty Images
The Calgary Flames won 3-1 on Wednesday to push the underdog Dallas Stars to the brink of elimination. Keep an eye on these three storylines in Game 6 and - if the Stars extend the series - Game 7.
Oettinger's response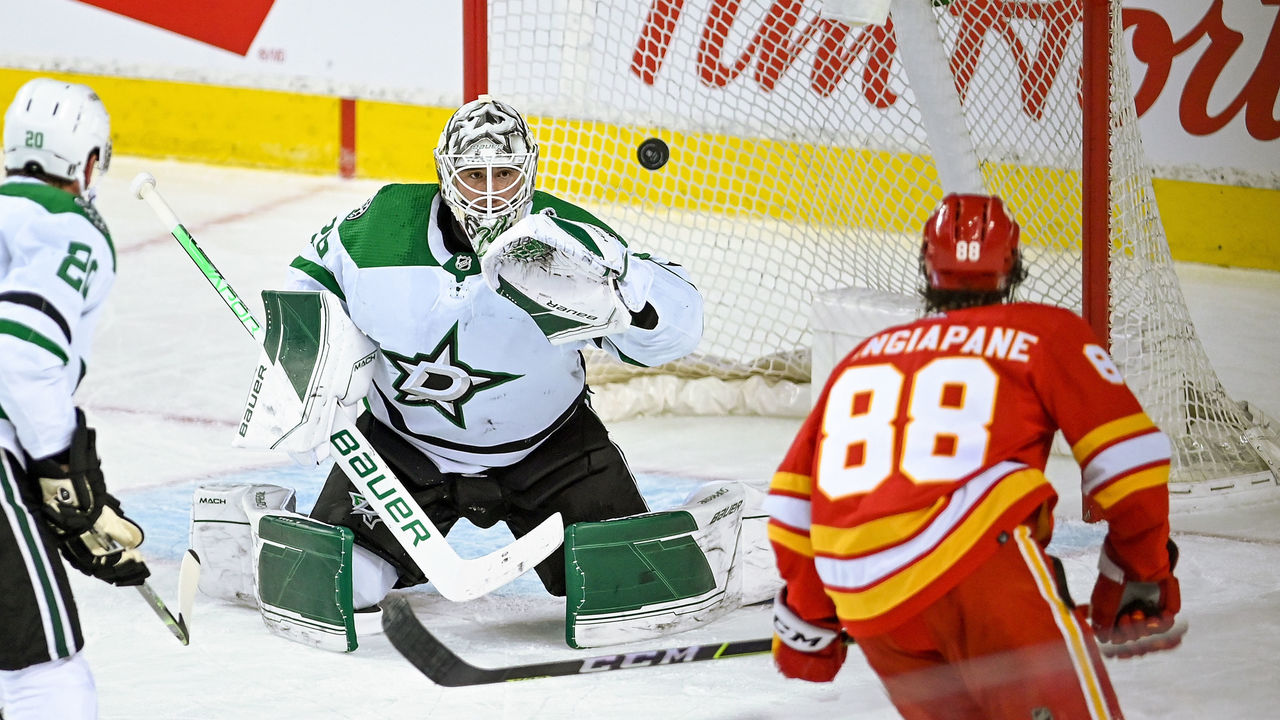 Before this month, Jake Oettinger's NHL playoff experience was limited to two periods of mop-up duty during the Stars' charge to the Stanley Cup Final in 2020. He faced eight shots and didn't allow a goal. Maybe that was an early sign he's built for the spring spotlight.
Phenomenal goaltending has been the story of this series, and Oettinger is its biggest revelation. He's not at fault for Dallas' deficit. He's the obstacle Calgary has to overcome to close out the Stars and advance. Oettinger's postseason stats - a .956 save percentage and a league-best 8.07 goals saved above average - suggest the 23-year-old is capable of stealing Game 6 and turning Game 7 at Scotiabank Saddledome into a coin flip.
Beating Oettinger has required pinpoint finishing. Elias Lindholm sniped three goals early in the series when Dallas kept losing him in the slot. Rasmus Andersson ripped a slapper past Oettinger at five-on-three in Game 4, and Johnny Gaudreau's nifty deke on a penalty shot opened his five-hole. In Game 5, Oettinger was powerless to stop Mikael Backlund's tap-in before Andrew Mangiapane wired a wrister in off the post.
Dallas' defensive play was stronger Wednesday than it was when Oettinger's 50 saves kept Game 4 close. According to Natural Stat Trick, only six Calgary shot attempts in Game 5 rated as high-danger opportunities; the Flames racked up 25 in both Game 3 and Game 4. Oettinger stonewalled Matthew Tkachuk on an early breakaway Wednesday but otherwise didn't have to sweat much through two periods.
The balance the Flames struck between patience and urgency paid off late and delivered the win. Knowing Oettinger hasn't whiffed on a shot all month, Backlund and Mangiapane were precise when they got their opportunities to strike. How will the young netminder respond in Dallas?
Mangiapane's awakening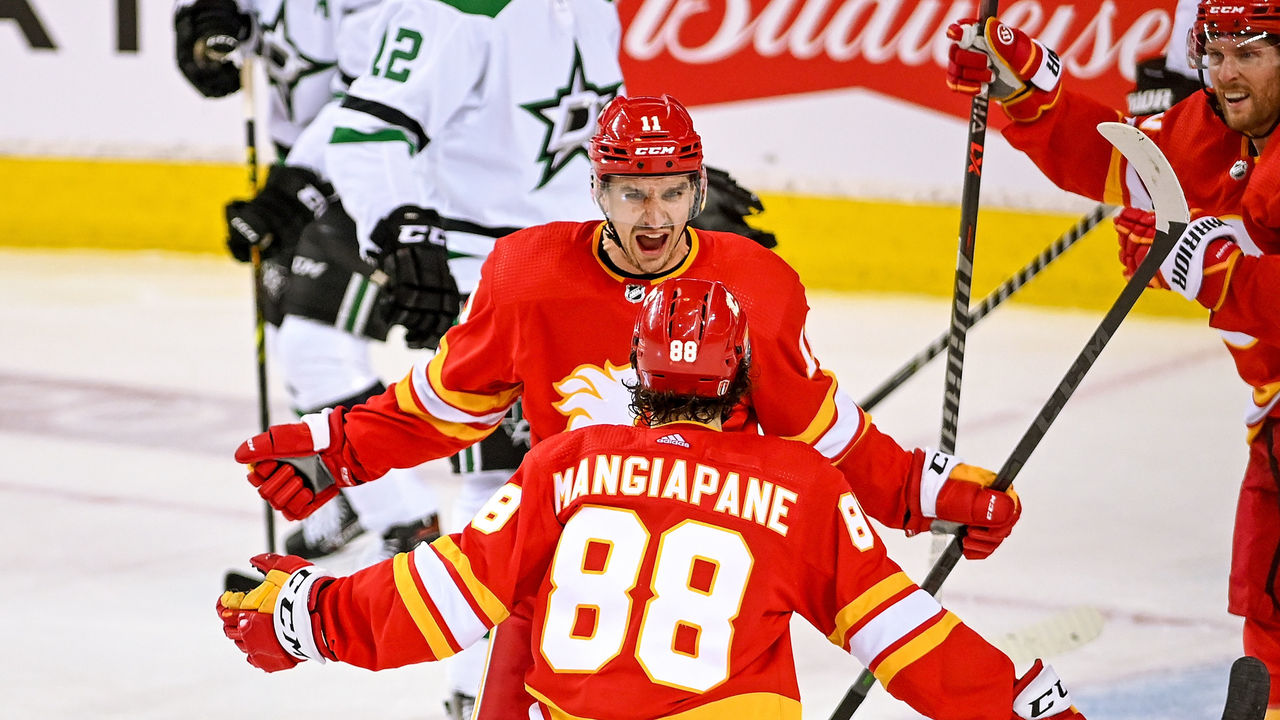 On the first shift of Game 5, Mangiapane beelined down the left wing and took a flip pass from Backlund at the offensive blue line. As he squared to shoot on the move, Jani Hakanpaa dislodged the puck with his long reach and thrust Mangiapane hard into the boards.
This series has been a slog for Calgary's secondary scorers, who haven't produced as expected. Mangiapane, the MVP of the 2021 world championships, springboarded from that event to a breakout 35-goal regular season. Calgary traded its first-round pick so that Tyler Toffoli could provide 20-goal punch. Blake Coleman had double-digit point totals in both of the Tampa Bay Lightning's Stanley Cup runs.
Calgary's second and third lines contributed a mere three points through the first four games of the series, with none from Mangiapane. But he took over Wednesday's third period, starting when he forced a turnover behind the Dallas net and fed Backlund for a one-timer that Oettinger gloved. The duo connected on Backlund's goal when Mangiapane, thinking shrewdly, spun and passed a loose puck he'd retrieved toward the crease instead of backward to the point.
Other Flames forwards had prime looks in Game 5. Dillon Dube drew a slashing penalty while Oettinger denied him on a partial break. One chance that Toffoli rang off iron landed behind the Stars goalie and slid through the crease, leaving Toffoli shaking his head on the bench afterward.
For Calgary to go deep this year, more of these players will need to step up to support the first line. The Stars still haven't scored against Tkachuk, Lindholm, and Gaudreau at five-on-five, but Tkachuk has yet to resemble a 104-point scorer. Rough play and settling scores with John Klingberg have sidetracked him at times, so it's worth tracking his offensive shifts in Game 6 to see what he can conjure.
Stars' last hurrah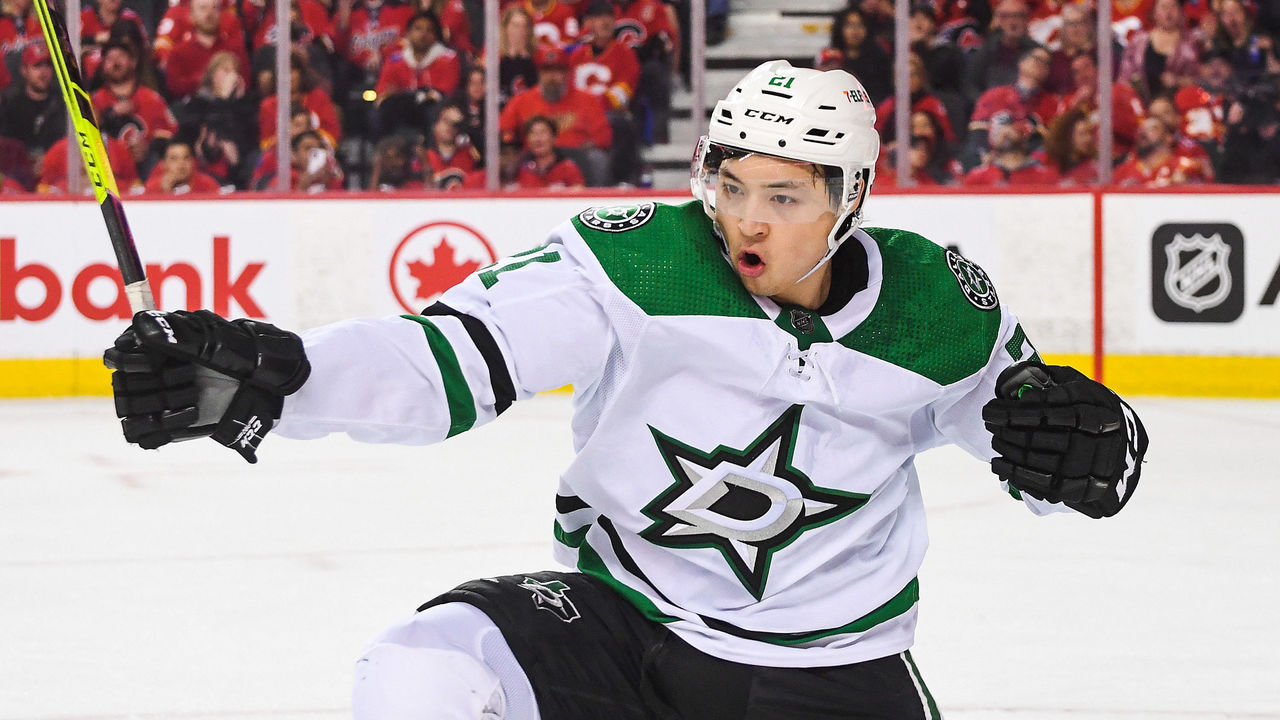 Does Dallas have enough offensive juice to win two more games?
Rick Bowness' lineup shuffling yielded results in Game 5 when Jason Robertson, demoted to the second line with Tyler Seguin and Jamie Benn, got a fortunate bounce on an odd-man rush. Robertson's first tally was the Stars' lone goal Wednesday because Jacob Markstrom otherwise stood tall, stopping Joe Pavelski point-blank later in the second period and again as time waned in the third.
Video review supplies the blueprint to stifle Dallas' attack and end the series. Pavelski has scored on a sweet tip and on two rebounds he deposited by the crease, once when he waltzed in undefended on a power-play rush. Seguin got the puck as the trailer on a similar rush in Game 4 and beat Markstrom through traffic over his glove. Markstrom saved Robertson's wrister in tight in Game 5, but the puck deflected in off Noah Hanifin's arm.
In other words, Pavelski is uniquely threatening among Stars forwards, while a couple of his teammates have cashed opportunities in transition. If the Flames minimize Dallas' rush chances, Markstrom could well improve his own immaculate save percentage - a .952 mark on 53 fewer shots faced than Oettinger.
The Stars have scored as many goals against Calgary - eight, including two into empty nets - as the Edmonton Oilers potted in a single blowout win over the Los Angeles Kings last week. Dallas was outshot 16-5 in the third period as it squandered the lead Wednesday and, like Edmonton, now faces elimination. For Oettinger to prolong the Stars' season, he needs help in the form of Benn or top-line center Roope Hintz pressuring Markstrom more than they have been.
Nick Faris is a features writer at theScore.
Comments
✕
What to watch for in Flames-Stars as Calgary aims to close out series
  Got something to say? Leave a comment below!