1 important question for every 2nd-round team
Mark LoMoglio, Michael Martin, Gregg Forwerck, Icon Sportswire / Getty Images
The Calgary Flames and New York Rangers won Game 7s in overtime Sunday to finalize the second-round field. Expect these questions to shape how the eight remaining playoff teams fare in Round 2, which starts Tuesday.
Calgary Flames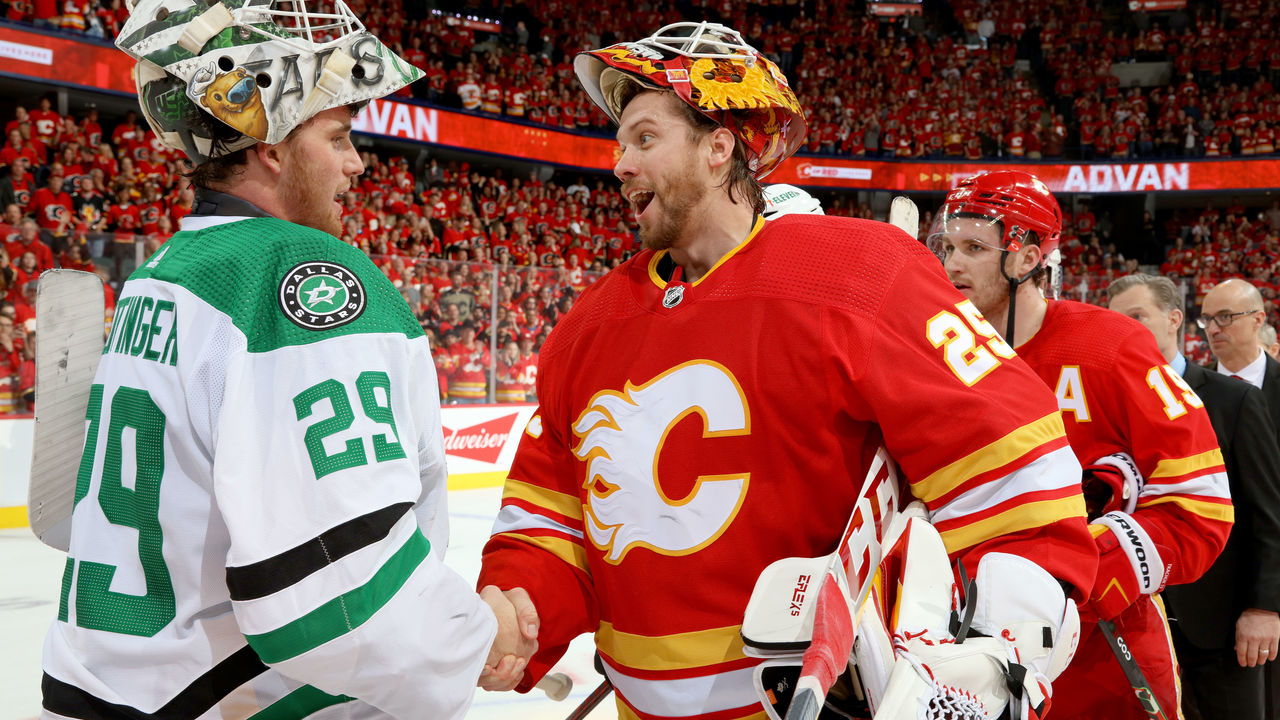 Will escaping Jake Oettinger revitalize the offense?
It took the Flames 22 periods to scrape past Oettinger.
The Dallas Stars' tremendous young goalie made 64 saves Sunday to raise his save percentage for the series to an absurd .954. Johnny Gaudreau finally flicked a rebound from the bottom of the faceoff circle over Oettinger's shoulder in overtime in Game 7, ending his all-time netminding tour de force.
By thwarting the Flames' shooters for two weeks, Oettinger did everything possible to steal the series. His heroics jeopardized the dream that Calgary and Edmonton would clash. Now that his season's done, the Flames should look forward to the reset they need to get their offense on track and emphasize that they're Stanley Cup-caliber.
Gaudreau's winner was his second goal on a series-high 50 shot attempts (25 on target). His seven points at even strength against Dallas rank in the top 10 in the playoffs. Between his ascendance, Matthew Tkachuk's Game 7 breakout, and Jacob Markstrom's .943 play, Calgary's stars did just enough to book the first Battle of Alberta since 1991.
Edmonton Oilers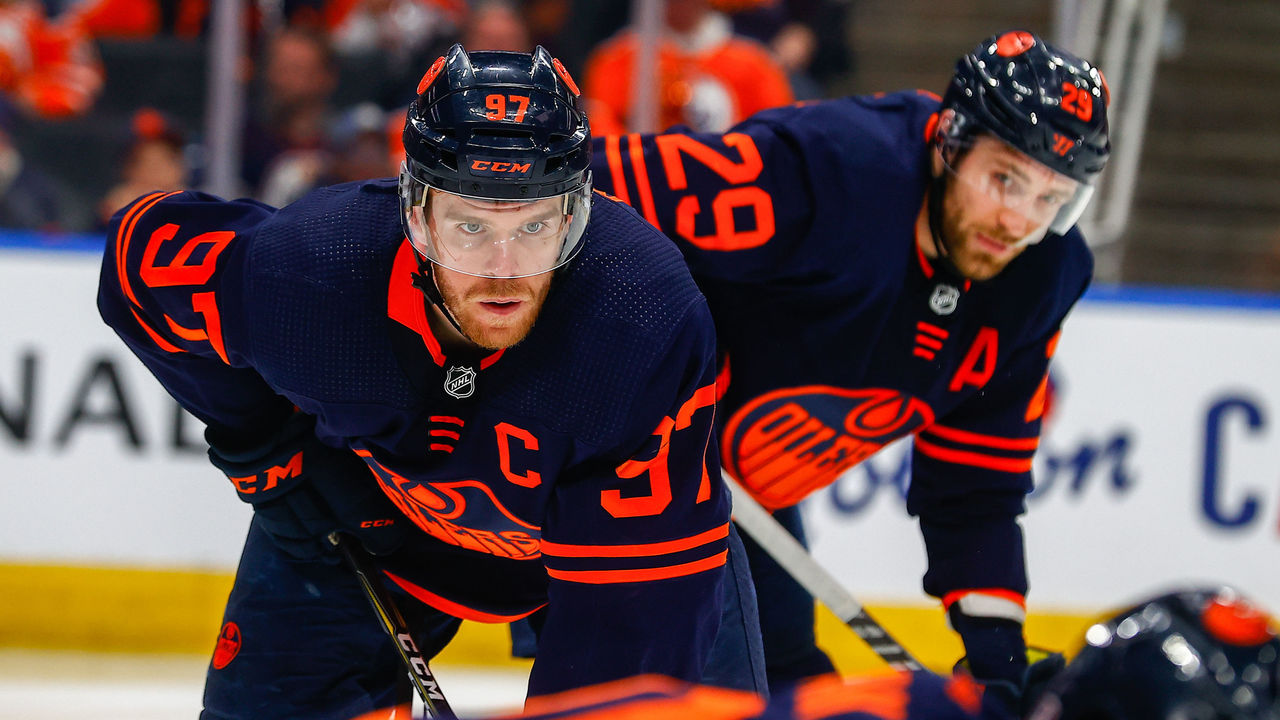 Will Connor McDavid get enough help if Leon Draisaitl's hobbled?
Draisaitl's bum ankle slowed him by a couple of steps when Edmonton blanked Los Angeles in Game 7. He still played 22:38 in the clincher and helped McDavid and Kailer Yamamoto overwhelm the Kings. Draisaitl's passing chops and wicked release make him a weapon even if he can't move well.
The Oilers have the firepower this season to capitalize on McDavid's transcendent playmaking. Nine forwards and three defensemen scored against the Kings. Evander Kane potted seven goals and three of Draisaitl's five tallies came on the power play, where Edmonton's 36.8% conversion rate was superb.
During the regular season, Edmonton was outscored 80-58 at five-on-five when neither McDavid nor Draisaitl was on the ice, according to Natural Stat Trick. The Oilers beat L.A. 4-2 in those minutes in Round 1. That edge and the power play clicking were great signs; they're ways to support McDavid offensively if the Flames subdue Draisaitl.
Florida Panthers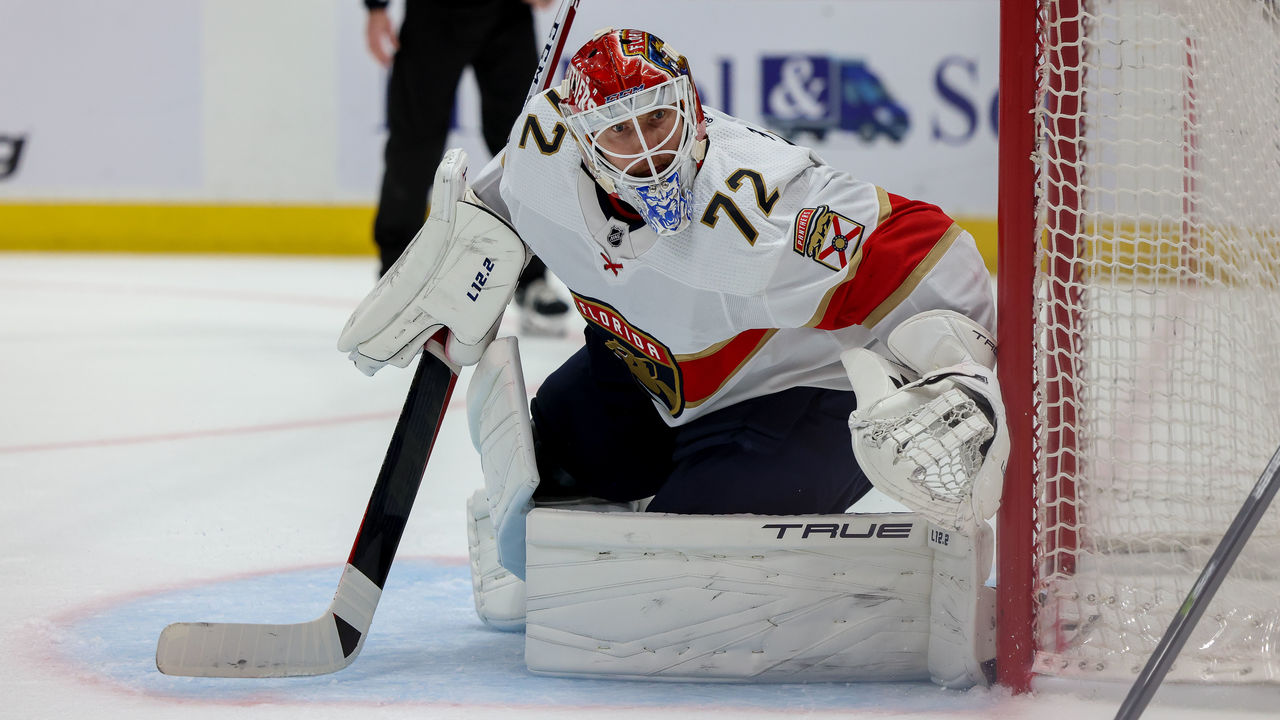 Can Sergei Bobrovsky flip the script on the Lightning's shooters?
Last year's Battle of Florida was must-see TV in part due to the Panthers' chaotic goaltending situation. Bobrovsky took the net for Game 1; backup Chris Driedger got the call for Games 2 and 3; Bobrovsky reclaimed the net for Game 4; third-stringer Spencer Knight stepped in for Games 5 and 6.
Unsurprisingly, it didn't go particularly well for Bobrovsky, who allowed five goals on 40 shots in the opener and five on 14 shots in Game 4. Fortunately for the pace-pushing Panthers, Bobrovsky was much better in this year's first round, posting a .906 save percentage in six games against the Washington Capitals. He also saved 0.9 goals above expected, according to Evolving-Hockey.
Florida must be thrilled about this development heading into the Lightning series because Tampa Bay has generally owned Bobrovsky of late. Not only have Lightning shooters torched him in the playoffs, but he's also had save percentages of .850, .879, and .897 versus Tampa Bay in the past three regular seasons.
Tampa Bay Lightning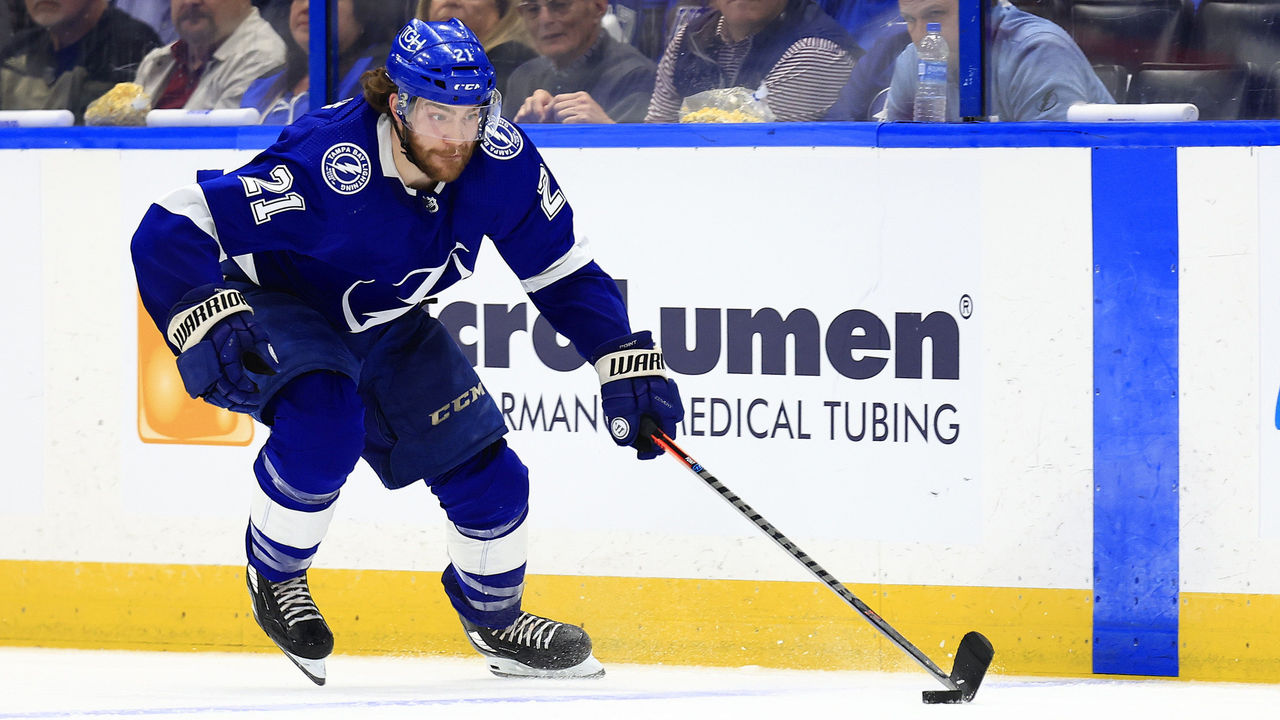 How will Brayden Point's injury impact this series?
The Lightning squeaked past the Maple Leafs in the first round. But there may have been some serious damage inflicted upon coach Jon Cooper's lineup.
Point, the clutch two-way forward who leads all NHLers with 38 playoff goals since 2018, suffered a lower-body injury in Game 7. His right leg pretzeled along the boards after a first-period collision with Mark Giordano. It was ugly. He left the game and returned in the middle frame for one 25-second shift.
Point is doubtful to play in Game 1 against the Panthers, Cooper told reporters Monday. Based on how gingerly he was moving, it's possible he's out for a while. Does Point miss the entire Panthers series? If he returns anytime soon, he definitely won't be at 100%. How does Tampa Bay adjust?
Point didn't compile huge offensive numbers in the Leafs series, recording two goals and two assists. But one of those goals was the Game 6 overtime winner, and he also teamed up with Anthony Cirelli to defend Auston Matthews and Mitch Marner. Point was sneakily a borderline MVP for his squad.
Colorado Avalanche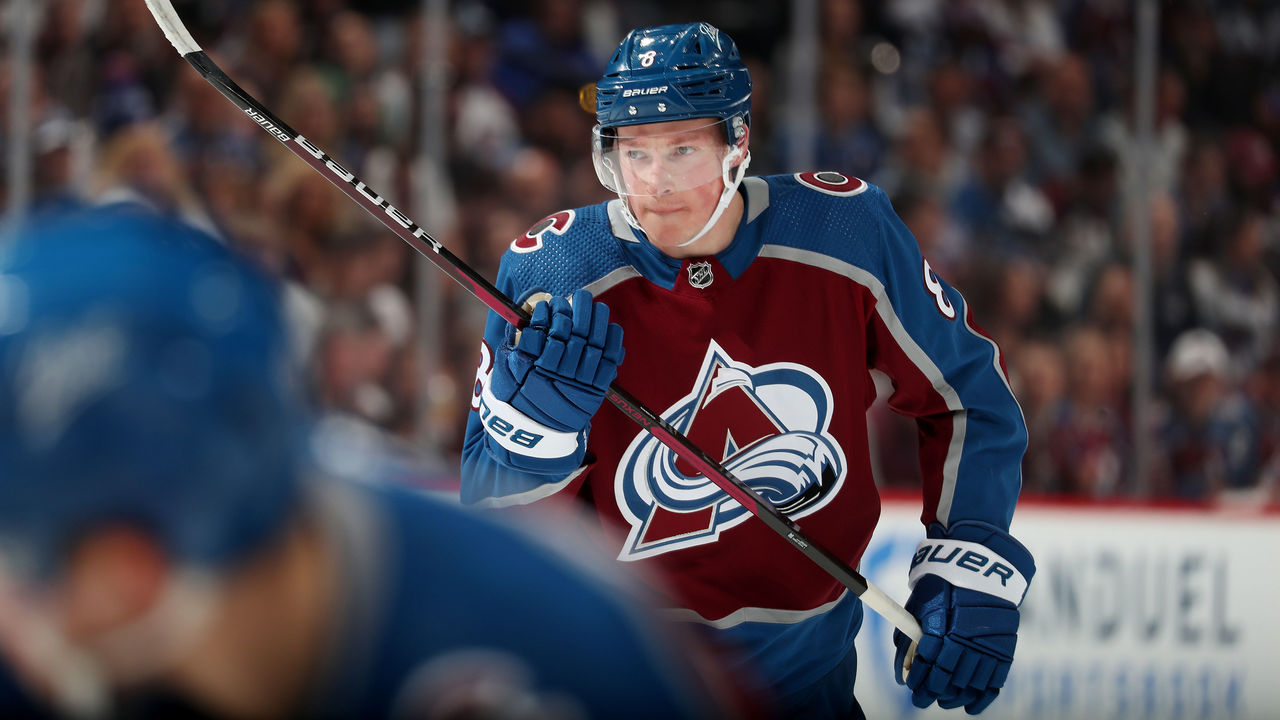 Can Cale Makar keep up his torrid scoring pace?
The list of defensemen who've scored 10 points in four games to open the playoffs begins and ends with Makar, who destroyed the Nashville Predators in the first round's shortest series. Game 2 was the only night he didn't put up three points; Makar compensated by sniping the OT winner.
Nashville mounted little resistance, but if Makar keeps sparking offense at this rate, even Cup-contending opponents might struggle to contain the Avalanche. Makar assisted three Nathan MacKinnon goals against the Predators and set up defense partner Devon Toews to score twice. Colorado plays at warp speed, and its top two forward lines are as potent as any team's.
Round 2 - the Avs' kryptonite - is when their playoff run gets interesting. Sloppy defense and undependable goaltending stopped them from reaching recent Western Conference Finals. Now, with Makar having leveled up, Colorado has the potential to outscore any issues that may arise.
St. Louis Blues
Can the Blues' depth overwhelm the Avalanche?
Colorado is the heavy favorite against St. Louis. Rightfully so, as the Avalanche are a juggernaut who showed no signs of weakness in a first-round sweep of Nashville. Aside from the obvious - the Blues need goalie Jordan Binnington to stand on his head - St. Louis' forward depth must carry the load.
The Blues finished the regular season with a league-high nine 20-goal-scorers. In the first round against Minnesota, Vladimir Tarasenko, Ryan O'Reilly, and David Perron kept the party going by leading the charge with five tallies each. O'Reilly and Perron line up alongside power forward Brayden Schenn, while Tarasenko's with creatives Robert Thomas and Pavel Buchnevich. Those trios should see plenty of Colorado's Nathan MacKinnon and Nazem Kadri lines, and while breaking even head-to-head will be difficult, it's possible.
If we assume for a moment that the top six won't get throttled by MacKinnon and Kadri, the third line's performance may tilt the series. Brandon Saad, Ivan Barbashev, and Jordan Kyrou combined for four goals against the Wild. They're far more dangerous than either of the Avs' bottom-six lines.
Carolina Hurricanes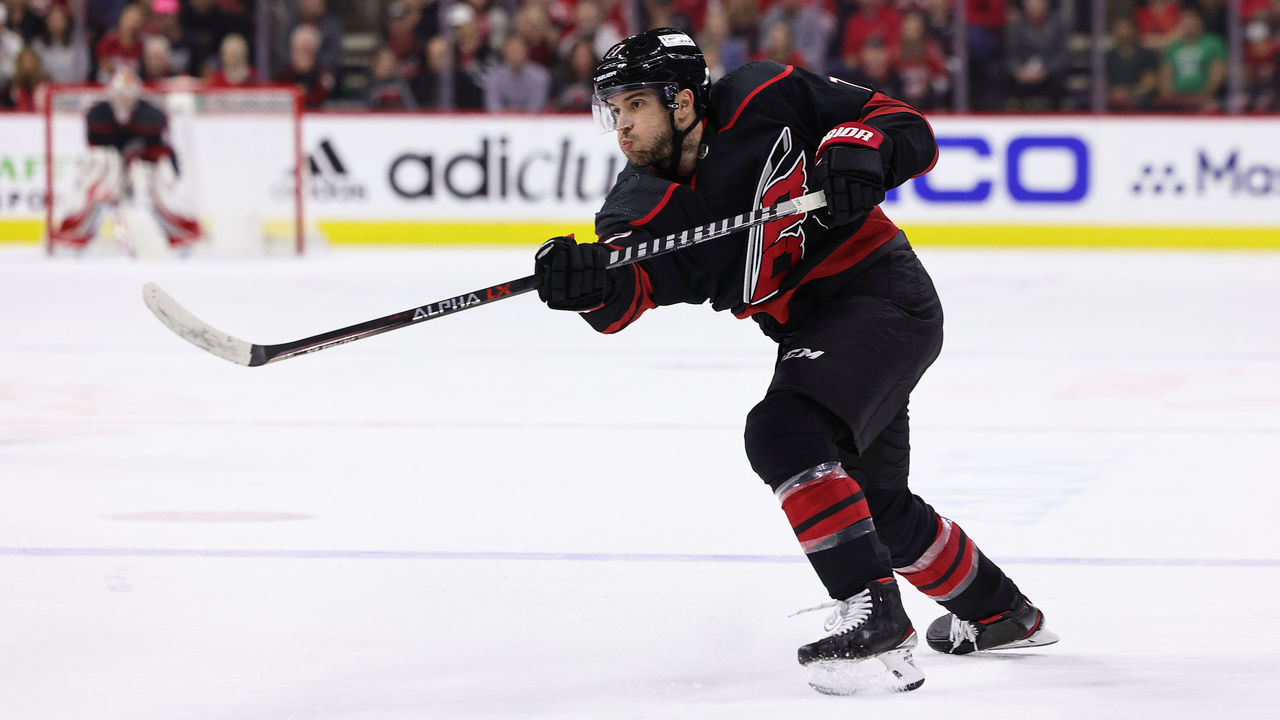 Can the Tony DeAngelo-Jaccob Slavin pairing continue to dominate?
Count on DeAngelo being public enemy No. 1 for Rangers fans over the next week or so. In fact, given his recent breakup with the team and his willingness to play the heel against Boston in Round 1, it'd be shocking if DeAngelo wasn't booed every time he touched the puck inside Madison Square Garden.
DeAngelo's a lightning rod, but he's also playing excellent hockey alongside his personality and playing-style opposite, Jaccob Slavin. The attention-seeking DeAngelo is an offense-first guy, while the low-key Slavin is arguably the best pure defensive defenseman on the planet. They offset each other.
In the 88 five-on-five minutes DeAngelo and Slavin shared in the Bruins series, the Hurricanes potted eight goals while allowing just two. The duo was mainly matched up against David Pastrnak, Taylor Hall, and Erik Haula. Versus the Rangers, DeAngelo and Slavin will draw either the Mika Zibanejad line or the Artemi Panarin line.
DeAngelo, who's averaging 20:37 a night, and Slavin, who's logging a team-high 23:02, sit tied for the lead in points among Canes at eight apiece.
New York Rangers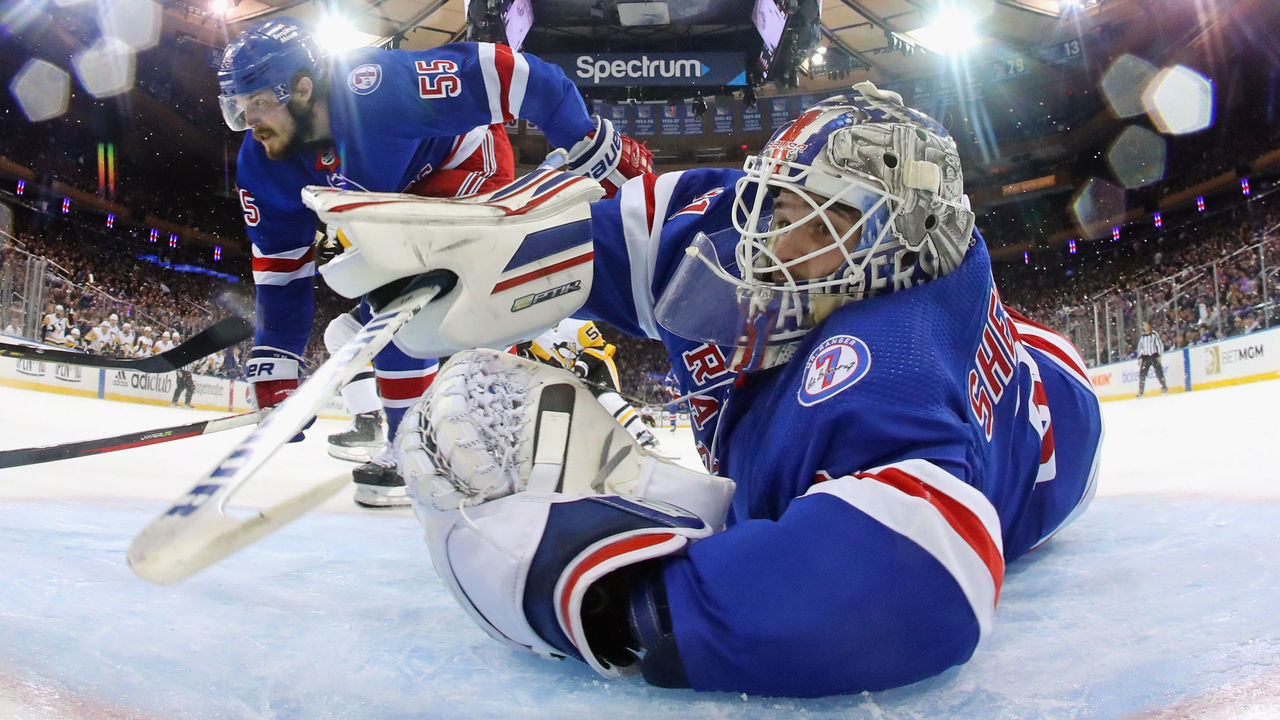 Will Igor Shesterkin return to elite form?
The Rangers erased a 3-1 series deficit to stun the Pittsburgh Penguins even though Shesterkin, the NHL's best goalie in 2021-22, got pulled in consecutive games. Shesterkin's save percentage dipped from .935 in the regular season to .911 in Round 1. Not bad, but not ideal.
Shesterkin's slippage was mainly limited to Games 3 and 4, when he let in 10 goals over 60 total minutes. He astounded by making 79 saves when New York lost the series opener in triple OT. Shesterkin allowed seven of Jake Guentzel's playoff-high eight goals, but his 42 saves Sunday sent Game 7 to OT. Ultimately, results trumped the uneven process, and the Rangers moved on.
Shesterkin led New York to a 110-point regular season while saving 37.24 goals above expected, per Evolving Hockey - the most in the NHL since 2016-17. He's a lock to win the Vezina Trophy, he's a Hart Trophy finalist, and he was New York's unquestioned MVP. Round 3's within reach, but only if Shesterkin consistently looks like himself.
Comments
✕
1 important question for every 2nd-round team
  Got something to say? Leave a comment below!