NHL Power Rankings: Early overreactions for each team
National Hockey League / Getty
This is the second edition of theScore's NHL Power Rankings for the 2021-22 season. Check back for updated rankings every second Monday during the regular season.
In this edition, we use the early season to make a snap judgment about each team.
1. Florida Panthers (5-0-0)
Previous rank: 6th
Sergei Bobrovsky is back. The highly paid goaltender wasn't always reliable over the last two seasons with the Panthers, but he's returned to form early in this campaign. The 33-year-old boasts a .942 save percentage and entered Sunday's action leading all NHL netminders in goals saved above expected and goals saved above average at five-on-five.
2. Edmonton Oilers (5-0-0)
Previous rank: 12th
Connor McDavid just gets better every year. His Oilers are undefeated through five games and most recently took care of the Golden Knights, who are heavily favored to win the Pacific Division. McDavid already has 13 points in five contests, and maintaining that pace to finish the year with over 200 points isn't beyond the realm of possibility.
3. St. Louis Blues (4-0-0)
Previous rank: 14th
The Blues are on a roll to kick off the 2021-22 campaign. Most notably, they entered Sunday boasting the league's second-best power play with a 42.9% success rate - trailing only the Oilers - and David Perron's three goals with the man advantage have him in a five-way tie for first in the league. Stay hot, St. Louis.
4. Carolina Hurricanes (4-0-0)
Previous rank: 9th
No Dougie Hamilton? No Alex Nedeljkovic? No problem. The Hurricanes have looked just fine since they let their former No. 1 defenseman leave as a free agent and traded away the Calder Trophy-finalist netminder. Carolina remains a deep, well-oiled machine, and it won't be shocking if it sustains its early success.
5. Washington Capitals (3-0-2)
Previous rank: 10th
Alex Ovechkin has five goals in five games this season, which, obviously, translates to 82 goals in 82 contests. The 36-year-old and the aging Capitals show no signs of stopping, so why not? Such a pace would give him 812 career tallies by season's end - good for second on the NHL's all-time goals list. He's creeping up on the Great One much faster than expected.
6. Pittsburgh Penguins (3-0-2)
Previous rank: 11th
The Penguins haven't lost in regulation despite missing Sidney Crosby and Evgeni Malkin. They're getting it done by committee in the early goings of the season and recently trounced the Maple Leafs in a 7-1 victory while also missing Kris Letang and Jeff Carter. Who needs those players to win, anyway? Not these Penguins.
7. Minnesota Wild (4-1-0)
Previous rank: 17th
The Wild have a legit No. 1 enter in Joel Eriksson Ek. The Swede finished fourth in Selke Trophy voting last year while playing at a 28-goal pace. With three goals in five games, he already looks set to take his game to new heights.
8. Boston Bruins (3-1-0)
Previous rank: 5th
The Bruins' competitive window is far from closed despite a somewhat aging core beyond David Pastrnak and Charlie McAvoy. Top-line superstars Patrice Bergeron and Brad Marchand are still producing, and Boston found viable alternatives to Tuukka Rask and Zdeno Chara that should ensure the club remains a contender.
9. San Jose Sharks (4-1-0)
Previous rank: 27th
The Sharks won't maintain their early pace, but they will be better than expected thanks to improved goaltending. Though San Jose pulled Adin Hill on Sunday, he was excellent before that: The 25-year-old posted a .922 save percentage and three wins in his first three games.
10. Tampa Bay Lightning (2-2-1)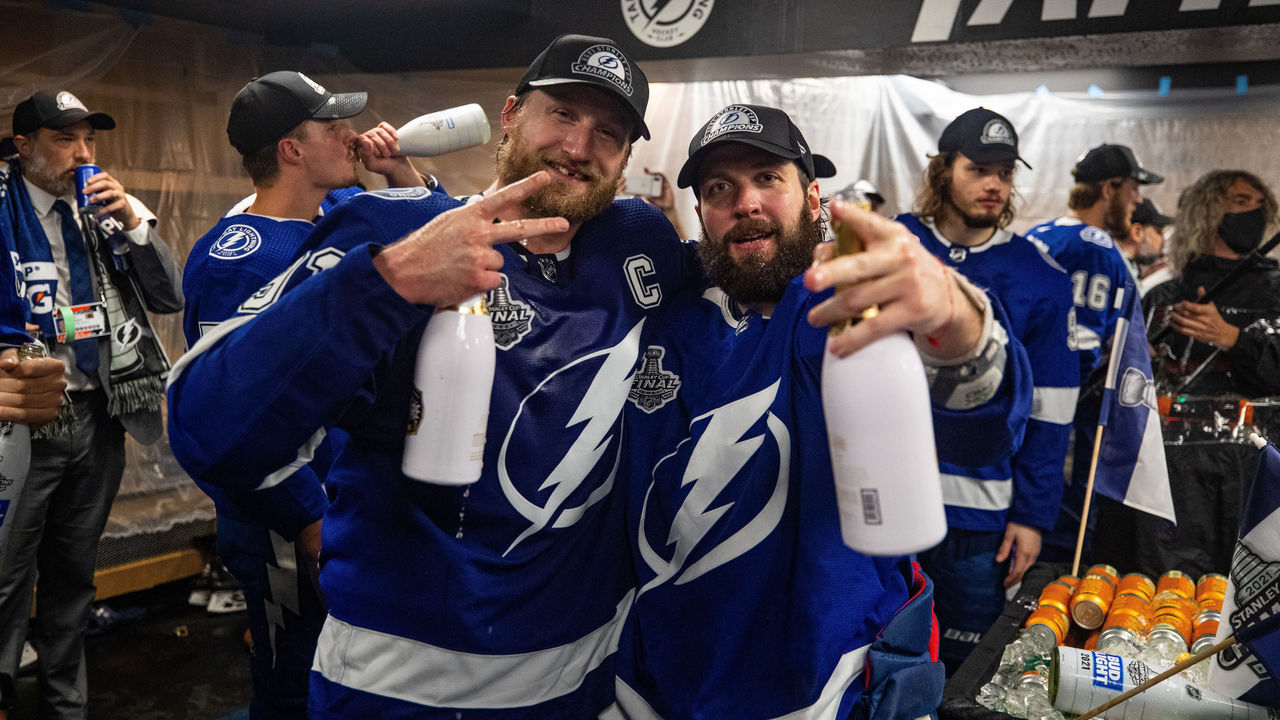 Previous rank: 1st
The Lightning's quest for the three-peat isn't off to a good start. Tampa is the only team in the league that hasn't scored a goal in the first period, and the squad hasn't held a lead in regulation so far this season. It seems the hangover from back-to-back Stanley Cup celebrations is real. Can the Bolts shake it off?
11. New York Rangers (4-1-1)
Previous rank: 15th
Forget Artemi Panarin's campaign for the Hart Trophy - Igor Shesterkin is keeping the Rangers alive with his stellar play in the crease. He entered Sunday ranked second in the NHL in both goals saved above average and goals saved above expected. The 25-year-old covers up a lot of mistakes and is making an early case for league MVP.
12. New York Islanders (3-2-1)
Previous rank: 4th
Even when Semyon Varlamov returns, Ilya Sorokin has, at the very least, worked himself into a 50-50 split. The second-year netminder owns a .933 save percentage with two shutouts in six games for the Islanders.
13. Dallas Stars (3-2-0)
Previous rank: 13th
The Stars aren't driving possession, but they're deep enough to contend as long as Braden Holtby plays the way he has early on. The 32-year-old's sparkling start likely isn't sustainable over the full season, and he's benefiting from the defensive talent in front of him. Regardless, his resurgence will help Dallas stay in the playoff hunt.
14. Columbus Blue Jackets (3-2-0)
Previous rank: 28th
The Blue Jackets' lone win against a good team so far this season came in overtime. But, much like the Sharks, Columbus has been better than many expected, thanks in large part to Patrik Laine rediscovering his game. The Finnish forward's underlying numbers suggest he'll come close to maintaining his current form over 82 games.
15. Calgary Flames (2-1-1)
Previous rank: 23rd
Johnny Gaudreau and Matthew Tkachuk get all the attention, but Elias Lindholm is the Flames' best player. He already has six goals in four games while centering the team's top line.
16. Philadelphia Flyers (2-1-1)
Previous rank: 18th
Carter Hart is no longer the worst goalie in the NHL after arguably owning that mantle last season. The 23-year-old is back at the level he displayed over his first two campaigns with the Flyers, and though he'll still have occasional shaky moments, he's better than he was in 2020-21.
17. New Jersey Devils (3-1-0)
Previous rank: 22nd
The Devils have only played four games, but they're among the NHL's best possession teams. It's hard to imagine that remaining the case all season long, but Dougie Hamilton's arrival has helped immensely, and Jack Hughes showed his potential in the opener before getting hurt in the next game.
18. Buffalo Sabres (3-1-1)
Previous rank: 32nd
Embrace the chaos because the Sabres might be ... good? At the very least, they aren't currently the laughingstock of the NHL. They held the second-best expected goals for percentage in the league at five-on-five (57%) through Saturday's action, trailing only the Wild. Three straight wins to start the season vaulted Buffalo from our power rankings' basement into the top 20. Enjoy your time in the sun, Sabres.
19. Winnipeg Jets (2-2-1)
Previous rank: 8th
The Jets' start to the season hasn't been pretty, but Kyle Connor is coming for the Maurice "Rocket" Richard Trophy. Through Saturday's games, he was in a four-way tie for the league lead with six goals while riding a career-high 27.3 shooting percentage. That latter figure may not be sustainable, but it's time the underrated star gets the credit he deserves.
20. Colorado Avalanche (2-3-0)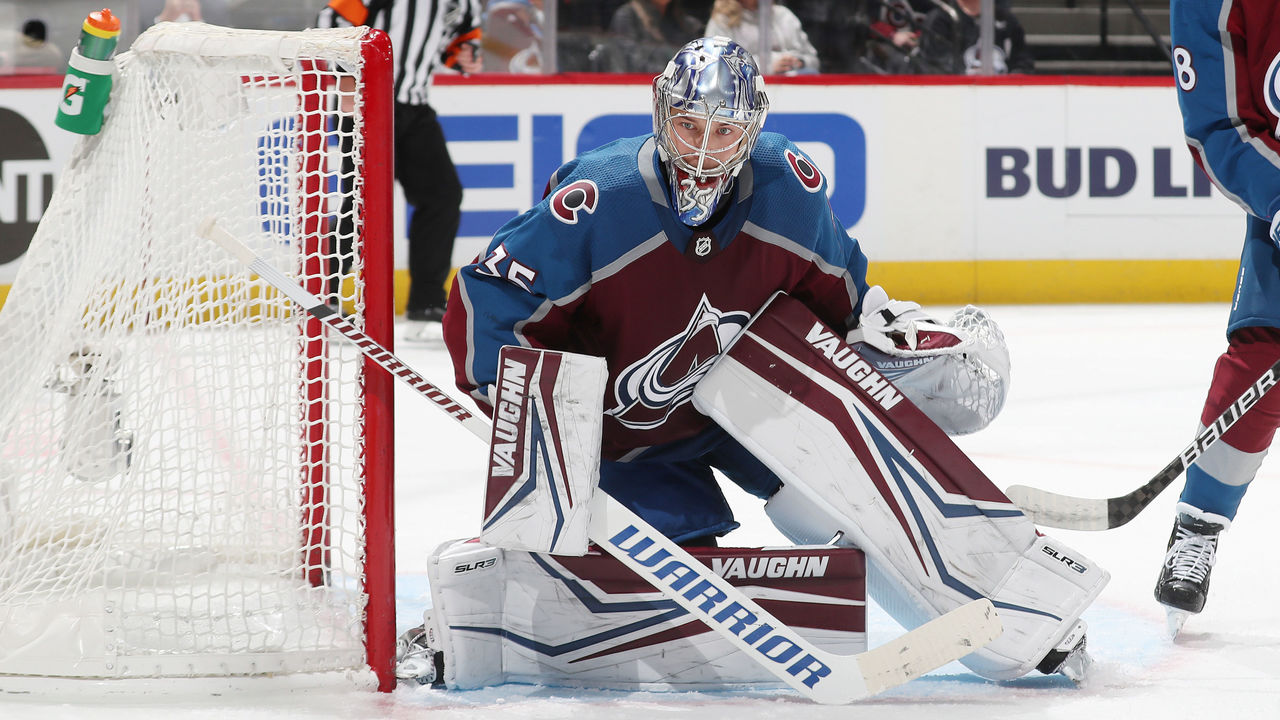 Previous rank: 2nd
The Avalanche have a goaltending problem. Offseason acquisition Darcy Kuemper has struggled to begin the campaign, posting an .894 save percentage and minus-3.6 goals saved above expected. He has a strong track record, but he's also 31 with a lengthy injury history.
21. Vancouver Canucks (3-2-1)
Previous rank: 20th
To say the Canucks haven't been a good possession team early on would be an understatement. They entered Sunday ranking near the bottom of the league in both expected goals for percentage and scoring chances for percentage at five-on-five. Vancouver has only played six games, but it's a concerning trend.
22. Toronto Maple Leafs (2-3-1)
Previous rank: 7th
The Maple Leafs are cursed. They were sixth in the league in expected goals for at all strengths (55.7%) as of Sunday, but they have almost nothing to show for it. Toronto has the NHL's sixth-worst goals for percentage (38.7%) and worst shooting percentage (5.7%), and its rough start culminated in a blowout loss to the shorthanded Penguins on Saturday. Whatever the Maple Leafs did to offend the hockey gods, they have to find a way to make amends.
23. Detroit Red Wings (3-2-1)
Previous rank: 29th
The Red Wings have two legitimate franchise cornerstones in Lucas Raymond and Moritz Seider. Raymond, the skilled forward, has four goals and three assists. Seider, the blue-liner lauded for his defensive abilities, already has five points. Steve Yzerman is once again proving his keen eye for talent.
24. Vegas Golden Knights (1-4-0)
Previous rank: 3rd
The Golden Knights' lack of scoring punch is a serious issue. It was a problem in the playoffs, and it's carried over into the new season, with Vegas finding twine just 10 times so far. Injuries are taking their toll, but other teams like the Penguins aren't making excuses.
25. Ottawa Senators (2-3-0)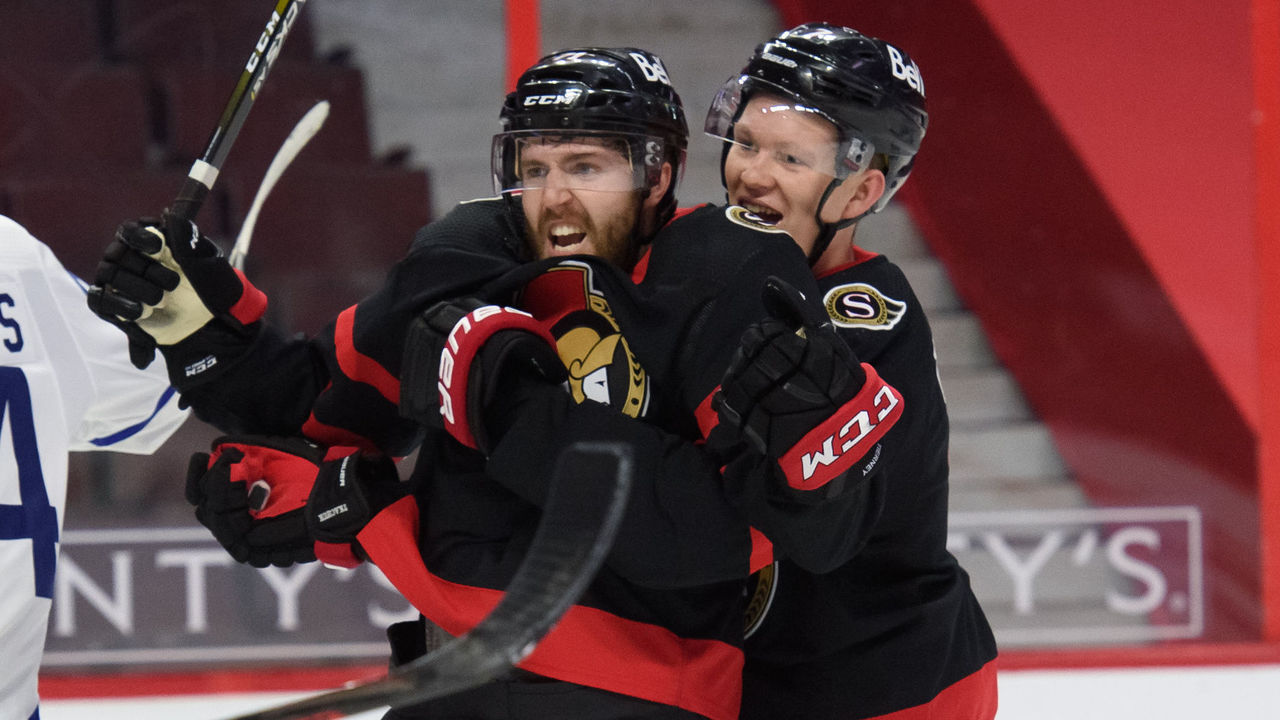 Previous rank: 25th
Chris Tierney is a scoring machine. The Senators forward is on pace for 49 goals over 82 - OK, we can't keep this going. Tierney leads Ottawa with three goals in five games, but Brady Tkachuk hasn't found a rhythm after his holdout, and 2020-21 team goals leader Connor Brown hasn't found the net yet. This club has several other talented forwards, too, and the young core should start producing soon.
26. Anaheim Ducks (2-3-1)
Previous rank: 30th
The Ducks' patience with Troy Terry has paid off. The 24-year-old didn't produce much in his first three NHL seasons, but with six points in five games, he's establishing himself as a bona fide top-six winger.
27. Nashville Predators (2-4-0)
Previous rank: 24th
David Poile needs to step down at the end of the year. The 71-year-old is the only general manager in Predators history, but it's time for a change. Nashville has no direction, and it's showing on the ice.
28. Los Angeles Kings (1-3-1)
Previous rank: 21st
The Kings are still not close to competing. Even in a weak Pacific Division, L.A. needs some massive growth from its youngsters to make any noise.
29. Seattle Kraken (1-4-1)
Previous rank: 26th
The Kraken are still finding their way as the league's newest team. But if their home opener was any indication, Climate Pledge Arena will soon be the NHL's most hostile barn for visiting teams. Give Seattle fans some credit - they showed out.
30. Montreal Canadiens (1-5-0)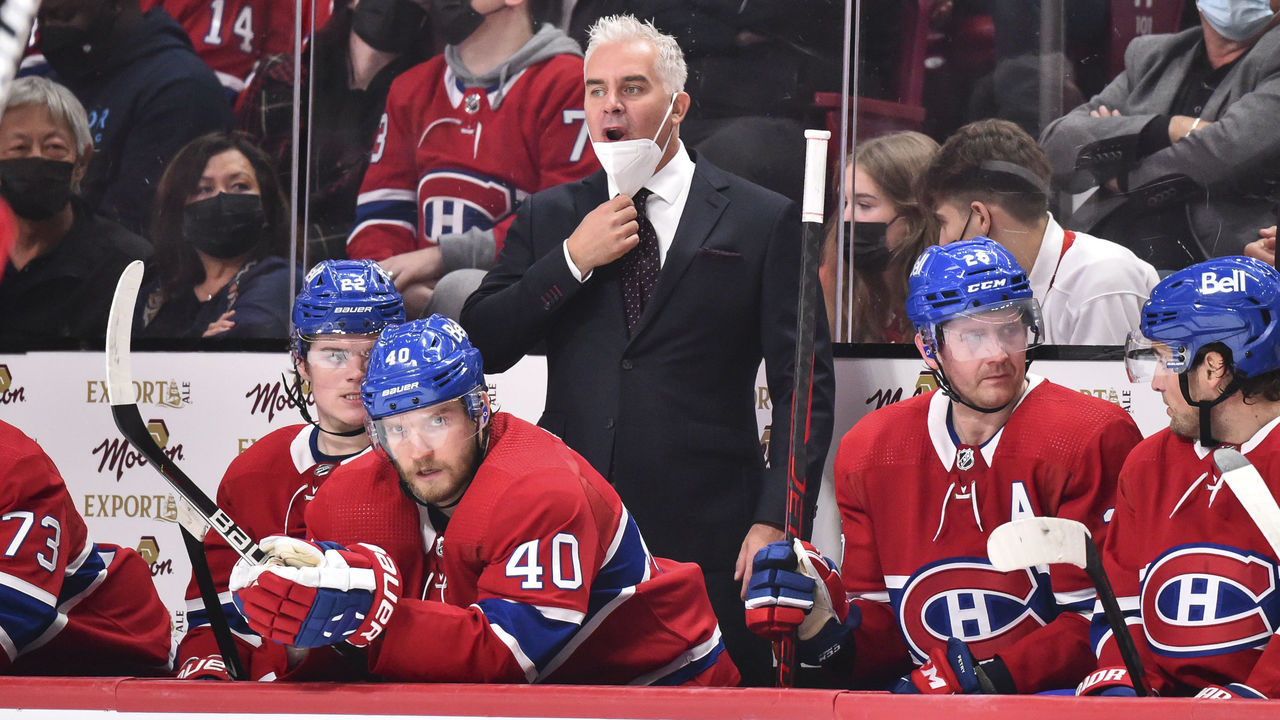 Previous rank: 16th
With a horrid start to the new campaign, the Canadiens are proving their miracle run to the 2021 Stanley Cup Final was, in fact, a miracle. Montreal can't score, and the absences of Phillip Danault, Shea Weber, and Carey Price hurt its previously strong ability to prevent goals.
31. Arizona Coyotes (0-4-1)
Previous rank: 31st
Icing one of the weakest rosters in recent memory, the Coyotes are well on their way to becoming one of the worst teams of the salary-cap era. In most cases, they would be dead last in the rankings. But ...
32. Chicago Blackhawks (0-5-1)
Previous rank: 19th
The Blackhawks are like the Titanic: They looked good until they hit the ice. A flurry of offseason splashes had Chicago appearing decent on paper, but this remains a very flawed team. The Blackhawks haven't even held a lead this season - an accomplishment that earned them a spot in the NHL record books for all the wrong reasons.
(Analytics sources: Evolving Hockey, Natural Stat Trick)
Comments
✕
NHL Power Rankings: Early overreactions for each team
  Got something to say? Leave a comment below!