Sharks' Kane denies wife's accusation that he threw games
Evander Kane denied several allegations his wife, Anna, made Saturday, including that he threw games for gambling reasons.
"Unfortunately, I would like to address the completely FALSE accusations that my estranged wife and soon-to-be ex-wife has made against me," the San Jose Sharks forward wrote Sunday on Twitter.
"Even against the advice of my legal team, I feel strongly that the public and fans hear this directly from me. I have NEVER gambled/bet on hockey, NEVER gambled/bet on a Sharks game, NEVER gambled/bet on any of my games, and NEVER thrown a hockey game."
Kane pointed to the fact he posted his best and most consistent season in 2021.
"I'm proud of that," he wrote. "I love the game of hockey and would never do any of what was alleged. I look forward to cooperating fully with the league's investigation, having my name cleared, and looking forward to this upcoming season."
The veteran winger also described Anna as "mentally unwell."
She responded shortly thereafter Sunday, referring to a New York Post story about Kane's comments. Anna said her husband said his gambling associates would kill her and their daughter Kensington if she revealed his alleged activities.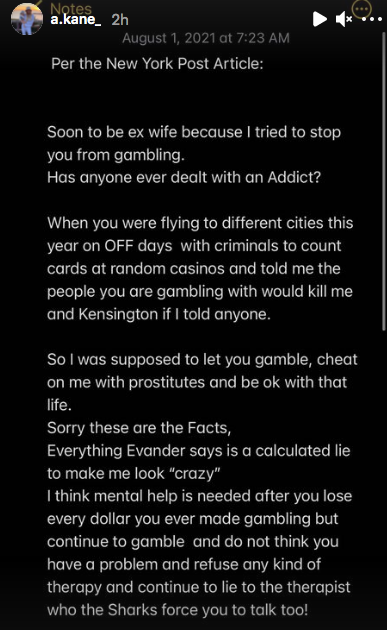 She also said the media is allowing Kane to control the narrative due to his status.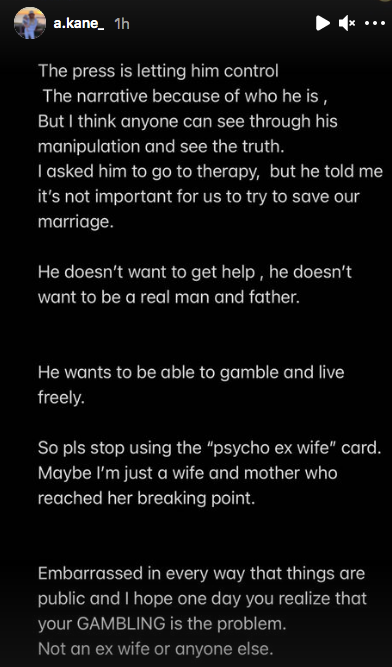 The player's wife posted a series of slides to her Instagram story Saturday, including one accusing her husband of being "a compulsive gambling addict who's obviously throwing games." That slide has since been deleted.
However, another one from Saturday - which remains - is directed at the NHL. In it, Anna wonders if "someone" could ask commissioner Gary Bettman "how they can let a player gamble on his own games?"
The league responded shortly after Saturday's posts circulated, saying it takes the allegations "very seriously" and would investigate.
Kane, who'll turn 30 on Monday, reportedly filed for bankruptcy in January.
Comments
✕
Sharks' Kane denies wife's accusation that he threw games
  Got something to say? Leave a comment below!