2021 NHL Mock Draft: Wolverines go 1-2, Sens snag goalie at No. 10
Getty Images / Photo illustration by Nick Roy / theScore
The 2020-21 season was arguably the strangest ever for draft-eligible players and scouts. Not only did COVID-19 wipe out the entire OHL schedule, it also truncated campaigns in several other prospect-filled leagues.
Generally speaking, the pandemic upended the player evaluation process for the 2021 NHL Draft by forcing a greater emphasis on video scouting. This dynamic could lead to one of the most unpredictable drafts in recent memory.
With the first round set for Friday night, theScore's John Matisz and Josh Wegman are here to project the opening-round selections.
1. Sabres
Owen Power, D, Michigan (NCAA)
Power isn't the no-doubt No. 1 pick of the draft, but he's awfully close. Surely the Sabres won't pass on a 6-foot-6, 213-pounder who projects to be an all-situations defenseman with legitimate first-pairing potential. Power's an excellent skater for his size. He's cerebral, too, and possesses the requisite puck skills to garner Victor Hedman Lite mentions. To be clear, Power isn't quite a Hedman clone; however, he has the frame and toolkit to perfectly complement Rasmus Dahlin, 2018's top selection. Power earned himself a spot on the Big Ten All-Rookie team this past season by putting up 16 points in 26 games, and he was a standout for Team Canada at the men's worlds, competing mainly against proven NHLers.
2. Kraken
Matthew Beniers, C, Michigan (NCAA)
There are players with higher ceilings in this draft, but very few, if any, with higher floors. Beniers, a Massachusetts native who spent two years in the U.S. national program before heading to college, is a reliable two-way center who never takes a shift off. It was tough for the Kraken to find top-six pivots in the expansion draft, and general manager Ron Francis, a Hall of Fame center himself, knows the importance of building through the middle of the ice.
3. Ducks
Dylan Guenther, RW, Edmonton (WHL)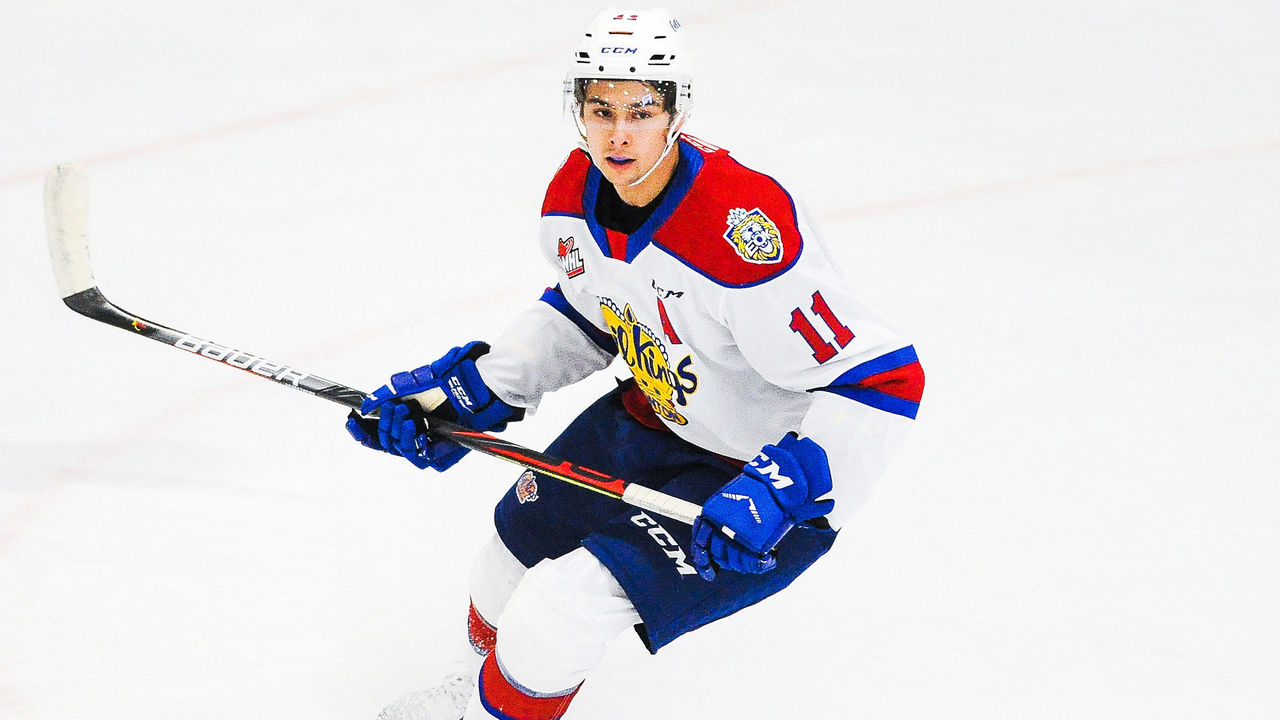 The Ducks have a difficult decision with so many enticing options remaining on the board after Power and Beniers. Guenther, the best goal-scoring winger in the class, makes the most sense from a pure talent standpoint, and Anaheim already boasts premier prospects at center (Trevor Zegras) and defenseman (Jamie Drysdale). An elite stickhandler with a good motor, Guenther combines dazzling one-on-one skills with a wicked shot to score from distance and in tight. After picking up 26 goals in 58 WHL games last year, he potted 12 in 12 during a truncated 2020-21 season. Meanwhile, Guenther was a point-per-game player at the U-18 championship, helping Canada claim the gold medal.
4. Devils
Luke Hughes, D, USA U-18 (USHL)
It may be impossible for the Devils to pass on the third Hughes brother here with Jack already in the fold as a building-block center. Luke is an exceptional skater, like his brothers, and he could end up being the best of the bunch thanks to his size. The combination of his skating and a 6-foot-2, 184-pound frame makes him an absolute nightmare to defend in transition.
5. Blue Jackets
William Eklund, LW, Djurgarden (SHL)
Along with being one of the best players, if not the best player, available at fifth overall, Eklund's exactly the kind of talent Columbus desperately needs up front. With eye-catching skating ability and super high hockey IQ, the Haninge, Sweden, native is incredibly dynamic. At the NHL level, he projects to be a point-hoarding top-six winger. Eklund, who turns 19 in October, was named top SHL rookie this past season after bagging 23 points in 40 games.
6. Red Wings
Simon Edvinsson, D, Frolunda (SHL)
The Red Wings, picking sixth overall for the third time in four drafts, could consider adding a center here, like Mason McTavish or Kent Johnson, but Edvinsson's upside may be too tantalizing. The Swede stands 6-foot-4, is a great skater, and has slick hands. Also, as a left-handed shot, he could pair nicely with 2019 No. 6 pick Moritz Seider down the road.
7. Sharks
Mason McTavish, C, Peterborough (OHL)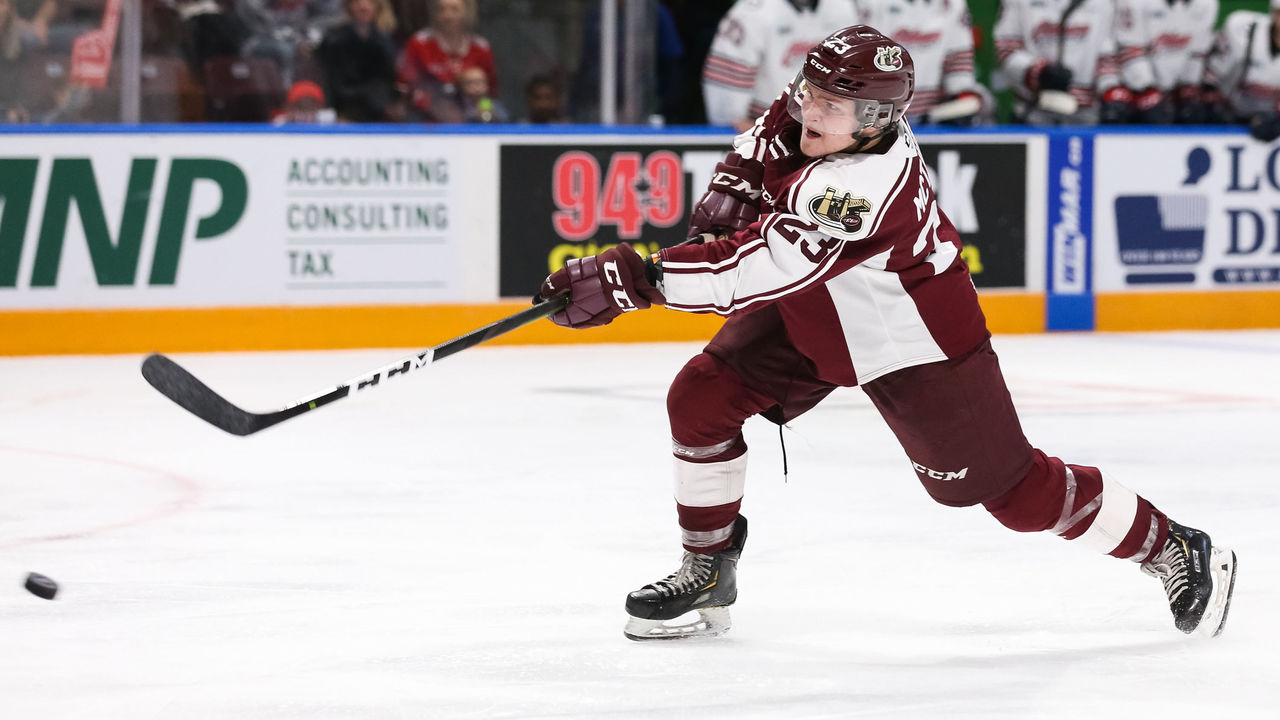 Among the industry-consensus top nine, McTavish's draft stock experienced the steepest incline over the second half of the 2020-21 season. McTavish left for Europe in February while the OHL was on hiatus and had an impressive showing in Switzerland's second-tier pro league, recording 11 points in 13 games, before helping Canada win gold at the U-18s. McTavish is a versatile two-way forward with a heavy shot. His skating is a minor concern, though scouts don't believe it will be a long-term issue. The Sharks should be over the moon if McTavish gets lost in the shuffle and is still available at No. 7.
8. Kings
Brandt Clarke, D, Barrie (OHL)
The Kings have arguably the best prospect pipeline in the league, yet it's lacking a defenseman with true No. 1 potential. Though Clarke needs to work on his skating, he has a high offensive ceiling thanks to elite hockey sense and puck skills. While on loan from his OHL squad this past season, the Ottawa native put up a laudable 15 points in 26 games in Slovakia's top pro loop.
9. Coyotes (via Canucks)
Kent Johnson, C, Michigan (NCAA)
Johnson, the third Michigan Wolverine off the board, is a wild card; he's a slippery playmaker with hypnotic skill, but scouts wonder if his game will translate well to the pro ranks. As an 18-year-old freshman in 2020-21, Johnson had an impressive 27 points in 26 games. Best-case scenario, he turns into a top-six winger who could reach star status. What a fantastic result that would be for the Coyotes, who forfeited their 2021 first-rounder but managed to jump back into the opening round through a trade sending to the Oliver Ekman-Larsson to the Canucks.
10. Senators
Jesper Wallstedt, G, Lulea (SHL)
With the consensus top-nine skaters off the board, the Senators, thanks to a loaded farm system, have the luxury of taking a potential franchise goalie. Drafting goalies can be a crapshoot, but Wallstedt looks every bit worth the hype. The 18-year-old posted a .908 save percentage and a 2.23 goals-against average in Sweden's top pro league in 2020-21. He's more refined, but less physically gifted, than Sebastian Cossa, the class' other stud goalie.
11. Coyotes
Arizona forfeited its 2020 second-round pick and 2021 first-round pick after the NHL determined the club violated the league's combine testing policy.
12. Blackhawks
Chaz Lucius, C, USA U-18 (USHL)
Lucius has some of the best hands in the draft and could develop quickly into a point-producing top-six forward. Some scouts believe he may be a better fit as a winger due to his below-average skating. Regardless, the high-end talent and finishing ability are there, as evidenced by Lucius' 13 goals in 12 USHL games this past season. He's off to the University of Minnesota in the fall.
13. Flames
Cole Sillinger, C, Sioux Falls (USHL)
Sillinger is another high-floor forward - a prospect that scouts can lock in as an NHL regular for years even if his development goes sideways. The son of former NHLer Mike Sillinger has a great release and scoring instincts, as well as a physical dimension to his game. He projects as a top-six forward who plays with an edge. Sillinger recently won Rookie of the Year honors in the USHL after racking up 46 points in 31 games.
14. Sabres (via Flyers)
Matthew Coronato, RW, Chicago (USHL)
Coronato burst onto the scene with 48 goals in 54 USHL games this past season. The diminutive winger has a bullet of a shot and is no pushover physically, reminding scouts of Cole Caufield and Alex DeBrincat. The Sabres - who acquired this pick by dealing Rasmus Ristolainen to the Flyers - could use a pure sniper in their prospect pipeline, and the Harvard commit fits the bill.
15. Stars
Fabian Lysell, RW, Lulea (SHL)
With an abundance of quickness and skill, Lysell is a transition machine. The 5-foot-10, 172-pounder was excellent at the U-18s for Sweden, which won the bronze medal. He projects to be a top-six winger. (He'd also be a fitting choice for the Stars, who have selected at least one player from a Swedish pro or junior league since 2016.)
16. Rangers
Fyodor Svechkov, C, Togliatti (VHL)
Nobody will accuse the responsible Svechkov of being the most exciting player in the draft, but his floor is very high. Scouts project that, at worst, he'll develop into a defensive-minded third-line center. That wouldn't be so terrible for the Rangers, who have enough offensive threats to go around.
17. Blues
Sebastian Cossa, G, Edmonton (WHL)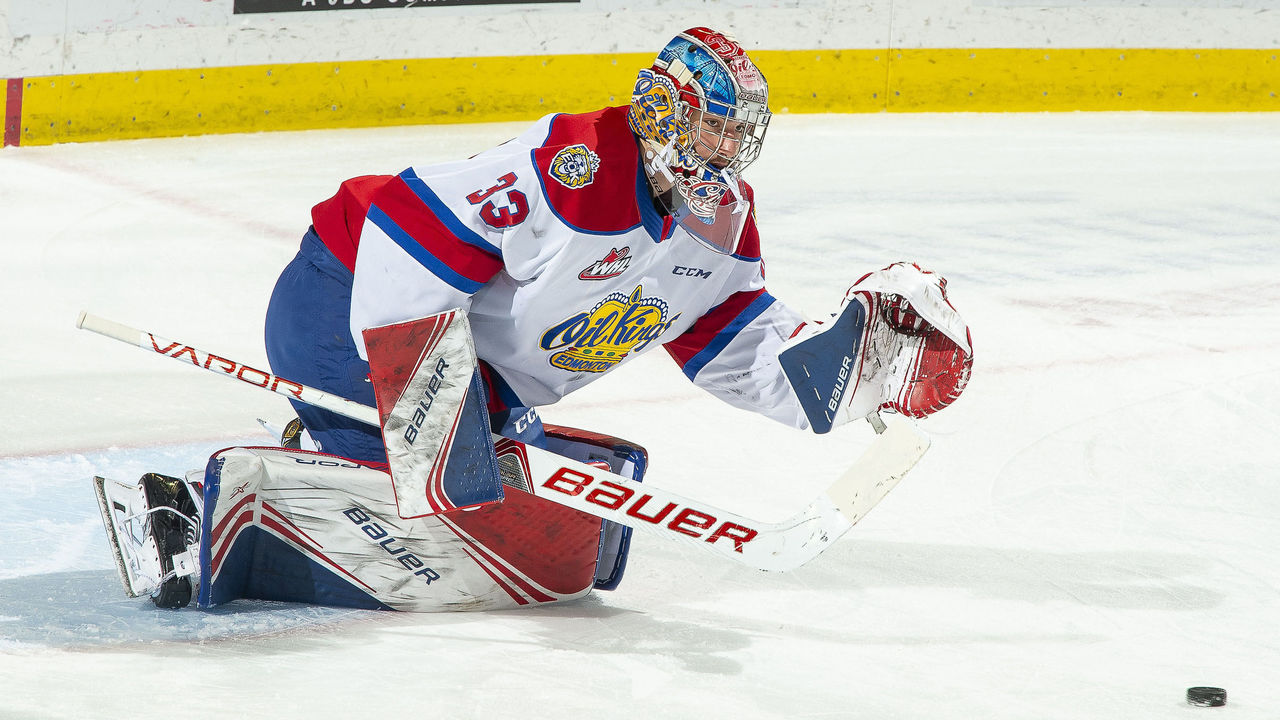 Cossa was nearly unbeatable in a small sample this past season, recording a .941 SV% and 1.57 GAA in 19 WHL games. He's huge (6-foot-6, 210 pounds), athletic, and a strong skater. It's a slam dunk for the Blues if Cossa is still sitting there at 17. There's a real chance he goes within the top 15.
18. Jets
Corson Ceulemans, D, Brooks (AJHL)
This board couldn't have shaken out any better for the Jets. While GM Kevin Cheveldayoff has begun rebuilding his defensive depth, you can still never have too many blue-liners. In this scenario, he'll have the choice of either Ceulemans or Carson Lambos. Passing on Lambos - a Winnipeg native who plays junior in Winnipeg - would be tough. But Ceulemans, who dominated the AJHL in 2020-21, seems to be the safer pick given Lambos' injury history. Bonus: He's a righty, and the Jets are currently heavy on left-shooting defensemen.
19. Predators
Carson Lambos, D, Winnipeg (WHL)
Nashville is the master of developing blue-liners, and the Predators will be overjoyed if Lambos is around at 19th overall. With the puck, the 6-foot-1, 197-pounder can make a play. Without it, he's physical and difficult to play against.
20. Oilers
Nikita Chibrikov, RW, SKA (KHL)
The Oilers will need cheap wingers on entry-level contracts who can complement Connor McDavid and Leon Draisaitl. Chibrikov, who's arguably the best player available here, could fit that mold in a couple of years. He's a below-average skater and just 5-foot-10, but his skill level, non-stop motor, and superior hockey IQ project him as a top-six NHL forward.
21. Bruins
Aatu Raty, C, Karpat (Liiga)
Formerly considered the No. 1 prospect of the 2021 draft class, Raty is widely perceived to have flatlined over the past couple of seasons. Since the start of 2019-20, Raty picked up 38 points in 85 games split between Liiga and Finland's top junior league, a far cry from what the scouting community expected from the hard-working center. He's a skilled playmaker but there are some red flags regarding his skating and hockey sense.
22. Wild
Kirill Kirsanov, D, SKA (KHL)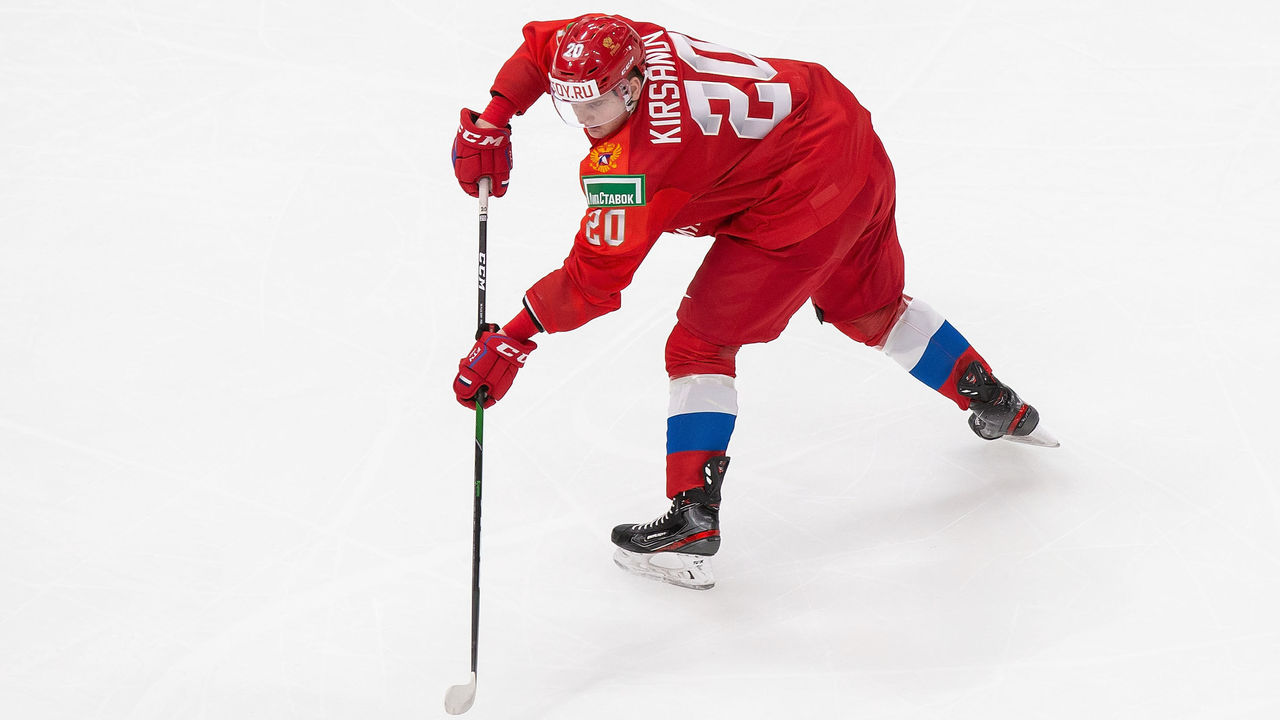 Kirsanov's name might sound similar to that of Wild superstar Kirill Kaprizov, but the two players are nothing alike. Kirsanov has no eye-popping traits - or glaring weaknesses, for that matter. He's also not particularly big at 6-foot-1 and 198 pounds. The two-way D-man held his own as a third-pairing KHL defender this past season, which speaks to his maturity. Minnesota picks again at No. 26, and it might not be able to get a first-round-caliber defenseman at that point. In need of depth at the position, it makes sense for the Wild to select one 22nd.
23. Red Wings (via Capitals)
Wyatt Johnston, C, Windsor (OHL)
With his second pick, Wings GM Steve Yzerman goes for a two-way pivot out of nearby Windsor. Johnston barely played this past season due to COVID-19 shutdowns, getting in front of scouts only for the U-18s, where he contributed two goals and two assists in seven games for Canada. That said, Detroit will have plenty of intel on Johnston from an impressive OHL debut in 2019-20.
24. Panthers
Brennan Othmann, LW, Flint (OHL)
Othmann is the eighth-ranked North American skater by Central Scouting, but he could fall to the Panthers on draft night due to concerns about his skating. If he can improve his stride, there's a solid chance he'll blossom into a super-effective top-six NHL winger. After all, Othmann isn't afraid of the rough stuff and has good hands around the net. He registered 16 points in 34 games this past season while on loan in Switzerland's second-tier pro league. He was midget teammates with Clarke and Shane Wright, the presumptive No. 1 pick in the 2022 draft.
25. Blue Jackets (via Maple Leafs)
Daniil Chayka, D, Guelph (OHL)
Chayka, who played 11 games for CSKA Moscow of the KHL this past season with the OHL campaign canceled, would be a realistic yin-and-yang pick after the Blue Jackets snagged Eklund at fifth overall. At 6-foot-3 and 187 pounds, Chayka's a large D-man who has no issues getting around the ice. He makes a good first pass, has a deadly shot, and is generally very poised with the puck. Otherwise, he's raw. Columbus would be banking on second-pairing potential.
26. Wild (via Penguins)
Zachary Bolduc, C, Rimouski (QMJHL)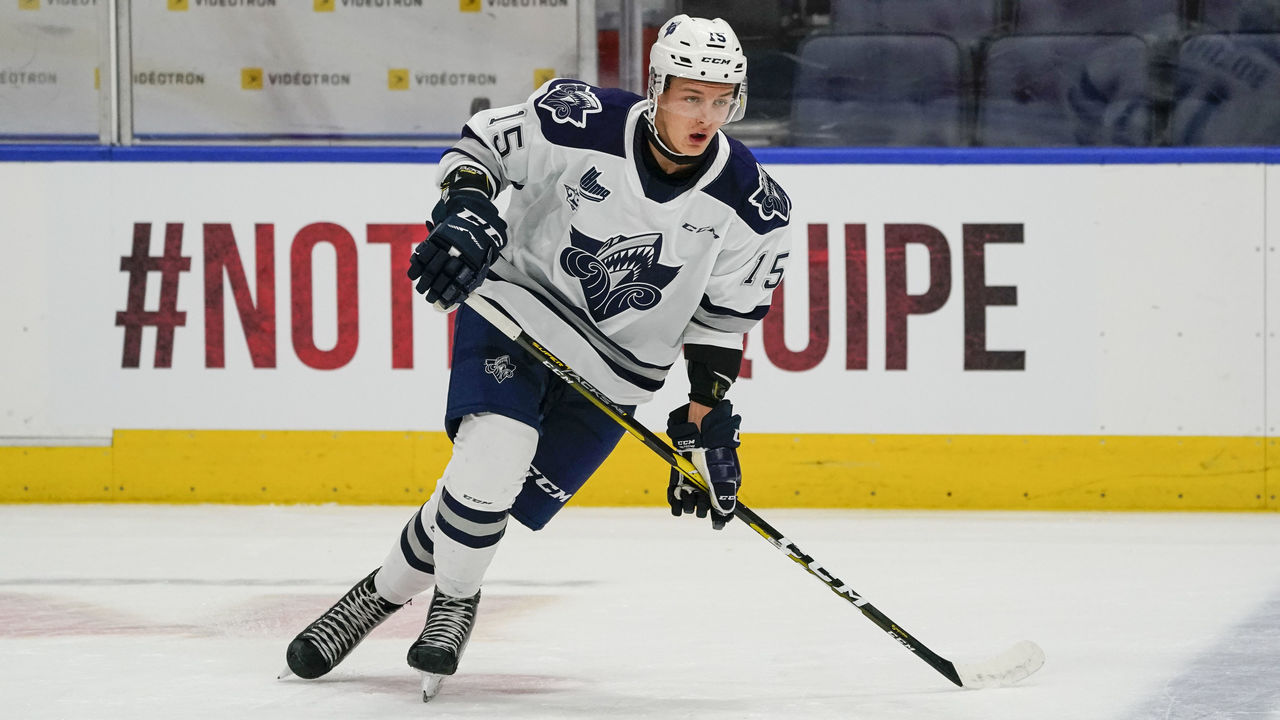 After taking Kirsanov at No. 22, the Wild can select the best forward available, and there are plenty of intriguing names left. Bolduc is a strong-skating, shot-generating pivot who put up 29 points in 27 QMJHL games this past season. The Trois-Rivieres, Quebec, native would be a quality addition to the Wild's prospect pool, which sorely lacks high-end centers beyond Marco Rossi.
27. Hurricanes
Isak Rosen, RW, Leksands (SHL)
Rosen, a speed demon with a scary shot who scored a whopping seven goals in seven games at the U-18s for Sweden, is a suitable pick for the Canes. A winger who possesses above-average puck skills and can drive the run of play, Rosen would blend in well with Carolina's collection of forwards.
28. Avalanche
Zachary L'Heureux, LW, Halifax (QMJHL)
L'Heureux has exceptional hands and an inexhaustible motor. He sounds like a member of the Avalanche already, doesn't he? On the other hand, he accumulated 47 penalty minutes and four suspensions in 33 QMJHL games this past season. There is a scenario in which the aggressive L'Heureux falls out of the first round, but Colorado probably sees a development opportunity.
29. Devils (via Islanders)
Zach Dean, C, Gatineau (QMJHL)
Following the splashy Hughes pick at fourth overall, Devils GM Tom Fitzgerald could keep it simple. Dean is an all-around force who works his butt off every shift. He didn't produce to expectations in his draft year (20 points in 23 QMJHL games) but scouts still see a future top-six forward with versatility.
30. Golden Knights
Matthew Samoskevich, RW, Chicago (USHL)
While the Golden Knights were doing their due diligence on Brendan Brisson, the team's first-round pick a year ago, they would have been intrigued by his Steel teammate, Samoskevich. The winger is a strong skater with good offensive instincts who put up 37 points in 36 USHL games this past season.
31. Canadiens
Xavier Bourgault, C, Shawinigan (QMJHL)
Bourgault, who had 40 points in 29 QMJHL games this past season, possesses an innate ability to evade checks and find the soft areas of the ice. Other parts of his game are underdeveloped, so there's plenty of work ahead, but the foundation - which projects him as a potentially top-six, creative NHL winger - is pretty attractive.
32. Blue Jackets (via Lightning)
Samu Tuomaala, RW, Karpat (Liiga)
It's possible Columbus goes way off the board (as it's prone to doing) with the club's third pick in the top 32. But it'll be tough for GM Jarmo Kekalainen to pass on a fellow Finn in Tuomaala, a high-energy winger with lots of skill.
Comments
✕
2021 NHL Mock Draft: Wolverines go 1-2, Sens snag goalie at No. 10
  Got something to say? Leave a comment below!