Power company: The Michigan trio set to headline the NHL draft
Michigan Photography / Photo illustration by Nick Roy / theScore
The backhand sealed the comparison to Patrick Kane. Speeding into the offensive zone, Kent Johnson faked as though he would cut inside, wrongfooted his defender with a deke, and then fit the puck between the netminder's left shoulder and the crossbar. The goal, scored last December against the University of Minnesota, looped on SportsCenter. Johnson got texts likening the move to a Chicago Blackhawks highlight.
"That was obviously really cool for me," Johnson said. "I've watched (Kane) score that goal 1,000 times."
Keep in mind: Johnson, 18, is the least accomplished member of the University of Michigan's elite draft trio, three college freshmen about to go top 10 - at least - in the NHL's selection frenzy. Johnson hasn't played at the world juniors before. He wasn't invited to compete at the men's world championships in May like his teammates Owen Power and Matthew Beniers. But his skill pops, and the company he keeps is historic.
Three NCAA teammates have never been picked in the same first round. That'll change when the draft opens July 23 at NHL Network's New Jersey studio. Power, Beniers, and Johnson headlined a 2020-21 Michigan roster that brimmed with teenaged talent. Teammates John Beecher (a Bruins prospect), Brendan Brisson (Golden Knights), and Cam York (Flyers) were first-round selections in 2019 or 2020. Luke Hughes, another high-end 2021 prospect, plans to join the Wolverines next season, taking after his NHL star older brother Quinn, though not his other brother, Jack.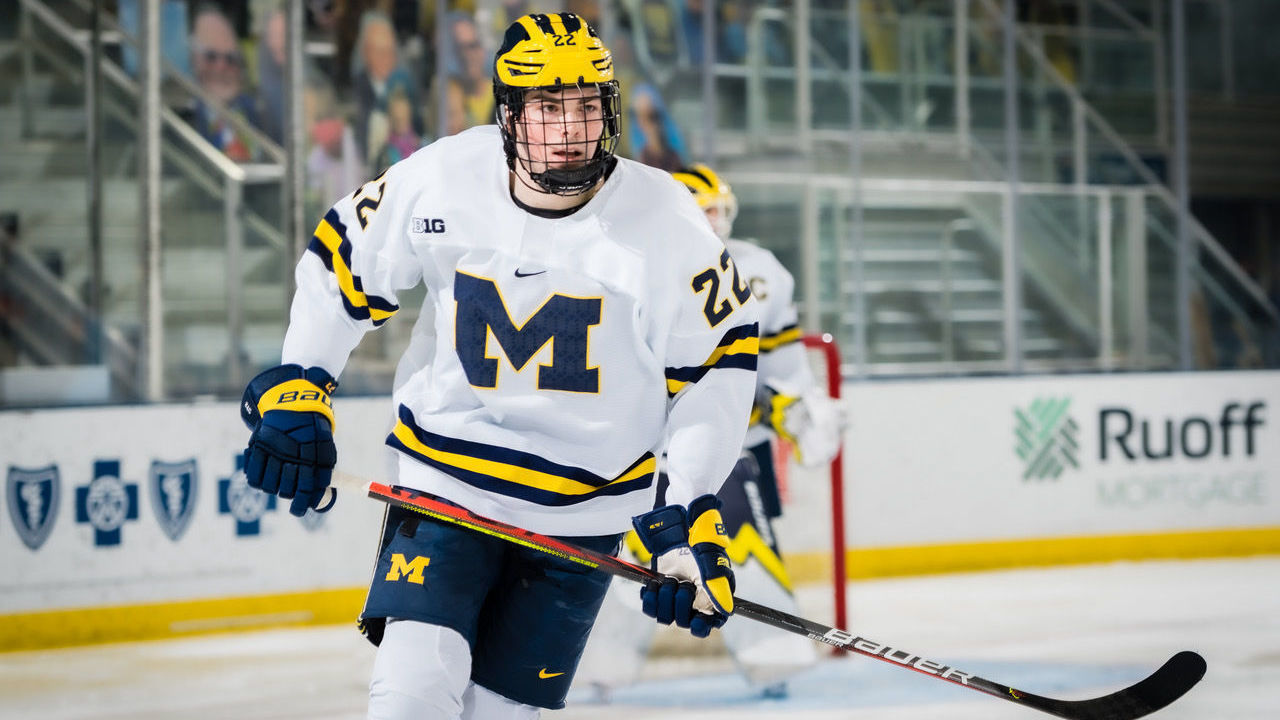 This'll be the second and final draft that the NHL delays and conducts virtually because of the pandemic. Scores of prospects started their junior seasons late or scrambled to ink pro deals in Europe. COVID-19 messed with Michigan's campaign, too; some games were postponed and the Wolverines didn't get to feature in the NCAA tournament. Still, Power, Beniers, and Johnson had time to test themselves against hardened upperclassmen.
"A few guys are stepping in right to the NHL, as you can see this year, right after college," said Jack Becker, Michigan's co-captain and an occasional linemate of Beniers and Johnson in 2020-21.
"It's obviously a good level of hockey. It's really impressive that they put up the numbers that they did."
Indeed, Beniers and Johnson were point-per-game players as freshmen, but the jewel of the 2021 class is Power, the safe bet to go No. 1 overall to the Sabres next Friday.
In a word, Power is trustworthy, that rare seal of approval for developing defensemen. Coaches tap him to kill penalties, spearhead offensive breakouts, and erase opposing rushes with his reach and nimble skating at 6-foot-6. Such was the case at Michigan and with Team Canada's gold-medal squad at the worlds in Latvia, where Power logged first-pairing minutes in the knockout round against Russia, the United States, and Finland.
Everything about Power's season impressed, NHL Central Scouting director Dan Marr said in an interview. Teammates and analysts alike appreciate the breadth of his toolkit, the crispness of his first pass, the fluidity with which he skates. Power has the vision in the offensive zone to tee up glorious scoring chances and, as Cole Caufield's Wisconsin teammates learned in February, the shiftiness in tight windows to create his own space.
"You don't see that a lot with big guys," Beniers said.
"Motor" is the buzzword of choice to sum up Beniers' game, evoking the energy that helps him conjure scoring chances and win battles over 200 feet. He seems tireless on the ice. ("Sometimes after a bag skate, you'll see him breathing a bit," Johnson said. "But definitely few and far between.") Beniers is the son of a Cornell wide receiver, Bob, who emphasized that his son should care about defense while coaching him in organized hockey in Massachusetts. Michigan coach Mel Pearson calls him a spark plug - the sort of forechecking, backchecking, playmaking center whose shifts swing momentum and sustain pressure.
Beniers is NHL Central Scouting's sixth-ranked North American skater, trailing Power, Mason McTavish, Johnson, Hughes, and Dylan Guenther. Swedes Simon Edvinsson and William Eklund are comparably promising. Still, Marr maintains that this segment of the draft is wide open, and Beniers could reasonably go as high as second overall to the expansion Seattle Kraken. To Marr, Beniers' blend of skill and sandpaper is tailor-made for the postseason, when checking tightens, and it reminds him of Jonathan Toews, long a leader for Canada internationally.
"I think Matty Beniers is going to be called Captain America," Marr said. "This is the guy teams want to acquire at the trade deadline going into playoffs. This is the guy who can make a difference."
Johnson is a natural center but rides shotgun on Beniers' left wing for Michigan, two dynamos reading and feeding off each other to monopolize possession. ("Wish I could have played with two guys like that in my day," quipped Pearson, 62, a former Division I winger himself. "I might still be playing.") Johnson is slight at 6-foot-1 and 167 pounds, but he's deceptive and strong enough on his edges to protect the puck. Except for Michigan teammate and Sharks prospect Thomas Bordeleau, no NCAA freshman recorded more assists last season than Johnson's 18.
Gifted with a quick release, Johnson also attacks with panache, completing plays that less creative minds wouldn't think to attempt. Like lacrosse goals. Johnson scored two of them in 2019-20 in the Junior A British Columbia Hockey League, making Ann Arbor his logical college destination. Michigan forward Mike Legg popularized the trick in the 1996 NCAA Tournament, and Johnson's out to duplicate the feat as a Wolverine.
"He'll pull the 'Michigan' off when we're messing around after practice like it's nothing," said Becker, who recently transferred to Arizona State for his final college season. "I wouldn't be surprised if he lands one next year."
Despite qualifying for nationals, the Wolverines didn't get to vie for Frozen Four glory in 2020-21. The NCAA booted them from the event the day it began because of positive COVID-19 tests within Michigan's testing group. First-round opponent Minnesota-Duluth got a bye to the next stage, where the Bulldogs stunned top-seeded North Dakota 3-2 in five overtimes.
It was a bitter end to a Michigan season that picked up as it continued. Pearson's club lost five of six games leading into Christmas but went 10-5-1 in 2021, outscoring teams 61-25 in those 16 matchups. Michigan ended the year ranked ninth nationally, and freshman growth led to world championship invites for Power and Beniers - a 17-day crash course on life as a pro. During Canada's gold-medal push, Power got to talking with starting goalie Darcy Kuemper and tournament scoring leader Connor Brown, and they encouraged him to play his game with confidence.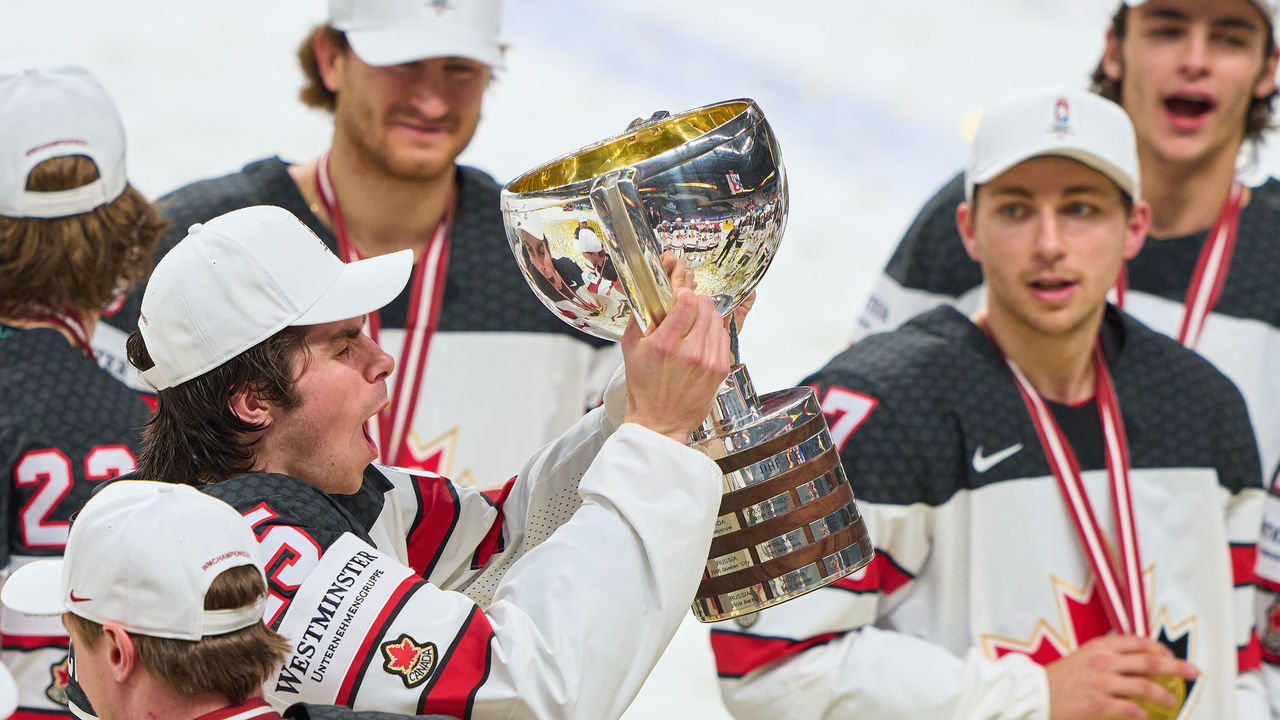 The trio needs to add strength to withstand the pro grind, Johnson especially. Pearson says he'd like Beniers to shoot more; he bagged 10 goals as a freshman, tied with Brisson for most on the team, but too often "tries to get to the perfect spot" before he releases. If the Sabres draft Power first overall, they might deploy him on the blue line out of training camp. Pearson hopes he'll return to college to refine his pivoting, defend with greater bite, and aim to dominate as a sophomore.
"We really see the biggest development from that first year to the second year, and then they're ready (to go pro) - whether it's Cale Makar, whether it's Cole Caufield, whether it's Quinn Hughes or Josh Norris or Cam York," Pearson said. "I really believe that second year is key in helping the transition to the National Hockey League."
Now that Caufield's graduated to Montreal, Power coming back obviously would boost Michigan's team aspirations, too. Big Ten and national titles are within reach in 2021-22, Beniers said: "We've got all the potential in the world." Bordeleau and Brisson will be second-year players; the same goes for Sabres goalie prospect Erik Portillo, who's set to start in net after recording a .935 save percentage in seven appearances last season.
Luke Hughes and incoming Minnesota freshman Chaz Lucius are teammates with the U.S. national development program. If they're drafted in the top 10 alongside Power, Beniers, and Johnson, half of those picks would be NCAA products or commits. Hughes is a superb skater and a few inches taller than either of his brothers at 6-foot-2. Less flashy than Quinn and Jack, this transitional breakout and heady drop pass proved he doesn't lack offensive juice.
Want flash? Draft Johnson, whose "SportsCenter" backhand against Minnesota awed Pearson with how easy he made it look. "Like he's done it 100 times before," Pearson said, which he surely has when you account for practices. By way of gearing up to imitate Legg, Johnson scooped the puck lacrosse-style in some Wolverines small-area drills, another memory that stuck with his coach into the summer.
"I think he got put on his butt a couple of times," Pearson said, laughing. "But that's OK. At least he's willing to try things."
Nick Faris is a features writer at theScore.
Comments
✕
Power company: The Michigan trio set to headline the NHL draft
  Got something to say? Leave a comment below!